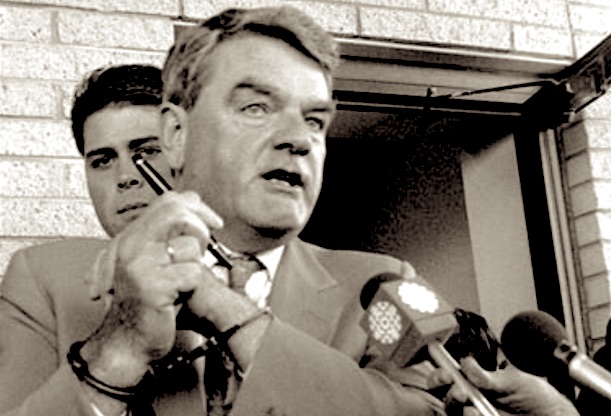 In this video from a book tour in the 1990s, British historian David Irving explains how he had come to the conclusion that the Hungarian Uprising of 1956 had actually started out as an anti-Jewish pogrom, and how this factual conclusion had so offended a group of Jews that they tried to disrupt one of his lectures.
Irving's response to the disruptive Jews goes right to the heart of "The Jewish Question," a question that they collectively refuse to ever ask, and even more certainly will always refuse to ever answer:
A book I wrote in about 1975 was….the history of the Hungarian Uprising against the communist occupation of Hungary, for which I had access to a certain number of C.I.A. files, which are very interesting because the C.I.A. carried out in-depth psychological interrogations of a large the Hungarian refugees who came to this country after 1956.

And there was no doubt in my mind, a very interesting discovery indeed, which I wasn't aware of until I began investigating that. I didn't realize this. The reason I began writing a book about the Hungarian Uprising was entirely irrelevant. I decided to write a book about something other than Hitler and the Third Reich just to show that I wasn't in a rut.

But the odd thing was when I began writing that book, I discovered from the C.I.A. files that the Hungarian people, when they started that uprising, it began as an anti-Jewish pogrom. It was essentially an anti-Jewish revolution, not an anti-communist revolution to begin with for the first few days.

The Hungarian people regarded their government in the 1950s as being a jewish government, and they regarded the secret police, the dreaded [AVH] as being a jewish secret police, and essentially it was because when the Red Army entered Hungary in 1945, they brought back into Hungary all the Jews who had taken refuge in the Soviet Union, and they were the ones who got the plum jobs, and they were the ones who got the trustworthy jobs, the secret police chiefs and the torturers.

And that's why the Jews were so hated in Hungary by 1956 because they were regarded as the people who had inflicted this nameless misery on the Hungarian people, and so the Uprising began as an anti-Jewish uprising.

Every one of the 'Hungarian' leaders at that time in 1956….they were all Jews, and I never realized that when I set out to write it. It was an extraordinary fact the way these things are kept away from the public consciousness. And, of course, when the book came out, I was accused of 'antisemitism', but what am I supposed to do when you discover something, as a historian, are you supposed to pretend that it isn't that? And if you do pretend that, you are doing the Jewish people more harm than good, I think.

[Irving then tells how a group of Jews tried to disrupt one of his lectures in Louisiana…]

I know, I said to this Jewish mob in my audience, that I am disliked, and I know why I'm disliked. Now you people have been disliked for 3,000 years. Do you ever look in the mirror and ask yourselves why you are disliked?….They never ask themselves that question, do they?

He was the leader of the [disruptive Jewish gang in the audience], and he said, "Are you accusing us? Are you saying that we are responsible for Auschwitz ourselves?" And it was a bit of a dazzling question, and I said, "Well, the short answer is yes."

But that's a cruel answer because to do the question justice, you've got to have a lot of intervening stages, of course. But the short answer, if you want to hop from A to Z, is yes. If you hadn't behaved the way you have as a race for 3,000 years, first the Russians, then the Poles, then the Galicians, then the Austrians and the rest wouldn't have harried and hounded you from pillar to post so you end up finding yourselves at Auschwitz. And you've never asked yourselves, "Why?"
Hard copies of David Irving's book on the Hungarian Uprising have become very rare and expensive, but you can download it here online for free.
—————————————————————————————————————————————————————————————————————
The Wannsee Conference: Another Lie Crushed
One of the more commonly perpetuated myths around the Holocaust is that the Nazis held a conference in the Berlin suburb of Wannsee on January 20, 1942, where the "extermination of the Jews was planned."
One of the high-profile claims in this regard was made by Israeli Prime Minister Benjamin Netanyahu, at the UnitedNations in 2009, when he held up a copy of the minutes of the Wannsee meeting, and told the world that:
"There, on January 20, 1942, after a hearty meal, senior Nazi officials met and decided how to exterminate the Jewish people. The detailed minutes of that meeting have been preserved by successive German governments. Here is a copy of those minutes, in which the Nazis issued precise instructions on how to carry out the extermination of the Jews. Is this a lie?"
The simple answer to Netanyahu's question is, yes, this is a lie. An outright, shameless, blatant lie.
The actual minutes of the Wannsee Conference can be read in their entirety—in the original German here,
In reality, the Wannsee meeting and its minutes do not contain a master plan to kill Jews;
– Nowhere in the meeting's minutes is genocide discussed, planned, proposed, or even suggested;
– The Wannsee meeting never discussed gas chambers, shootings, or any of the fantasies propagated by the exterminationists;
– The Wannsee Minutes reported that there were only 4.5 million Jews under German control (yet 4.3 million Jewish compensation claims have been lodged against the postwar German government);
– The Wannsee meeting was a planning meeting on how Europe's Jews should be deported, via transit camps, to the East; with able-bodied Jews being forced to build roads and other labor intensive tasks in those regions;
– The Wannsee Conference also made allowance for specific exceptions to Jewish evacuation, such as Jewish German World War I veterans; ALL Jews over the age of 65; and ALL Jews working in industries vital to the German war effort, to be released from the threat of evacuation and be allowed to stay in Germany.
There is therefore, no justification for the allegation that the Wannsee Conference was a 'master plan for mass murder' and everyone who claims this to be the case, from Netanyahu down, is simply lying.
That the Wannsee Conference never discussed killing Jews in any way, has actually been confirmed in public by Yehuda Bauer, professor of Holocaust Studies at the Avraham Harman Institute of Contemporary Jewry at the Hebrew University of Jerusalem.
Bauer is also the founding editor of the journal Holocaust and Genocide Studies, and a member of the editorial board of the Encyclopaedia of the Holocaust, published by Yad Vashem in 1990.
He is not, therefore, as some Holocaust storytellers claim, some obscure figure, but a leading and major—in fact, one of the most senior—Jews promoting the Holocaust fable.
As long ago as 1992(!), Bauer, speaking at a conference held in London to mark the fiftieth anniversary of the Wannsee meeting, told the audience that the claim that Wannsee was a "master plan" to kill Jews was nothing a but a "silly story."
Bauer's remarks were reported in the Jewish Telegraphic Agency of January 23, 1992, and the Canadian Jewish Times of January 30, 1992.
Titled "Nazi Shceme Not Born at Wannsee, Israeli Holocaust Scholar Claims," the JTA report continued:
London (JTA)—An Israeli Holocaust scholar has de-bunked the Wannsee Conference, at which top Nazi officials are said to have gathered at a villa in a Berlin suburb in 1942 to draw the blueprints of the 'Final Solution.'

According to Prof. Yehuda Bauer of the Hebrew University in Jerusalem, Wannsee was a meeting, 'but hardly a conference', and 'little of what was said there was executed in detail.'

Bauer addressed the opening session of an international conference held here to mark the 50th anniversary of the decision to carry out the "Final Solution". "But it was not made at Wannsee", the Czech born scholar said.

"The public still repeats, time after time, the silly story that at Wannsee the extermination of the Jews was arrived at, Wannsee was but a stage in the unfolding of the process of mass murder," he said.
His comments were repeated in the Canadian Jewish News, which read as follows:
Wannsee's importance rejected 

London (JTA) — An Israeli Holocaust scholar has debunked the Wannsee Conference, at which top Nazi officials are said to have gathered at a villa in a Berlin suburb in 1942 to draw the blueprints of the "Final Solution."

According to Prof. Yehuda Bauer (photo) of the Hebrew University in Jerusalem, Wannsee was a meeting, "but hardly a conference", and "little of what was said there was executed in detail."

"The public still repeats, time after time, the silly story that at Wannsee the extermination of the Jews was arrived at."
In other words, even the leading "Holocaust scholar" in Israel knows that to claim that the Wannsee Conference was all about "killing Jews," or as Netanyahu told the United Nations, that the minutes contain "precise instructions on how to carry out the extermination of the Jews . . ." is an outright lie, a "silly story."
Once again, like everything else associated with the "Holocaust," the Wannsee Conference myth collapses when subjected to even the most basic investigation.
---
Recommended reading:
THE BARNES REVIEW, JANUARY/FEBRUARY 2001
VOLUME VII, NUMBER 1
A revised and updated version of the highly successful Jan/Feb 2001 TBR issue, 112 pages.
WHY HITLER CAME TO POWER
By Rabbi Dr. Manfred Reifer. A leader of the European Jewish community outlines his perspective on why Adolf Hitler was able to capture the support of the peoples of Europe. A thought-provoking essay…
WERE JEWS PAID FOR THEIR WORK IN THE CAMPS?
By Jennifer White. There was a thriving economy inside each concentration camp…
THE ORIGINS OF THE CONCENTRATION CAMPS
By Stephen A. Raper. For perhaps the first time ever, an objective look, devoid of hysterics, on the concentration camp system inside Germany. Forget about the Hollywood melodramas. Here are the facts…
HOLOCAUST EDUCATION OPPOSED
By Dr. Philip Glidden. A veteran academic has examined the growing move to institute Holocaust education in the schools. He concludes that it is destructive social programming injurious to students…
WHY IS "THE HOLOCAUST" IMPORTANT TODAY?
By Willis A. Carto. The unfortunate consequences of Holocaust propaganda…
ARE YOU TIRED OF "THE HOLOCAUST"?
By Michael Collins Piper. A prominent Jewish scholar has raised a lot of eyebrows with a new book that questions whether "the Holocaust" truly is central to American life…
JEWISH POWER & PROSPERITY IN GERMANY
No Modern-Day History Books Dare To Address The Topic Of Why So Many Germans Were Swayed By The Anti-Jewish Rhetoric That Accompanied Adolf Hitler's Rise To Power…
THE FIRST SHOT FIRED IN WWII
By Dr. M. Raphael Johnson. Not even most devotees of World War II history know that the worldwide Jewish community literally declared war on Germany and launched a massive economic boycott against Germany, setting the stage for events known cumulatively today as "the Holocaust."
THE TRUTH ABOUT THE "WAR CRIMES TRIALS"
Don't cite any "war crimes confessions" from the Nuremberg trials as "proof" of anything. Many of those who confessed were tortured, victims of victor's vengeance. Shocking, little-known revelations…
ANNE FRANK WAS NOT "GASSED AT AUSCHWITZ"
By Fred Blahut. She's a Holocaust icon, but there's much more to the story than the average hagiographer will tell you…
JEWISH LEADERS DENIGRATED HOLOCAUST SURVIVORS
Although people are told today that Holocaust survivors are worthy of the utmost respect, top Jewish leaders in the United States and Palestine didn't agree with that assessment in 1945…
HOW MANY REALLY DIED AT AUSCHWITZ?
By Vivian Bird. The twists and turns in the "official" accounts of the numbers of those who died—and didn't die—at the famous camp…
THE BIRTH OF THE AUSCHWITZ LEGEND
By Paul Rassinier. An overview of the origins of the story that Auschwitz was the central "death camp" in the purported Nazi plan to "exterminate the Jews"…
IS "THE HOLOCAUST" A RACKET?
By Michael Collins Piper. An American Jewish academic says the Holocaust is exploited for power and profit…
WHY WOULD ANYONE DENY "THE HOLOCAUST"?
By John Tiffany. Although the media talks much about "Holocaust denial," a close look at what the so-called "Holocaust deniers" really do say presents a different light on this controversial historical movement…
A JOURNEY TO 'HOLOCAUST DENIAL'
By Prof. Ray Goodwin. What does it take to become a "Holocaust denier"? Here's one academic's journey to the truth…
AN INTERVIEW WITH CARLO MATTOGNO
By The Barnes Review Staff.  The famed Italian Revisionist scholar grants TBR a rare interview we know you will enjoy…
FAREWELL TO "THE HOLOCAUST"?
Not only did the Jews survive the Holocaust, they've emerged as the single most powerful ethnic group on the planet…
8.5″×11″, paperback, 112 pp., b/w illustrations
—————————————————————————————————————————————————————————————————————
Patton Assassinated to Suppress His Criticism of Post-War Policy
Before his death in 1999, an OSS special agent openly talked about his role in incapacitating Gen. George S. Patton (1885-1945) via a staged automobile fender bender on Dec. 9, 1945. Using the pandemonium of the traffic collision as a distraction, agent Douglas DeWitt Bazata sniped Patton in the neck with a specially made gun firing a non-piercing bolt. Patton survived the incident with a dislocation of a vertebrae and never knew what hit him.
The government assassin first publicly confessed his guilt in the plot decades ago in front of a journalist at an OSS reunion dinner in D.C. Later, Bazata also confessed his role to author Robert K. Wilcox, who wrote the book "Target Patton." Wilcox's cousin and researcher Tim Wilcox discusses the circumstances in the video below. Bazata was an active special agent and assassin during and after WWII.
The assassin recounted that OSS Chief William Donovan had personally ordered the killing on the grounds that Patton had "gone crazy" and was becoming a major threat to American national interests.
A newspaper that also carried an interview claimed that it had "a professional analyst subject Bazata's interview to the rigors of a content analysis using a Psychological Stress Evaluator (P.S.E.) His report: Bazata gives no evidence of lying." More details can be gleaned in this article.
NOTE: The following video will play even though it looks like it has been removed.
On Dec. 9, 1945, a truck swerved in front of Patton's limo. It was driven by a corporal who then disappeared. Patton survived with a dislocation of vertebrae from Bazata's weapon and was taken to a hospital in more distant Heidelberg rather than in nearby Mannheim.
As Patton was recovering, he held a press conference and declared he was going home. Then, he was injected or poisoned in the hospital and died suddenly on Dec. 21, 1945. There is a backstory that NKVD agents got to him, but that wouldn't have been necessary.
Bazata claimed that he knows who killed him, and that Patton was killed by a dose of cyanide in the hospital. No autopsy was done, which is highly suspicious. Bazata went on to say that he met an unidentified man whom he knew only as a "Pole" (Polish extraction), who was also ordered to kill Patton.
Several official reports were produced regarding the exact circumstances of the very strange traffic accident said to be responsible for his death, but all of these reports have completely disappeared from U.S. government files. The medical reports disappeared, and archival records are strangely scrubbed.
Weak link in story? Patton stopped en route at a Roman ruin located on a hill along the roadside. Bazata put a jam into the window of Patton's auto that would leave a four inch gap for a shot to the target. There are very few images of the limo online and now no accident reports either. However this one is of interest. It shows a white colored tag sticking out of the window, door area where Patton was seated. The window itself is blurry, but you can see some interior detail. Was this window indeed partially open – thus confirming Bazata's claim?
Plenty of Motive for Assassination: George Patton's Interpretive Framework
Patton had planned to write his memoirs, illustrating that eastern Europe was tossed to the Soviet Union. The reason for the hit on Patton were his views put forth on Oct. 22, 1945, in a long letter to Maj. Gen. James G. Harbord. Once the powers that be realized Patton would retire and be outspoken, the plan was put into place. This "car accident" took place shortly before his scheduled departure home, and he had narrowly escaped death twice before under very strange circumstances.
In the letter, Patton had bitterly condemned the Morgenthau policy; Eisenhower's pusillanimous behavior in the face of Jewish demands; the strong pro-Soviet bias in the press; and the politicization, corruption, degradation and the demoralization of the U.S. Army, from this bad policy. He saw this as a deliberate goal of America's enemies.
I have been just as furious as you at the compilation of lies which the communist and Semitic elements of our government have leveled against me and practically every other commander. In my opinion it is a deliberate attempt to alienate the soldier vote from the commanders, because the communists know that soldiers are not communistic, and they fear what eleven million votes (of veterans) would do."
In his letter to Harbord, Patton also revealed his own plans to fight an "all-out offensive" against those who were destroying the morale and integrity of the Army and endangering America's future by not opposing the growing Soviet might.
It is my present thought … that when I finish this job, which will be around the first of the year, I shall resign, not retire, because if I retire I will still have a gag in my mouth … I should not start a limited counterattack, which would be contrary to my military theories, but should wait until I can start an all-out offensive …"
Several months before the end of the war, Patton recognized the fearful danger to the West posed by the Soviet Union, and he had disagreed bitterly with the orders given to him in April and May, 1945 to hold back his army and wait for the Red Army to occupy vast stretches of German, Czech, Rumanian, Hungarian and Yugoslav territory, which the Americans could have easily taken instead.
The most notorious incident allegedly happened toward the end of May, when an English-speaking Russian brigadier general arrived at Patton's headquarters to demand that some river boats on the Danube that had contained Germans who had surrendered to the Third Army be returned to the Russians. Patton opened a drawer, pulled out a pistol, slammed it down on his desk and raged, "Goddamnit! Get this son-of-a-bitch out of here! Who in hell let him in? Don't let any more Russian bastards into this headquarters."
On July 21, he wrote to Beatrice, "We have destroyed what could have been a good race and we [are] about to replace them with Mongolian savages. Now the horrors of peace, pacifism and unions will have unlimited sway. I wish I were young enough to fight in the next one [war]. It would be real fun killing Mongols …. It is hell to be old and passé and know it."
Then, he was highly critical of the post-war occupation policy in Germany.
The noise against me is only the means by which the Jews and Communists are attempting and with good success to implement a further dismemberment of Germany. I think that if I resigned as I threatened to do yesterday, it would simply discredit me to no purpose.

We promised the Europeans freedom. It would be worse than dishonorable not to see that they have it. This might mean war with the Russians, but what of it? They have no air force, and their gasoline and ammunition supplies are low. I've seen their miserable supply trains; mostly wagons drawn by beaten up old horses or oxen. I'll say this; the Third Army alone and with damned few casualties, could lick what is left of the Russians in six weeks. You mark my words. Don't ever forget them. Someday we will have to fight them and it will take six years and cost us six million lives. [As quoted in the book "The Unknown Patton" (1983) by Charles M. Province, p. 100]
Other notable quotes illustrate his frame mind.
No one gives a damn how well Bavaria is run. All they are interested in now is how well it is ruined. [Letter to Beatrice (29 September 1945), published in "The Patton Papers" (1996), edited by Martin Blumenson]

---

Evidently the virus started by Morgenthau and Baruch of a Semitic revenge against all Germans is still working. Harrison (a U.S. State Department official) and his associates indicate that they feel German civilians should be removed from houses for the purpose of housing Displaced Persons. There are two errors in this assumption. First, when we remove an individual German we punish an individual German, while the punishment is — not intended for the individual but for the race. Furthermore, it is against my Anglo-Saxon conscience to remove a person from a house, which is a punishment, without due process of law.
There were also running conflicts about the treatment of Axis POWs. Patton was countering abuses. Additionally Patton was furious that Americans from POW facilities in Soviet hands had not been immediately returned per agreement.
With great reluctance and only after repeated promptings from Eisenhower, he had thrown German families out of their homes to make room for more than a million DPs, but he balked when ordered to begin blowing up German factories in accord with the infamous Morgenthau Plan to destroy Germany's economic base forever.
In his diary he wrote:
I doubted the expediency of blowing up factories, because the ends for which the factories are being blown up — that is, preventing Germany from preparing for war — can be equally well attained through the destruction of their machinery, while the buildings can be used to house thousands of homeless persons.
In a letter to his wife of September 14, 1945, he wrote:
I am frankly opposed to this war criminal stuff. It is not cricket and is Semitic. I am also opposed to sending POW's to work as slaves in foreign lands (i.e., the Soviet Union's Gulags), where many will be starved to death. I have been at Frankfurt for a civil government conference. If what we are doing (to the Germans) is 'Liberty, then give me death.' I can't see how Americans can sink so low. It is Semitic, and I am sure of it.
On July 21, 1945:
Berlin gave me the blues. We have destroyed what could have been a good race, and we are about to replace them with Mongolian savages. And all Europe will be communist. It's said that for the first week after they took it (Berlin), all women who ran were shot and those who did not were raped. I could have taken it (instead of the Soviets) had I been allowed.
On August 31 he wrote:
Actually, the Germans are the only decent people left in Europe. It's a choice between them and the Russians. I prefer the Germans.
And on September 2:
What we are doing is to destroy the only semi-modern state in Europe, so that Russia can swallow the whole.
Morgenthauists and media monopolists had decided that Patton was incorrigible and must be discredited. So they began a non-stop hounding of him in the press, accusing him of being "soft on Nazis", Patton's response:
There is a very apparent Semitic influence in the press. They are trying to do two things: first, implement communism, and second, see that all businessmen of German ancestry and non-Jewish antecedents are thrown out of their jobs.
---
This article originally appeared on The New Nationalist and was republished here with permission.
---
'Poles killed more Jews than they did Germans': US historian ready to face Polish court over article
Published time: 31 Oct, 2016 14:37Edited time: 31 Oct, 2016 14:54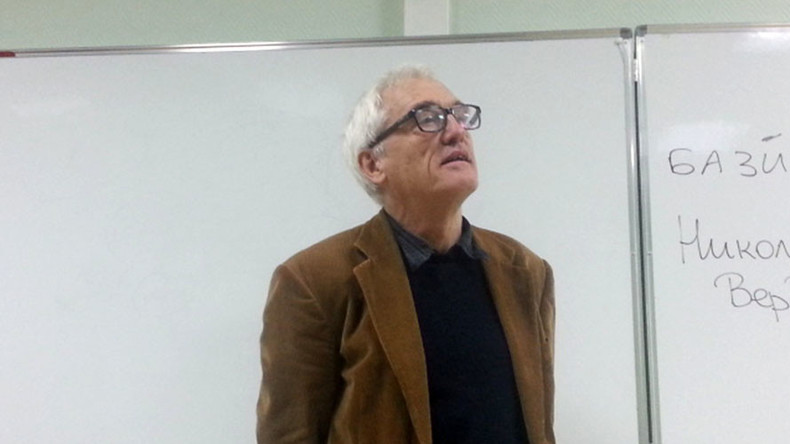 A US historian who wrote that "Poles killed more Jews than Germans" in WW2 in one of his articles, says he is ready to defend his words in court after it emerged that Warsaw had reportedly decided to reconsider closing the probe against him.
"It's very disturbing. It's political. I don't believe that court is the place where historical issues having to do with Polish-Jewish relations during the war should be debated," Jan Tomasz Gross, a US Princeton University professor of history and sociology, who is himself of Polish origin, said in an interview to Haaretz newspaper over the weekend.
Gross was accused of "publicly insulting the Polish nation [and] the Republic of Poland" back in 2015 for the views expressed in his article entitled "Eastern Europe's Crisis of Shame" published in the German daily Die Welt. The charge can lead to jail time of up to three years in Poland.
In the article, Gross sharply criticized eastern European countries, including Poland, for their "intolerant, illiberal, xenophobic" stance on the refugee crisis that has engulfed Europe. The historian claimed that Poland's "heartless" behavior and rhetoric lie deep in the country's "murderous past."
"Consider the Poles, who, deservedly proud of their society's anti-Nazi resistance, actually killed more Jews than Germans during the war," Gross wrote. He also claimed that the Poles who helped Jews during WWII were outsiders in their own land even after the war, and had to hide their deeds from neighbors out of fear of being shunned or even threatened.
Controversy surrounding the historian has been mounting ever since the article was published, with many Poles feeling offended by his words. Authorities claim they received angry letters calling on the government to punish the scholar and take back his state award, an Order of Merit he received in 1996 for his work on Poland.
"They got angry that a crazy guy like me writes something which is so banal that anybody who is a historian of that period and knows anything will tell you. I wanted to bring to people's mind the enormity of the crimes made by Polish fellow citizens against Jews. This is unfortunately the case. Poles killed a maximum 30,000 Germans and between 100,000 to 200,000 Jews," the historian told Haaretz.
The historian was questioned by the Polish prosecutor in April this year but no charges were pressed following the questioning.
"I told [the prosecutor] straight that I was not trying to insult the Polish nation. I was trying to raise awareness about the problem of refugees in Europe," Gross told AP at that time.
According to Gazeta Wyborcza, the prosecutor's office reversed the decision and said it would address the professional opinions of other historians regarding Gross' claims and only then decide whether to file charges. The investigation will continue into 2017.
Gross claims that the Polish right-wing conservative government that was elected last year may be behind the decision to carry on with the probe against him.
"This strange regime works very hard on falsification of history, and now they want to falsify the history of Polish-Jewish relations in the war," he told Haaretz.
Apart from the controversial article, Gross is best known for his book "Neighbors: the Destruction of the Jewish Community at Jedwabne, Poland," in which he tells about documented atrocities, including the torture, slaughter and burning alive of some 1,600 Jewish people in the town of Jedwabne, which were committed by local Poles.
"Things happened not only in Jedwabne," Gross noted to Haaretz, stating that attempts to rewrite history and put the blame for the murders on Germans and not Poles, which have been undertaken by some Polish historians, is criminal. For instance, Poland's Institute of National Remembrance has been pushing for an exhumation of the mass grave at Jedwabne to seek proof that people there were killed by Poles, and not Germans. Gross told Haaretz he plans to present testimonies to prove his findings in the matter are taken to court.
"This is false, a lie about history," Gross said about attempts to blame Jedwabne on the Germans.
"I will correct this. I'll say how things happened not only in Jedwabne but [elsewhere]. I'll bring people to testify. I stand by my work," the historian stressed.
———————————————————————————————————————————————————————————————————————