Fighting back against Israel's incursions has become second nature for residents of the West Bank village.
Ramallah, occupied West Bank – When Israeli military jeeps approached the village of Budrus last month, every resident was notified within minutes.
Through the speakers of the village's mosque, a warning was issued: Israeli forces had entered the area and were preparing to demolish a house.
Men, women and children rushed towards the site of the impending demolition. The village's women were the first on the scene.
"There was no organising meeting or discussion beforehand. We knew right when we arrived exactly what we had to do to stop them," resident Najia Awad told Al Jazeera.
Najia Awad says that residents immediately rush to resist whenever there are reports of Israeli forces on village lands [Jaclynn Ashly/Al Jazeera]
Najia and several other women pushed past Israel's forces and inside the house slated for demolition, until Israeli soldiers and border police began to block other women doing the same. "We descended from the house and began screaming at the soldiers and trying to distract them," she recalled.
At the same time, other women surrounded the Israelis and pulled women from their grip, allowing more women to rush inside the house. The women formed a line at the entrance and along the roof of the house, standing firm and silently. The Israeli soldiers, all strapped with M16s, quickly retreated.
This was not the first time that the women of Budrus have claimed victory against Israeli incursions on their lands. They led the village's resistance movement against Israel's separation barrier in 2003, and say that they have successfully defended 95 percent of their land from Israeli confiscations.
Today, more than a decade since their non-violent protests first gained headlines, resistance in the village has become second nature.
When I hear about the Israeli forces on our land, I don't run to collect my children and husband to prepare for the resistance. I know once I arrive at the site, I will see them there.
"The first thing all of us do when we wake up in the morning is check the community Facebook page," Najia said.
The page includes posts about all activities in the village, including sightings of Israeli forces. Details of such incidents are then broadcasted to all residents via the local mosque.
"We don't hold formal meetings or design a plan before an action any more," Najia said. "When I hear about the Israeli forces on our land, I don't run to collect my children and husband to prepare for the resistance. I know once I arrive at the site, I will see them there."
Resident Nasser Morrar told Al Jazeera that unlike resistance movements in a few surrounding villages – heavily dependent on weekly marches, international support and media presence – the resistance in Budrus has evolved into spontaneous community action and self-defence.
"When the Israelis are not here constructing the barrier wall or detaining residents, then we don't react or plan marches. But when they come, we force them to leave," he said.
Muna Morrar, Nasser's wife and a mother of four, said that the community's resistance was a "natural response", noting that their daughters and sons were literally born into the resistance.
Muna's daughter, now 15, was just 18 months old when she was first brought to the frontlines of resistance, strapped to her mother's hip as Muna raced to confront Israeli soldiers with the rest of her village.
"Every resident in Budrus is involved in the resistance," Muna told Al Jazeera. "I have to be with my community to help defend our lands. And if I were to leave my daughter at home when the Israelis come, there would be no one left in the village to watch her."
'I have to be with my community to help defend our lands,' says Muna Morrar [Jaclynn Ashly/Al Jazeera]
Muna even participated in the resistance while pregnant with her son, now 12. During one incident, Israeli forces fired a significant amount of tear gas, and Muna was forced to give birth during her eighth month of pregnancy after undergoing surgery. Doctors said the premature birth was due to the effects of the tear gas.
The community has successfully prevented many residents from being detained by Israeli forces. Muna recalled one such incident several years ago, when Israeli soldiers raided her home and attempted to detain her cousin.
"They handcuffed him and began dragging him out to the Israeli military jeep," she said. "I began to feel so angry, and without even thinking, I opened the back door of the jeep and started dragging him out."
Although the soldiers beat her and attempted to pull her away from the jeep, she said, Muna refused to let go of her cousin. Her screams travelled throughout the village, until everyone had poured out of their homes and arrived at the scene.
---
READ MORE: How Palestinian women defy Israel's occupation
---
"The soldiers were so overwhelmed by all these villagers confronting them that they took my cousin from the jeep, unlocked his handcuffs, and handed him back to us," Muna said.
The women of Budrus note that resistance is more difficult at night, when Israeli forces typically stage raids as residents are sleeping, making it more difficult for news to spread.
"No mother in the world would accept soldiers coming to their home in the night to detain their sleeping son," said Najia, whose 22-year-old son was recently detained during an overnight raid. "But, we still try to prevent the detentions, even if it's just to delay the soldiers in time for our children to escape."
Amira Awad, a soft-spoken mother of seven, experienced every mother's nightmare when one of her children, 21-year-old Lafee, was fatally shot by Israeli forces during a non-violent protest in 2015.
Amira Awad's son, Lafee, was killed by Israeli forces during a non-violent protest in 2015 [Jaclynn Ashly/Al Jazeera]
"Our resistance has always been non-violent," Amira told Al Jazeera from her home in Budrus, where posters and framed portraits of Lafee decorate the walls and shelves. "But even though we are unarmed, they still kill us. They still made my son a martyr."
According to Amira, Lafee had stayed behind after a protest against the separation barrier, when clashes broke out with Israeli forces. He was ambushed by a group of soldiers who attempted to detain him, but he resisted and wriggled out of their grasp.
As he began running towards his home, an Israeli sniper positioned nearby shot him with a live bullet in his back. He was pronounced dead shortly afterwards.
---
OPINION: When Palestinian women take up arms
---
"They killed an innocent person," Amira said, slowly shaking her head. "When something like this happens, you want revenge. But revenge for us is continuing our resistance, stopping this occupation, and forcing these soldiers back where they came from."
The death of her son has strengthened Amira's commitment to the resistance. "I used to be really afraid of these soldiers, but after they killed Lafee; I have no more fear," she said. "Every time they come on our land, I face them with the rest of my community, and I remind them of how they killed my son."
The women in Budrus encourage others throughout the occupied Palestinian territories to lead similar resistance efforts in their own communities.
"We want other communities to face these soldiers, because they can be stopped," Najia said. "Whatever these Israelis do to you, when you stand up to them, [it] will not destroy you. You can beat them. And each time you win, your resistance will become stronger."
Additional reporting by Soud Hefawi
Source: Al Jazeera
---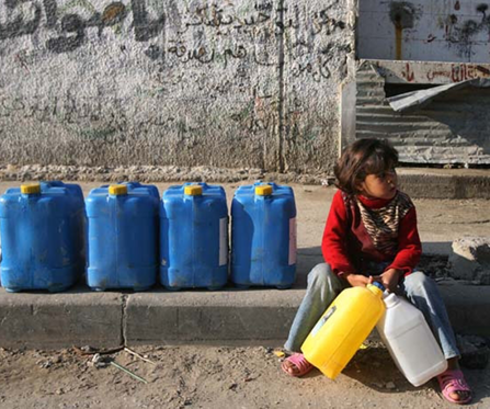 The innocent imprisoned. Movement restricted. Trade suffocated. Homes demolished. Human rights abuses are rife in Israel and the Occupied Palestinian Territories.
We do not take a position on issues of statehood.
We stand with those demanding that all sides respect human rights, and that perpetrators of human rights abuses are brought to justice.
---
Venezuela, Palestine Affirm Solidarity Through Deepening Ties
At a meeting in Caracas, Foreign Ministers Delcy Rodriguez and Riyad al Malki signed cooperation agreements.
Venezuela's Foreign Minister Delcy Rodriguez and her Palestinian counterpart Riad al-Malk pledged to reinvigorate, deepen and strengthen bilateral relations, signing cooperation agreements in areas such as education, economy, trade, energy, agriculture, culture, tourism, communication, sports, defense and health.
RELATED:
Venezuela's VP Attacks 'Absurd and Pathetic' Sanctions in NYT
At a meeting in the Venezuelan capital of Caracas Thursday, Rodriguez reaffirmed her country's support for the people of Palestine, highlighting the Palestinian struggle against illegal Israeli occupation whose zionist and expansionist policies forced the exile of some two million Palestinians and has narrow the country to the occupied Gaza Strip, West Bank and Golan Heights.
The Palestinian foreign minister expressed his country's warm feelings toward Venezuela and assured that Palestine identifies with Venezuela in the struggles and issues that the country advocates in defense of its people.
"The solidarity and support we receive from Venezuela are very important," the Palestinian foreign minister told a news conference. Speaking on behalf of his people, al-Malki expressed his appreciation for the work done by Venezuela when the South American country held the non-permanent seat of the United Nations Security Council.
———————————————————————————————————-
Palestinian circus performer held indefinitely without charge by Israel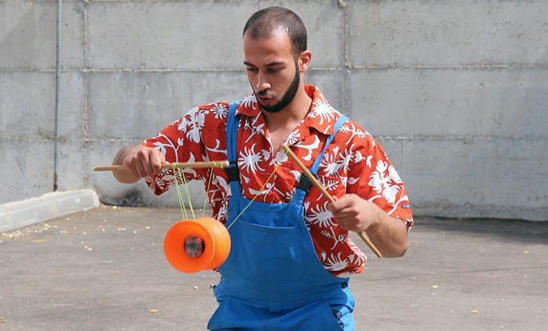 Mohammad Faisal Abu Sakha © Palestinian Circus School
Mohammad Abu Sakha is a 24-year-old circus performer who lives in Palestine's West Bank. He is currently being held in administrative detention without charge by Israeli authorities in a prison in southern Israel. He has been detained this way for over a year. We're calling for him to be charged or released immediately.
Extending detention, again and again
Mohammad was arrested by Israeli soldiers on 14 December 2015 on his way to work, and has been detained ever since in the administrative detention system. He's never been charged with a criminal offense nor tried for any crime.
Israeli authorities all-too-often abuse administrative detention to keep people behind bars without allowing them access to justice. Their treatment of Mohammad is just one such example of this.
On 13 June, Israeli authorities renewed Mohammad's detention for a further six months. On 11 December 2016, they renewed his detention order for a third time. Although six months is the maximum period of detention for each order, there is no limit on how many times each order can be renewed.
A hearing set for 13 December for a military judge to review the order at Ofer military court in the occupied West Bank was postponed – and no new hearing date was set.
At a hearing on 5 December at the Israeli High Court, the judges told Mohammad's lawyer that secret 'evidence' provided by the Israel Security Agency (ISA) supported the claim by security forces that Mohammad poses a 'threat to the security of the State of Israel'. But according to Mohammad's lawyer, there has been no new material in his client's file since December 2015. However, the system of administrative detention means that neither Mohammad  or his lawyer can review 'evidence' against him, and therefore can't defend the case – violating the central principle of a fair trial, which Mohammad has a right to.
Arrested on the way to circus school
Mohammad teaches circus skills at the Palestinian Circus School in Birzeit, near Ramallah, where he specialises in working with children with learning difficulties.
On 14 December, he set out from his parents' house and headed to the circus school – but never made it. Israeli soldiers stopped him at Zaatara checkpoint near Nablus. They took him to a nearby detention centre and held him there until issuing him with a six-month administrative detention order on 25 December.
Mohammad's detention was reviewed and upheld by an Israeli military judge on 5 January. On 31 March, Mohammad's appeal against his first six-month administrative detention order was rejected.
First held in Meggido prison, northern Israel, Mohammad was transferred to Ketziot prison in the Negev/Naqab, southern Israel, in mid-March. The fact that he is being held in Israeli is a violation of the Geneva Convention, which states that detainees from the population of an occupied territory must be detained within that territory.
Our campaign for justice for Mohammad
25,000 people emailed the Israeli authorities through our website, calling on them to charge or release Mohammad.