UPDATED ON
02/22/2017
2:03:59 PM
Israeli soldiers stand guard at a checkpoint blocking access to the al-Fawwar refugee camp on July 26, 2016
Hazem Bader (AFP)
Report says Palestinians have not taken steps to 'ensure accountability for crimes committed'
Human rights group Amnesty International accused Israel of a number of rights violations in its 2016 annual report on Wednesday, including the arbitrary arrest and detention of thousands of Palestinians, severe restrictions on freedom of movement, extrajudicial killings, and the torture of Palestinian detainees, among them children.
Amnesty's annual "State of the World's Human Rights" report documents human rights violations in 159 countries.
The rights group accused Israeli authorities of violating international law by detaining or imprisoning thousands of Palestinians, including children, under controversial administrative detention orders. Amnesty claims that as of April 2016 there were 694 Palestinian held under such orders, with this year representing the highest number of administrative detainees held since 2007.
Three Jewish suspects held in administrative detention this year were released, the group said.
Israel's controversial administrative detention law dates back to the British mandate period and allows the state to hold suspects without trial for periods of six months, renewable indefinitely.
The group accused Israeli soldiers and Israel Security Agency (ISA) officers of subjecting Palestinian detainees, including children, "to torture and other ill-treatment," including "beatings, slapping, painful shackling, sleep deprivation, use of stress positions and threats."
The report also lamented that those Palestinians charged with protest-related and other offences faced "unfair military trials" and "harsh sentences, even for minor offenses."
The NGO said that Israeli soldiers and security agents had killed at least 98 Palestinians from the West Bank, east Jerusalem, Gaza Strip, and Israel in the past year, acknowledging that most were killed while either attempting or carrying out attacks on Israelis.
Some, however, "were shot when they were posing no immediate threat to others' lives and appeared to be victims of unlawful killings," the report said.
The report cited, as examples, the killings of 16-year-old Palestinian-US national Mahmoud Shaalan at a Ramallah checkpoint in February; Mohammed Abu Khalaf in east Jerusalem in February; and the shooting of Maram Abu Ismail and her 16-year-old brother Ibrahim at the Qalandia checkpoint in April.
The Israeli army said that in each of those cases, suspects had either attempted or carried out attacks against soldiers.
Palestinian rights abuses not spared
The report did not leave out violations committed by the Palestinian governing bodies.
"Neither the Palestinian government nor the Hamas de facto administration in Gaza took steps to ensure accountability for crimes committed by Palestinians armed groups in previous conflicts, including indiscriminate rocket and mortar attacks on Israel and summary killings of alleged 'collaborators,'" the report stated.
According to the NGO, Palestinians killed 16 Israelis, mostly civilians, in a wave of stabbing, shooting, and car-ramming attacks last year.
Amnesty said Israel had severely restricted the movement of Palestinians in both the West Bank and Gaza Strip, on which the military has imposed a land and sea blockade.
The report said that Israel's control on the movement of people and goods into and from the Gaza Strip, combined with Egypt's almost total closure of the Rafa border crossing, has severely hampered reconstruction efforts in the enclave with some 51,000 people still displaced from the 2014 war between Hamas and Israel.
Israel maintains that its blockade is necessary to keep out material that could be used for military purposes by the Islamist movement Hamas, the Strip's defacto rulers.
Amnesty said that an "unprecedentedly high" number of evictions and home demolitions took place in 2016, with Israeli authorities evicting more than 1,593 people from their homes and razing 1,089 homes and other structures built without permits.
The report cited many Palestinians' complaints that such permits were "virtually impossible to obtain" and also denounced Israel's policy of deterrence in which the homes of Palestinian terrorists who carry out attacks against Israelis are demolished, often overnight.
Amnesty also criticized Israel's settlement and asylum-seeker policies, its actions to combat violence against women and girls, as well as a law passed requiring NGOs to declare if they receive more than 50 percent of funding from foreign governments, saying that the legislation is meant to target human rights groups and organizations critical of the Israeli government.
'Demonizing' policies of Trump, others a risk: Amnesty
Summarizing human rights abuses in the past year, Amnesty International's secretary general Salil Shetty wrote that "for millions, 2016 was a year of unrelenting misery and fear, as governments and armed groups abused human rights in a multitude of ways."
"Large parts of Syria's most populous city, Aleppo, were pounded to dust by air strikes and street battles, while the cruel onslaught against civilians in Yemen continued. From the worsening plight of the Rohingya people in Myanmar to mass unlawful killings in South Sudan, from the vicious crackdowns on dissenting voices in Turkey and Bahrain to the rise of hate speech across large parts of Europe and the USA, the world in 2016 became a darker and more unstable place," Shetty wrote.
Shetty said that the election of U.S. President Donald Trump had been "perhaps the most prominent of many seismic events" on the world political stage.
"His election followed a campaign during which he frequently made deeply divisive statements marked by misogyny and xenophobia, and pledge to roll back established civil liberties and introduce policies which would be profoundly inimical to human rights," wrote Shetty.
But while acknowledging "the parallels that many are drawing between the present time and 1930s Europe," Shetty said "We must not be fatalistic."
He called on "leaders, but especially people, to stand up against the politics of demonization".
(Staff with AFP)
---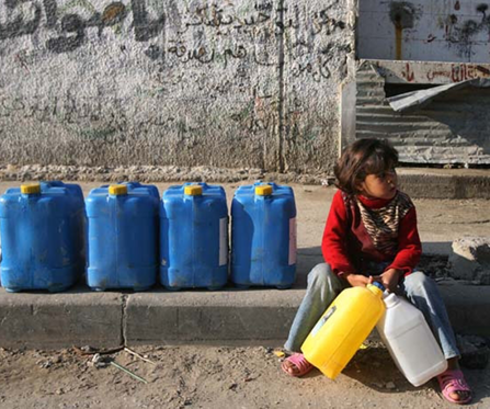 The innocent imprisoned. Movement restricted. Trade suffocated. Homes demolished. Human rights abuses are rife in Israel and the Occupied Palestinian Territories.
We do not take a position on issues of statehood.
We stand with those demanding that all sides respect human rights, and that perpetrators of human rights abuses are brought to justice.
---
Israel and Palestine: The quest for justice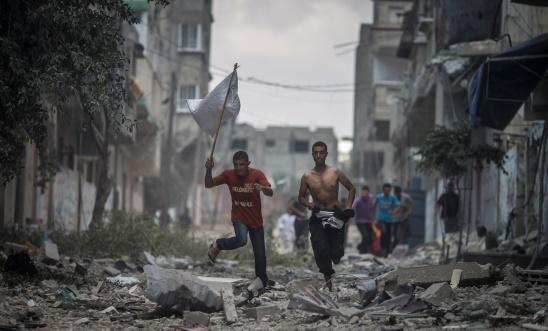 Rescue workers enter Shuja'iyya, Gaza, to retrieve dead and wounded during Operation Protective Edge. © EPA/OLIVER WEIKEN
On the last day of 2014, the Palestinian government took the first positive step towards joining the International Criminal Court (ICC).
They officially joined the ICC on 1 April 2015, which means that crimes committed in the Occupied Palestinian Territories (OPT) will be covered by the court's jurisdiction.
Alleged crimes committed during the most recent Israel-Gaza conflict could also be investigated.
Punished for seeking justice
Just one day after the Palestinian President Abbas signed the Rome Statute for the ICC, Israel suspended payment of US$127 million in tax revenues due to the Palestinian authorities.
We also fear that the USA may invoke a law passed by Congress in December requiring the government to stop its annual Economic Support Fund aid (amounting to $500 million) on which so many Palestinians rely.
'Rather than punishing an entire population by holding back tax payments, Israel should support a process that could lead to justice both for its own citizens as well as Palestinians.
'The UK and other EU countries should have the courage to support the Palestinians' quest for justice.'

Allan Hogarth, Amnesty UK's Head of Policy and Government Affairs
Background to the conflict
The bloody Israeli-Palestinian conflict has been raging on and off for decades. Civilians on both sides continue to bear the brunt of the enduring violence.
In the summer of 2014, more than 2,000 civilians were killed, including more than 500 children, during Israel's land invasion in Gaza.
Gazan homes, businesses and infrastructure were destroyed, leaving thousands without shelter, water or medical care. Both sides committed serious violations of international humanitarian law, including war crimes.
The suffering for Palestinians in Gaza is compounded by Israel's ongoing blockade and the legacy of previous conflicts, which have had a devastating effect.
Before the most recent conflict, Israeli restrictions meant that 75,000 housing units and 259 schools destroyed during previous conflicts were never re-built.
Ongoing impunity
Israel has repeatedly denied access to Gaza to the UN Commission of Inquiry, which is intended to investigate all violations of international humanitarian law. And Israel continues to deny access to us and other human rights organisations researching allegations of war crimes during the conflict.
Perpetrators on both sides have enjoyed impunity as both Israeli and Palestinian authorities have failed over many years to bring justice, truth and reparation to victims.
Despite participating in the establishment of the ICC, Israel has not ratified the Rome Statute – the governing document of the ICC outlining international crimes – but their citizens can still be tried for crimes committed elsewhere.