Banksy opens Walled Off Hotel in Bethlehem
Hotel in Bethlehem offers 'worst view in the world' with rooms facing grey concrete.
Secretive British street artist Banksy has opened a hotel next to Israel's separation wall in Bethlehem, his latest artwork in the Palestinian territories.
The Walled Off Hotel is only four metres from the wall which cuts through the occupied West Bank and all the rooms face it.
"It has the worst view of any hotel in the world," Banksy said in a statement.
The artist himself was not in attendance, though dozens of his new works adorn the walls.
Above one bed an Israeli soldier and Palestinian protester fight with pillows, while a television supposedly showing CNN is cracked and backwards.
In the presidential suite, a working jacuzzi is fed from a leaking water tank similar to those that adorn the roofs of many Palestinian homes.
Banksy's artwork comments on war, child poverty and the environment [Reuters]
There is also a gallery selling Palestinian art and a museum highlighting the history of the region and Western interference in it.
At a push of a button a moving statue of Arthur Balfour signs the decree which promised Jews a homeland in the land at that time called Palestine.
Seven of the bedrooms were designed by Banksy himself. Two others were dreamed up by Canadian and Palestinian artists.
The wall is one of the most striking symbols of Israel's 50-year occupation, and has become a major focus for demonstrations and  art work.
READ MORE: Israel – An inspiration for Trump
Israel began construction on the wall in 2002, saying it was meant to keep out would-be attackers. But critics argue the wall serves as a de facto annexation of Palestinian land.
According to the International Court of Justice it is in clear violation of international law.
The Banksy statement said the hotel "offers a warm welcome to people from all sides of the conflict and across the world".
Banksy has maintained his anonymity despite numerous theories and attempts to reveal his identity since he started stencilling on walls in his native city of Bristol in southwest England more than a decade ago.
His artwork comments on war, child poverty and the environment, and has a long history in the Palestinian territories.
In February 2015, he allegedly sneaked into the Gaza Strip through a smuggling tunnel and painted three works on the walls of Gaza homes destroyed in Israeli air strikes during the previous year's conflict.
In 2007, he painted a number of artworks in Bethlehem, including a young girl frisking an Israeli soldier pinned up against a wall.
The hotel offers a warm welcome to people from all sides of the conflict and across the world, said Banksy [Reuters]
In 2005, he sprayed nine stencilled images at different locations along the eight-metre-high wall.
They included a ladder reaching over the wall, a young girl being carried over it by balloons and a window on the grey concrete showing beautiful mountains in the background.
Tourism companies have long complained that the wall and Israel's occupation have crippled the tourist industry in Bethlehem, considered the birthplace of Jesus.
But Banksy art has attracted visitors, and Walled Off Hotel manager Wisam Salsah said he hoped the new project would continue this trend.
"Since 2008 we didn't have many tourists coming into Bethlehem, but there were more Banksy tourists coming than any other type of tourists," Salsah told Al Jazeera.
"Actually there were more Banksy tourists coming to Bethlehem than Nativity Church tourists. We say more Banksy tourists than Jesus tourists."
Source: Al Jazeera and news agencies
---
Rebuilding Gaza from its ashes
Palestinian inventor hopes to help rebuild Gaza using Green Cake, a new type of brick made of coal and wood ash.
Gaza City – People initially laughed and told her she would fail, but 22-year-old civil engineering graduate Majd Masharawi persisted – and after more than a year of experimenting, she believes she has a solution for Gaza's stalled reconstruction.
Masharawi and her friend, Rawan Abdelatif, last year finished creating a type of brick that can be used to literally rebuild Gaza from its ashes. Green Cake is the world's only brick that uses coal and wood ash as filler material instead of the usual sand and aggregate. It is stronger than an ordinary brick, yet half the weight and price.
The pair came up with the concept after brainstorming ideas to launch after they graduated to help decrease Gaza's high unemployment rate, which exceeds 40 percent.
"We asked ourselves, what is Gaza suffering from? The main thing is a shortage in building materials," Masharawi told Al Jazeera. "I told [Abdelatif], cement is a big issue. Let's find an alternative."
READ MORE: Gaza power crisis – 'We want to end this nightmare'
Amid the decade-long Israeli-Egyptian siege of Gaza, many materials deemed "dual-use" have been banned from entering the Palestinian territory, or are allowed only in limited quantities.
This has stalled Gaza's ability to rebuild after the 2014 Israeli offensive, which destroyed 18,000 homes. About 75,000 people remain displaced, according to the United Nations, with many still living in temporary corrugated iron structures. Several babies died this year amid freezing conditions and a lack of heating.
So far, Gaza has received only a third of the cement required for reconstruction, and only 20 percent of the destroyed housing units have been rebuilt. Due to the limited amount of cement allowed into the territory, bricks are costly and of poor quality, Masharawi said.
Searching for an alternative, she learned that an enormous amount of ash goes to waste, as much of the world relies on coal to generate electricity. The United States and China together produce 800 million tonnes of ash annually, half of which ends up in landfills, Masharawi noted.
 Inventor Majd Masharawi says that it has been difficult to promote Green Cake internationally due to the Israeli-Egyptian siege [Ezz Zanoun/Al Jazeera]
In Gaza, three restaurants produce 100 kilograms of ash each day, while more than seven tonnes of ash is produced weekly in mud pot factories. Masharawi realised that recycling the ash to make bricks would make great use of a material that would otherwise be buried in the sand, posing an environmental hazard.
"I thought this is a good idea because it won't be just applicable in Gaza, but all over the world," she said.
After 10 failed attempts, Masharawi took her first prototype brick to a local factory for a compressive strength test to make sure that it could withhold weight, but it collapsed, having sustained a strength of only 0.2 megapascals out of the required three.
"The lab man laughed at us and said, 'Please girls, go to the kitchen and make something else; maybe actual Green Cake,'" Masharawi recalled.
READ MORE: Besieged Gaza hits population milestone
She and Abdelatif continued experimenting, changing the way they mixed the substance to make it more homogenous and adding new materials. Dozens of samples later, they strengthened their prototype to 2.7 MPa; it now stands at 3.4 MPa.
They named it Green Cake for its environmental friendliness and light weight. Out of 800 applicants, they won first place in a local start-up incubator called Mobaderoon III, which provided them with funds to help finance their first production in September, when a client commissioned them to build an exterior wall with 1,000 bricks.
Green Cake's cheap price and excellent quality has attracted local interest, but it has been difficult to promote internationally amid the siege. The women were supposed to compete in the finals of the MIT Arab Startup Competition in Saudi Arabia last year, but could not get permission to leave through the Erez checkpoint.
"At the time I was very disappointed," Masharawi said. "While we were presenting our idea on Skype, we lost connection, so we finished presenting over a phone call."
If you want to do something, you have to believe it and do it with faith … because you're the only person responsible for the future.
Testing the brick has entailed another set of challenges. While they could conduct local tests on its strength, absorption and gravity, there are no laboratories in Gaza to test out its durability and fire resistance, and to conduct a chemical analysis.
"I told Rawan we have to try to send a prototype to the West Bank, but it's not allowed," Masharawi said.
She received some good news last summer, after tying for first place out of 40 competitors in the Japan Gaza Innovation Challenge, which provides investment opportunities for projects that enhance living conditions in Gaza.
Many people in Japan are already interested in supporting Green Cake, said the challenge's founder, Fumiya Kamikawaji.
"Her idea to produce construction materials from used ash is truly innovative, and we highly value her passion to rebuild destroyed Gaza with her Green Cake," judge Seiichiro Yonekura told Al Jazeera.
READ MORE: UN – Israeli occupation stunts Palestinian economy
The most thrilling part for Masharawi was when the Japanese delegation took her Green Cake brick back to Japan to complete the remaining tests, which were successful.
"They changed my life deeply; they did many things for me that I couldn't do in Gaza," Masharawi said. "They asked me, 'What do you want?' I told them I want more knowledge about material science, about testing, about the engineering business, and this is what I'll get from them."
As part of the prize, she will travel to Japan this month to train with the construction and engineering corporation Maeda, where a team of scientists will help her to further develop her brick. "Now I have hope again," Masharawi said.
And as the price of cement in Gaza continues to rise, Masharawi says she is more determined than ever to find an alternative.
"There are no limits for human beings' minds," she said. "If you want to do something, you have to believe it and do it with faith … because you're the only person responsible for the future."
Source: Al Jazeera
---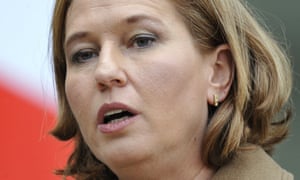 Israel's former foreign minister Tzipi Livni has been granted special diplomatic immunity by the UK government after a Metropolitan police request to interview her over allegations about war crimes during the 2008-09 military operation in Gaza.
Israel expressed "great concern" to London over the summons on Thursday for a "voluntary interview" from Scotland Yard detectives examining alleged war crimes, as Livni prepared to attend a conference in London organised by the liberal Israeli newspaper Haaretz.
"We would have expected different behaviour from a close ally such as the UK," a foreign ministry statement said. "Israel is fully committed to the rule of law – in both times of peace and in times of war."
Livni was foreign minister at the time of Israel's Operation Cast Lead against Hamas, which according to the Israeli human rights group B'Tselem resulted in 1,391 Palestinian deaths, at least 759 of them non-combatants.
She told Israeli Army Radio on Monday the police request was non-mandatory but "unacceptable".
Livni said in London that she was proud of the decisions she had taken in government, and that Hamas had continued to attack Israel despite the withdrawal of Jewish settlements in Gaza in 2005. She added: "The British legal system is being abused."
This is the third time that Livni, who it was agreed would meet a senior UK Foreign Office official during her trip, has been given immunity in related circumstances.
In 2014 while she was justice minister, efforts were made by British lawyers acting with the Palestinian Centre for Human Rights to persuade the Crown Prosecution Service to order her arrest. The PCHR complained that such diplomatic intervention endorsed "the rule of the jungle".
Although originally on the Israeli right, Livni supports a two-state solution and was heavily involved in peace negotiations with the Palestinian president, Mahmoud Abbas.
Scotland Yard said it did not comment on whom it wished to interview and added: "There is no ongoing investigation."