War itself is a staple for Israel, and Israel's appetite for war is at an all-time high.
At a glance, Israel appears a true democracy. Take a closer look, and that facade of democracy will soon dissipate, turning into something else entirely.
INTERVIEW:
Israel's Biggest Crime Against Palestine Is Occupation Itself
Tuesday, Feb. 28 was one of those moments. The chain of events was as follows:
An official Israeli State Comptroller issued another report on the Israeli government's handling of the July 2014 war on Gaza, when over 2,200 — of whom over 70 percent were Palestinian civilians — were killed and thousands more wounded in Israel's so-called "Operation Protective Edge." The report chastised Israeli Prime Minister Benjamin Netanyahu and then-Defense Minister Moshe Ya'alon,  among others, for the lack of preparedness and for their mishandling of the subsequent 50-day conflict. Netanyahu reacted angrily, Ya'alon took to Facebook to defend his record, the opposition in the Israeli Knesset (parliament) went on the offensive and politicians lined up, taking sides. A media frenzy followed; the country was in an uproar.
This is not a precedent. It is a repeat of a recurring scenario that often follows Israel's military plunders.
When such reports are issued, Israelis sort out their differences in fierce parliamentary and media battles.
While Israelis begin to examine their failures, demanding accountability from their government, western mainstream media finds the perfect opportunity to whitewash its own record of failing to criticize Israel's military onslaught at the time.
According to U.S. media logic, for example, Israel's investigation of its own action is a tribute to its thriving democracy, often juxtaposed with Arab governments' lack of self-examination.
When Israel invaded Lebanon in 1982, instigating a war that resulted in the deaths of tens of thousands of Lebanese and Palestinians, culminating in the Sabra and Shatilla Massacres, a familiar scenario ensued: the United States did its utmost to prevent any international intervention or meaningful investigation, while Israel was allowed to investigate itself.
The outcome was the Kahan Commission Report, the conclusion of which was summarized by international law expert, Professor Richard Falk, as such: "The full measure of Israel's victory is rather its vindication, despite all, as a moral force in the region—as a superior state, especially as compared to its Arab rivals."
The U.S. media touted Israel's "moral victory," which, somehow, made everything okay, and with a magic wand, wiped the record clean.
OPINION:
Oppression in the Land of the Free: A Muslim Leader Speaks Out
The Washington Post editorial led the congratulatory chorus: "The whole process of the Israeli reaction to the Beirut massacre is a tribute to the vitality of democracy in Israel and to the country's moral character."
This sorry state of affairs has been in constant replay for nearly 70 years, ever since Israel declared its independence in 1948.
International law is clear regarding the legal responsibility of occupying powers but since Israel is rarely an enthusiast of international law, Israel has forbidden any attempt at being investigated for its actions.
In fact, Israel abhors the very idea of being "investigated." Every attempt by the United Nations, or any other organization dedicated to upholding international law, has either been rejected or failed.
By Israeli logic, Israel is a democracy and democratic countries cannot be investigated over their army's involvement in the death of civilians.
This was, in fact, the gist of the statement produced by Israeli Prime Minister Benjamin's Netanyahu's office in June 2010, soon after Israeli army commandos intercepted a humanitarian aid flotilla on its way to Gaza and killed 10 unarmed activists in international waters.
Israel is an occupying power under international law and is held accountable to the Fourth Geneva Convention. The international community is legally obliged to examine Israel's conduct against Palestinian civilians and, needless to say, against unarmed civilians in international waters.
Israel's record of investigating itself, aside from being spun to praise Israel's moral superiority, has never been of any help for Palestinians.
In fact, the entire Israeli justice system is systematically unjust to occupied Palestinians.
The Israeli rights group Yesh Din reported that out "of the 186 criminal investigations opened by the Israeli army into suspected offenses against Palestinians in 2015, just four yielded indictments." Such indictments rarely yield prison sentences.
The recent indictment of Israeli army medic, Elor Azarya, sentencing him to a (now postponed) term of 18 months in prison for the killing in cold blood of an alleged Palestinian attacker is an exception, not the norm. It has been years since an Israeli soldier was sentenced. In fact, several thousand Palestinian civilians have been killed between the last time a manslaughter conviction of an Israeli soldier in 2005 and Azarya's indictment.
Azarya, now perceived by many Israelis as a hero, has received such a light punishment that it is less than that of a Palestinian child throwing rocks at an Israeli occupation soldier.
Some United Nations officials, although powerless before the U.S. backing of Israel, are furious.
The 18-month verdict "also stands in contrast to the sentences handed down by other Israeli courts for  other less serious offenses, notably the sentencing of Palestinian children to more than three years' imprisonment for throwing stones at cars," U.N. human rights spokeswoman, Ravina Shamdasani, said in response to the Israeli court decision.
While pro-Israel social media activists and media pundits went on to praise the supposedly unmatched Israeli democracy, a campaign in Israel to pardon Azarya continues to garner momentum. Prime Minister Netanyahu is already on board.
OPINION:
Descendants of Slaves, Forerunners of Justice: American Muslims Must Stop Apologizing
Not only is the Israeli justice system unjust to Palestinians, it was never intended to be so. A careful reading of the recent comptroller's remarks and findings would clarify that the intent was never to examine war against a besieged nation as a moral concept, but the government's inability to win the war more effectively: the breakdown of intelligence, Netanyahu's lack of political inclusiveness and the death of an unprecedented number of Israeli soldiers.
Israel's appetite for war is, in fact, at an all-time high. Some commentators are arguing that Israel might launch yet another war so as to redeem its "mistakes" in the previous one, as stated in the report.
But war itself is a staple for Israel. Hard-hitting Israeli journalist Gideon Levy's reaction to the comptroller's report says it best. He argued that the report is almost a plagiarized copy of the "Winograd Commission Report," which followed the 2006 Second Lebanon War.
All wars since 1948 "could have been avoided," Levy wrote in Haaretz. But they were not, frankly, because "Israel loves wars. Needs them. Does nothing to prevent them and, sometimes, instigates them."
This is the only way to read the latest report, but also all such reports, when war is used as a tool of control, to "downgrade" the defenses of a besieged enemy, to create distraction from political corruption, to help politicians win popular support, to play, time and again, the role of the embattled victim and many other pretenses.
As for Palestinians, who are neither capable of instigating or sustaining a war, they can only put up a fight, real or symbolic, whenever Israel decides to go for yet another bloody, avoidable war.
No matter the outcome, Israel will boast of its military superiority, unmatched intelligence, transparent democracy and moral ascendancy; the U.S., Britain, France and other Europeans will enthusiastically agree, issuing Israel another blank check to "defend itself" by any means.
Meanwhile, any attempt at investigating Israeli conduct will be thwarted, for Israel is a "democracy" and, for some reason, self-proclaimed democracies cannot be investigated. Only their sham investigations matter; only their dead count.
Dr. Ramzy Baroud has been writing about the Middle East for over 20 years. He is an internationally-syndicated columnist, a media consultant, an author of several books and the founder of PalestineChronicle.com. His books include "Searching Jenin," "The Second Palestinian Intifada" and his latest "My Father Was a Freedom Fighter: Gaza's Untold Story." His website is www.ramzybaroud.net.
———————————————————————————————————–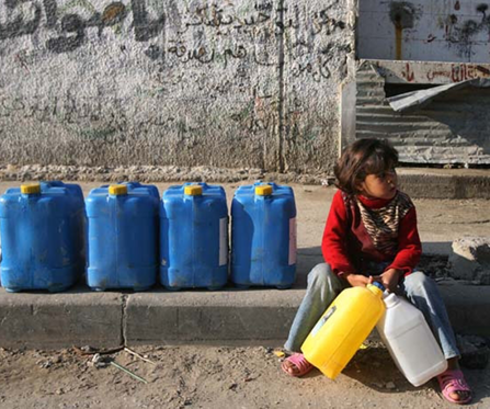 The innocent imprisoned. Movement restricted. Trade suffocated. Homes demolished. Human rights abuses are rife in Israel and the Occupied Palestinian Territories.
We do not take a position on issues of statehood.
We stand with those demanding that all sides respect human rights, and that perpetrators of human rights abuses are brought to justice.
---
Israeli Pesticides Leading to Human Rights, Environmental Abuse
A Palestinian farmer sprays pesticide in a tomato field in the West bank village of Beit Ummar, north of Hebron, Sep. 9, 2012. | Photo: Reuters
Published 22 February 2017
Environmental groups say that Israeli authorities are facilitating pollution and violating human rights in illegal Israeli settlements.
Israel has been facilitating the illegal trade and manufacturing of deadly pesticides within illegal Israeli settlements on Palestinian territory, according to a recent investigation. The use of pesticide has not only contaminated the local environment and food sources, but has led to serious human rights abuses, according to the report.
RELATED:
Israeli Soldier Gets Lenient 18 Month Sentence for Killing Wounded Palestinian
A number of highly toxic pesticides banned by the self-governing body, the Palestinian Authority, PA, are illegally traded into Palestinian territories under Israeli occupation, according to a fact-finding investigation by the Arab Group for the Protection of Nature, APN, and the PAN Asia Pacific, PANAP.
While the PA has some of the world's strictest pesticide regulations, it does not have access to the information on the chemicals that are made inside the illegal settlements. The investigation found that 50 percent of pesticides in Palestine were illegal and uncovered.
Dr. Meriel Watts from PANAP, said that Israeli authorities "knowingly facilitate the entry of banned highly hazardous pesticides into the Occupied West Bank."
The investigation detailed how hazardous chemical waste is dumped on Palestinian territory often close to schools, and those living near Israeli industrial settlements in the West Bank report water and soil contamination and respiratory and eye diseases. Runoff from pesticide use and waste from chemical manufacturing has poisoned farms, livestock and the water supply within the illegal settlements.
Some chemical manufacturing companies are still operating inside the illegal settlements, but have been banned outside of the settlements because of environmental and health violations. The investigation said that the manufacturing companies and Israel were complicit in allowing the illegal pesticide trade and that Israel has prevented the PA from being able to enforce policies to regulate the trade and manufacture of hundreds of deadly chemicals.
OPINION:
Trump-Netanyahu Circus: Now, No One Can Save Israel from Itself
"These activities have been found to violate Palestinians' rights to information, self-determination, water, highest attainable standard of health and healthy environment, and livelihood," a press release from PANAP read.
"These human rights violations are perpetrated in the context of the Israeli occupation and expansion of the illegal settlements," said APN founder Razan Zuayter.
All Israeli settlements on occupied Palestinian land are illegal under international law and activists and human rights groups have called for an end to the illegal settlements, a view supported by last year's U.N. Security Council resolution vote.
Tags
Middle East & North Africa Israel Palestine Environment Human rightsPolitics
APN-PANAP
by teleSUR / mm-ACB-egb
---
Edward I Expells the Jews from England(1290)
The infamous Edward I.
In 1290 King Edward I of England (Longshanks)
issued an edict expelling all Jews from England.
"Lasting for the rest of the Middle Ages, it would be over 350 years until it was formally overturned in 1656. The edict was not an isolated incident but the culmination of over 200 years of conflict on the matters of usury. The first Jewish communities of significant size came to England with William the Conqueror
in 1066. On the conquest of England, William instituted a feudal system in the country, whereby all estates formally belonged to the king, who appointed lords over vast estates, subject to duties and obligations (financial and knights) to the king. Under the lords were further subjects such as serfs, which were bound and obligated to their lords. Merchants had a special status in the system as did Jews. Jews were declared to be direct subjects of the King, unlike the rest of the population. This had advantages for Jews, in that they were not tied to any particular lord, but were subject to the whims of the king. Every successive King formally reviewed a royal charter granting Jews the right to remain in England. Jews did not enjoy any of the guarantees of Magna Carta of 1215.
"Economically, Jews played a key role in the country. The church at the time strictly forbade usury, or the lending of money for profit. This left a hole in the heart of the European economy that Jews quickly filled (canon law was not considered to apply to Jews, and Judaism permits loans with interest
between Jews and non-Jews).  As a consequence, some Jews made large amounts of money. However, taking advantage of their unique status as his direct subjects, the King could expropriate Jewish assets in the form of taxation. He levied heavy taxes on Jews at will without having to summon Parliament.  The Jewish community acted as a kind of giant monetary filter: Jews collected interest on money loaned to the people which the King could take at his pleasure.
"Jews acquired a reputation as extortionate money lenders which made them extremely unpopular with both the Church and the general public. While antisemitism was widespread in Europe, medieval England was particularly antisemitic. An image of the Jew as a diabolical figure who hated Christ started to become widespread, and antisemitic myths such as the Wandering Jew and ritual murders originated and spread throughout England; as well as Scotland and Wales.  Jews were said to hunt for children to murder before Passover so they could use their blood to make matzah. Antisemitism on a number of occasions sparked riots where many Jews were murdered, most famously in 1190 when over a hundred Jews were massacred in the city of York.
"The situation only got worse for Jews as the 13th century progressed. In 1218, England became the first European nation to require Jews to wear a marking badge. Taxation grew increasingly intense. Between 1219 and 1272, 49 levies were imposed on Jews for a total of 200,000 marks, a huge amount of money.  The first major step towards expulsion took place in 1275, with the Statute of Jewry. The statute outlawed all usury and gave Jews fifteen years to readjust. However, guilds as well as popular prejudice made Jewish movement into mercantile or agricultural pursuits almost impossible.
"While in Gascony
in 1287, Edward ordered English Jews expelled. All their property was seized by the crown and all outstanding debts payable to Jews were transferred to the King's name. It was a bleak sign of things to come. Edward's personal views on Jews are something of a mystery. In the glimpses we have of his dealings with them, he seems interested but unsympathetic. His mother, however, does seem to have been anti-semitic. Whatever his personal feelings, by the time he returned to England in 1289 Edward was deeply in debt. The next summer he summoned his knights to impose a steep tax. To make the tax more palatable, Edward in exchange essentially offered to expel all Jews. The heavy tax was passed, and three days later, on July 18, the Edict of Expulsion was issued. One official reason for the expulsion was that Jews had neglected to follow the Statute of Jewry. The edict of expulsion was widely popular and met with little resistance, and the expulsion was quickly carried out.
"The Jewish population in England at the time was relatively small. While population estimates vary, probably less than 1% of England was Jewish; perhaps 3,000 people.  The expulsion process went fairly smoothly, although there were a few horrific stories. One story told of a captain taking a ship full of Jews to the Thames while the tide was going out and convincing them to go out for a walk with him. He then lost them and made it back to his ship before the tide came back in, leaving them all to drown. Other stories exist of Jews being robbed or killed, but the majority of the Jews seem to have crossed the channel in safety" (Wikipedia article on Edict of Expulsion, accessed 02-15-2009).