Women in Gaza are stepping up as family breadwinners, breaking cultural norms as they strive to make ends meet.
Gaza Strip – At 42 percent, Gaza has the world's highest unemployment rate – and while the rate of women in the workforce is only 15 percent, compared to 71 percent of men, many of them are trying to close the gap.
More and more women are breaking societal norms and working in jobs that have been traditionally reserved for men as they step up to serve as their family's breadwinners. Al Jazeera spoke with three women about how their non-traditional jobs have changed their lives.
Gaza's female bus driver
The children first called her "Uncle Salwa".
"The kids thought only men drive cars," Salwa Srour told Al Jazeera. "I broke the traditions. I'm the first lady in the Gaza Strip that drives a bus."
Srour sets out at 6:30 every morning in her 1989 Volkswagen minibus, circling around Gaza City to pick up each child and drive them to the kindergarten class that she opened in 2005 with her sister, Sajda.
Initially, they hired male bus drivers, but Srour decided to take over the job after hearing parents' complaints about drivers being impatient with the children or showing up late.
Class starts from the moment the children enter the school bus, where they begin learning new words in English [Mersiha Gadzo/Al Jazeera]
"We would call him, but there would always be excuses. He would always say, 'I'm on my way,' but the kids would be waiting and there would still be no bus," Srour explained.
When the parents started calling her to ask why their kids were not home yet, Srour decided to take matters into her own hands and drive the children to kindergarten herself.
Srour has been driving children to school for five years now. Class starts from the moment they enter the school bus and begin learning new words in English. Stepping on to the bus, the children greet Srour with "Good morning" as they each pull out a shekel from their pocket.
"Zain, go back," Srour tells a four-year-old in English, indicating the back of the bus.
"Go back! Go back!" the kids repeat in unison as Zain makes his way towards the back seat.
Srour has been passionate about driving since her high-school days, recalling with a laugh how she used to sneak out and drive her grandmother's car around Gaza at the age of 16.
After graduating from high school, she immediately insisted on getting her driver's licence, at a time when few women were doing so.
"It's really weird for people to see a woman driver, but after hearing my story, they started to encourage me," Srour said.
The fisherwoman of Gaza
"Every day you go out, you're not sure if you'll come back," Madleen Kullab said as she looked out to the sea from Gaza's port. "It's a difficult situation. When we approach the fifth mile, we start getting shot at. There are a lot of risks, but I do it because I have to."
It has been nearly a decade since 22-year-old Kullab took over her father's role as a fisherman and the family's breadwinner, after her father was diagnosed with myeletis, an inflammation of the spinal cord, leaving him disabled.
Kullab and her two younger brothers set out early in the morning, between 3am and 5am, or at sunset to cast their nets. She typically catches sardines.
"You'll catch whatever you're meant to catch," Kullab, Gaza's only female fisher, told Al Jazeera.
It has been nearly a decade since 22-year-old Madleen Kullab took over her father's role as a fisherman and the family's breadwinner [Mersiha Gadzo/Al Jazeera]
The job mostly depends on luck, as Israel has restricted Gaza's fishers to a six-nautical-mile limit – less than a third of the fishing area allocated under the Oslo agreements. There simply are not enough fish in the restricted area; the catch is often meagre, and Kullab sometimes goes for days without catching anything. For a better-quality haul, they would need to sail out at least 10 miles.
As she walks along the dock, tiny sardines litter the ground as fishermen sort their morning loads in crates. The harbour is full of boats resting under cloudy skies.
Gaza's worsening economic situation has hit the fishing industry hard, with the number of working fishermen  dropping from 10,000 in 2000 to 4,000 last year. Fishers typically live on loans for the whole year, including Kullab, who does not fish during winter. The sea is especially rough in winter and the waves can get too high for her modest wooden boat. Even when she does fish, her daily catch earns her only 10 shekels ($2.60).
I get shot at every time I go out [into the sea] … Anything is better than fishing, even if it's just for 10 shekels.
The business has become too deadly, she says, and she is looking for a way out, attending college in hopes of becoming a secretary.
"I get shot at every time I go out [into the sea] … Anything is better than fishing, even if it's just for 10 shekels," Kullab said, recalling the time she witnessed 17-year-old Mohammad Mansour Baker shot and killed while he was fishing with his brothers.
"There were more than 10 boats. We were only three miles out when the Israeli ships started shooting without any reason, targeting us," she said. "Mohammad was shot at the side of his stomach; the bullet came out from his back and he died on the spot."
Gaza's female blacksmith
Underneath a makeshift tent on a sandy street three kilometres from Gaza's port, Ayesha Ibrahim, 37, and her 15-year-old daughter take turns pounding hot iron with heavy hammers. Another daughter pumps a bag that throws puffs of oxygen into the small fire, where they heat the rods.
This is how Ibrahim, Gaza's only female blacksmith, helps provide for her seven children. For the past 20 years, she and her husband have been collecting pieces of metal from the streets and from destroyed houses and shaping them into axes, knives, cooking grates, metal anchors and other items, which they sell at the market.
Ibrahim, 37, and her 15-year-old daughter take turns pounding hot iron with heavy hammers[Mersiha Gadzo/Al Jazeera]
It takes about three days to make one item; shaping the iron with a heavy hammer requires time and patience. One piece usually sells for about six shekels ($1.60) at the market, and they earn 10 to 20 shekels a day.
Sparks fly as Ibrahim pounds the burning iron. Her hands are swollen and her back is in pain; it is a tough job, especially as she is eight months pregnant.
"The most difficult part is that we don't have a place of our own to work. Everyone that passes by has to look," Ibrahim said.
Her husband takes medication for his nerves after being injured one evening when a 150kg piece of iron fell on his hand.
"It was a terrible night. We couldn't afford to call an ambulance; thankfully, a man from the street offered help and took him in his car," Ibrahim said. "At the hospital, they told him to stay for the night; they were afraid his injury might get infected, but we had no money to pay for the overnight stay, so he came right back."
It is a struggle every day to put food on the table. Although more than half of Gaza's population relies on United Nations food aid, Ibrahim's family does not qualify because they cannot prove they are refugees, she said.
Ibrahim, whose father was also a blacksmith, spent her childhood selling his items at the market. She got married when she was 15. Today, her family lives off loans, and their landlord allows them to stay in his apartment free of charge. Owning a space of their own remains a distant dream.
"Our conditions are very harsh, very tough – but I have no choice but to continue working for my children," Ibrahim said. "I don't want my children to be like me in any way and to work like I did when I was young. I want a better future for them."
Source: Al Jazeera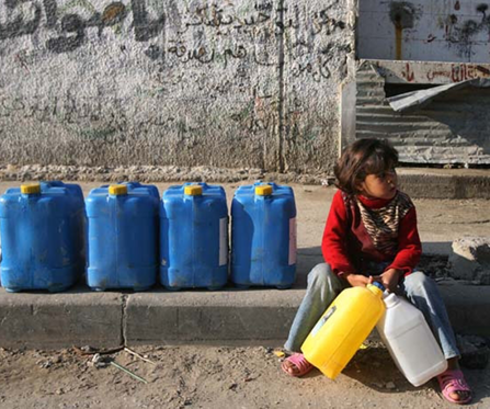 The innocent imprisoned. Movement restricted. Trade suffocated. Homes demolished. Human rights abuses are rife in Israel and the Occupied Palestinian Territories.
We do not take a position on issues of statehood.
We stand with those demanding that all sides respect human rights, and that perpetrators of human rights abuses are brought to justice.
CSI: Gaza – Forensic Architects
One year on from the start of the 50-day Gaza conflict in 2014, we've launched an innovative digital tool which maps Israeli attacks to provide a comprehensive record of the deadly onslaught.
The Gaza platform was built by Goldsmiths University's Forensic Architecture department to create a unique database of satellite imagery, broadcast news and citizen generated footage, stills, tweets, press reports and releases generated during the conflict and provide a definitive picture of what happened minute by minute, hour by hour, day by day, as a way of investigating war crimes.
Israel denies redress to thousands of Palestinians
Legal changes have shielded Israel from paying compensation to families of killed or injured Palestinians, report finds.
Nazareth – Israel has given itself almost complete immunity from paying compensation in cases where its soldiers have killed, injured or disabled Palestinian civilians, an Israeli human rights group has warned.
In a report released on Wednesday, entitled Getting Off Scot-Free, B'Tselem said that Israel had violated its obligations under international law by denying many thousands of Palestinians redress in Israeli civil courts.
The report said that changes to Israeli law over the past 15 years meant that Israeli authorities were now almost never liable for awarding compensation, even in non-combat situations. That also included cases where soldiers had engaged in patently criminal behaviour against Palestinians, such as physical assault or looting.
B'Tselem stressed that the report did not deal with the issue of Israel's responsibility for deaths, injuries and damage to property during "warfare". International law includes an exemption for compensation, even for civilians, when casualties are the result of hostilities, such as Israel's repeated large-scale operations in Gaza.
OPINION: How impunity defines Israel and victimises Palestinians
But the group said that Israel had extended the scope of its dispensation to cover routine procedures, especially in the occupied West Bank, where soldiers regularly conduct policing operations, arrest raids and security checks.
As a result, said B'Tselem, thousands of Palestinians had been left not only physically harmed, but with inadequate care and rehabilitation. Their families had often accrued large debts they struggled to pay off.
"Data from Israel's defence ministry shows that Palestinians have all but stopped filing claims for compensation because they understand it is a futile exercise," Amit Gilutz, a spokesman for B'Tselem, told Al Jazeera.
He said that there had been a 95 percent drop in Palestinians applying for compensation compared with the number of claims two decades ago.
In the 1990s, before the changes started taking effect, the report observed, thousands of Palestinians filed suits after they were harmed by unlawful gunfire, extreme violence from soldiers, torture during interrogation, destruction of property or delayed blasts from unexploded ordnance.
Today, even in the tiny number of cases where Palestinians have been compensated, they received pitiful amounts compared with the sums awarded 20 years ago.
The report noted that from the outbreak of the second Intifada in 2000 until late last year, Israel killed more than 4,850 Palestinians who were not taking part in hostilities, a third of them children. Many thousands more were seriously wounded, while Israel demolished thousands of homes and wrecked large areas of farmland.
But a series of legal amendments now guaranteed "a nearly blanket exemption from the obligation to pay compensation for this harm," the report concluded. It said that Palestinians were offered "no more than the illusion" of redress, even in cases of damage unrelated to combat.
"Israel now treats compensation as an exceptional act of charity rather than an obligation under international law," Gilutz said. "That has terrible consequences for injured Palestinians in terms of their ability to seek proper care and their quality of life."
The Palestinian Authority (PA) covers hospital treatment and the immediate medical bills of Palestinians injured by Israeli actions. But B'Tselem rejected claims made by Israel that the PA should also issue compensation.
READ MORE: Report slams Israel's military law enforcement system
The report said that Israel's continuing belligerent occupation, and the PA's lack of control over territory, borders and resources, made Israel responsible for helping the victims' families.
Last year, B'Tselem issued a report accusing the Israeli military prosecution system of "whitewashing" the army's crimes by failing to seriously investigate Israeli soldiers' actions.
The group said that Israel's immunity from paying compensation – combined with its soldiers' legal impunity for committing crimes – removed any pressure on Israeli forces to behave carefully when dealing with the civilian Palestinian population in the occupied territories. "The road to harsh violations of human rights lies wide open," it warned.
B'Tselem noted that the Jerusalem district court rejected a damages claim last month from the family of Mustafa al-Tamimi, who was killed during a demonstration in the West Bank village of Nabi Saleh in late 2011, when a soldier fired a tear gas canisterdirectly at him. Three years ago, military prosecutors closed an investigation into the shooting without taking action.
The Jerusalem judge ruled that Tamimi had died during "warfare activity" and ordered the family to pay some $16,000 to cover the state's costs.
No amount of money is going to give me back the legs that the Israeli soldiers took from me.
Both the Israeli military and the defence ministry were unavailable to respond to Al Jazeera's request for comment.
The report includes testimonies from Palestinian civilians, including children, severely injured by Israeli soldiers. The families often have to foot large medical bills, shoulder round-the-clock care for victims, and pay to make alterations to their homes to cope with disabilities.
The testimonies highlighted that in many cases, injuries were caused by Israeli soldiers shooting recklessly or maliciously into civilian areas during routine policing operations.
Basmah Mansur, 48, a mother of 10, has been severely disabled for the past 13 years, after she was shot in the face in her home in Nablus, in the occupied West Bank. Israeli soldiers fired through her window as she was making lunch for her children, during a raid to arrest her husband.
She was paralysed for many months. Today, more than a decade on, she can move and talk only with difficulty, and suffers severe headaches from the bullet fragments lodged in her head.
"I can't shower independently or change clothes. I can't even put on my head scarf alone. Nothing in my body works properly – not my legs, my hands, my mouth, or my eyes," she said.
INTERACTIVE: Broken homes – A record year of Israeli home demolitions 
She had to end physiotherapy many years ago after the PA stopped paying for it, and Israel's draconian rules made her ineligible for help. For many years, she was left to cope largely on her own with young children.
"All I could do was watch them until one of my neighbours came and made them breakfast, fed me, and helped with the chores," she said. "That's how it's been ever since. If one of the neighbours doesn't come by, we're stuck without food until the girls get home from school."
Now that her children are older, they do most of the housework, including two married daughters who bathe and dress her each day.
"The soldiers ruined my life and turned it into a living hell," Mansur said. "I feel like there's a fire burning inside me when I see that my children need me and I can't help them and support them."
Ata Sabah, 16, from Al Jalazoun refugee camp, near Ramallah in the West Bank, has been paralysed from the waist down since he was shot in the stomach by soldiers near his school at the age of 12.
He has a wheelchair donated by a German company, but the family has struggled to cover other bills. Sabah needs a taxi each day to take him to a school that can cope with his mobility problems. An elevator has had to be installed in the family's home at a cost of $10,500, and medication Sabah will need for the rest of his life sets the family back $260 a month.
Sabah told Al Jazeera that his circumstances had improved only thanks to donations from extended family, friends and neighbours.
"I want one day to be a lawyer who can fight to bring justice to the victims of crimes like the one that was done to me," he said, noting that while compensation would relieve the constant financial strain on the family, "no amount of money is going to give me back the legs that the Israeli soldiers took from me".
OPINION: Israel-Palestine – A way to end the occupation
The sums needed by families such as Sabbah's are considered astronomical in communities where unemployment is rampant and average salaries can be as low as $250 a month.
"These families often end up depending on the support and charity of neighbours," Iyad Hadad, a field researcher for B'Tselem, told Al Jazeera. "Life becomes a permanent struggle for them."
The PA can rarely afford to help the families, beyond immediate medical costs. The largely aid-dependent PA is reported to be in dire financial trouble, as international assistance dries up.
Last year, Rami Hamdallah, the Palestinian prime minister, said that aid had dropped by 70 percent over the preceding four years. The PA's development budget, which funds education and health, had suffered as a result.
The problem was further exacerbated in late January, when US President Donald Trump's new administration froze more than $220m in aid to the PA approved by his predecessor, Barack Obama. The funds included $25m to support Palestinian healthcare services.
Musab Sarhaneh, another of the victims documented by B'Tselem, was six when he was hit in the face four years ago by a bullet fired by Israeli soldiers. At the time he was walking with his mother, Hiyam, through Fawwar refugee camp, near Hebron. He lost his right eye and needs an expensive implant that has to be changed every two years.
Musab's poor eyesight has left him vulnerable in the camp, Hiyam said. "In the past few weeks he stumbled and fell twice while he was outside in the dark. He broke his right arm and it's in a cast … My son was robbed of a happy childhood and I was robbed as a mother."
Source: Al Jazeera
---