Palestine Solidarity Campaign head Hugh Lanning denied entry over his connection to the boycott movement.
Israel has blocked a prominent British pro-Palestinian activist from entering the country, a week after the Knesset passed a bill allowing border officials to turn away foreign nationals who support boycotting Israel.
Hugh Lanning, head of the UK-based Palestine Solidarity Campaign, was denied entry into Israel late on Sunday over his "ongoing actions to promote boycotts against Israel", the immigration authority said.
Lanning was also accused of maintaining ties to leaders of Hamas, the hardline Palestinian group that runs the Gaza Strip.
He flew back to London on Monday morning, authority spokeswoman Sabin Hadad said.
Gilad Erdan, the minister of strategic affairs, told reporters on Monday: "Whoever acts against Israel should understand that the rules of the game have changed.
"No sane country would allow entry to key boycott activists working to harm the country's core interests and lead to its isolation."
The boycott movement, known as BDS, advocates boycotts, divestment and sanctions against Israel in what supporters say is a nonviolent way to promote the Palestinian struggle for independence.
The group, which includes thousands of volunteers around the world, has urged businesses, artists and universities to sever ties with Israel.
Israel sees the boycott movement as a strategic threat and accuses it of anti-Semitism – a claim activists deny, saying they only want to see the occupation end.
Last week, the Israeli parliament adopted a law barring entry to foreigners who support boycotting Israel, a move denounced by human rights groups and the opposition as "thought control" harmful to the country's international standing.
Ben Jamal, the director of the Palestine Solidarity Campaign, called Lanning the "first victim" of the new law.
"A democratic country does not behave in the way Israel is behaving," he said.
"If Israel believes that by introducing these draconian, undemocratic laws it will intimidate its critics into silence it is mistaken."
A number of measures targeting the BDS movement have been introduced in Israel, the US and Western Europe in recent years.
Last year, Barack Obama approved legislation that required official non-cooperation with groups that boycott Israel, although the bill does not apply to Jewish-only settlements in the occupied West Bank. Around 20 US states have passed anti-BDS bills or are in the process of doing so.
Source: Al Jazeera and news agencies
---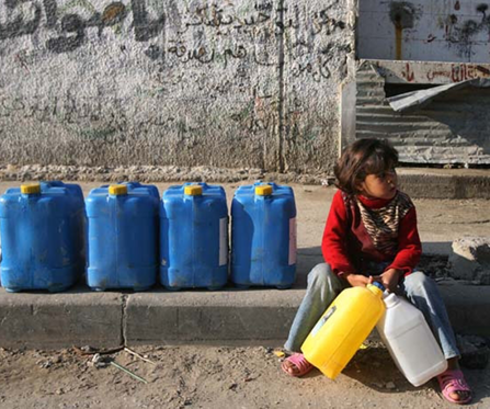 The innocent imprisoned. Movement restricted. Trade suffocated. Homes demolished. Human rights abuses are rife in Israel and the Occupied Palestinian Territories.
We do not take a position on issues of statehood.
We stand with those demanding that all sides respect human rights, and that perpetrators of human rights abuses are brought to justice.
---
Unlawful and deadly: Palestinian rocket attacks from Gaza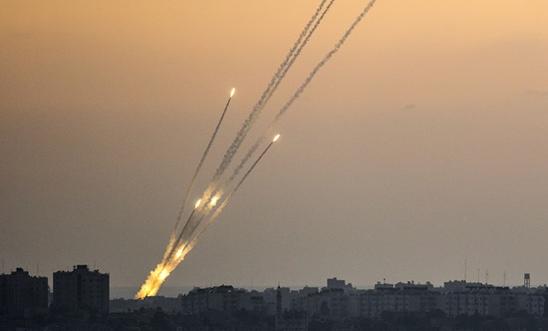 Rockets being fired from the Gaza strip into Israel © JACK GUEZ/AFP/Getty Images
'When I awoke, I found my daughter [11] lying in the doorway bleeding… I didn't think about calling an ambulance because they will not enter the village. I decided to take her to the hospital in my own car. On the way to the hospital, both girls lost consciousness.'

Atiyah al-Wakili, survivor of a rocket attack on an unrecognised village in Israel
The death, destruction and damage wreaked by 'Operation Protective Edge' last summer was unprecedented.
During July and August 2014, Hamas and other Palestinian armed groups fired thousands of unguided rockets and mortars towards Israel.
These unlawful attacks endangered Israeli and Palestinian civilians, who once again bore the brunt of the third full-scale war in six years.
Reckless rocket fire
It was 11am when a rocket launched inside the Gaza Strip landed in the yard next to Ouda's home in a Bedouin village in Israel.
No ambulance came to take them to the hospital, so his family had to use their own cars.
Ouda's wife Khitam and their three-month-old daughter Aya survived the attack, but Aya was seriously wounded.
Ouda did not survive – he was one of six civilians, including one child, killed in Israel as a result of rocket and mortar attacks by Palestinian armed groups.
Direct attacks on civilians and indiscriminate rocket fire are both war crimes.
One horrific incident where 11 Palestinian children and 2 adults were killed in the al-Shati refugee camp by a rocket fired from Gaza demonstrates the full extent of this indiscriminate fire.
If the missile is confirmed to be Palestinian, it would mean that attacks launched by armed groups killed more civilians inside Gaza than in Israel.
Poor protection from the government
Bomb shelters, advanced warning systems, and Israel's Iron Dome missile defence system helped limit civilian casualties in many areas of Israel. But this protection is not offered to all residents equally.
Bedouin communities like Ouda's are barely recognised by the Israeli government. They don't have access to bomb shelters, defence systems or warning sirens.
'Even if you wanted to take control of your own life and build your own bomb shelter, the authorities would demolish it as an illegal structure.'

Atiyah al-Assam and Fadi Masamra from the Regional Council for Unrecognized Villages (RCUV)
Ouda's relative told us that, like many Bedouin families, the governments had a demolition order against Ouda's house – so by destroying it, the perpetrators had actually assisted the Israeli government.
'During the war, the IDF [Israeli Defence Forces] used the Iron Dome to protect the [Jewish] Israeli population. However, when the rockets were going to land in our villages, they treated it as if it were an open area. This fact was recognized by the IDF itself.'

Sana Ibn Bari, a lawyer working with the Association for Civil Rights in Israel (ACRI)
War crimes by both sides
Israel and Palestinian armed groups both committed serious human rights violations during Operation Protective Edge.
The Israeli military directly attacked civilians and residential areas – killing more than 2,250 people in the Gaza Strip.
There are no bomb shelters or warning systems in Gaza and nowhere was truly safe during the hostilities – even emergency shelters came under fire.
Yet human rights violations by one party cannot justify violations by its opponents. This perverse logic has helped perpetuate the cycle of destruction, as civilians continue to pay a heavy price.
Time for justice
After 20 years of failed peace process, it's time to put an end to the violence.
We're urging both sides to co-operate with independent, international investigations into the crimes committed last summer.
We want to see the Palestinian authorities:
Denounce attacks on civilians
Ensure Hamas and other armed groups comply fully with international law
Cooperate with the International Criminal Court (ICC)
Israel must allow Amnesty and other human rights organisations access to Israel, Gaza and the State of Palestine so we can investigate all suspected violations. We're also calling on Israel to:
Stop punishing Palestine for signing the Rome Statute
Ensure adequate protection is provided to Bedouin villages and end the demolition of homes and other buildings
Lift the blockade on Gaza
We're also calling on governments around the world to stop the flow of arms to Israel and Palestinian armed groups.