Hundreds of mourners gather in the West Bank for funeral of activist killed by Israeli forces.
Hundreds of Palestinians have paid their respects to slain activist and youth movement leader Basil al-Araj.
A funeral procession that started from his family home in al-Walaja, a village near Bethlehem in the occupied West Bank, went on until well into the evening on Friday.
Araj, 31, was killed in an Israeli raid in Ramallah on March 6, after spending months on the run.
Israeli authorities notified the family late on Thursday that his body would be returned to them for burial the following day. Since a wave of violence began in October 2015, Israelhas routinely been holding the bodies of Palestinian attackers or alleged attackers, ostensibly as a deterrent or "bargaining chip", while denying families the right to bury their loved ones.
"I am happy we reached this moment," Araj's father, Mahmoud al-Araj, told a group of reporters near the mourning tent upon hearing news that his son's body had reached the nearby Beit Jala hospital for an autopsy.
Israeli authorities handed it over to the Palestinian Red Crescent at a Bethlehem checkpoint.
According to a statement by the Palestinian Ministry of Health, the autopsy identified at least 10 bullet wounds, including one to the heart which was found to be the main cause of death, and several to the head.
READ MORE: 'Basil al-Araj was a beacon for Palestinian youth'
Araj and five others had been imprisoned by the Palestinian Authority (PA) in April 2016 on allegations they held unlicensed weapons and were planning to carry out an attack on Israeli targets.
In late August, the six staged a hunger strike to protest against torture and mistreatment while in PA detention, leading to their release without charge nine days later. The case sparked widespread criticism of the PA's security coordination with Israel.
Araj was a well-known activist who regularly took part in non-violent protests and actions against the separation wall and settlements. Many young and politically-engaged Palestinians have publicly been mourning his death since he was killed, remembering him as a struggler against the Israeli occupation and an intellectual.
"Basil succeeded in his idea of gathering people from all walks of life and political parties, and this is reflected in the people who are here today," Mahmoud al-Araj said.
Araj was a well-known activist who regularly took part in non-violent protests [Ylenia Gostoli/Al Jazeera]
Many familiar faces from the Palestinian non-violent struggle movement joined his family and close friends in the two tents set up for mourners on Friday, watched over by at least 30 Israeli soldiers and border police officers stationed on a hill in the nearby settlement of Har Gilo. The Araj family home is located right by the entrance to the settlement.
"Basil started to fight the occupation peacefully, and he was one of us," Issa Amro, a well-known activist and cofounder of the Hebron-based group Youth Against Settlements, told Al Jazeera. "I knew him well, he came to many of our protests. But the oppression, attacks, and violent reaction from the Israeli army, made him move from non-violent to armed resistance. By doing that, they killed him," he added.
Emotions ran high when the body finally arrived and the funeral procession began along the route of the separation wall, against whose construction Araj and others had organised several protests.
"Why, why, why? Once the Authority, once the army," sang the women alongside the customary chants in honour of Palestinian "martyrs".
Palestinians have been increasingly vocal in denouncing the PA's security coordination with Israel, which they see as being used to arrest Palestinians while Israelis who attack Palestinians enjoy virtual impunity.
"Unfortunately the PA, in general, is becoming a sub-contractor for the occupation, and they are just giving free information to the Israeli security forces instead of protecting Palestinians," Amro said.
While Araj had been on the run until Israeli forces stormed the home where he had been staying in Ramallah, four others were immediately re-arrested by Israel after their release from a PA jail and are currently in Israeli custody.
A small, peaceful demonstration held in Ramallah last Sunday to protest against the PA's decision to go ahead with their trial was violently dispersed by Palestinian police.
Hundreds of people took to the streets of Ramallah the following day to express their outrage. Prime Minister Rami Hamdallah later announced he would open an investigation into the events.
"We came from Ramallah and other cities in Palestine to participate in the funeral because of the message Basil sent to all of us, to the Palestinians and to the Israeli occupation," said Muataz, who works in IT in Ramallah and preferred to be identified by his first name only.
"On social media, people are not afraid any more. They are writing posts against the Authority, what they did, and the security coordination between Israelis and Palestinians. I think this movement will keep going and grow in the coming weeks or months. Because whatever we risk, it's nothing compared to what Basel did," he added.
Source: Al Jazeera News
---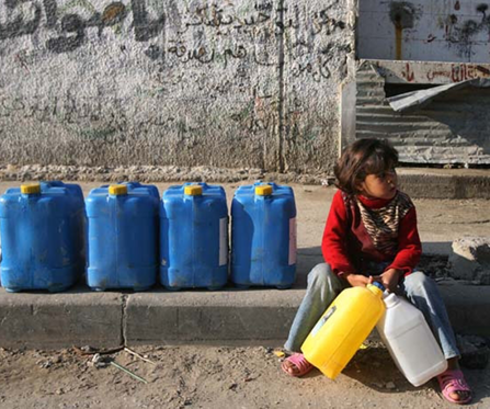 The innocent imprisoned. Movement restricted. Trade suffocated. Homes demolished. Human rights abuses are rife in Israel and the Occupied Palestinian Territories.
We do not take a position on issues of statehood.
We stand with those demanding that all sides respect human rights, and that perpetrators of human rights abuses are brought to justice.
—————————————————————————————————————
The unprecedented report charged Israel with establishing "an apartheid regime that dominates the Palestinian people as a whole."
The leader of the Lebanese Hezbollah movement denounced the United Nations on Saturday as weak after the withdrawal of a report accusing Israel of imposing an "apartheid regime" on Palestinians.
A senior U.N. official resigned on Friday after the secretary-general asked her to remove the report, published by the United Nation's Economic and Social Commission for Western Asia, ESCWA, from the internet.
U.N. Under-Secretary General and ESCWA Executive Secretary Rima Khalaf said she was leaving after "powerful member states" had pressured the world body and its chief with "vicious attacks and threats".
Hezbollah leader Sayyed Hassan Nasrallah said in a televised speech on Saturday that the incident served as a reminder of the "truth of this organization, that it's weak … and it succumbs to the will of the United States and Israel".
The U.N. is "incapable of taking a stand" and the debacle over the report proved it cannot be counted on "to defend human rights in our region," he said.
Hanan Ashrawi, a member of the Palestine Liberation Organization's executive committee, also criticized the decision and called on the report to be reinstated.
ESCWA published the report on Wednesday and said it was the first time a U.N. body had clearly charged that Israel "has established an apartheid regime that dominates the Palestinian people as a whole".
Israel fiercely rejects the allegation and likened the report to Der Sturmer — a Nazi propaganda publication that was strongly anti-Semitic.
The United States, an ally of Israel, also said it was outraged and demanded the report be withdrawn.
Last month, Nasrallah warned that Hezbollah would put up fierce resistance in any future confrontation with Israel should the United States give it the green light to attack it inside Lebanon.
Hezbollah was formed in 1985 as a Shiite resistance group born out of repression against the Islamic sect and defines itself through its struggle against the 1982 Israeli occupation of southern Lebanon which ended in the defeat of Israel and its having to withdraw from the country in 2000.
Many experts on the region say Hezbollah managed to inflict a historic second defeat on Israel when Tel Aviv launched a campaign against southern Lebanon in 2006, which lasted for 34 days and claimed the lives of more than 1,000 Lebanese civilians, displacing about a million people.
————————————————————————————————————–