Israeli occupation authorities shut down the private school a month ago, alleging an affiliation with Hamas.
by
Sur Baher, occupied East Jerusalem – Perched on a stool in his mother's shop, Mohammad Jadallah recited the homemade study plans he has used since his school was closed down by the Israeli Ministry of Education.
Myasser Jadallah says that she is worried about her son's future [Nigel Wilson/Al Jazeera]
"I study science and maths. English is my favourite subject," said the 10-year-old fourth-grader, spelling out his name and grade on a loose sheet of paper.
The closure of al-Nukhba school in the occupied East Jerusalem neighbourhood of Sur Baher has left the parents of the 230 children it served in a predicament.
In the month since the school was shuttered, Mohammad has spent most of his time at home alone, studying textbooks and checking the school's Facebook page for news.
His mother Myasser, who runs a local optician's shop, has become concerned that a prolonged closure could damage his educational prospects.
"Every day, I am at work, so he must do his studying alone. It might affect his exams," she told Al Jazeera. "He sees other students leaving to go to school in the mornings; it makes him feel terrible. I am worried about what will happen in the future."
READ MORE: How Israel forces more Palestinians out of Jerusalem
On February 23, the Israeli Ministry of Education forced the closure of al-Nukhba school, after a months-long investigation by Israel's intelligence services and Jerusalem police. The ministry alleged that the school was affiliated with the Hamas movement, which is banned in Israel, and that it aimed to teach content that would undermine the Israeli state.
The school's headteacher, Louay Bkirat, denied any affiliation with Hamas, citing no evidence of the ministry's claims about al-Nukhba's academic agenda. He told Al Jazeera that inspectors from the Ministry of Education had visited the school regularly since it opened, and he had expected to receive a permanent education licence last month.
"They came on February 14, one week before they closed us. They have seen the whole curriculum, the class plans, the teachers, and they were positive about everything," Bkirat said. "They said after one week, you will get the final legal licence. But then after one week, they came and closed the school."
He sees other students leaving to go to school in the mornings; it makes him feel terrible.
Al-Nukhba first opened in September 2016 after receiving a temporary licence from the Ministry of Education. The only private school in Sur Baher, it taught boys between the ages of four and eleven, and was considered to be prestigious; its name means "the elite school".
The school first received an order to close in December, with the Ministry of Education citing intelligence reports that it planned to teach a "Hamas ideology". School administrators unsuccessfully contested the order in two court battles, and the closure officially took effect last month.
School administrators and parents remain adamant that the school should be reopened. Teachers and students have held classes on the street outside the school building, and also in the square in front of the local municipal offices, in an effort to protest the closure.
A one-day solidarity strike took place in all schools across Sur Baher last week, while the al-Nukhba school administration was set to hear another appeal against the closure at a Ministry of Education meeting on March 28.
While the Jerusalem municipality has contacted some students' parents to offer them places in municipal schools, the vast majority of the children have not been transferred to other schools, said Jaber Amera, head of the parents' committee for schools in Sur Baher.
School administrators and parents remain adamant that the school should be reopened [Nigel Wilson/Al Jazeera]
"The parents are against this offer; they don't want to send their children to municipal schools," Amera told Al Jazeera, noting that between 15 and 20 parents had decided to transfer their children to other schools as a result of the closure.
"If we compare between this school and others in Sur Baher, it is much better, so we can't transfer these students from this school to another one. We will try to stand beside this school and reopen it," he added.
Myasser Jadallah says that the quality of education provided at Nukhba is the key reason she wants her son to remain there. The Hebrew language is taught from the second grade, earlier than in most Jerusalem schools that follow the Palestinian curriculum, as are ethics and logic. There are also swimming lessons and a science fiction class.
READ MORE: Militarising education in Israeli schools
When Mohammad used to attend another private school in the Beit Hanina neighbourhood, he would spend hours travelling to and from school every day, leaving him tired and frustrated, his mother said. Other local schools did not offer the same level of education, she added.
"I think if al-Nukhba school is still closed at the end of the year, Mohammed might have to repeat the year, but I don't want to transfer Mohammad to a municipal school," she said.
"It is important to stay in this school, because it is a very good school. I would prefer if he has to repeat the grade in this school rather than go to one of the worse schools."
Source: Al Jazeera
---
Video: Israeli officer beats Palestinian in Jerusalem
Officer suspended from duty after video emerges showing him violently assaulting Palestinian resident of East Jerusalem.
Jerusalem – An Israeli policeman was caught on video on Thursday physically assaulting a Palestinian in the occupied East Jerusalem neighbourhood of Wadi el-Joz.
The video shows a plainclothes police officer agressively confronting a Palestinian truck driver – later identified as 50-year-old Mazen Shweiki – after the latter hit the officer's car.
The verbal confrontation quickly turns physical. In the span of two minutes, the officer headbutts, slaps, punches, knees and kicks Shweiki.
Shweiki was hospitalised overnight on Thursday and treated for four broken ribs and severe dizzines, his wife, Umm Rafaat, told Al Jazeera.
"We are definitely going to sue that policeman," she said.
The video of the assault went viral.
"Son of a b*tch."

This Israeli police officer violently beat a Palestinian truck driver.
"I was heading to work in my truck, which was parked in the Ministry of Interior's parking lot in Wadi Joz as usual this morning, when I was surprised by an Israeli special force officer who headed towards me and asked me: 'Why did you hit my car?'" Shweiki, a resident of East Jerusalem, told local media.
Swheiki, a father of seven, said he accidently hit the officer's car in the parking lot on Tuesday, and had searched for the owner to help repair it, but had been unable to find him.
Ahmad Teibi, a Palestinian member of the Israeli parliament, contacted the Israeli minister of public security and the Israeli police chief to inquire about the matter.
READ MORE: Israel shuts down Arab primary school in East Jerusalem
Gilad Erdan, the Israeli minister for public security, later informed Teibi the police officer was put on forced leave and would be investigated.
The Israel police released a statement calling the policeman's conduct "grave and unusual".
The officer's identity has not been released. He reportedly is part of a special undercover unit within the Israeli police called "Yasam", which is tasked with riot control.
Erdan said the policeman's behavior was "very grave and worthy of condemnation".
Rami Othman, a Palestinian lawyer who helped file a complaint, told Al Jazeera had the incident not been caught on video, the Israeli police would likely have sided with the officer.
"If there was no video … the police would have turned this around. It was a chance," he said.
More than 300,000 Palestinians live in occupied East Jerusalem.
Israel claims to have annexed the territory in 1980, but that move is not recognised by the international community. More than half a million Israelis live in Jewish-only colonies scattered across the West Bank, including East Jerusalem.
"This is just the continuation of a violent policy adopted by the Israeli security forces stemming from an absence of accountability and rule of law on offences committed by the Israeli security forces and Israelis in general," Karim Jubran, a researcher with the Israeli human rights group B'Tselem, told Al Jazeera.
Jubran added as of last year, B'Tselem stopped filing complaints with the Israeli police because it is a "system designed to hide facts rather than bring [people] to justice".
"After 28 years of filing complaints to the Israeli police regarding similar incidents nothing has changed," he said.
Elsewhere in the occupied Palestinian territories on Thursday, Israeli forces shot and killed 20-year-old Ahmad al-Hittab in the Jalazone refugee camp, according to the Palestinian Ministery of Health. Three others were brought to a local hospital with wounds to the head and chest.
Source: Al Jazeera News
---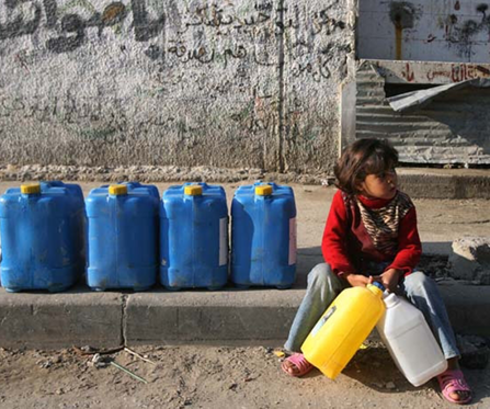 The innocent imprisoned. Movement restricted. Trade suffocated. Homes demolished. Human rights abuses are rife in Israel and the Occupied Palestinian Territories.
We do not take a position on issues of statehood.
We stand with those demanding that all sides respect human rights, and that perpetrators of human rights abuses are brought to justice.