Coalition says it struck area in west Mosul where officials say scores of civilians were killed by aerial bombardment.
The US-led coalition bombing ISIL positions in Iraq has admitted that it carried out air raids last week at a location in west Mosul where officials and residents say scores of civilians were killed.
The acknowledgement on Saturday came hours after the United Nations said it was "stunned" by the reported deaths of civilians in suspected coalition air raids in Mosul's ISIL-held al-Jadida district on March 17.
"An initial review of strike data … indicates that the coalition struck [ISIL] fighters and equipment, March 17, in west Mosul at the location corresponding to allegations of civilian casualties," the US military's Combined Joint Task Force said in a statement on Saturday.
The coalition said that it had struck the area "at the request of the Iraqi security forces" and was investigating to determine the facts and the validity of reports of civilian casualties.
Al Jazeera's Hoda Abdel-Hamid, reporting from Erbil in northern Iraq, said it took about a week for the coalition to acknowledge the air raids.
"The response came after intense pressure here in Iraq – probably popular pressure more than government pressure," she said.
"About 200 people are thought to have died in that strike alone," our correspondent added. "These reports of a high toll of civilian casualties were first given by the civilians who actually managed to get out of western Mosul."
OPINION: ISIL after Mosul – Insurgency and rivalry
Iraqi officials and witnesses say that air raids in west Mosul have killed hundreds of people in recent days, but the exact number of victims could not be independently confirmed.
Bassma Bassim, the head of the Mosul District Council, said "more than 500" civilians were killed by air raids over the past week alone.
"I have never met so many people with so many martyrs in their families," Bassim said, adding that witnesses are questioning whether civilians are being targeted on purpose.
"I have talked to so many people from the victims' families who confirmed that there are only five or six ISIL fighters in the new Mosul area who freely move in the streets without being targeted. They said only civilians in the area are being targeted."
Nawfal Hammadi, the governor of Nineveh, of which Mosul is the capital, said the coalition had carried out the air raids in al-Jadida.
Hammadi had put the toll at "more than 130 civilians" killed, but later referred to "the burial of hundreds of martyrs under the rubble of the houses in the Mosul al-Jadida area".
Civil defence officials and residents have said many people lay buried in collapsed buildings after air raids against the Islamic State of Iraq and the Levant, )ISIL, also known as ISIS) triggered a big explosion.
Reports on the numbers of civilian casualties have varied but Civil Defence chief Brigadier Mohammed Al-Jawari told reporters on Thursday that rescue teams had recovered 40 bodies from collapsed buildings.
The Speaker of the Iraqi parliament, Salim al-Jabouri, said in a statement: "What's happening in the west part of Mosul is extremely serious and could not be tolerated under any circumstances."
Earlier on Saturday, the UN expressed profound concern over the escalating civilian death toll in the battle to retake Mosul.
"We are stunned by this terrible loss of life," Lise Grande, the humanitarian coordinator for Iraq, said in a statement referring to the March 17 incident.
READ MORE: Battle for Mosul – Sharp rise in civilian deaths
Mark Kimmitt, a former US assistant secretary for political and military affairs, told Al Jazeera that while the deaths of civilians were unfortunate, such "incidents happen in combat".
He added: "Coalition forces are doing everything they can, along with Iraqi security forces, to minimise civilian casualties.
"But let's be clear: [ISIL] deliberately kept civilians in this area for this specific purpose."
Smoke rises over Mosul during clashes between Iraqi forces and ISIL fighters on Saturday [Khalid al Mousily/Reuters]
The US-backed offensive to drive ISIL out of Mosul, now in its sixth month, has recaptured most of the city. The entire eastern side and about half of the west is under Iraqi control.
But advances have stuttered in the past two weeks as fighting enters the narrow alleys of the Old City, home to the al-Nuri Mosque where ISIL group's leader Abu Bakr al-Baghdadi declared a caliphate spanning large areas of Iraq and Syria in 2014.
Al Jazeera's Abdel-Hamid said thousands of civilians are "trapped" inside the Old City and exposed to the intense fighting.
"ISIL fighters have been using snipers on top of the building in the city shooting randomly at any civilians, including children," she said.
"Many children in the hospital near Erbil have known to be specifically targeted by these snipers. We can see a very complicated battle ahead."
READ MORE: The day after the battle for Mosul
Iraqi government forces have temporarily paused their push to recapture Mosul because of the high rate of civilian casualties, a security forces spokesman said.
"The recent high death toll among civilians inside the Old City forced us to halt operations to review our plans," a Federal Police spokesman said on Saturday.
"It's a time for weighing new offensive plans and tactics. No combat operations are to go on."
The fighters have used civilians as human shields and opened fire on them as they try to escape ISIL-held neighbourhoods, fleeing residents said.
The UN's Grande said civilians were at extreme risk as the fighting in Mosul intensified and all sides must to do their utmost to avoid such casualties.
"International humanitarian law is clear. Parties to the conflict – all parties – are obliged to do everything possible to protect civilians. This means that combatants cannot use people as human shields and cannot imperil lives through indiscriminate use of fire-power," she said.
Fleeing residents have described grim living conditions inside the city, saying there is no running water or electricity and no food coming in. Aid agencies say as many as 600,000 civilians remain in the western half of Mosul.
The eastern side of the city was recaptured in a three-month offensive that ended in January, but the west, with its densely populated maze of narrow streets, is thought to pose a greater challenge.
Source: Al Jazeera and news agencies
---
Gaza under siege: The life and death of Ahmed Shubair
Family mourns death of 17-year-old boy, after Israel refused to let him leave Gaza for an urgent medical procedure.
In 2016, Israel approved fewer than 50 percent of requests to exit the Gaza Strip through the Erez crossing for medical treatment abroad.
"In many cases, cancer patients who had received two or three cycles [of treatment] had their travel requests stalled or rejected, effectively turning Erez into a trap and limiting the benefit of the treatment they may receive," said Samir Zaqout, a field researcher at the Gaza-based al-Mezan human rights organisation.
Al-Mezan regularly records cases of desperately ill Palestinians being approached by Israeli intelligence officers to collaborate in exchange for access to medical treatment. Two Palestinian patients died in 2016 after being denied access, while nine others were detained at Erez after they were told they had been granted travel permits. Dozens more have reported various forms of harassment and extortion, although Israel has denied using such interrogations to gather intelligence, saying the goal was to determine whether patients posed a threat.
Below is the story of one young man whose case ended in tragedy.
READ MORE: Gaza's cancer patients – 'We are dying slowly'
Hassan Shubair is starkly matter-of-fact when asked about the fate of his son, 17-year-old Ahmed Shubair.
"Instead of a high school diploma, my son received his death certificate," Hassan told Al Jazeera.
Ahmed, who was in his final year of school, died in mid-January from severe heart failure, joining a growing list of victims who have succumbed to death as a result of Israel's siege on Gaza.
His father, who works as a legal adviser in the economy ministry, noted Ahmed's health had been in jeopardy since infancy.
"From his very early days, Ahmed suffered from a faulty heart that required several major procedures and frequent visits to hospitals in Israel and the West Bank for follow-up," Hassan said, noting that the procedures included a successful artificial heart valve implantation in 2007, after which Ahmed was able to lead a fairly normal life.
'He was smart and excelled in class. His dream was to be able to help sick children with conditions like his' [Belal Aldabbour/Al Jazeera]
"He loved swimming. The beach was his favourite getaway," Amal, Ahmed's mother, told Al Jazeera. "He was smart and excelled in class. His dream was to be able to help sick children with conditions like his, so he studied hard to be able to join medical school and, hopefully, to one day become a heart surgeon."
But in late 2015, Ahmed's condition started to deteriorate.
"My son's heart was failing again, and doctors told us that he needed to replace the heart valve that he had installed nine years ago," Amal said.
Doctors at the Tel Hashomer Medical Centre in Jerusalem reached the same conclusion, and a date was set for the operation in early 2016. Ahmed and his mother went through the usual process of applying for permission to travel to Jerusalem through Erez.
But the desperately needed clearance was not granted. Instead, in late February, Amal was summoned to Erez for an interview. She had little choice but to comply.
READ MORE: Gaza's crumbling healthcare system
After showing up at the specified time, Amal was presented with a difficult choice.
"They [Israeli intelligence] told me that they were going to grant Ahmed access to medical treatment in exchange for my collaboration," she said. "I said that I won't help them take other people's lives to save my son's."
Amal says that she was then warned by the intelligence officers that her decision would affect her son's prospects of treatment – but the family persisted. "We applied again, but … they kept telling us that the application was still going through a background check."
Months later, an answer finally came. "We received a call from the liaison office on November 3 telling us that the Israelis wanted to interview Ahmed at Erez," Hassan said.
Ahmed Shubair's father, Hassan, watched in despair as his son took his final breaths [Belal Aldabbour/Al Jazeera]
Two weeks later, Hassan watched as Ahmed disappeared into the long corridor leading from Gaza to the Israeli side of the Erez crossing.
"I waited for 12 hours. When Ahmed came out later, he looked exhausted and he was afraid. The Israeli officers took away his possessions and medication and kept him waiting in an empty room for 10 hours before he was interviewed," Hassan said.
During the interview, Ahmed received the same offer that Amal had rejected months earlier, his family said.
"He told them that he was just a sick boy hoping to get treatment, and that he spent most of his life between hospitals and knew nothing about the names or whereabouts of Palestinian militants," Hassan said. "He never posed a threat to anyone in any of his previous treatment trips; he told them that, but this was not what they wanted to hear, so they sent him back and told him that he will die in Gaza."
Ahmed's health deteriorated rapidly over the following two months. His breathing became shallower as fluids accumulated in his lungs and body, until he could breathe no more. He died on January 14, 2017.
Ahmed's death devastated his family and friends, especially his 15-year-old brother, Ali, with whom he shared a room.
"I watched him every night, fighting for every breath as he got worse," Ali told Al Jazeera.
Before he died, Ahmed told his parents that the Israeli officers had asked him one final question during his interview: "They asked him, would he treat Jewish children seeking to receive treatment in Gaza, should the situation be the other way around? His answer was a straight yes," Amal said.
Ali says he now wants to become a heart surgeon, to fulfil his brother's dream.
Two weeks after Ahmed's death, the family received a phone call from an Israeli liaison officer, informing them that Ahmed and his mother had been granted permission for travel. For Amal, the phone call was too much to bear: "They won't respect our grief."
For Hassan, Ahmed died with dignity and honour, refusing "to spy for the enemy to save his own life".
"No one his age should face such a terrible choice," Hassan said, "but Ahmed made the right call."
Source: Al Jazeera
---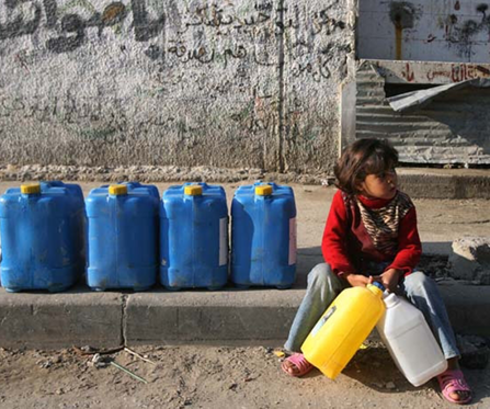 The innocent imprisoned. Movement restricted. Trade suffocated. Homes demolished. Human rights abuses are rife in Israel and the Occupied Palestinian Territories.
We do not take a position on issues of statehood.
We stand with those demanding that all sides respect human rights, and that perpetrators of human rights abuses are brought to justice.