Published time: 1 Apr, 2017 03:13Edited time: 1 Apr, 2017 04:33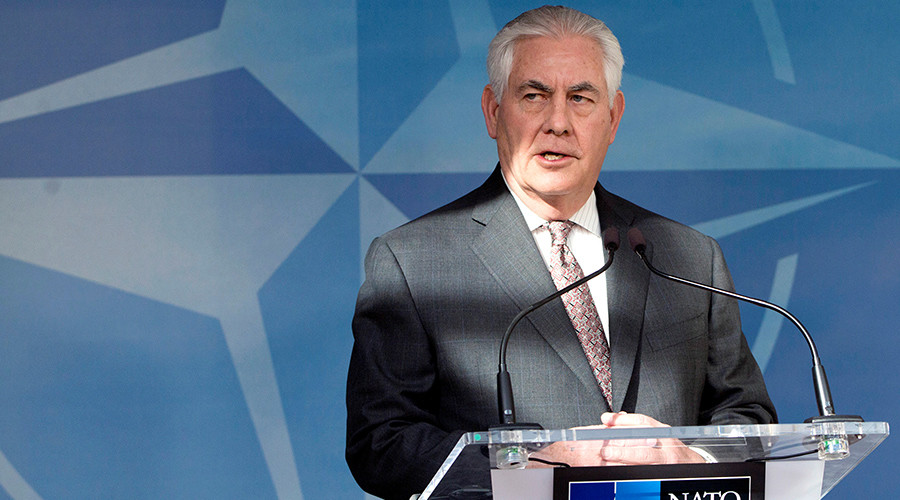 Moscow says its "baffled" by the remarks of the US Secretary of State during his debut address at NATO HQ, spewing the same old mantra about "Russian aggression" to unite the alliance in the face of a common "threat" that requires additional spending.
Rex Tillerson arrived in Brussels to an expectant crowd of NATO foreign ministers, who eagerly waited to hear the US approach to maintaining the future of the alliance. Besides urging NATO members to contribute 2 percent of their GDP on collective defense, the US's top diplomat reassured colleagues that Washington will back NATO against Russia.
"The US commitment to NATO is strong and this alliance remains the bedrock for trans-Atlantic security," Tillerson said at his first ever meeting at NATO headquarters in Brussels. "The NATO alliance is also fundamental to countering both nonviolent, but at times violent, Russian agitation and Russian aggression."
During his debut speech, the newly appointed US Secretary of State also emphasized that the United States is committed to supporting NATO's capabilities in the collective defense. Separately, Tillerson also met with the NATO-Ukraine Commission, where he promised to maintain the Russian sanctions.
Tillerson's remarks prompted a strong reaction from the Russian Foreign Ministry, which said it was "baffled" by the Secretary's rhetoric, especially considering the timing of the remarks which came a day after the ambassadorial meeting of the Russia-NATO Council – the first such contacts in almost three years.
"They always have one thing on their mind: the 'Russian threat' myth, 'Russian aggression' slander and endless mantras about the need to confront it collectively," the Ministry said.
READ MORE: Mattis & Fallon say NATO members must raise their game, accuse Russia of 'interfering'
The ministry expressed disappointment that NATO decided to perform the traditional anti-Russia "ritual dance" a day after Secretary-General Jens Stoltenberg called the talks with Moscow "frank" and "constructive."
During the meeting in Brussels, NATO members agreed on a "dual track approach" to Russia. Such an approach, according to Stoltenberg, means maintaining a "strong NATO" with "credible deterrence and defense as a platform for engaging with Russia in a political dialogue."
Sec. Tillerson: US commitment to #NATO is strong & this Alliance remains the bedrock for transatlantic security.
Stoltenberg acknowledged during the press conference on Friday that the military alliance "implemented the biggest re-enforcement to our collected defense since the end of the Cold War," by "tripling" the size of the NATO response force in Europe, which saw the deployment of four battle groups to Poland and the Baltic countries.
WATCH: US troops, hardware depart for NATO sites in Eastern Europe build-up (VIDEO)
"We have established eight new headquarters in the eastern part of the Alliance and we are increasing defense spending. So, we are delivering on deterrence and defense, the strength pillar," said the Norwegian.
Commenting on the two-tier approach, Moscow said that it's essentially being forced to assume a confrontational stance in relations with NATO.
"We have a legitimate question: can we expect any constructive approaches in the Russian-NATO relations when the alliance is stubbornly sticking to its old patterns, when the United States and its allies are obsessed with building up their military presence at our borders justifying it with the necessity of 'containing Russia'?," the ministry noted.
"In fact, we are being drawn into a confrontational paradigm of relations based on the logic of military confrontation," the ministry said.
Furthermore, the ministry noted that it sees "no signs" that NATO is willing to resume practical cooperation in areas where common interests overlap, such as security challenges and terrorist threats.
The foreign ministry statement summarized all the Russian concerns voiced on Thursday leading up to and following the NATO-Russia Council meeting, where the issues of Ukraine, NATO's military buildup, and wider European security were discussed.
Moscow, for instance, briefed NATO on the deployment of two divisions in the Western Military District in addition to a mechanized infantry division in the Southern Military District. NATO for its part provided information on the implementation of the plan concerning the forward deployment on NATO's eastern flank.
READ MORE: Russia increases nuclear sub fleet, combat patrols reach Soviet-era levels
Last month, NATO member nations also agreed to expand the alliance's presence in the Black Sea. At the same time, apart from deploying troops to Eastern Europe and Poland, the US and NATO have actively built up anti-ballistic missile (ABM) systems in Europe and on warships patrolling Russia's borders.
Moscow's envoy to NATO insisted that building bilateral confidence in such an environment is not possible until the alliance stops threatening and drops its policy of restraining Russia.
"It is not possible to build confidence until NATO abandons its military domination policy," Russia's Permanent Representative to NATO Alexander Grushko said on Thursday, according to TASS.
NATO members "were unable to answer the question how to combine that [security confidence-building measures] with their policy aimed at restraining Russia and demonstrating their military capabilities near our borders," the envoy said.
"Dialogue for the sake of dialogue will not produce any results if no specific decisions are made and no steps are taken," he added.
Prior to the meeting, Russia's Foreign Minister Sergey Lavrov warned that Brussels might use the Council's platform to engage in confrontational games with Moscow.
"However, if our counterparts in the alliance tell us every time, 'Yes, we will gather in the NATO-Russia Council, but we will only discuss Ukraine,' that will be a continuation of this paranoid aggressive policy. NATO has nothing to do with efforts on the Ukrainian settlement," Lavrov said according to TASS. "If the essence of these ideas is using the NATO-Russia Council for another confrontation, we do not want to indulge in such games."
---
Belgium probes own possible involvement in Mosul strike that killed 200+
Published time: 1 Apr, 2017 04:16Edited time: 1 Apr, 2017 04:18
Belgium has opened a preliminary investigation to determine if its jets were responsible for civilian casualties on at least two occasions in Iraq. One probe seeks to establish whether a Belgian F-16 was involved in the March 17 strike which killed over 200 people.
In one of the deadliest single incidents of the Mosul siege, hundreds of people lost their lives in the al-Jadida neighborhood on March 17 from what the initial reports indicated to be a US-led coalition airstrike.
With the exact number of casualties still unclear, Mosul's municipality chief, Abdul Sattar al-Habbo, who was supervising the rescue, said 240 bodies had been pulled from the rubble.
Confirming that the US is conducting its own investigation into the March 17 incident, the Pentagon earlier this week admitted that its air power could have been behind the deadly strike.
Following suit, Belgium which is part of the anti-IS (Islamic State, formerly ISIS/ISIL) coalition, also announced that it will now examine whether its jets might have been involved in targeting civilian sites on a least two occasion on March 17.
"We have opened a preliminary investigation to establish… whether all procedures were observed during two incidents," prosecutors' spokesman Eric Van Der Sypt told AFP on Friday. "If rules of engagement were properly observed… it is possible that no crime was committed."
Belgian MP Wouter De Vriendt told VRT newscast that the case involved strikes carried out by Belgian F-16 fighter jets on March 17.
Belgium is one of 66 countries that the US has called on to help defeat IS terrorists in Iraq and Syria. The Benelux country is contributing to the US-led coalition by offering approximately 35 personnel for strike operations in Iraq deploying its fleet of six 6 F-16A/Bs based in Jordan. In addition, Brussels has dispatched approximately 120 personnel to support air-combat missions.
With separate American and Belgian investigations underway, the US-led coalition consistently reminds the media that IS often use civilians as human shields.
Investigators are now trying to determine whether civilians were forced into buildings before it was struck by coalition forces or whether jihadists destroyed the building themselves.
The Iraqi War Media Cell said the building could have been blown up by terrorists who "booby-trapped" the building. "No hole or other indication" was discovered to suggest that the US coalition had struck the building directly, it said.
The probes into the civilian death toll, including the March 17 strike coincides with continued reports that hundreds of Mosul residents are being killed by airstrikes in their homes following repeated instructions from Iraqi authorities not to leave the safety of their residence.
---
Russia increases nuclear sub fleet, combat patrols reach Soviet-era levels
Published time: 31 Mar, 2017 21:26
Russia has floated its new state-of-the-art nuclear-powered multipurpose submarine called Kazan as its fleet returned to Soviet-era operational levels in terms of sea patrols, according to the Russian Navy chief.
"The Yasen-M class nuclear-powered submarine cruisers are some of the most advanced battleships that amassed all cutting-edge submarine shipbuilding technologies," Admiral Vladimir Korolev, the Commander-in-Chief of the Russian Navy, said as the most advanced Russian nuclear attack submarine, Kazan – the second submarine of the Yasen-M class – was launched in the northern Russian port of Severodvinsk.
Kazan was laid down in 2009 and is expected to be accepted by the Russian Navy in 2018 following sea trials. The admiral said four more submarines of the same class – Novosibirsk, Krasnoyarsk, Arkhangelsk and Perm – are now being built at the Sevmash shipyards in Severodvinsk and one will be launched as early as in 2019 while the seventh and last vessel of this project, Ulyanovsk, would be laid down in the summer of 2017.
All the vessels are expected to be built by 2023, according to Korolev.
Yasen-M class submarines are to replace the older Russian attack submarines of the Akula-class forming the backbone of the Russian Navy's conventional submarine force. They are considered to be counterparts to the US nuclear-powered Seawolf and Virginia class submarines.
The lead vessel of the project, K-560 Severodvinsk, was laid down in 1993 but construction was completed only in 2010 due to budgetary constraints. It was accepted by the Russian Navy in 2014.
The Yasen-M class vessels are 120 meters long, have a submerged displacement of 13,800 tons and can travel up to 31 knots (57 kph) while submerged. They are also designed to dive to a maximum depth of 600 meters.
The submarines carry ten 533mm torpedoes and have eight vertical launching systems equipped with four Onyx and Kalibr supersonic cruise missiles each. Each ship is designed to operate independently for up to 100 days.
One of the most interesting features of the new design is a large spherical sonar system which occupies its entire bow, which required that torpedo tubes be slanted and placed behind the main control compartment.
"We are creating a group of nuclear-powered submarines that will carry out missions in all regions of the global ocean and ensure Russia's security," Korolev said at the Kazan launch ceremony, as cited by TASS.
Russian Deputy Prime Minister Dmitry Rogozin, who also attended the launch, said the new vessels would help Russia to "firmly and confidently defend its interests on the global stage." He also emphasized the necessity of dialog in international relations adding that "this dialog should be maintained with a firm and confident voice," referring to the importance of the nation's defense capabilities.
Korolev also said that Russian submarines have reached Soviet Union-era levels in terms of the combat patrols as the vessels had spent some 3,000 days at sea in 2016, adding that "it is an excellent level."
"Last year, we returned to the level we had before the post-Soviet era in terms of the days at sea. Russia's submarine fleet has spent 3,000 days at sea," the admiral said.
He went on to say that Russia also plans to launch another state-of-the-art submarine this summer – a nuclear-powered ballistic missile cruiser named Knyaz Vladimir.
The vessel is the fourth submarine of the Borei class. With a submerged displacement of 24,000 tons, this 170-meter long vessel is designed to carry six 533mm and six 324mm torpedos, Onyx and Kalibr cruise missiles as well as 16 Bulava ballistic missiles with an operational range between 8,000 and 8,300 kilometers.
According to the former head of the Russian Navy, Admiral Vladimir Vysotskiy, Knyaz Vladimir is even more advanced in terms of low noise, better weapon control systems, and higher maneuverability as compared to the first three vessels of the Borei class which are now used by the Russian Northern and Pacific Fleets.
READ MORE: Russia plans to build 1st-ever civilian nuclear-powered submarine for Arctic prospecting
Russia's growing state-of-the-art submarine fleet is apparently generating anxiety among the US military. In June 2016, Vice Admiral James Foggo III, commander of the US 6th Fleet, wrote in the June issue of the US Naval Institute's magazine that "an effective, skilled, and technologically advanced Russian submarine force is challenging" NATO's maritime dominance.