Residents and analysts of Gaza anguish over the prospects of another Israeli onslaught.
Gaza Strip – One week since the assassination of Hamas senior activist Mazen Faqha, the prevailing mood in Gaza is one of uncertainty and fear of another Israeli onslaught.
"Many people here regard a fourth Israeli war [on Gaza] as inevitable – a matter of when, not if," said Moutasem al-Haddad, a shop owner in Gaza's lively al-Rimal street.
Faqha was a former detainee who was freed in the 2011 Shalit prisoner swap deal and exiled to the Gaza Strip. Israel has repeatedly charged him with leading Hamas' efforts to reestablish an armed presence for the Gaza-based movement in the occupied West Bank.
He was shot dead by unidentified gunmen in front of an apartment building where he lived in Gaza City's southern Tel al-Hawa suburb late on Friday night. The operation was unusual in both tactics and location. It left people in the Strip in a state of shock and dismay.
"The past few days remind me of the days in 2014, before the third war [on Gaza] started," said Sobhiya al-Areer, a Palestinian woman whose son was killed and house destroyed in the 2014 Israeli assault on the Strip. Areer has only recently relocated from a rented apartment to her newly rebuilt house in Shujayea, while her sons remain displaced, waiting for their turn in the sluggish reconstruction process.
"As a mother who lost a son in the war I felt the pain of losing Faqha more than anyone," Areer said. Still, she fears what a new war may bring to her family. "I still have nightmares whenever the [talk of] war is brought up," she told Al Jazeera.
---
READ MORE: 'Strong evidence' of Israeli war crimes in Gaza
---
Faqha's shooters remain on the run while security apparatuses in Gaza try to decode the murder. Since the assassination, checkpoints were erected along key streets in the Strip and police presence has intensified. Restrictions were imposed by the Interior Ministry on the movement of people through the Beit Hanoun (Erez) crossing between Gaza and Israel.
"The professional style of this operation, and the tools that the assassins used, indicate that a sophisticated enemy was behind it," Iyad al-Bozum, spokesperson for the Interior Ministry, told Al Jazeera, naming Israel as the most likely culprit. "Investigations are still ongoing, however," he added.
Al-Bozum's intuition is shared widely among people in the Strip. "There is no doubt regarding who is behind this operation, it's the [Israeli] occupation," Mohammed Azzam, a local Palestinian journalist, told Al Jazeera.
Shortly following the assassination, the Izz ad-Din al-Qassam Brigades, Hamas's armed wing, pinned the assassination on Israel and vowed to retaliate. "We say clearly that the Israeli occupation is fully responsible for this crime and bears its consequences," the Brigades said in a press statement on Friday. "The occupation will pay a heavy price for this crime," the statement continued.
So far, there has been no official Israeli comment over Faqha's death. Still, the heated rhetoric and the intense buzzing of Israeli drones over Gaza leave little room for people in the Strip to feel at ease.
As the majority of people in Gaza anguish over the prospects of a new war and how it could exacerbate the calamitous situation in the Strip, others fear that the situation per se might lead to war.
A report by Israel's State Comptroller Joseph Shapira a month ago criticised Prime Minister Benjamin Netanyahu's cabinet for ignoring warnings by Israeli security services regarding the deteriorating humanitarian situation in Gaza and its consequences for Israel.
---
READ MORE: Israel's cabinet 'ignored warnings' over 2014 Gaza war
---
Nearly three years after the last onslaught, fewer than half the international funds pledged for Gaza reconstruction have been disbursed.
Further, being under Israeli blockade for over a decade, Gaza remains gripped by a myriad of crises.
Severe water and electricity deficiencies compound a situation where food insecurityprevails and health services are on a limp. Meanwhile, the unsettling socioeconomic situation continues to deteriorate as the Strip, one of the most densely populated areas in the world, faces staggering unemployment rates.
Israel, according to political science student Abdullah Sabra, is once again overlooking the dire humanitarian situation in Gaza, pushing residents to the point where they have little to lose. "They are doing the same thing, again!" Sabra told Al Jazeera.
Eid Musleh, a Palestinian expert on Israeli affairs, confirms Sabra's worries and says that the assassination signals that Israel is ready to engage in a new war on Gaza.
"The timing of the assassination which followed the ascension of a new Hamas leadership implies an Israeli attempt to drag Hamas to a new confrontation," he told Al Jazeera.
He pointed out recent Israeli military drills near the Gaza borders, which, Eid says, sends a message to Hamas that Israel is "ready for war".
On the contrary, Ibrahim al-Madhoun, manager of the Gaza-based Future Political Studies Institute, sees that the nature of the assassination indicates an Israeli attempt to distance itself from the operation. "They are not willing to bear the consequences, hence the complex nature of this assassination and the Israeli silence that followed it," he told Al Jazeera. "They want to drag the resistance into a war of attrition where they can pay a very little price."
However, both Musleh and al-Madhoun agree that Hamas' reaction cannot be foreseen.
Meanwhile, uncertainty remains high, as well as the chance for miscalculated moves on either side of the border. "Hamas is caught between a rock and a hard place," Gaza-based analyst Adnan Abu Amer told Al Jazeera.
"A retaliation is bound to start a war, and absence of retaliation will encourage Israel to go further and carry out more assassinations."
Source: Al Jazeera News
---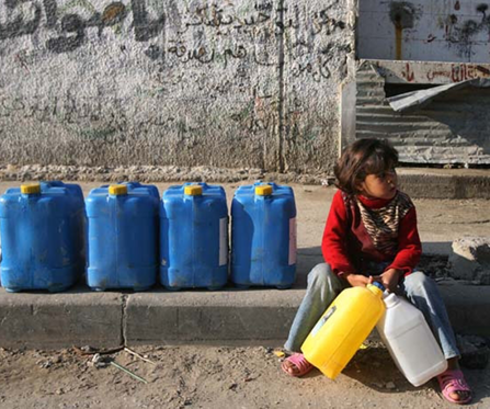 The innocent imprisoned. Movement restricted. Trade suffocated. Homes demolished. Human rights abuses are rife in Israel and the Occupied Palestinian Territories.
We do not take a position on issues of statehood.
We stand with those demanding that all sides respect human rights, and that perpetrators of human rights abuses are brought to justice.
---
Gaza: Operation Protective Edge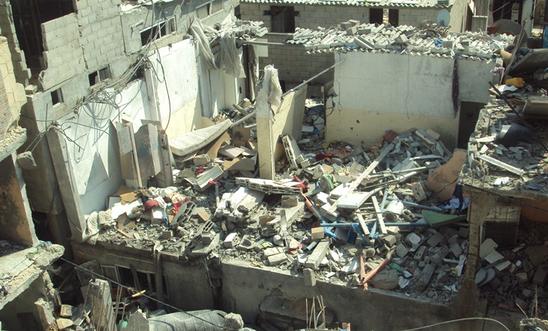 It began just after four o'clock on a sunny Wednesday afternoon. Four young boys, all cousins from the same family, were playing football on a Gaza beach.
The shelling rained down – killing all four children.
The Israeli military offensive 'Operation Protective Edge' launched on 8 July 2014, killing and injuring scores of civilians.
This deadly seven-week battle wreaked further havoc, punishment and devastation on Gaza's already blockaded population, with Gaza's children caught in the crossfire.
The human toll of the violence
Operation Protective Edge saw more than 2,000 Palestinian deaths (including more than 500 children) and more than 10,000 people injured.
Thousands fled their homes, or what was left of them. Those that stayed still struggle to access basic services as Gaza's infrastructure is left in tatters.
During the attacks, British deputy prime minister, Nick Clegg, spoke out against Israel's retaliatory shelling, dubbing it 'deliberately disproportionate' and amounting to 'collective punishment'.
War crimes
During the conflict, family homes were among the targets for airstrikes. Our research shows there was a failure to take necessary precautions to avoid excessive harm to civilians, which is against international humanitarian law.
Several of the attacks directly and deliberately targeted civilians and landmark buildings. In many of the cases we investigated, no prior warning was given to residents to allow them to escape.
Hamas and other Palestinian armed groups also fired thousands of indiscriminate rockets and mortars into civilian areas of Israel, killing six people including one child.
Both sides in this conflict have committed serious human rights violations.
Stop the arms, stop the killing
In 2013, the UK sold £6.3 million-worth of arms to Israel. We know that some arms sold by the UK government have been used to commit human rights violations in Gaza in the past.
By supplying arms – even indirectly –the UK could have helped to facilitate war crimes.
Thank you
Almost 60,000 of you called on the UK government to suspend all arms transfers to Israel. Our action to the UK government was part of a campaign by Amnesty activists around the world to halt sales in their countries and call for a UN arms embargo.
We're continuing to investigate and document serious human rights violations in this conflict, including unlawful killings and injuries to civilians, and the destruction of civilian property by Israel, Hamas and other Palestinian armed groups.
We're calling on both parties to allow an independent and impartial investigation into these grave violations. Those who have committed war crimes must be held accountable.