June 26, 2002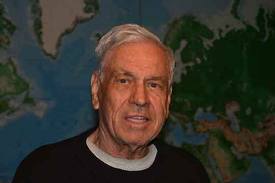 (left. Eustace Mullins)
Most of our problems can be laid
at the doorstep of the Mason Jewish central banking cartel.
"The Secrets of the Federal Reserve" by Eustace Mullins– A review
"I believe that banking institutions are more dangerous to our liberties than standing armies." —Thomas Jefferson
by Henry Makow Ph.D,
In November 1949, Eustace Mullins, 25, was a researcher in Washington DC when friends invited him to visit the famous American poet Ezra Pound, who was confined at St. Elizabeth's Mental Hospital and listed as a "political prisoner."
A leading figure in Modern English literature, Pound was the editor and critic who introduced the world to James Joyce, W.B. Yeats and T.S. Eliot. During the Second World War, he was charged with treason for broadcasts on Rome Radio that questioned the motives behind America's involvement.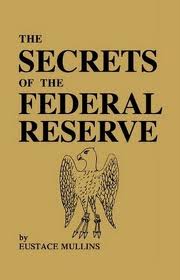 Pound commissioned Mullins to examine the influence of the banking establishment on U.S. policy. Mullins spent every morning for two years in the Library of Congress and met with Pound every afternoon. The resulting manuscript, "The Secrets of the Federal Reserve" proved too hot for any American publisher to handle. Nineteen rejected it. One said, "you'll never get this published in New York." When it finally appeared in Germany in 1955, the U.S. Military Government confiscated all 10,000 copies and burned them.
Thanks to the American Patriot Friends Network, this book is freely available on line. (I recommend you save it on your desktop, as I did.) Why is it so (excuse the pun) inflammatory?
Essentially it paints a picture of the world, and the role of the United States, which is radically different from the one we are given in school or in the media.
"Notwithstanding the war of independence against England," writes Mullins, "we remained an economic and financial colony of Great Britain." Between 1865 and 1913, he says London bankers led by the Rothschilds used agents such as J.P. Morgan and J.D. Rockefeller to gain control of American industry and organize it into cartels.
Where did these bankers get the money? For over 200 years, European bankers have been able to draw on the credit of their host countries to print it!
In the Seventeenth Century, the moneylenders and the aristocracy made a pact. If the king would make paper currency a liability of the state, the moneylenders would print as much as he liked! Thus the Banks of England, France and the Reichsbank came into being but they were all private corporations and remain so today.
According to this nefarious pact, the moneylenders got to charge interest on assets they created out of thin air. The aristocracy all took shares in the central banks plus they got to finance a burgeoning government and to wage costly wars.
This piece of chicanery is at the heart what plagues humanity.
The bankers have a vested interest in the state (i.e. the people) incurring as much debt as possible. They are behind the Marxist, socialist and liberal movements which call for big government and social spending. They are behind the catastrophic wars of the last century. The Warburgs financed the Bolshevik Revolution. The Bank of England financed the rise of Hitler. Prescott Bush (W's grandfather) was head of Brown Brothers Harriman, which financed the construction of the Nazi war machine.
Naturally if you can create money out of thin air, your first instinct is to buy tangible assets with it. There is a powerful impulse to use debt to control nations and take over their real assets. This is the essence of the so-called Third World Debt crisis. Dedicated to owning all wealth and enslaving humanity, an irresistible vampire has been unleashed uponthe world
Much of Mullins book is devoted to the subterfuge by which the United States was drawn into its lethal embrace. In 1913, the Owen-Glass Bill gave mostly foreign-controlled banks (posing as "the Federal Reserve") the right to create currency based on the credit of the United States government and to charge it interest for doing it!
To accomplish this, the bankers had to rig the election of 1913 in order to get Woodrow Wilson elected. Then their stooges in Congress passed the legislation on December 22 after their opponents had gone home for Christmas.
"This act establishes the most gigantic trust [cartel] on earth," Congressman Charles Lindbergh said at the time. "When the President signs this bill; the invisible government by the Monetary Power will be legalized. The people may not know it immediately but the day of reckoning is only a few years removed."
Mullins explains that the legislation passed just in time for the American people to finance World War One. After maintaining standing armies for 50 years, European powers no longer could afford the luxury of another war. But the U.S. was relatively debt free and made the whole thing possible.
What would WWI have been without Germany? Apparently Germany was not self-sufficient in food and would have had to sit out this war. In the nick of time, the bankers organized something called "The Belgium Relief Committee" which channeled billions of dollars worth of U.S. meat and potatoes not to Belgium but to Germany. When Edith Cavell, an American working in a Belgium hospital pointed this out, British intelligence had the Germans arrest and execute her.
Mullins makes a convincing case that every U.S. President since Wilson has been a lackey of the bankers. J.F. Kennedy was assassinated because he started to print his own U.S. government-backed currency. This is also the transgression that led to the murders of Presidents Abraham Lincoln and James Garfield.
Last year alone, the American people paid $360 billion in interest to the bankers. To maintain this massive fraud, the bankers enforce an iron grip on the political and cultural organs of the nation. According to Mullins, "The New York Times" is owned by the Kuhn Loeb while "The Washington Post" is owned by Lazard Freres. In Europe the Rothschilds own Reuters as well as the French and German news services.
I presume US publishers, TV networks and movie producers are similarly beholden. Rockefellers, Carnegies and the Fords endow the nations' libraries and universities. Journalists and professors dutifully parrot fantasies about democracy and freedom. Mind control laboratories run by the CIA and the British army (TheTavistock Institute) dream up ways to manipulate and undermine the population. The psychological sterilization of the human female ("feminism") is an example.
The "War on Terror" is part of the banking cabal's plan to consolidate its grip on humanity in a friendly (or not so friendly) fascist "New World Order." They want to secure their political, economic and social grip on the obstreperous Muslim world, as well as build up a security apparatus in case the docile populations of the West become restive.
Well, at least the cosmic battle between Good and Evil is out in the open at last!
– See more at: https://www.henrymakow.com/260602.html#sthash.WO5l29do.dpuf
---
---
Feminism is a Depopulation Program
January 29, 2017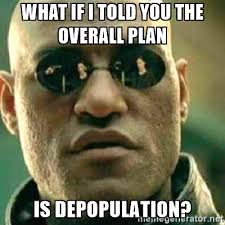 The world birth rate has halved in the last 50 years 
from roughly 3.6 births per woman to only 1.8   
This coincides with the rise of feminism as 
the official world gender ideology.
Makow –  "I am one of many who missed the opportunity to have a normal family thanks to feminism. Depopulation strikes close to home for countless millions."
Updated from Feb. 20, 2002
by Henry Makow Ph.D.
We have been conditioned to scoff at the idea of conspiracy. The idea that people might plan to harm others without first warning their intended victims is too preposterous to consider!
We are like the passengers on a bus that keeps having "accidents" which cause untold death and suffering. These are wars, depressions and epidemics etc. We have just completed the bloodiest century in human history: Auschwitz, Dresden, Ruanda, Hiroshima, Cambodia. Over a hundred million people were murdered, and that's not counting abortions.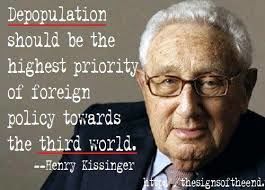 We keep changing the 'driver' but the accidents do not cease. This is because the drivers all take their orders from the same diabolical source.
Because the human race keeps running off the road, we are not reaching our destination. The road is God's plan. For Christians, this is Jesus' Gospel of Love. The destination: to know God.
Mankind evolved for this purpose. God wishes to be known by His Creation.
A reader "Pat" wrote last week that he has "a hard time believing that a group of elites could agree on anything, let alone a far reaching evil agenda…[It] seems like the process of achieving this agenda is too slow for any bad people…requires too much flawless, seamless, secretive, cooperation…The only entity with that kind of plan and patience with that kind of plan and patience would have to be the devil himself, wouldn't it?"
I replied that he was on to something. At the beginning of the 20th Century, huge fortunes were built by monopoly capitalists like J.P. Morgan and J.D. Rockefeller. What is monopoly but the desire to "have it all," and to drive everyone else out of existence. Evil is the spiritual cancer that seeks to "fulfill" itself not in God, but in limitless material acquisition and sensual excess.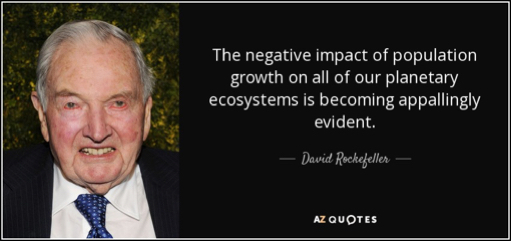 It was not a large leap for a J.D. Rockefeller to go from owning the oil industry, the pharmaceutical industry, the banking industry etc. to wanting to own the whole world.  Rockefeller and his foundation have been in the forefront of the population "control" and eugenics movement. Ultimately the goal is to reduce the earth's population for the simple warped reason that the less there is for you and me, the more there will be for J.D. and his cronies.
The elite just loves birth control. Warren Buffet, Bill Gates, Ted Turner are among the ultra rich that have donated billions to spreading the gospel of contraception, abortion, vaccines and feminism using the United Nations and "US Aid." Rockefeller funded the invention of the pill, the IUD and owns the rights to the abortion drug RU-486. In the last 50 years, billions of public dollars have been spent on "family planning" designed to limit population by deceit and coercion, including compulsory abortion and infanticide.
In "The War Against Population" (1988), Dr. Jacqueline Kasun writes that in 1981, a directory of population control agencies in Washington DC listed 92 private (but mostly publicly funded) agencies, 12 United Nations and 57 agencies of the US government (p. 198). "The real problem of government family planning is not one of families out of control but of planners out of control," she wrote ( p.211).
For the same reason, the Illuminati are behind "sexual liberation" and mainstreaming homosexuality. Through funding and media control, they make us regard sex as a recreation/physical release rather than as the expression of a spiritual bond (i.e. a loving marriage) resulting in children.
The modus operandi is to finance and promote disgruntled minorities in order to destabilize and undermine the world. Feminism is a prime example. It pretends to be about giving women equal opportunity in the workplace when in fact it is devoted to discouraging women from seeking fulfillment in motherhood.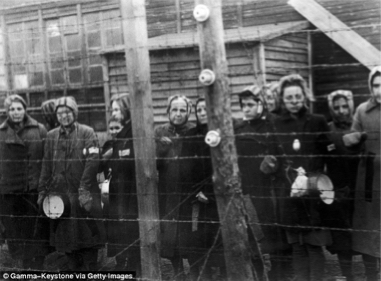 In the bible of modern feminism, "The Feminine Mystique" (1963) Betty Friedan makes this obscene comparison between housewives and Nazi concentration camp inmates:
"They were reduced to childlike preoccupation with food, elimination, the satisfaction of primitive bodily needs; they had no privacy, and no stimulation from the outside world. But above all, they were forced to spend their days in work which produced great fatigue…required no mental concentration, gave no hope of advancement or recognition, was sometimes senseless, and was controlled by the needs of others…" (306)
Clearly Friedan is talking about mothers. Comparing the nurturing of their children to the brutal slavery and poisoning of Auschwitz inmates is psychological warfare of the most vicious kind. Friedan, who hid the fact that she was a paid Communist activist, should have been denounced as a hate monger. Instead she was celebrated as the new oracle and received honorary degrees and fellowships at Harvard, Yale and Columbia. Saturday Review called her book "a scholarly work, appropriate for serious study" and anthropologist , fellow Jew, Ashley Montegu said it was "the wisest, sanest, soundest, most understanding and compassionate treatment of American woman's greatest problem."
Do we need further proof that the world is one-horse company town, and J.D. and his cabal own the company? They decide which politicians, universities and academics get funding, which books get published and reviewed, which movies get made. We are condemned to look into mirrors that don't reflect reality. That's why we are so skeptical of conspiracy. That's why I am self published. On the other hand, Eve Eisler, is reading her pornographic play "The Vagina Monologues" on HBO. This "play, " which features women looking at their genitals with hand mirrors and describing steamy scenes of lesbian sex with minors, masquerades as feminist empowerment. In fact, it is an invitation to lesbianism.
ELITE DEPOPULATION AGENDA 
Feminism fits the elite's depopulation agenda. Since 1963, when "The Feminine Mystique" was published we have experienced an unprecedented breakdown in the family. More than half of all children are now born out of wedlock; the number of single parent households has tripled. In "The Broken Hearth," William Bennett writes: "Most of our social pathologies, crime, imprisonment rates, welfare, educational underachievement, alcohol and drug abuse, suicide, depression, STD's, are manifestations, direct and indirect, of the crackup of the American family (p.4)."
We are now suffering from underpopulation. The US birthrate has been cut from 4 to 1.88 children per woman, the European and Canadian is 1.5. (We need 2.2 just for replacement.) Russia (1.6 children)  has remained steady. In the "Death of the West," Pat Buchanan argues that population decline is responsible for the inevitable extinction of the West.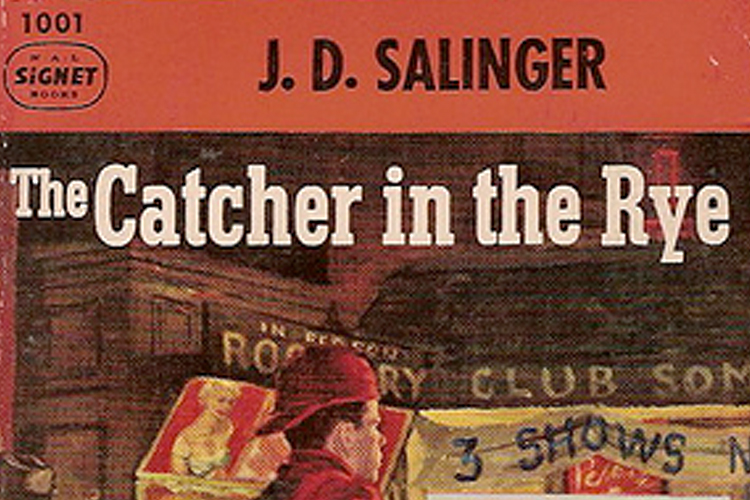 Reproduction requires the most delicate care. In the case of human beings, the female must be prepared for motherhood and honored for her contribution to society. The male must be shown that the standard of manhood is to provide leadership and sustenance for mother and children. Both mother and father must be able to give their children intellectual and spiritual guidance.
Instead, in schools and universities, the tender shoots of feminine sexuality are crushed under the feminist jackboot. Young women are taught that heterosexual sex, marriage and family are inherently oppressive. Homosexuality on the other hand is an act of rebellion that is "chic" and "normal."
Friedan's comparison of mothers with concentration camp inmates is perfect. Betty Friedan, agent of the Illuminati cabal, put mothers in the concentration camp. Mothers!?  The ultimate aim indeed is genocide. The Elite want the world's population to be much smaller. Can there be any question that this is the devil's work?
——–
Related – Stanley Monteith – The Population Control Agenda 
————– Betty Friedan- Mommie Was a Commie 
First Comment from Bruce-
The recent passing of Mary Tyler Moore, one of Hollyweird's du jour darlings of cultural feminism; the main stream media including the so-called stalwarts of republican conservatism, Fox News has drawn out and gleefully displayed on the television screen how Ms. Moore in her self titled comedy sitcom, The Mary Tyler Moore Show represented the independent woman who conquered the board rooms of the stuffy, old crony, balding white male chauvinism. Tearing down the walls of male oppression. Than rolling out all the present day bleached head, cake face make up bimbos who are and were  so inspired by Ms. Moore boldness against said white male chauvinistic oppression. Incorrectly calling themselves journalists. Of course we know what passes as journalism is just pure intellectual laziness.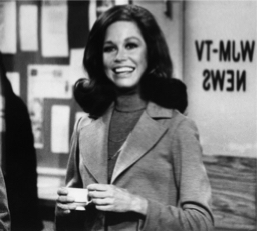 (left, Masonic Jewish social engineering) 
Any one who can speak two syllables can parrot all the news wires, i.e.,  Associated Press, United Press International, Reuters and so on and so on. Which what constitutes for journalism for these MSM talking heads. As Don Henley expressed in his song Dirty Laundry; "I just have to look good, I don't have to be clear."
Not once I have seen any mention from these champions in the MSM of so called truth to Ms. Moore's earlier role in the sitcom, Dick Van Dyke Show. Which shows her as a stay home mother and wife while her husband is the bread winner. That would be anathema to their satanic theme of turning society upside down.
We live in some dark days Henry. I pray that a turn around to normalcy would someday show its light; but I'm not holding my breath
– See more at: https://www.henrymakow.com/200202.html#sthash.IR9mTMQP.dpuf
---
Young Man Declines Masonic Offer
January 28, 2016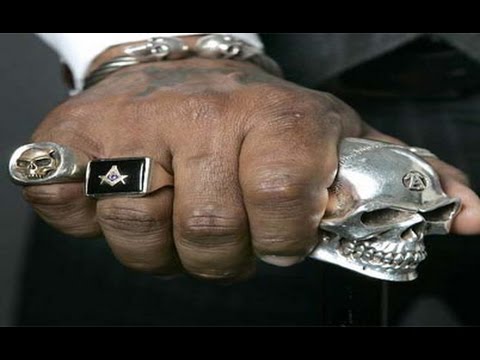 This testimony was originally posted by "Technoir" 
in the David Icke forum in May 2010 and updated in December 2010.

They offered to set him up for life 
but the price was too high.
"I told him straight up to his face
that I don't believe in sacrificing
children to Satan."

This account provides insight into the reptilian character of the satanic cult that controls the West. 
Makow comment: I always felt society suffered from a spiritual malaise. Now I know the cause.
by "Technoir"
(Slightly abridged by henrymakow.com) 
I am a Male 25 years old living in Canada.
Approximately four years ago when I reached the age of 21, I was asked to be become a Freemason, an offer which I declined for a number of reasons. Before I get into more details, I feel I should give some background information as to why I was selected.
I am Canadian, and I had recently graduated from The University of Western Ontario (UWO) in London, Ontario with a degree in Economics. UWO is nicknamed The University of Wealthy Ontario and is well known for its non-stop party atmosphere. In the 1980's, Playboy Magazine named it the school with the sexiest women in North America, to give you an idea of what kind of a school it is.
My father is a multi-millionaire who made his fortune through a combination of investments in real estate and equities. My education was financed entirely by my father, but I still had a part-time job at the local daily newspaper, 
The London Free Press.
Even though it is a local paper, it [dominated] the daily newspaper market in London and the surrounding area with a circulation of approximately 150,000.
This is an important piece of information, since we all know that Masonry is prevalent even in local media. We also know that anything that is published even on that scale is heavily censored and used to manipulate of the readership.
I had heard about Freemasonry before, and knew that they were an immensely powerful organization, but I never thought I would become one since I always considered myself a maverick-type personality, an independent thinker who didn't even join clubs at University or even support school sports teams.
THE OVERTURE
When I was 17, [in 2001] it was suggested to me that I become a Mason when I was older. I was told that Stephen Harper would be Prime Minister of Canada one day as a taste of the kind of knowledge I could have access to (and he did become Prime Minister [in 2006.]) … Believe me, the Freemasons are very good at playing the game like that and covering their tracks while making you think long and hard about what is really going on.
Whether it was the newspaper job (rubbing shoulders with Masons on a daily basis) or the fact that I had recently graduated and was looking for work (financial vulnerability and a demonstrated willingness to accept and succeed in elite programming) for some reason they saw me as someone whom they wanted. Interestingly enough, it was the superintendent of my building who made the initial offer.
I feel I should warn readers that from this point on, events take an extremely freaky twist…Basically, the superintendent (who had the keys to my unit by the way and could enter it at any time or let anyone else in for that matter) told me straight up that he was a Freemason, that he wanted me to become a Freemason, and that he was friends with the President of the University.
He told me he could arrange for girls to come over and sleep with me through the lodge, give me free cigarettes and alcohol, get me out of any trouble with the police, get me into any graduate program and … teach me to read other people's minds and levitate, among other occult arts.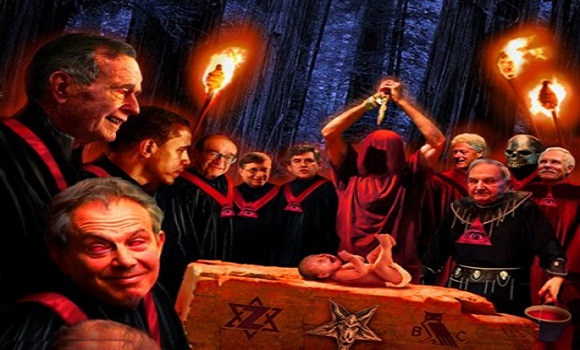 He said there was something I would have to do first though. So, naturally being intrigued, I asked him what. And he told me straight up, and I mean he was totally blunt with me with no beating around the bush, that I would have to sacrifice a child as part of the initiation.
THANKS BUT NO THANKS!
Immediately, all those offers he had made became meaningless and hollow in light of fact that I would have to live with the guilt of killing an innocent child, something I could never do.
I politely declined his offer and said although I was intrigued I could not in good conscience become a Freemason knowing what I would have to do. He then told me that it was entirely my decision and that everyone who becomes a Freemason must do so of their own free will.
I was more than a little freaked out at this point knowing that the super of my building killed children and I asked him how he could live with himself. He said that he had a daughter of his own that he did not have custody of. The mother was a former stripper who was into all sorts of drugs. He became a Freemason so he would get help from the court system to regain custody of his daughter.
He said there was nothing he wouldn't do for his daughter, even if it meant killing someone else's daughter. He gave me a DVD filled with Masonic e-books, included transcripts from a lodge meeting so I would have a greater understanding of what went on at the lodge…
A month or so passed, and I was still living in London, Ont. and working at the newspaper. I felt that the newspaper was my "territory" and even though it was brimming with Masons, it was a union job and they couldn't fire me. I was approached again however, by a co-worker, this time with even more explosive information… This guy laid down some serious information that I found extremely difficult to believe. Some of what he revealed included: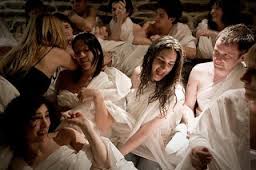 (l. orgies) 
– The fact that everything you become in society comes down to your bloodline.
– That the most powerful Masons are actually reptilian shape shifters that drink human blood and eat human flesh.
– That I demonstrated characteristics of someone with incredible survival instincts and that I was attempting to be the alpha male at work by dominating other men and trying to possess nearly every attractive woman in the workplace, which are reptilian characteristics.
– That the Masonic initiation ritual I would go through would activate my reptilian DNA.
– That the blood drinking, flesh eating orgies that I would participate in have roots in the ancient mystery religion of the Egyptians.

He also instructed me to obtain a copy of the Kabbalah and to start studying it. Later, he became totally enraged when I told him I had not. He appeared to shape shift a small amount himself. However, he still [respected] that becoming a Freemason was entirely up to me and had to be my free choice, that I could not be coerced.
I started to think a number of different things after this information was revealed to me. Firstly, I thought they were trying to scare me into becoming a Freemason.
Secondly, I thought they were trying to inflate my ego by telling me I was better than everybody else, that I was a "superior being" of some kind with special genetics that made me better than everybody else.
Thirdly, I came to the realization that perhaps they were testing how I would react to the information and see how strong my survival instincts were, and therefore gain some insight into the purity of my reptilian DNA.
And lastly, but most importantly, I considered the possibility that just by giving me the information they had already, it would result in a partial activation of my reptilian DNA by traumatizing me and warping my sense of reality.
Part II
The months would pass at the newspaper, with my "friend" and I having casual conversations about how once I joined, I would be considered equal to everybody else in spite of the fact that I was of mixed race and that I would enjoy being part of a brotherhood where I would be looked after for life.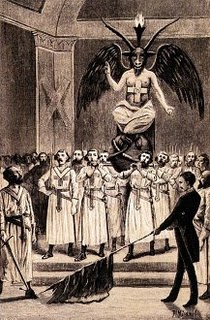 During this time, I was feverishly researching the Masons, Illuminati and the Occult on the Internet and obtained a fair bit of knowledge about these topics. One topic that was particularly disturbing that I feel I should mention here (and scarred me for life) was the topic of trauma-based mind control.
A technique first used by the Egyptians and perfected in modern times, the victim is exposed to all sorts of horrific stimuli designed to create alternate personalities (or alters) within that individuals psyche that can be programmed to serve the Masons/Illuminati.
For instance, someone is thrown into a large container filled to the brim with cockroaches, centipedes, spiders, and other insects and forced to stay there for days. Or the victim watches while their own parents perform vicious illegal abortions on slave women and then are forced to consume (eat) the aborted children with their own parents. It was after reading about these scenarios that I destroyed the DVD filled with Masonic recruitment information, as you can imagine you might too.
Time passed however, and I moved home to Toronto to be with family where I got a job as a forklift operator. I was asked again to become a Freemason by a co-worker (his words were "I would prefer if you joined,") and this time I told him straight up to his face that I don't believe in sacrificing children to Satan. However, that was the last time I was asked and hopefully the last time I ever will be.
—-
Roger Barbour-
My Lifelong Struggle with Freemasons 
Freemasonry- The Elephant in the Room
"Technoir" Responds to low level Mason:
Ahem, Mr. Blue Lodge, it is you who are gullible and totally unaware of what your organization is really about and what it stands for. I would recommend you actually take the time to read some of David Icke's material before commenting further. Your rules do not apply to members of the Red Lodge, basically no rule applies to them other than sufficient secrecy and maintaining the facade for those members who are lacking the genetic characteristics to descend into the inner circle of Masonry. Consider yourself blessed that you lack sufficient reptilian DNA and aren't exposed to what really goes on at the lodge in the middle of the night.
First Comment by Ann Diamond:
i just read the young man's story about being asked to join the masons in London, ontario — while working at the newspaper, the london free press. it's a great relief to see this young person speaking out about something that is just so obvious…
i have spent time in London but more to the point i used to freelance for the Montreal gazette — and also (in the mid-70s) was a proofreader working in the basement of the hamilton spectator for 9 months —
all these papers have amalgamated, at least going back to Conrad Black's takeover of the Southam newspaper chain
knowing what i was dealing with back then might have made it easier – but i knew i was dealing with a tight male club with a dark secret side that bordered on something "evil" — but mysterious
 in the early 90s i was invited to join a kabal of fellow journalists in Montreal and tricked into attended a meeting — which i found so boring i nearly fell asleep — so i excused myself and left in the middle
i still had (sort of) a career for a few more years but it was the trauma-condtioned robots who rose to the top and i can give examples and details (as one of them has niw started talking about being forced to kill other children etc as a protegee of MKULTRA doctor Wilder Penfield in the 1950s) — (Penfield's children and grandchildren often went into media positions where they were powerful gatekeepers)
my final exit from the world of journalism entailed what would have ended in my death at a house party in a fancy neighbourhood of Montreal — it would have been called a'suicide' — some famous names in canadian publishing would have been there — and yes, they really are blood drinking reptilians
– See more at: https://www.henrymakow.com/freemasonry.html#sthash.if11C2di.dpuf