Karim Younis, the longest-serving Palestinian prisoner in Israeli custody, announced that he would join a mass hunger strike on April 17, organised by Fatah-affiliated prisoners and led by imprisoned Fatah leader Marwan Barghouthi.
According to a letter sent from Younis to the Palestinian Committee of Prisoners' Affairs on Saturday, he decided to join the hunger strike in order to challenge the "ongoing violations on the dignity and rights of Palestinian prisoners by the Israel Prison Service (IPS)."
A mass hunger strike will
awaken team spirit and unity among prisoners that will help them defend their rights,
The prisoners have "purely human demands," Younis insisted, and seek to "restore privileges that they used to have, but have been reduced by IPS."
These privileges include the right to family visits, the right to allow Palestinian prisoners' children to visit them in Israeli custody, the right to education while imprisoned, among others.
"I have been in jail for 35 years, and I don't know my relatives at all because they are denied visits for so-called security reasons." Younis explained. This deprivation of family visits, he said, has become "an abusive punishment depriving prisoners of the basic human right of communicating with their family members."
Younis, a Palestinian citizen of Israel from the Palestinian town of Arara in Israel, was sentenced in 1983 to life in Israeli prison for allegedly carrying out an attack on an Israeli soldier in the occupied Golan Heights as part of the Fatah resistance movement in 1980. However, his sentence was later reduced to 40 years in Israeli prison.
While Younis was among some 20 imprisoned Palestinian citizens of Israel who were expected to be released as part of the Oslo peace accords in the 1990s, Israeli authorities have yet to release them
A long list of demands have been presented by Palestinian prisoners for the upcoming hunger strike, including proper medical care, an end to deliberate medical neglect, and an end to isolation and administrative detention.
An IPS official reportedly said that they would not respond to any of the prisoners' demands, while Israel TV reported that Israeli security has expressed fear of a "collapse in security conditions" in prisons during the strike.
Meanwhile, Israel's Minister of Public Security Gilad Erdan reportedly ordered that a military hospital be established across from the Negev prison to ensure that hunger-striking Palestinian prisoners are not transferred to civilian hospitals, Israel's Channel 2 reported.
---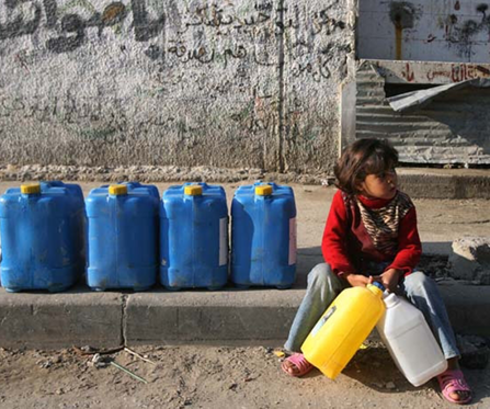 The innocent imprisoned. Movement restricted. Trade suffocated. Homes demolished. Human rights abuses are rife in Israel and the Occupied Palestinian Territories.
We do not take a position on issues of statehood.
We stand with those demanding that all sides respect human rights, and that perpetrators of human rights abuses are brought to justice.
---
Palestinians continue hunger strike over administrative detention
March 24, 2017 at 10:48 am
Two Palestinian prisoners have continued their open hunger strike for the second consecutive week in protest at being held under administrative detention in Israel, the Palestinian Prisoners' Society (PPS) reported yesterday.
Rafat Shalash, 34, from Beit Awwa village in the southern occupied West Bank district of Hebron, has been on hunger strike for eight days in a row. He is protesting at his extended detention in an Israeli prison with neither charge nor trial. Shalash was detained on 17 January 2016 and his administrative detention order has been renewed three times, for an additional six months on each occasion.
For Mahmoud Saada, 41, from Huwwara near Nablus in the north of the occupied West Bank, this is his 11th day on hunger strike. According to the PPS, Saada has been held in the Jamala detention centre for the past 36 days, since 16 February, undergoing what it describes as "daily interrogation". Again, there has been no charge laid against him, nor any trial.
Read: Al-Qeq suspends hunger strike, reaches agreement for his release

In a similar context, Akram Al-Fassisi has brought his five-day hunger strike to a close after the Israeli military prosecutors set a date for his administrative detention to end. He has been held since 19 September last year, only two months after his release from nearly two years in prison being held under previous administrative detention orders.
According to the Palestinian Prisoner Solidarity Network (Samidoun), Al-Fassisi has been detained by Israel on a number of occasions. He went on hunger strike in 2013 and 2014 for 58 and 70 days respectively, demanding his release from administrative detention.
Administrative detention is a legal procedure employed during the British Mandate period and retained by the Israelis. It allows the authorities to hold Palestinians for an indefinite period without charging them or bringing them to trial. The policy has been used to disrupt Palestinian political and social activities by targeting Palestinian politicians, activists and journalists and removing them indefinitely from the public arena.
According to prisoners' rights groups, there are currently around 7,000 Palestinians detained in Israeli jails, 536 of whom are being held under indefinite administrative detention.
https://www.facebook.com/plugins/post.php?href=https%3A%2F%2Fwww.facebook.com%2Fmiddleeastmonitor%2Fposts%2F10155161356546926%3A0&width=500