Published time: 10 Apr, 2017 05:19
Most terrorist groups today are a product of political, financial, and military efforts from the outside of the country where they operate, Russian Deputy Defense Minister, Aleksandr Fomin, told RT ahead of the VI Moscow Conference on International Security.
With terrorist attacks looming large, Fomin said the world is currently witnessing some kind of a hybrid political and military phenomenon, gaining momentum.
"These are some new techniques, and revolutions are exported to different states that are supposedly suffering under undemocratic regimes. So-called democratic regimes are being planted in these countries from the outside," Fomin said.
"Because of this policy, some states ceased to exist; others are on the verge of disappearing. Look at Syria now, and Yemen. We can ask ourselves – who's next?"
The deputy defense minister spoke to RT ahead of the Sixth Moscow Conference on International Security, scheduled to take place on April 26-27, where the topic of international terrorism will be high on agenda.
"It is obvious now that the threat of the 21st century cannot be eliminated by just one country. It will only be possible if we work together," Fomin stressed.
"Some terrorist organizations – or even, I would say, the majority – do not just appear out of nowhere all by themselves. Rather they tend to be the product of political, financial and military efforts coming from  outside a country. As a rule, these groups are created to do someone's bidding – they are nothing but puppets," Fomin said.
The Russian Defense Ministry has been staging the large-scale Security Conference annually since 2011. The forum offers an exclusive opportunity for international defense officials, organizations, NGO experts, and journalists to address key security issues.
Fomin said mounting threats and challenges that pose an "existential threat to the global community, to every state and every individual," will dominate the agenda this year.
Security in Europe, the Asia-Pacific, Central Asia, and the Middle East will also be addressed.
"When we talk about threats to the security of any state, this is more than just words. This is already a reality," Fomin said.
Building up the dialogue between military top brass from across the world is key to neutralizing global security threats.
"The reason why our conference is notable is because it was organized by the military, initiated by Russia's Defense Minister, and because the underlying idea is to have a conversation with our colleagues – with other military men – who know the true price of international security, the true price of human life and the true price of peace," he said.
There will be representatives of eight international organizations, such as the Shanghai Cooperation Organization (SCO), the Organization for Security and Cooperation in Europe (OSCE), and the International Committee of the Red Cross, just to name a few.
"We've received confirmation from representatives of 78 states. Of them, over 20 delegations will be headed by ministers of defense. The total number of guests is on par with the previous conference, which is about 700 people, 500 of whom represent foreign countries," Fomin added.
NATO's top leadership and member states' officials were also invited to the Security Conference, Russia's Defense Ministry said last month, reaffirming its persistent pursuit of open dialogue amid the alliance's firm rejection of military cooperation with Moscow. The military alliance opted to put cooperation with Russia on hold in 2014 following a coup in Kiev that triggered an armed backlash in the east of Ukraine and a referendum in Crimea to join Russia. NATO accused Russia of direct involvement in the Ukrainian conflict, despite Moscow's repeated denial of the alleged "aggression."
---
59% of Germans disapprove of US strike on Syrian airbase – poll
Published time: 9 Apr, 2017 17:19
Almost 60 percent of the people in Germany say the US strike on a Syrian airbase earlier in the week was the wrong thing to do, according to a poll commissioned by Bild am Sonntag newspaper.
The poll, ordered by the media outlet and conducted by Emnid-TNS company, asked respondents about Washington's decision to launch Tomahawk missiles at the Syrian airfield.
The survey revealed that 26 percent approved, and 59 percent disapproved of the attack on the military site.
The majority of the respondents, 80 percent, also think that no more strikes should be made on Syrian territory. Only nine percent would welcome further US attacks on the country.
The US said the bombardment was in response to a suspected chemical gas attack in Idlib, which Washington claims Syrian President Bashar Assad and his government were responsible for.
A total of 59 Tomahawk missiles launched from American warships hit Shayrat airfield, where it is alleged that Syrian planes with chemical weapons took off.
The Bild am Sonntag survey also found that 40 percent of Germans fear that the strike can provoke military conflict between Russia and the US, while 53 percent do not believe it is a possible outcome.
Meanwhile, German Foreign Minister Sigmar Gabriel has voiced concerns over the escalation of tensions between Moscow and Washington, Bild reports, citing the minister.
Gabriel also called for international experts to help conduct an investigation into the alleged chemical weapons assault.
"It is important that the UN and experts from the Organization for the Prohibition of Chemical Weapons (OPCW) gain immediate access and can carry out their investigation without hindrance," – he told Bild newspaper in the interview.
Russia has also advocated sending professionals to investigate, saying that it is "the only way to receive and present to the whole international community any objective evidence on the alleged presence of poisonous substances."
The German foreign minister said that the alleged chemical attack was a "barbaric act" and that it was plausible that the Syrian president was behind it, though he did not provide any evidence to support the allegations.
Damascus has denied all allegations, saying that the Syrian military hit a warehouse where terrorists could have produced and stored chemical materials.
Moscow also pointed out that Syria has eliminated its stockpiles of chemical weapons, which was confirmed by the Organization for the Prohibition of Chemical Weapons (OPCW).
---
'All massacres being committed by ISIS' – Kurdish militia commander fighting for Raqqa to RT
Published time: 9 Apr, 2017 21:08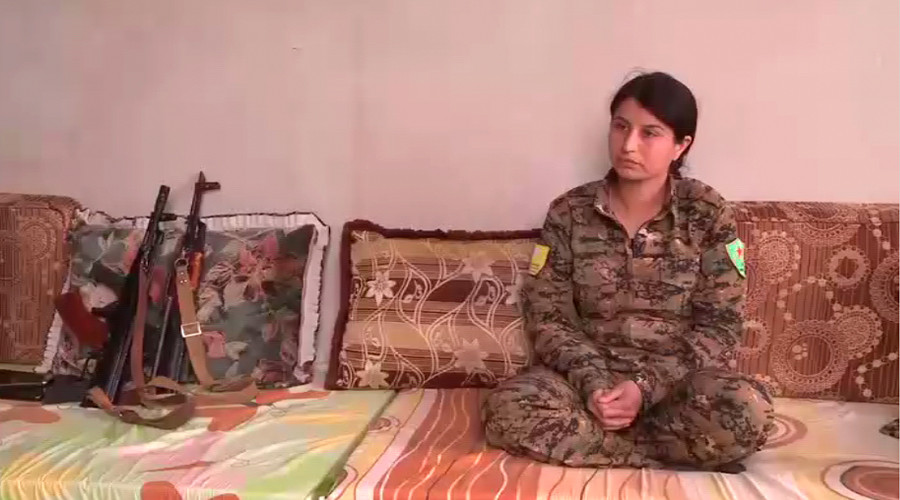 In an interview with RT, Kurdish militia commander Cihan Sheikh gave her thoughts on the rising civilian death toll in Syria but avoided discussing the US-led coalition strikes' impact and warned about the possible consequences of a Turkish intervention.
Cihan Sheikh is the official spokesperson for the Syrian Democratic Forces (SDF)'s Operation Wrath of Euphrates, aimed at dislodging Islamic State (IS, formerly ISIS/ISIL) from its stronghold in Raqqa, in northern Syria. Sheikh is also a commander in the Women's Protection Units (YPJ), the all-female branch of the Kurdish-led People's Protection Units (YPG). The YPG and SDF are currently fighting IS with aerial support from the US-led coalition.
Sheikh told RT's Lizzie Phelan that being from Raqqa herself made her determined to liberate her hometown from the Islamist group.
"I remember my city and neighborhood, the family, the neighbors, we used to be as one family, including all ethnic groups," she said. "When I see my city being used by IS in a barbaric way, I am outraged and become more determined to participate in the liberation of the city."
"It's also a sad feeling because this lovely city in Syria became a stronghold for the biggest terrorist organization in the world."
Sheikh accused IS of using the local population as "human shields."
"They [IS] are using barbaric methods. In the village of Menzil, IS tried to take civilians who refused to be used as human shields. They were killed, and we consider them martyrs of the operation because they were our people. Seven civilians were killed because they refused to be used by IS."
The majority of civilian deaths, Sheikh says, are at the hands of IS.
"All the massacres are being committed by IS, but they are claiming that it is from US airstrikes," she said, though she shied away from commenting on civilian casualties from any US bombings.
READ MORE: Germany bans over 30 Kurdish symbols, incl. flag of US-backed Syrian militia fighting ISIS – report
"Regarding the international coalition, I think you should ask them," she said, before replying, "No comment," when asked whether the SDF would join an American-led campaign to oust Syrian President Bashar al-Assad.
As well as the United States, Turkey too has been active in the Syrian conflict and recently announced it would launch new operations on Syrian soil against the YPG (Euphrates Shield is officially over). Sheikh warned Turkey not to get involved in Kurdish areas.
"Turkey now is not in a position to enter Syrian territory, especially the areas that have been liberated by the YPG and YPJ under the umbrella of the SDF, because a Turkish intervention means occupation, not liberation, while the SDF is liberating the land and the people."
"The sons and daughters of the land are doing this [liberation], so what Turkey would be doing is occupation, and it would be legitimate to defend against that occupation and respond to it."
Among Turkey's aims in Syria is to suppress the Kurdish rebellion that might spill over into its southern regions, where Ankara is involved in a long-running conflict with the Kurdish group the PKK, which it considers a terrorist organization. But Sheikh stressed that the YPG and SDF seek no quarrel with Turkey.
"Our main goal isn't to fight Turkey, it is to fight ISIS and defeat them. At the beginning of the operation we said we are neighbors with Turkey, and we hope that they wouldn't interfere in our domestic affairs."
But above all else, Sheikh and the rest of the Kurdish fighters are determined to defeat IS.
"As a fighter, it brings a lot of pride and dignity to fight for your people. It's also my duty and the duty of all SDF fighters to protect their people.