Facebook's censorship and information sharing policies reveal a persistent pro-Israeli bias.
by
Nadim Nashif is a policy analyst for Al-Shabaka: The Palestinian Policy Network.
Between 2015 and 2016, Israel arrested more than 400 Palestinians because of content they circulated online, often on Facebook, that Israel alleged amounted to "incitement". Around 200 are embroiled in court cases. One of the best-known cases is that of Palestinian poet Dareen Tatour, who faces up to eight years in prison for a poem she posted on her Facebook page in 2015. The last witnesses in her case testified on March 28, and a verdict is expected in a few months.
At the same time, Facebook has been cooperating with the Israeli government to remove content the latter finds objectionable, including briefly shutting down the page of the political party Fatah in March, because of an old photo posted of former leader Yasser Arafat holding a rifle.
On the other hand, Israelis, including government officials, routinely post inflammatory content about Palestinians without censure from Facebook or other media companies. In 2014, just before Israel started bombing Gaza, Ayelet Shaked, an extreme right-wing Israeli parliamentarian, posted a Facebook message stating that the mothers of Palestinian fighters should be killed and their homes destroyed. Neither the Israeli government nor Facebook took action against Shaked, who is currently Israel's minister of justice.
Being complicit in Israel's crimes
Facebook does not make explicit its policies of censorship or the details of how it shares users' account information with governments. However, it does report the number of requests for user data it receives from governments, and the number of cases to which it responds. Between January and June 2016, Facebook responded positively to more than 70 percent of Israel's 432 requests for user data. By regional comparison, it responded positively to 16 percent of such requests from the Jordanian government, though Jordan asked for only 25 users' data.
No wonder: Israel is putting pressure on Facebook through strategies such as a law that would make it obligatory for the company to cooperate with Israel on posts that the state deems constitute incitement. In addition, a New York district court case is under way in which 20,000 Israelis are demanding that Facebook block alleged Palestinian incitement. While there is a category for Palestine in Facebook's government requests report, it has not been active since 2014. This does not mean, however, that hateful rhetoric and calls to violence against Palestinians are not being posted by Israelis.
READ MORE: Facebook 'blocks accounts' of Palestinian journalists
In aiding the Israeli government, which in its rule of the occupied territory gives Palestinians no political or civil rights, including that of free speech, [Facebook] is supporting an occupier in its oppression of the occupied
The organisation for which I serve as director, The Arab Center for Social Media Advancement, or 7amleh (pronounced hamleh), recently published a report on research it conducted on racism and incitement in the Israeli media.
We found that the number of inflammatory posts made by Jewish Israelis against Arabs and Palestinians more than doubled in 2016 as compared with 2015, to 675,000 posts. These were mainly on Facebook; examples include "rape all Arabs and throw them in the sea" and "a morning with lots of energy to slaughter Arabs". Not a single case of incitement against an Israeli has been opened.
Facebook says that it maintains political neutrality by following local laws. But in aiding the Israeli government, which in its rule of the occupied territory gives Palestinians no political or civil rights, including that of free speech, it is supporting an occupier in its oppression of the occupied – a politically charged stance. And because Israel is violating international law via such practices as illegal settlement building, Facebook is also by default complicit in those practices. In a more directly complicit move, the company allows advertisements for settlement homes in the West Bank on its pages.
Facebook would do well to rethink its collaboration with Israel. In lieu of such a bold move, the company could, as a coalition of US social and racial justice organisations recently urged, adopt reforms that would target abusive content but cease the censorship of political speech. Or it could simply make its policies on censorship and information sharing explicit so that users know the risks of using its services. The rights – and lives – of Palestinians are at stake.
Nadim Nashif is a policy analyst for Al-Shabaka: The Palestinian Policy Network and the Executive Director of 7amleh, The Arab Center for Social Media Advancement.
The views expressed in this article are the author's own and do not necessarily reflect Al Jazeera's editorial policy.
---
The Jewish hand behind Internet
Google, Facebook, Wikipedia, Yahoo!, MySpace, eBay…
By Freedom Research, June 2009
  In the following document we will give an insight into the Jewish penetration of the Internet and also show the level of cooperation between leading Jewish Internet entrepreneurs and the racist Jewish Apartheid state of Israel.
The Jews – contrary to the "liberal" views they officially say they profess – in their suppressive acts practically demonstrate that they always seek to dominate the information flow, they don´t tolerate any dissent. It is just as when Israel says "Shalom" while Israel´s military at the very same time pounds its Arab neighbour states with bombs and missiles.
The Arabs have learnt the hard way the falsehood of these Jewish statements, it is now time for the rest of the non-Jewish world to get this right, and to see that the freedom of information on the Net is seriously threatened.
This document will not cover the entire field. Also, as it is timebound to an an anlysis that is from a 2009 perspective – things will change. Companies will change names, new actors will appear. But still this piece of work is unique and will give a guide into the mechanisms behind the Net, mechanisms that will continue to act even in the future. And as many of these Jewish entrepreneurs are rather young and the Internet seems to be here to stay, we will hear from them for a long time onward.
WARNING: Please note that the contents of some of the sites with revealing Jewish material we have linked to below, may be altered by the Jews in the future. Perhaps even information contrary to this document and Radio Islam will replace the original material we had linked to. This has happened before and for our part just illustrates the level of Jewish dishonesty.
Sections
Some Jewish "profiles" behind information on the Internet
| | |
| --- | --- |
| | |
| Google´s Jew Sergey Brin | Facebook´s Jew Mark Zuckerberg |
---
---
Palestinian Leaders Honor UN Official Behind 'Apartheid' Report
Rima Khalaf was presented with the Palestinian highest honor by President Mahmoud Abbas while other officials praised her solidarity with Palestine.
Palestinian leaders have expressed support for Rima Khalaf, a senior U.N. official who resigned Friday over the withdrawal of her agency's report accusing Israel of creating an apartheid state, with Palestinian President Mahmoud Abbas awarding her his government's highest honor.
RELATED:
Hezbollah Slam 'Weak' UN After 'Apartheid' Israel Report Pulled
Abbas spoke to Khalaf by phone, local media reported Saturday, and had given her Palestine's Medal of the Highest Honor in recognition of her "courage and support" for Palestinians.
A statement by the Palestinian presidency said Abbas "stressed to Dr. Khalaf that our people appreciate her humanitarian and national position."
The Jordanian national resigned after the U.N. secretary-general asked her to remove the report, published by the United Nation's Economic and Social Commission for Western Asia, ESCWA, from the internet.
Khalaf, who served as both the U.N. Under-Secretary General and ESCWA Executive Secretary, said she was leaving after "powerful member states" had pressured the world body and its chief with "vicious attacks and threats."
ESCWA, which comprises of 18 Arab states, published the report Wednesday and said it was the first time a U.N. body had clearly charged that Israel "has established an apartheid regime that dominates the Palestinian people as a whole."
RELATED:
Is International Palestine Solidarity Just a Symbolic Gesture?
The report also called on governments to support the peaceful pro-Palestinian Boycott, Divestment and Sanctions, BDS, movement, which calls for an end to Israeli apartheid against Palestinians.
Israel fiercely rejected the allegations, often directed at it by its critics, and likened the report to a Nazi propaganda publication that was strongly anti-Semitic. The United States, an ally of Israel, had said it was outraged and demanded the report be withdrawn.
Palestinian Minister of Foreign Affairs Riyad al-Maliki expressed gratitude for Khalaf, describing her as "an outstanding international civil servant, whose expertise and integrity are beyond reproach and admired by all privileged to work with her, and her leadership and contribution to the advancement of societies across the West Asia region and beyond are fully recognized and commended."
Palestinian Liberation Organization, PLO, executive committee member Hanan Ashrawi slammed the decision to remove the report in a written statement published Saturday.
"Instead of succumbing to political blackmail or allowing itself to be censored or intimidated by external parties, the U.N. should condemn the acts described in the report and hold Israel responsible," she said.
The PLO official praised the report as "a step in the right direction" that "highlights the true reality on the ground which is one of apartheid, ethnic cleansing, and military occupation."
——————————————————————————————————————————————————————————————————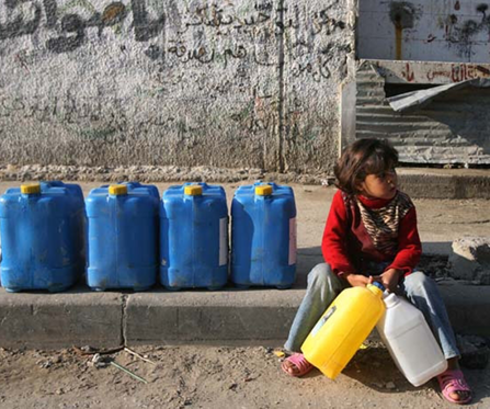 The innocent imprisoned. Movement restricted. Trade suffocated. Homes demolished. Human rights abuses are rife in Israel and the Occupied Palestinian Territories.
We do not take a position on issues of statehood.
We stand with those demanding that all sides respect human rights, and that perpetrators of human rights abuses are brought to justice.