Published time: 12 Apr, 2017 19:22Edited time: 13 Apr, 2017 03:41
Moscow has vetoed a US-backed resolution condemning the Khan Shaykun incident on April 4 as a chemical attack while demanding that Syria open up its military bases to inspections.
Russia, which has veto power as one of the five permanent members of the UN Security Council, was joined by Bolivia in voting down the resolution. China, Ethiopia and Kazakhstan abstained.
Ten states, including the US, the UK and France – the Troika that put together the text of the resolution – voted in favor.
"The main objection to the resolution is that it apportioned blame prior to an objective outside investigation of the incident… The outcome of the vote was predestined, because we disagreed categorically with a document that was fundamentally misconceived," said Vladimir Safronkov, Russia's deputy envoy at the Security Council, who also accused other states and international organizations of making "no effort" to inspect the site of the alleged attack.
Accepting the resolution would also "legitimize" the April 7 air strike carried out by the US on the Shayrat airbase in northern Syria, from which Washington claims government planes carrying the deadly sarin nerve gas took off, Safronkov said.
Britain's representative Matthew Rycroft said Russia's veto – the eighth since the Syrian conflict began in 2011 – was "indefensible," and reminded Moscow of its own promise to rid the country of chemical weapons following an alleged attack in 2013.
France's President Francois Hollande said Moscow was taking on a "heavy burden of responsibility" for "obstructing" the efforts to end the Syrian crisis.
Washington's envoy to the Security Council, Nikki Haley, noted she was still hopeful of future cooperation with Moscow, and urged Russia to exert its influence over Bashar Assad to stop the "madness and violence" of the conflict, in which over 400,000 people are estimated to have been killed.
Unlike the earlier drafts of the resolution on the alleged incident, the final document did not lay the blame for it on Damascus. It also referred to the incident as the "reported use of chemical weapons" rather than stating that such use did take place as a fact.
However, the draft leaned heavily on the Syrian government in terms of demands to submit to an investigation of the incident. It said inspectors chosen by the UN and the Organization for the Prohibition of Chemical Weapons (OPCW) must be given prompt and unrestricted access to "any and all sites" they choose, provided with flight plans and logs they request, and given the names of military officers "in command of any aircraft" they probe.
Damascus would also have to "arrange meetings requested, including with generals or other officers, within no more than five days of the date on which such meeting is requested."
In the event of non-compliance with the terms, Syria could be exposed to military action mandated by the UN Security Council under Chapter VII of the UN Charter.
The rebel forces controlling Khan Shaykhun were only asked to "provide delay-free and safe access" to the site of the reported incident.
The data which, according to the US, "purports to be evidence [of the Syrian government chemical attack]" is "very flimsy" and "relies on mainly open source materials, by which they [the US] mean evidence from jihadi sources, evidence from al Nusra [Front] and what they called the social media," the former British ambassador to Syria, Peter Ford, told RT.
---
Putin finally meets Tillerson in Moscow
Published time: 12 Apr, 2017 15:20Edited time: 12 Apr, 2017 17:08
Despite speculations to the contrary, US Secretary of State Rex Tillerson has met Russian President Vladimir Putin in Moscow. Some observers claimed this wouldn't happen due to the tension between the two nations.
"Russian President Vladimir Putin is meeting US Secretary of State Tillerson and Russian Foreign Minister Lavrov at the Kremlin," presidential spokesman Dmitry Peskov said on Wednesday evening.
US emb. press service: #Tillerson – #Putin talks lasted for about 1 hour 50 minutes.
Peskov did not elaborate on what the three discussed. Earlier in the day, Tillerson held a meeting with Sergey Lavrov.
READ MORE: Tillerson & Lavrov meet for talks in Moscow after 'chemical attack' & Tomahawk strike in Syria
The top US diplomat is visiting Moscow amid a conflict over the alleged use of chemical weapons in Syria. The US blamed the incident, which happened almost two weeks ago, on Damascus, and retaliated with a barrage of cruise missiles targeting a Syrian airbase.
Russia called it a possible false flag operation and said the US attack was an act of international aggression. It also said more provocative incidents involving toxic agents may follow in Syria, now that the Trump administration has demonstrated it can be baited into the reaction that the enemies of Damascus want from it.
Moscow believes a proper investigation, including at the scene of the reported attack, is necessary to establish the truth.
While this is their first official diplomatic meeting, Putin and Tillerson have a professional relationship going back to 1999, when Putin was appointed Prime Minister ahead of his first presidential term. The two met over a proposed joint oil project on Russia's island of Sakhalin, which Tillerson went on to head, before rising to become President of ExxonMobil. Over the past decade, the two have signed multiple oil development deals, and in 2013 the US executive was personally awarded an Order of Friendship medal by the Russian leader.
---
'We are sending an armada': Trump ready to eliminate N. Korean 'menace' with or without China
Published time: 13 Apr, 2017 01:23Edited time: 13 Apr, 2017 02:39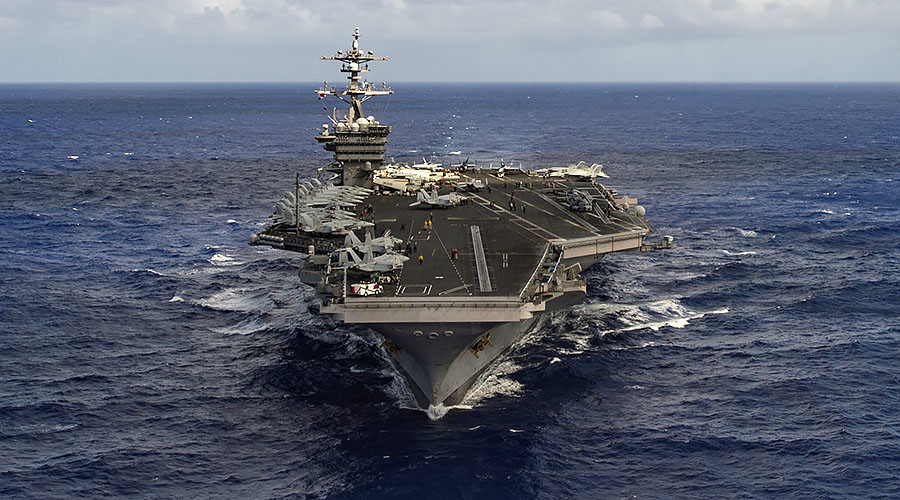 The US is looking forward to working with China to solve the North Korean nuclear threat. But while Washington is mustering its forces in the Korean peninsula, Beijing insists on finding a peaceful solution to Pyongyang's "denuclearization."
Less than a week after US President Donald Trump met with his Chinese counterpart Xi Jinping, the two leaders once again engaged on Wednesday, where among other things they discussed the North Korean threat.
"President Xi wants to do the right thing. We had a very good bonding, I think we had a very good chemistry together, I think he wants to help us with North Korea," Trump said after the meeting with NATO's chief in Washington
"We talked trade, we talked a lot of things, and I said the way you're going to make a good trade deal is to help us with North Korea, otherwise we're just going to go it alone, that'll be all right too, but going it alone means going with lots of other nations," Trump added.
The Chinese leader said China is committed to the "denuclearization" of the Korean Peninsula but "insists on preserving peace and stability."
"China advocates to resolve the issue through peaceful means, and is willing to maintain communication and coordination with the US on the Korean Peninsula issue," President Xi's readout said, as quoted by the Times magazine.
China has already begun to apply economic pressure on the North by refusing to import Pyongyang's coal.
"I really think that China's going to try very hard and has already started. A lot of the coal boats have already been turned back," Trump told Fox Business Network on Wednesday, adding that "that's a big step."
China's official Global Times daily said Beijing would support harsher UN sanctions against North Korea, including "strictly limiting" oil exports to Pyongyang.
US-China rapprochement on the Korean issue comes after a series of Trump statements which explicitly stated that Washington might act alone if China refuses to participate in an American campaign against North Korea.
Following Friday's US surprise strike on a Syrian airbase – the first American action undertaken directly against President Bashar Assad – many expressed fears that Washington may opt to strike North Korea too. US military buildup in the region suggests that direct military action against the North could be a real option for the new administration.
When asked by Fox on Wednesday of what his strategy is with the North, Trump said he doesn't reveal those things.
"I'm not like Obama," the US president said, criticizing the former administration for announcing plans to strike the Iraqi city of Mosul.
Russia's Foreign Ministry said earlier it is deeply concerned with US policy over North Korea.
"We are really worried about what Washington has in mind for North Korea after it hinted at the possibility of a unilateral military scenario," the ministry said in a statement.
Unease over North Korea is growing with fears that Pyongyang may soon conduct a sixth nuclear test, possibly to coincide with Saturday's 105th anniversary of the birth of Kim Il-sung, North Korea's founding father and grandfather of the current ruler.
While China insists on a peaceful solution, Washington continues to flex its muscles in the region. Last week Washington rerouted its Carl Vinson towards the Korean peninsula in a show of force.
"We are sending an armada. Very powerful," Trump told Fox. "We have submarines. Very powerful. Far more powerful than the aircraft carrier. That I can tell you."
Trump said, referring to North Korean leader Kim Jong-un, that "he is doing the wrong thing."
The US president's comments came the day after Pyongyang once again threatened to retaliate against the US and its allies.
"Our revolutionary strong army is keenly watching every move by enemy elements with our nuclear sight focused on the US invasionary bases not only in South Korea and the Pacific operation theater but also in the US mainland," North Korea's official Rodong Sinmun newspaper said.
To exacerbate regional tensions even further, Japan is reportedly preparing to send several of its warships to join the US armada, informed sources told both Reuters and the Kyodo news agencies.
Furthermore, Washington has sent a nuclear detection plane, the WC-135 Constant Phoenix to Kadena Air Base last Friday evening, Stars and Stripes, the official newspaper of the US Armed Forces reported. The military plane specializes in radiation detection and collects air samples and debris after nuclear detonations using external flow-through devices.
Washington has allegedly sent Seal Team 6 – which killed Osama bin Laden in May 2011 – to participate in the Foal Eagle and Key Resolve exercises being conducted in the region from March 7 to April 30, JoongAng Daily reported Wednesday, citing South Korea's Ministry of National Defense.
The Seal Team 6 will also be joined by the American Delta Force, which specializes in hostage rescue and counterterrorism. As part of the multinational force operation, both US special forces teams will lead a rehearsal of removing Kim Jong-un and destroying of North Korea's nuclear weapons.
"It will send a very strong message to North Korea, which is constantly carrying out military provocations," a ministry official told JoongAng Daily.