"This is unfair. This kind of historical injustice must be corrected. It cannot continue," Wang said.
On Thursday China's Foreign Minister, Wang Yi, said Palestinians must be able to build an independent state to correct a "historical injustice."
In a press conference in Beijing with Palestine's Foreign Minister Riyad al-Maliki, Wang reiterated China's longstanding support for an end to Israel's illegal occupation of Palestine and the creation of an independent Palestinian state.
Wang noted that 70 years after the U.N. General Assembly passed Resolution 181 calling for the creation of an independent Palestine alongside Israel, Palestinians are still being denied their independence.
"This is unfair. This kind of historical injustice must be corrected. It cannot continue," Wang said.
Wang further noted the urgency of restarting Israeli-Palestinian peace talks, which remain stalled in the face of Israel's continued construction of illegal settlements and a U.S. administration seemingly hell-bent on entrenching the most extreme of Israel's apartheid policies.
Palestine's al-Maliki said he hopes China will play a greater role in brokering a peace agreement.
"And we do encourage China to do more of this kind of approach, in order to see peace ultimately achieved in our region," he said.
While it has traditionally played a minor role in the region, last year China's President Xi Jinping committed US$7.6 million in aid to Palestine in a historic address to the Arab League.
Wang's statement came as a group of Palestinian political prisoners in Israel's Nafha prison announced they would join the upcoming mass hunger strike, led by imprisoned Fatah leader Marwan Barghouti, scheduled for April 17, Palestinian Prisoner's Day.
In a statement released on Wednesday the prisoners — who come from several different political factions of the Palestinian independence movement — said they would unite in their demands for an end to repeated humiliations and deprivations at the hands of Israeli authorities.
"We shall gain our dignity and rights by facing the arrogance of the occupier with our empty stomachs, armed by the justness of our cause and popular support."
———————————————————————————————————————————————————————————————————————–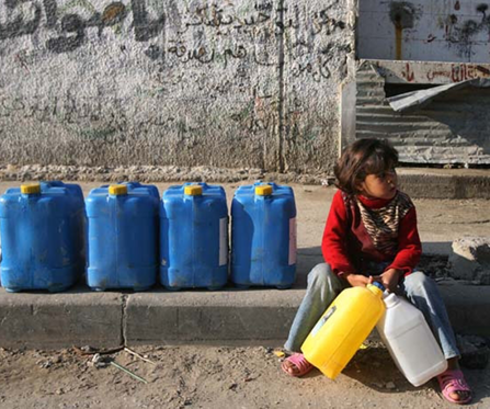 The innocent imprisoned. Movement restricted. Trade suffocated. Homes demolished. Human rights abuses are rife in Israel and the Occupied Palestinian Territories.
We do not take a position on issues of statehood.
We stand with those demanding that all sides respect human rights, and that perpetrators of human rights abuses are brought to justice.
—————————————————————————————————————————————————————————————————————-
Israel has taken hypocrisy to a new level
April 11, 2017 at 7:05 pm
At first glance, it might seem as if Israel has caught up with the consistent warnings regarding the dire situation faced by Palestinians in Gaza. Almost three years since Operation Protective Edge and following numerous disturbing reports, Israeli Defence Forces (IDF) coordinator Major General Yoav Mordechai advised the UN of Gaza's "impending humanitarian crisis" by means of a letter addressed to the UN Special Envoy for the Middle East Peace Process Nikolay Mladenov.
Duplicity being an inherent trait in Israeli actions, the letter cited infrastructural problems as the cause of Gaza's humanitarian crisis, while blaming Hamas and the Palestinian Authority for the enclave's deterioration. According to Haaretz, Mordechai pointed out the absence and restriction of basic needs with regard to water and electricity. The details of deprivation imposed upon Palestinians are known not only to the UN but to the entire world. Israel has now opted to recognise such information, albeit with sinister motives of its own.
Previous UN reports have stressed the possibility of Gaza becoming uninhabitable by 2020. Such warnings do not trouble Israel, which has systematically ensured that Gaza remains isolated politically and economically; the result being a severe deprivation of humanitarian issues. Israel's role is the missing element in Mordechai's recent overtures. This tactical elimination of responsibility and accountability translates to Israel seeking assurances from the international community that previous and forthcoming aggressions against Gaza are interpreted solely through the Israeli narrative.
Read: Israeli airstrikes damage electricity supplies in Gaza

If no responsibility for the atrocities and the ensuing destruction of Gaza is placed upon Israel, the colonial entity has a precedent upon which to assert its purported right to defence in case the current implosion reaches a culmination. The international community will, undoubtedly, comply, given its preference for dissociation. The epicentre of this rigmarole lies in the fact that both the international community and Israel are scheming, from seemingly different ends, to arrive at a common assertion which, due to its appeal, will not garner any mobilisation efforts against Israeli colonial violence.
Mordechai's rhetoric indicates that, in the case of another premeditated massacre against Gaza, the current humanitarian premise will provide ample space for political manoeuvre. This, in turn, allows Israel to regurgitate its decades-long security discourse – something which the UN is not averse to and indeed upheld even while Palestinian civilians in Gaza were being bombed, displaced and murdered.
Israel's apparent concern, therefore, should be interpreted as an adamant statement seeking justification for any forthcoming intervention in Gaza. While the content of the letter – the highlighting of humanitarian concerns by a participant in the colonial process – has added nothing substantive to the dearth of information already available, one should take note of how Israel, once again, has excluded its role in perpetuating the current situation in Gaza for its own benefit. Knowing full well that the UN will not extend any tangible help that can at least halt, if not reverse, hardships for Palestinians in the enclave, Israel's aim is to facilitate the implosion and hasten a possible collapse for which neither of the complicit actors will claim responsibility.