Published time: 15 Apr, 2017 22:34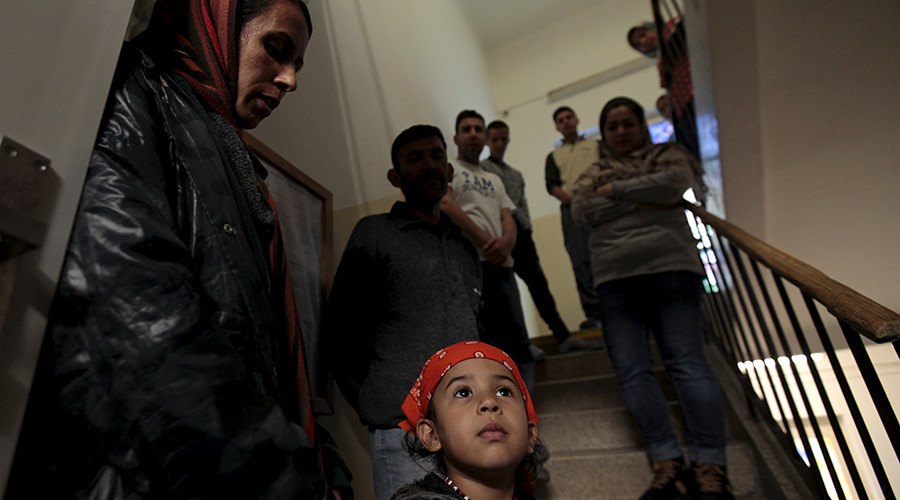 The Czech Republic has only accepted 12 refugees out of its quota of around 1,600 set by Brussels and does not intend to take in any more – even if that means suffering penalties, Interior Minister Milan Chovanec has said.
Speaking to the site Parlamentni listy, Chovanec said his country would be willing to face any sanctions imposed by the EU.
"As gradually we check the remaining refugees, I think it is not possible to take anyone else," he told the website.
"It is then up to the government to assess if it was worth sanctions or not. In my opinion – yes. You cannot let people here without control."
The EU may launch proceedings against the Czech Republic in September if it continues to turn down refugees. Hungary and Poland are facing similar action from the EU.
In May 2016, the European Commission put forward a proposal to fine countries €250,000 ( $290,000) per asylum seeker if they refuse to take in their share. The proposal was dismissed by Hungarian officials as "unacceptable".
Chovanec added that vetting refugees is a long and troublesome process that can sometimes take months. "And these people [refugees] were not willing to wait in the place they arrived – either Greece or Italy."
The Czech Republic, along with Hungary, Poland and Slovakia, have been the countries most opposed to the mandatory refugee quotas set by the EU.
In 2015, Czech President Milos Zeman described the influx of asylum seekers from Africa and the Middle East as an "organized invasion." He said last year that accepting refugees would be putting his country at risk of a terrorist attack.
"Our country simply cannot afford to risk terrorist attacks like what occurred in France and Germany. By accepting migrants we would create fertile ground for barbaric attacks," Zeman said, according to his spokesman Jiri Ovcacek, Reuters reported.
The country's Deputy Prime Minister Andrej Babis has been more candid in his criticism of the Brussels-set quota. "After what has been happening in Europe, I say clearly that I don't want even a single refugee in the Czech Republic, not even temporarily," he wrote in an op-ed article for http://www.expres.cz in 2016.
---
N. Korean missile fails, blows up 'almost immediately' after launch – Seoul & US military
Published time: 15 Apr, 2017 23:02Edited time: 16 Apr, 2017 02:43
North Korea has tried, but allegedly failed, to conduct a new missile launch, according to South Korea's Joint Chief of Staff and US Pacific Command. The alleged botched launch comes amid heightened tensions on the Korean Peninsula and a day after Pyongyang showcased its new sea based and intercontinental missiles.
"The communist state attempted to launch an unidentified missile from the port city of Sinpo on its east coast in the morning and the launch is presumed to have failed," the South Korean military said, according to Yonhap news.
The attempted missile launch has also been detected by the US military, which said it "blew up almost immediately" after the launch at 9:21pm GMT.
"US Pacific Command detected and tracked what we assess was a North Korean missile launch at 11:21 a.m. Hawaii time April 15. The launch of the ballistic missile occurred near Sinpo," US Pacific Command spokesman Commander David Benham said. "The missile blew up almost immediately. The type of missile is still being assessed."
While the assessment is still ongoing, two US officials told Reuters there's a "high degree of confidence" the projectile was a land-based but not an intercontinental ballistic missile.
Meanwhile, Seoul officials told Yonhap that the failed missile launched on Sunday resembled the type of a projectile the North fired earlier this month. On April 5, Pyongyang triggered what is believed to be a KN-15 medium-range ballistic missile. Also fired from the Sinpo area, it flew some 60 kilometers before falling into the Sea of Japan.
Reports of the failed launch came just hours before US Vice-President Mike Pence's scheduled arrival in South Korea; to begin his Asian tour offering security reassurances to its allies in the region.
Pence has already been briefed on the latest developments while en route to the Peninsula, White House aides told reporters on board the plane. The vice president then discussed the missile launch with Donald Trump.
Defense Secretary Jim Mattis said in a statement that Trump and his military team are aware of North Korea's missile launch. The US president has yet to comment on the matter.
On Saturday, as North Korea marked the 105th birth anniversary of its founding leader Kim Il-sung with a military parade in Pyongyang, the North for the first time publicly showcased its submarine-launched ballistic missiles (SLBMs), as well as what appears to be a new type of ICBM.
"It's presumed to be a new ICBM. It seems longer than the existing KN-08 or KN-14 ICBMs," a South Korean military official told Yonhap, after the intercontinental ballistic missiles along with the Pukkuksong-2 SLBMs were paraded in front of the country's leader, Kim Jong-un.
Choe Ryong Hae – a close aide to Kim Jung-un, during his address to the soldiers – warned against any US provocations on the Peninsula, after US President Donald Trump repeatedly promised to "take care" of the North Korean issue over the past weeks.
"If the United States wages reckless provocation against us, our revolutionary power will instantly counter with annihilating strike, and we will respond to full-out war with full-out war and to nuclear war with our style of nuclear strike warfare," Choe said.
"North Korea showing a variety of offensive missiles at yesterday's military parade and daring to fire a ballistic missile today is a show of force that threatens the whole world," South Korea's Foreign Ministry said in a statement on Sunday.
Tensions on the Korean Peninsula has reached worrying heights amid concerns, fueled by media reports, that Pyongyang might be preparing new nuclear and ballistic missile tests – and that the US might decide to act unilaterally and conduct a pre-emptive or retaliatory strikes, just as it did against Syria on April 7.
READ MORE: N. Korea blasts US 'military hysteria & aggression' in Syria, vows to mercilessly foil provocations
Pyongyang has urged Washington to stop its "military hysteria" and come to its "senses" – or otherwise face a merciless response in case of "provocations" against North Korea. Washington sent the USS Carl Vinson aircraft carrier group and other military hardware to the region in an apparent show of force and in preparation for "any possible scenarios."
Trump, however, has also been engaging with China, seeking its help to solve the North Korean nuclear issue peacefully. China's foreign minister, Wang Yi, warned that confrontation between the US and North Korea had escalated to such a point that "a military conflict may start at any moment."
---
German president warns French voters against trusting Le Pen's 'siren songs' week ahead election
Published time: 16 Apr, 2017 02:22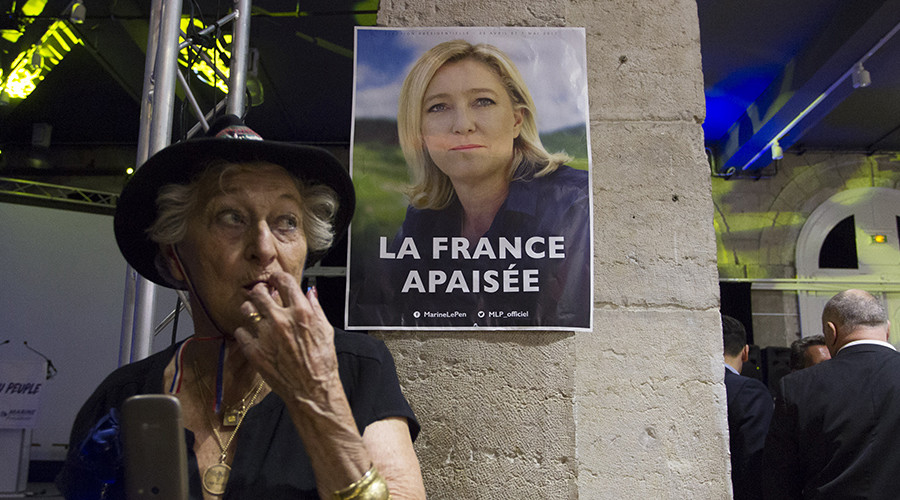 The German President, Frank-Walter Steinmeier, has urged the French electorate to be responsible and not to vote for the "populist and nationalist" candidate in the upcoming presidential election out of fears that Marine Le Pen will stage Frexit, shattering one of the pillars of EU stability.
"Don't listen to the siren songs of those who promise you a great French future after getting rid of all that is part of France today — guaranteeing European stability and being a pillar of the European Union," Steinmeier told French newspaper Ouest-France and Germany's Funke Mediengruppe in response to a question about the possibility of Le Pen securing the election.
Without mentioning Le Pen by name, the German president hinted that her ideas will lead to a potential Frexit, as the National Front leader remains extremely critical of the European Union. In the past, she promised to renegotiate France's membership of the bloc and potentially pull out of the Union.
Steinmeier insisted that EU membership is of great benefit to France.
"The EU can be complicated sometimes but it is an advantage for all of us, including France," he said. "We must understand that it is only together… that we can make Europe a true global actor" that could exert influence in world affairs.
"By opposing it, like the populist nationalist parties in France, we will not be actors, but we will become a toy in the hands of the other powers. The stake of the elections in France is, therefore, considerable," the German leader warned.
Less than 10 days before the first round of the French presidential elections, Le Pen and her National Front (FN) party are leading in the majority of the polls.
READ MORE: HELP! French farmer mows 'message of despair' in wheat field
According to an IFOP poll, the far right candidate is set to secure 23 percent in the first round, an entire percentage point higher than her closest rival Emmanuel Macron from En Marche! (Forward!).
An Ipsos-Sopra Sterna poll shows that independent centrist Macron and Le Pen would share 22 percent each, while far-left candidate Jean-Luc Melenchon would attract 20 percent of the vote. An Opinionway poll says that Le Pen would garner 23 percent and Macron 22.
READ MORE: Migrants, Islam, independence: Top French presidential candidates clash in 1st TV debate
France has 45.7 million voters, but according to the polls, about a third of them might abstain from voting on April 23. The tight presidential race will see the top two candidates advance to the May 7 run-off.