Ken: It's an unfair hearing and I've nothing to apologise for
Ken Livingstone has become embroiled in a new anti-Semitism row after claiming that Zionists "collaborated" with Nazis "right up to the start" of the Second World War.
The former London mayor faces expulsion from Labour today as he appears before a misconduct panel over his controversial comments about Adolf Hitler.
Jeremy Corbyn suspended the former Labour MP last year after he invoked Hitler to defend a colleague over anti-Semitic remarks and claimed that there was a "well-orchestrated campaign" against the party by the "Israel lobby".
On Thursday morning  he attended a private hearing in Westminster run by senior officials.
Speaking outside the hearing, he said: "He [Adolf Hitler] didn't just sign the deal, the SS set up training camps so German Jews who were going to go there could be trained to cope with a very different sort of country when they got there.
"When the Zionist movement asked would the Nazi Government stop Jewish Rabbis doing their sermons in Yiddish, and make them do it in Hebrew, he agreed to that.
"They passed a law that said only the Zionist flag and swastica were the only flags that could be flown in Germany.
"Then of course they started selling Mauser pistols to the underground Jewish Army. You had right up to the start of the Second World War real collaboration.
"Everyone who studies history just knows this, it's true."
Mr Livingstone faces a charge of engaging in conduct that was grossly detrimental to the party
Speaking earlier this week he said there was "no real evidence" against him, adding that "only a biased and rigged jury could find against me".
In a written submission to the hearing, he accused Labour of pursuing the case against him in a "partisan" way and suggested that there was a witch hunt aimed at critics of Israel.
Umunna to Livingstone: You've become a pin-up for prejudice
01:28
Last year Mr Livingstone said Hitler had supported the establishment of a Jewish state in 1932 "before he went mad and murdered six million Jews".
His comments led to a face-to-face confrontation with John Mann, a Labour MP, who told Mr Livingstone on live television that he was a "disgrace" and a "Nazi apologist".
In his 17-page statement, ahead of a disciplinary hearing this week, the former Mayor of London says Nazi policy "had the effect of supporting Zionism" and references the 1933 "Transfer Agreement".
Mr Livingstone said he had "raised the issue of the collaboration between Hitler and a section of Zionism in the early 1930s" as a result of a misunderstanding of presenter Vanessa Feltz's question during a BBC London interview.
He said he had "no intention" to cause offence but was "sorry" if his remarks did so.
The former Labour MP also claimed "supporters of Israel" had called on Labour to expel him to "silence" his criticism of "Israeli aggression".
Ken Livingstone stands by his Hitler comments
"I did not say or suggest that Hitler was a Zionist. I did not make any equation of Hitler and Zionism. I neither criticised the transfer agreement or the section of Zionism that participated in the agreement," he wrote.
Mr Livingstone was previously expelled from the party when he announced he would stand as an independent in the London mayoral race after losing the Labour selection process.
It is not the first time he has become embroiled in an anti-Semitism row. In 2006 a High Court judge said he made "unnecessarily offensive" and "indefensible" remarks likening a Jewish reporter to a Nazi concentration camp guard. But he was cleared of bringing the office of mayor into disrepute.
---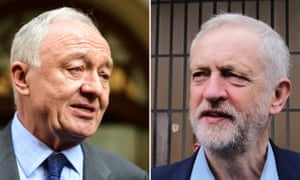 Jeremy Corbyn is facing demands to force Ken Livingstone out of Labour for his comments linking Adolf Hitler and Zionism, as 100 of his own MPs criticised the party's response to a growing antisemitism crisis.
The Labour leader came under pressure to take more action after an unprecedented outcry from MPs and senior figures in the Jewish community about the decision to let Livingstone stay in the party.
A disciplinary panel of three officials found Livingstone guilty on Tuesday night of bringing the party into disrepute for suggesting that Hitler supported Zionism and defending Labour MP Naz Shah's antisemitic Facebook post, for which she has apologised. He was suspended for a further year, but senior Labour figures, from deputy leader Tom Watson to former leader Ed Miliband and London mayor Sadiq Khan, said he should have been expelled from the party.
Corbyn issued a statement on Wednesday afternoon criticising Livingstone, his old ally and supporter, for causing deep offence to the Jewish community, and said the party's ruling body would examine some of Livingstone's more recent comments, such as the claim that there was "real collaboration" between Hitler and some German Jews in the 1930s.
"Ken Livingstone's comments have been grossly insensitive, and he has caused deep offence and hurt to the Jewish community," Corbyn said. "It is deeply disappointing that, despite his long record of standing up to racism, Ken has failed to acknowledge or apologise for the hurt he has caused. Many people are understandably upset that he has continued to make offensive remarks which could open him to further disciplinary action."
However, the Labour leader disappointed some of his MPs by saying he respected the disciplinary panel's decision to suspend Livingstone for another year rather than expel him. He also told reporters from regional newspapers that he wanted Livingstone to stop making controversial comments and "contribute to our party's work in trying to win elections and oppose racism in any form".
In an escalation of the controversy, nine senior members of Labour Friends of Israel, including Joan Ryan, Louise Ellman and Rachel Reeves, wrote to Corbyn urging him to call publicly for Livingstone to be expelled and to press the national executive committee to review its decision.
Around 100 Labour MPs, among them shadow cabinet ministers such as Barry Gardiner and Angela Rayner, also signed a statement saying the Labour decision "was not done in our name and we will not allow it to go unchecked".
"This week the institutions of the Labour party have betrayed our values. We stand united in making it clear that we will not allow our party to be a home for antisemitism and Holocaust revisionism. We stand with the Jewish community and British society against this insidious racism," they said.
Senior members of the Jewish community lined up to express their frustration, led by Ephraim Mirvis, Britain's chief rabbi, who accused Labour of failing the Jewish community by not expelling Livingstone. "This was a chance for the Labour party to show that it would not tolerate wilful and unapologetic baiting of the Jewish community by shamefully using the Holocaust as a tool with which to inflict the maximum amount of offence," he said. His phrase was echoed by Theresa May, the prime minister, as she launched the Conservative party's local election campaign, arguing Labour had "revealed the depths to which it has now sunk, betraying the Jewish community in our country by letting Ken Livingstone off the hook".
Within Labour, Watson, the deputy leader, led criticism of the panel's decision, saying it brought "shame on us all". "I am ashamed that we have allowed Mr Livingstone to cause such distress," he said. "It isn't just Jewish people who feel disgusted and offended by what Mr Livingstone said and by the way he has conducted himself over this matter, and it isn't just Jewish Labour members who feel ashamed of any indulgence of his views anywhere in the Labour party."
Miliband said: "I am appalled that even now Ken shows no real remorse. His status should be revisited in the light of his continuing offensive behaviour."
There were a string of reports that Jewish Labour members were leaving the party, with Lord Levy, the chief fundraiser under Tony Blair, among those saying he was considering his future as a member. Tulip Siddiq, Labour MP for Hampstead and Kilburn, warned Corbyn that Jewish constituents were contacting her in despair and terminating their membership.
Livingstone was unrepentant on Wednesday, appearing on several broadcasters to accuse Labour MPs of whipping up the controversy to undermine Corbyn's leadership. The former London mayor, who has been a Labour member for almost 50 years, argued that the controversy had been stirred by Labour figures who he claimed had come under "an awful lot of pressure" to denounce him. He also told LBC he could not see "what all the fuss is about" and that he did not believe Jewish Labour members were leaving.