Published time: 25 Apr, 2017 18:26Edited time: 25 Apr, 2017 18:45
The UN has appealed for $2.1 billion to prevent the "starving of an entire generation" in Yemen. But it says a lack of funds is not the only issue of concern in the war-torn country, amid reports that the strategic port of Hodeidah may be targeted by the Saudi-led coalition.
UN Secretary-General Antonio Guterres appealed for the multi-million aid package for Yemen on Tuesday during the opening session of a donor conference in Geneva.
"On average, a child under the age of five dies of preventable causes in Yemen every 10 minutes," Guterres said. "This means 50 children in Yemen will die during today's conference, and all of those deaths could have been prevented," he added.
"We are witnessing the starving and the crippling of an entire generation," the UN Secretary-General warned, saying that two-thirds of the population or nearly 19 million people need emergency aid in Yemen.
They include some 3 million malnourished children.
READ MORE: 'Few months left before they starve': Oxfam adviser tells RT famine is 'the real enemy' in Yemen
"There is no single country in the world where, today, children are suffering more than in Yemen," UNICEF's director for Mideast and North Africa, Geert Cappelaere, told AP.
Some 7 million people in Yemen are on the brink of starvation, Amnesty International said in a report published on Tuesday.
By the end of the conference, donor countries had pledged nearly $1.1 billion for humanitarian aid to Yemen.
Yemenis 'pay the price' for UK and America's 'brazenly hypocritical' arms deals – Amnesty https://on.rt.com/86tl 

Yemenis 'pay the price' for UK and America's 'brazenly hypocritical' arms deals – Amnesty — RT News

Amnesty International has condemned the US and Britain for supplying arms to Saudi Arabia, arms which have then been used to kill hundreds of civilians in Yemen.

rt.com
"Saying that the humanitarian situation is catastrophic is certainly an understatement. Today in Yemen we have teams on the ground and they bear witness every day of the immense suffering of the Yemeni people," Red Cross's regional director for the Middle East, Robert Mardini told RT.
To help the country which is experiencing one of the world's worse humanitarian crisis, a number of efforts need to be put in place, including "lifting the restriction on the movement of goods into the country, and also within the country," he said.
Efforts to prevent famine hampered by Saudi-led airstrikes – UN
However, money is not the only consideration to prevent people from dying of hunger and disease in Yemen.
The UN as well as other human rights and humanitarian organizations, including Amnesty International, have strongly criticized the Saudi-led military campaign in Yemen.
The country imports 90 percent of its food, 70 percent of which passes through the strategic Red Sea port of Hodeidah. Recent reports suggest that the coalition led by Saudi Arabia is preparing a major military offensive on the port, which serves as a major entry point for humanitarian aid, UN said.
"The Hodeidah port is a critical lifeline… Any disruption to the port would gravely hamper efforts to prevent famine," executive director of the UN World Food Program (WFP), David Beasley told the conference in Geneva.
The UN also criticized previous attacks on the port, saying that air strikes by the Saudi-led coalition have already hampered humanitarian operations to import food and fuel supplies.
Dozens of ships have to wait offshore for their turn to dock after several cranes at the port were destroyed. Only one crane to offload cargo is operational at the port, UN Emergency Relief Coordinator Stephen O'Brien told Reuters.
Calling for an "immediate lifting" of the Saudi-led sea and land blockade in Yemen, Russian Deputy Foreign Minister Gennady Gatilov also told the conference there were "worrying rumors of an assault on Hodeidah."
The WFP regional director Muhannad Hadi told Reuters anxiety is growing about a possible attack by the Yemeni government and its Arab allies.
"We are concerned about facilities in Yemen because at this stage we can't afford to even lose one bridge or one road network let alone to lose a major facility like Hodeidah port," Hadi said, adding "It's impossible to have security in the country while people are hungry."
Infant deformities in Yemen linked to Saudi-led bombardment (GRAPHIC VIDEO) https://on.rt.com/86xc 

Infant deformities in Yemen linked to Saudi-led bombardment (GRAPHIC VIDEO) — RT News

Doctors in Yemen have reported an increase in children born with deformities as a result of the two-year war that has left the country on the brink of famine.

rt.com
Amnesty International has also warned that a major new offensive by the Saudi Arabia-led coalition is due to get under way soon, saying that the strategic western port city of Hodeidah could reportedly be targeted.
"As well as putting civilian lives at grave risk, an assault on the country's fourth most populated city that seriously disrupts the functioning of the port risks cutting off a crucial lifeline to a country that is 80 percent dependent on imports exacerbating an already dire humanitarian situation," Amnesty said.
More than 13,000 civilians have been killed or injured since the conflict between Houthi rebels aligned with Iran and a Western-backed Saudi-led coalition supporting the government, erupted in March 2015, according to the Office of the UN High Commissioner for Human Rights.
The coalition carries out air strikes almost daily, with the war having resulted in at least 10,000 deaths, the UN says.
READ MORE: 'Role model'? Fallon hails arms manufacturer who sold missiles to Yemen-bombing Saudis & Gaddafi
"The Saudi Arabia-led coalition has flagrantly flouted international humanitarian law by repeatedly carrying out indiscriminate and other unlawful airstrikes in densely populated areas throughout Yemen," Amnesty said on Tuesday.
The London-based rights group added that such attacks resulted in "thousands" of civilian deaths and injuries, as well as "massive destruction" of homes and infrastructure.
"There must be no repeat of such unlawful killing and destruction in Hodeidah," Deputy Director for Research at Amnesty International's office in Beirut, Lynn Maalouf said.
"The likelihood of a major operation in Hodeidah" should once again urge the international community to stop sending arms to warring parties in Yemen, Amnesty said.
In March, the organization condemned the US and Britain for supplying arms to Saudi Arabia.
Citing figures from the Stockholm International Peace Research Institute, Amnesty said the US and UK have sent weaponry worth more than $5 billion to Saudi Arabia since Riyadh's intervention began in March 2015. Amnesty said this is over 10 times more than Washington and London have sent (or planned to send) in humanitarian aid to Yemen over the same period.
"In particular countries supporting parties to armed conflict have the responsibility to make their support contingent to greater respect and compliance of international humanitarian law. If this very concrete step is taken, this will definitely alleviate the suffering of people," the Red Cross official told RT.
---
CIA chief Pompeo 'declares war on free speech' – Assange
Published time: 26 Apr, 2017 05:05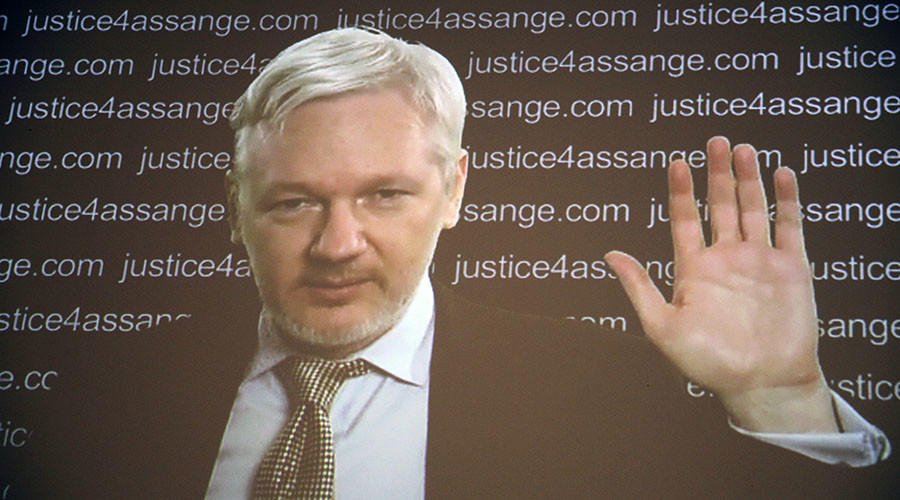 Julian Assange has accused Mike Pompeo of declaring war on free speech while seeking vengeance for the exposure of CIA's dirty secrets and backtracking on his earlier stated admiration of WikiLeaks' work until it turned against his personally.
"The 'Pompeo doctrine' articulated in his speech ensnares all serious news and investigative human rights organizations, from ProPublica to Amnesty International to Human Rights Watch," Julian Assange wrote in an opinion column published in the Washington Post, responding to the CIA chief's remarks earlier this month.
Speaking at the Center for Strategic and International Studies on April 13, Pompeo went on the warpath against WikiLeaks – the whistleblowing website – accusing its editor of being on the "wrong side of history" and seeking to harm America, freedom, and democracy.
Firing back at the CIA director, Assange explained that Pompeo is distracting attention and seeking vengeance for the release of the Vault 7 series of documents that WikiLeaks began to publish on March 7. The documents detail the activities and capabilities of the CIA to perform electronic surveillance and conduct cyber warfare.
"All this speech to stifle speech comes in reaction to the first publication in the start of WikiLeaks' 'Vault 7' series," Assange wrote, adding that "when the director of the CIA, an unelected public servant, publicly demonizes a publisher such as WikiLeaks as a 'fraud,' 'coward' and 'enemy,' it puts all journalists on notice, or should."
Assange also stressed that Pompeo's labeling of WikiLeaks as a "non-state hostile intelligence service," lacks any facts and called it a "dagger" aimed at the US constitutional right "to receive honest information about their government."
New Op Ed by me: CIA declares right to target media and human rights groups with "Pompeo Doctrine" https://www.washingtonpost.com/opinions/julian-assange-the-cia-director-is-waging-war-on-truth-tellers-like-wikileaks/2017/04/25/b8aa5cfc-29c7-11e7-a616-d7c8a68c1a66_story.html?tid=ss_tw&utm_term=.67d55e087d7d …

Opinion | Julian Assange: The CIA director is waging war on truth-tellers like WikiLeaks

Mike Pompeo has a dangerous worldview.

washingtonpost.com
Calling WikiLeaks an intelligence agency would be "as absurd as the suggestion that the CIA is a media outlet. Both journalists and intelligence agencies cultivate and protect sources, collect information and write reports, but the similarities end there," Assange added.
Assange also directly addressed Pompeo's comments that he (Assange) and "his ilk make common cause with dictators." Calling the CIA Director's comment ironic, Assange noted that the agency's pursuit to silence US government opponents places him in line with dictatorial regimes.
"Pompeo finds himself in the unsavory company of Recep Tayyip Erdogan of Turkey (257,934 documents published by WikiLeaks); Bashar al-Assad of Syria (2.3 million documents); and the dictatorship in Saudi Arabia (122,609 documents), to name just a few who have tried and failed to censor WikiLeaks," Assange wrote in the Washington Post.
The Australian, who has taken refuge from US prosecution in the Ecuadorian embassy in London, reminded readers that Pompeo was once a WikiLeaks fan.
"Pompeo liked WikiLeaks when he perceived it was publishing material revealing the shortcomings of his political rivals. It was only when our publications touched Pompeo's rice bowl that WikiLeaks became his target," Assange said.
Share on Facebook
Share on Twitter