The arrest of Birzeit University student Kifah Quzmar has highlighted the plight of thousands of Palestinians.
In a photograph widely shared on social media this month, Kifah Quzmar, a final-year business student at Birzeit University near Ramallah, wears a red-and-white keffiyeh and a somewhat defiant look.
The difference between the 28-year-old and tens of other Palestinian students and youth arrested in recent weeks is perhaps that his story made it out to the rest of the world.
More than 70 international organisations and student groups around the world signed a statement asking for his release, after Kifah began a four-day hunger strike to protest spending 19 days under interrogation without access to a lawyer, and the continued extension of his detention without charge.
On April 6, Kifah was ordered to serve six months in administrative detention, without indictment or trial. He had been arrested a month earlier while crossing the Allenby Bridge, known by Palestinians as the Karameh border crossing, on his way back from Jordan.
---
READ MORE: Palestinian prisoners launch mass hunger strike
---
"We were waiting for Kifah to arrive and when he didn't, we almost sensed he was arrested," his brother, Ismat Quzmar, told Al Jazeera. It took four days for the family to determine his whereabouts as Kifah was moved from al-Moscobiyeh, also known as the Russian Compound – a detention centre in Jerusalem used for the purpose of interrogation – to another facility, and then back.
When Kifah's lawyer, Anan Odeh, was finally able to locate him, the family learned that Kifah had been banned from having his lawyer visit.
"In my experience as an ex-prisoner, when they arrest you, the first thing they do is they ask you to sign a piece of paper that lists your rights and your obligations. The paper says you have the right to see your lawyer, you have the right to take a bath, to eat, and so on," Ismat, who was imprisoned for a year in 2012 on what he said were charges related to his university activism, told Al Jazeera.
"But the first article in the obligations says that the interrogator has the right to deny you any of your rights if he thinks it's necessary for interrogation," he added.
"They use this technique to fully isolate the prisoner in the interrogation phase," Ismat said. "So they can play their game, the game that is to say: Listen, you are here alone, there is no one who can help you except for us, so you have to cooperate with us if you want to get out of there."
According to Israeli military law, which applies to Palestinians in the occupied West Bank, a prisoner can be held without indictment for 90 days, which can be extended to another 90. Most commonly, interrogation lasts for 20 to 30 days, according to Aouda Zbidat, a lawyer for prisoners' rights group Addameer.
In comparison, Israeli civil law allows detainees to be held without charge for 30 days. And while Palestinians in the military court system can be denied access to a lawyer for 90 days, under Israeli civil law, the ban can last a maximum of 21.
"In the Israeli system, they would request it only in more exceptional cases. Here, it is quite the norm," Zbidat said. "You'd usually strike a balance between the detainee's rights and the interest of the investigation. In the military court [system], the interest of the interrogation normally wins."
In the cells, the light is always on and the bathroom is a hole in the ground, right next to where you sleep – on the floor, on a very thin mattress, with no pillow. Being in this cell will take a toll on you.
Zbidat said that most detainees go through some form of psychological torture while under interrogation.
"The average detainee would usually be shouted at, threatened in different ways," she told Al Jazeera, adding that interrogations can sometimes last many hours.
"In the cells, the light is always on and the bathroom is a hole in the ground, right next to where you sleep – on the floor, on a very thin mattress, with no pillow," she added. "Being in this cell will take a toll on you. The walls are usually rough, there's no chair or anything to sit on, and if you want to relax and lean on the wall, you can't."
Ismat noted that you have to "put on the intelligence guy's hat", adding that each prisoner is dealt with "as an information bank".
"So, they don't deal with you only about the [specific] case. They will start from day one: who are your parents, where were you born, who were your friends in school. The interrogation technique is based on the idea that they have to break the soul of the prisoner so they get everything from him. You need to destroy his self, to defeat him as a human being. So, they turn you into a talking machine, to whom you ask questions, and it gives answers," Ismat said.
---
READ MORE: Israeli army 'among world's child rights violators'
---
Since 1967, around 800,000 Palestinians have been arrested. In March 2017, there were 6,300 Palestinian prisoners in Israeli jails, including 500 administrative detainees, according to Addameer. Last month, 111 Palestinians were issued administrative detention orders.
A practice dating back to the British Mandate, under military law, the decision to order a prisoner to administrative detention is issued by the military commander based on a secret file. Neither the lawyer nor the detainee are allowed to know the content of this file.
International human rights law allows the use of administrative detention only in emergency situations to prevent a future threat. Israel has been under a state of emergency since its inception in 1948, and critics have argued the state routinely uses administrative detention after a failed investigation or failure to obtain a confession. Administrative detention has only ever been used against nine Israelis.
According to Birzeit University's Right to Education campaign coordinator, Sundos Hammad, the past two to three months have seen an escalation in student arrests. Last January, Israeli forces raided the Birzeit campus, confiscated computers from the student council and "seized material, including propaganda belonging to Hamas", according to a statement released by an army spokesperson at the time.
Eighty Birzeit University students are currently detained, the vast majority by Israel. This includes 10 under interrogation and 15 in administrative detention.
Student arrests tend to spike in advance of the annual student council elections in Birzeit University [Fadi Arouri/Reuters]
The student council is formed of student political blocs, all of which are considered illegal by Israel. Most arrests, according to the university's lawyer, Eliya Theodory, are against the Islamic Bloc, the largest bloc in the student council. Arrests are known to spike in advance of the yearly student council elections. Most students, according to Theodory, are charged with membership of an illegal organisation.
"For us, the reason for the detention is arbitrary from the beginning," Zbidat said, "because they are being arrested for political activities, in breach of their right to free expression."
But Israel is not the only authority cracking down on Palestinian students' freedom of speech and expression. Last year, Kifah Quzmar was arrested by the Palestinian Authority for a Facebook post in which he called the PA security services "rotten". He was accused of insulting a public official, a crime that carries a six-month sentence.
The case of Basil al-Araj , who was killed in an Israeli raid last March after being arrested by the PA last year, has triggered mounting criticism of the PA's security coordination with Israel among Palestinians.
"When Kifah was arrested, the PA arrested his friend," Ismat Quzmar said. "Rather than a feeling of community and solidarity, that we as Palestinians are facing the occupation, now we have a Palestinian side cooperating with the occupation. This is a huge diversion from our norm as a Palestinian people."
Source: Al Jazeera
---
Zionist Bombing In Jerusalem 1946
This clip is from episode one of a British-made documentary from 2002 titled 'The Age Of Terror', and examines the bombing of the King David Hotel in Jerusalem on 22nd July 1946 by Zionist-Jewish terrorists, in which the south wing of the hotel, then occupied by British civil-military authorities, was bombed killing ninety-one people. Twenty-eight of the victims were British, forty-one Arabic, while seventeen were Jewish.
The Zionist terrorists who carried-out the attack were known as the Irgun, and were led by a future prime minister of Israel, Menachem Begin. The King David Hotel bombing was an act of terrorism that is widely-considered to be the first real incidence of 20th century terrorism. It is most significant indeed that the narrator – British actor Sir Ian McKellen – unequivocally states that Jews were the first terrorists of the 20th century. Sir Ian also states that terrorists of the future learned from the example set by Zionist Jews in 1946. He is correct on both points. That Jews invented modern-day terrorism is an indisputable fact. The Zionist state of Israel is the mother of terrorism as we know it.
It is somewhat ironic, although not at all surprising, that an Israeli should also be the architect of the 'war on terror'. His name? Benjamin Netanyahu, another who has held office as prime minister of Israel. And also it is important to take a note of the dress code of the terrorists? If all failed on the day who would shoulder the blame of the attack on the innocent people? The Muslim Arabs no less, now can we draw comparisons to the same type of attack on civilians over half a century on. You decide!
---
Palestinian, Jewish Voices Must Jointly Challenge Israel's Past
Palestinian voices that have fought against the official Israeli narrative are now joined by a growing number of Jewish voices.
Israel has resorted to three main strategies to suppress Palestinian calls for justice and human rights, including the Right of Return for refugees.
OPINION:
Palestine's Tragic Anniversaries Are Not Only About Remembrance
One is dedicated to rewriting history, another attempts to distract from present realities altogether and a third aims at reclaiming the Palestinian narrative as essentially an Israeli one.
The rewriting of history happened much earlier than some historians would assume. The Israeli hasbara machine went into motion almost simultaneously with Plan Dalet, or Plan D, which saw the military conquest of Palestine and the ethnic cleansing of its inhabitants.
But the actual discourse regarding the Nakba — or the "Catastrophe" — that has befallen Palestinian people in 1947-48 was constituted in the 1950s and 60s.
In an article entitled: "Catastrophic Thinking: Did Ben-Gurion Try to Rewrite History?" Shay Hazkani revealed the fascinating process of how Israel's first prime minister, Ben Gurion, worked closely with a group of Israeli Jewish scholars to develop a version of events to describe what had taken place in 1947-48: the founding of Israel and the destruction of Palestine.
Ben-Gurion wanted to propagate a version of history that was consistent with Israel's political position. He needed "evidence," to support that position.
The "evidence" eventually became "history," and no other narrative was allowed to challenge Israel's take on the Nakba.
"Ben-Gurion probably never heard the word 'Nakba,' but early on, at the end of the 1950s, Israel's first prime minister grasped the importance of the historical narrative," Hazkani wrote.
The Israeli leader assigned scholars in the civil service to the task of fashioning an alternative history that continues to permeate Israeli thinking to this day.
Distracting from history — or the current reality of the horrific occupation of Palestine — has been in motion for nearly 70 years.
From the early myths of Palestine being a "land with no people for a people with no land" to today's claim that Israel is an icon of civilization, technology and democracy surrounded by Arab and Muslim savages, Israel's official distortions are relentless.
So while Palestinians are gearing up to commemorate the war of June 5, 1967, which led to the — thus-far — 50-year military occupation, Israel is throwing a big party, a major "celebration" of its military occupation of Palestinians.
The absurdity is not escaping all Israelis, of course.
"A state that celebrates 50 years of occupation is a state whose sense of direction has been lost, its ability to distinguish good from evil, impaired," wrote Israeli commentator Gideon Levy in the 'Haaretz'.
"What exactly is there to celebrate, Israelis? Fifty years of bloodshed, abuse, disinheritance and sadism? Only societies that have no conscience celebrate such anniversaries."
Levy argues that Israel has won the war of 1967 but has "lost nearly everything else."
Since then, Israel's arrogance, detestation of international law, "ongoing contempt for the world, the bragging and bullying" have all reached unprecedented heights.
Levy's article is entitled "Our Nakba."
Levy is not attempting to reclaim the Palestinian narrative, but is succinctly registering that Israel's military triumphs was an affliction, especially as it was not followed by any sense of national reflection or attempt at correcting the injustices of the past and the present.
However, the process of claiming the term "Nakba" has been pursued cunningly by Israeli writers for many years.
For those scholars, "the Jewish Nakba" refers to the Arab Jews who arrived in the newly independent Israel, largely based on the urgings of Zionist leaders for Jews worldwide to "return" to the biblical homeland.
WATCH: How Palestine Became Colonized
A Jerusalem Post editorial complained that "Palestinian propaganda juggernaut has persuaded world public opinion that the term 'refugee' is synonymous with the term 'Palestinian.'"
By doing so, Israelis attempting to hijack the Palestinian narrative hope to create an equilibrium in the discourse, one that is, of course, inconsistent with reality.
The editorial puts the number of "Jewish refugees" of the "Jewish Nakba" at 850,000, slightly above the number of Palestinian refugees who were expelled by Zionist militias upon the founding of Israel.
OPINION:
The Next Phase in the War on BDS: Why Israel Detained Omar Barghouti
Luckily, such disingenuous claims are increasingly challenged by Jewish voices, as well.
A few but significant voices among Israeli and Jewish intellectuals around the world are daring to re-examine Israel's past.
They are rightly confronting a version of history that has been accepted in Israel and the West as the uncontested truth behind Israel's birth in 1948, the military occupation of what remained of Palestine in 1967, and other historical junctures.
These intellectuals are leaving a mark on the Palestine-Israel discourse wherever they go. Their voices are particularly significant in challenging official Israeli truisms and historical myths.
Writing in the Forward, Donna Nevel refuses to accept that the discussion of the conflict in Palestine starts in the war and occupation of 1967.
Nevel is critical of the so-called "progressive Zionists" who insist on positioning the conversation only on the question of occupation, thus limiting any possibility of resolution to the "two-state solution."
Not only is such a "solution" defunct and practically not possible, but the very discussion precludes the "Nakba," or the Catastrophe, of 1948.
"Nakba doesn't enter these conversations because it is the legacy and clearest manifestation of Zionism", Nevel wrote.
"Those who ignore the 'Nakba' — which Zionist and Israeli institutions have consistently done — are refusing to acknowledge Zionism as illegitimate from the beginning of its implementation."
This is precisely why the Israeli police have recently blocked the "March of Return," conducted annually by Palestinians in Israel.
For years, Israel has been wary that a growing movement among Palestinians, Israelis and others around the world have been pushing for a paradigm shift in order to understand the roots of the conflict in Palestine.
This new thinking has been a rational outcome of the end of the "peace process" and the demise of the "two-state" solution.
Incapable of sustaining its founding myths, yet unable to offer an alternative, the Israeli government is now using coercive measures to respond to the budding movement: punishing those who insist on commemorating the "Nakba," fining organizations that participate in such events and even perceiving as traitors any Jewish individuals and groups that deviate from its official thinking.
In these cases, coercion hardly works.
"The March (of Return) has rapidly grown in size over the past few years, in defiance of increasingly repressive measures from the Israeli authorities," wrote Jonathan Cook for Al-Jazeera.
It seems that 70 years after the founding of Israel, the past is still looming large.
Fortunately, the Palestinian voices that have fought against the official Israeli narrative are now joined by a growing number of Jewish voices.
It is through a new common narrative that a true understanding of the past can be attained, all with the hope that the peaceful vision for the future can replace the current one — one which can only be sustained through military domination, inequality and sheer propaganda.
WATCH: Silencing Palestine – Prison and Repression
Dr. Ramzy Baroud has been writing about the Middle East for over 20 years. He is an internationally-syndicated columnist, a media consultant, an author of several books and the founder of PalestineChronicle.com. His books include "Searching Jenin," "The Second Palestinian Intifada" and his latest "My Father Was a Freedom Fighter: Gaza's Untold Story." His website is www.ramzybaroud.net.
Tags
Middle East & North Africa Israel Palestine War & conflict
---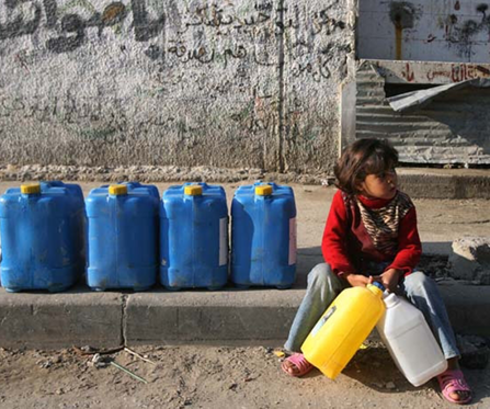 The innocent imprisoned. Movement restricted. Trade suffocated. Homes demolished. Human rights abuses are rife in Israel and the Occupied Palestinian Territories.
We do not take a position on issues of statehood.
We stand with those demanding that all sides respect human rights, and that perpetrators of human rights abuses are brought to justice.