Published time: 27 Apr, 2017 23:54
The IDF has fired a Patriot missile that allegedly destroyed a Syrian drone over the Israeli-controlled Golan Heights hours after an 'incident' near Damascus International Airport, widely reported as an alleged Israeli strike on Hezbollah arms depot.
Confirming that the Patriot missile successfully intercepted the unmanned aerial vehicle over the Golan Heights, the IDF stressed that the UAV was under Israeli Air Force's "full surveillance" during the brief time it was in "Israeli airspace."
"The IDF will not allow any breach of Israel's airspace and will act against any attempt of infiltration," the army said in a statement, according to the Times of Israel and Haaretz reports.
Initially the IDF said that it shot down "a target" or an "unidentified aircraft" over the Golan Heights, but it was not immediately clear what kind of target that was. The army later confirmed that it was an apparent Syrian drone.
Security camera footage, shared by Israeli Channel 1 editor Amichai Stein, showed the moment a Patriot missile was launched to take down the drone.
#BREAKING: Patriot missile was fired from a base in northern Israel after an unidentified aircraft was detected in the sky
The drone incident comes after the official Syrian state news agency SANA, citing an unnamed military source, accused Israel of striking a military installation near Damascus International Airport.
"A military position southwest of Damascus International Airport was exposed to an Israeli aggression with several missiles fired from inside the occupied territories at dawn on Thursday causing explosions in the place and leaving some material losses," a military source told SANA. The source added that the alleged Israeli strikes are a "desperate attempt" to raise the "collapsed morale of terrorist groups" amid the Syrian army advance.
While Israel has neither officially confirmed nor denied striking targets inside Syria, a "regional" intelligence source told Reuters that an Israeli attack hit Hezbollah's arms supply hub near Damascus airport.
When contacted by RT to provide any details on the explosions near Damascus Airport, the IDF press office repeatedly declined to comment on the incident.
Earlier in the day, however, Israeli Intelligence Minister Israel Katz said that the "incident" in the vicinity of Damascus International Airport was in line with Israel's policies.
"The incident in Syria corresponds completely with Israel's policy to act to prevent Iran's smuggling of advanced weapons via Syria to Hezbollah in Iran," Katz told Israeli Army Radio, according to Reuters.
"Naturally, I don't want to elaborate on this," Katz added.
Israel has been repeatedly accused – but rarely admitted – of carrying out a number of strikes in Syria since 2011 targeting arms convoys of its Lebanese foe Hezbollah.
In mid-March, Israel confirmed that its jets conducted airstrikes near Palmyra, allegedly destroying "advanced arms" destined to Hezbollah. In response, Syria's air defense forces fired anti-aircraft missiles at the planes as they were returning from their mission. Syria warned that scud missiles would be fired towards Israeli targets if Israel carried out any further airstrikes in the war-torn country.
The Russian Foreign ministry on Thursday criticized any "aggression" against Syria, without pinning blame for the Damascus airport incident on any party.
"Moscow condemns acts of aggression against Syria" and calls on everyone to "act within the framework of respecting the sovereignty and territorial integrity of Syria," spokeswoman Maria Zakharova said.
Iran's Defense Minister Hossein Dehghan meanwhile condemned the strikes, saying in an interview with RT that they "help terrorists."
"The Syrian state and its army are progressing. They are advancing and gaining territories from the terrorists," the official told RT while on a visit to Moscow. "When it becomes worse for the terrorists, the strikes follow, bringing them a message saying: 'We are defending and protecting you, so don't worry and if it's necessary we'll intervene.' In my opinion, those operations help terrorists."
---
Russia: Isis Once Apologized for Accidentally Attacking Israel
Two issues here: Israel is ISIS and Russia finally "grows a pair"
Tel Aviv remains so "neutral" in the Syrian conflict that even Islamic State terrorists have on at least one occasion "apologized" to Israel for mistakenly attacking IDF soldiers in the occupied Golan Heights, according to a former Israeli Defense Minister.
"There was one case recently where Daesh opened fire and apologized," Ya'alon said on Saturday, as cited by the Times of Israel.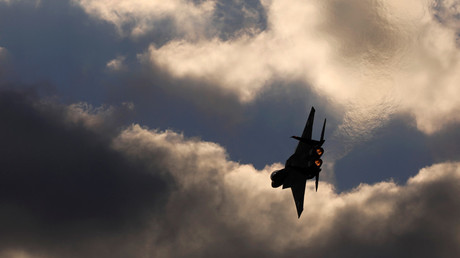 When asked by the publication to expand on his controversial statement, Ya'alon's office refused to elaborate. The IDF also declined to comment. Under Israeli law, any communication with terrorists is considered illegal.
Ya'alon served as Israel's Defense Minister from 2013 until his resignation in May 2016, and his comments were reportedly referring to the first direct incident involving clashes between Israel and Islamic State terrorists.
In that incident which took place last November, the Shuhada al-Yarmouk cell, which has pledged allegiance to ISIS, exchanged fire with Israeli forces after the IDF's Golani Brigade crossed the security fence with Syria to conduct an "ambush operation."
While the official Israeli position is pursuing neutrality in the Syrian conflict, Tel Aviv has in the past and on several occasions engaged Syrian military targets in Syria to prevent the alleged transfer of weapons to the Lebanese group Hezbollah, considered a terrorist group by Israel.
Israeli aircraft were first accused of allegedly striking a Syrian convoy transporting Iranian weapons to Hezbollah, back in January 2013. More allegations surfaced over the years, which Tel Aviv repeatedly denied or refused to comment on.
Finally in March this year, Tel Aviv did confirm conducting airstrikes on several targets in Syria, after Damascus activated its air defense system against the IDF jets.
Israeli Prime Minister Benjamin Netanyahu justified the incursion explaining that IDF planes targeted a Hezbollah weapons convoy.
READ MORE: Netanyahu to Putin: Israeli airstrikes in Syria will continue
Damascus, however, said that the Israeli strikes only benefited Islamic State and other terrorist groups. Earlier this month the Syrian President Bashar Assad once again blamed Israel of helping militants terrorizing his country.
DETAILS: Syria claims 1 IDF jet shot down, Israel says all aircraft safely back http://on.rt.com/861q 

Syria claims Israeli jet shot down after strike near Palmyra, IDF says all aircraft undamaged — RT…

The Syrian Army says Israeli military jets hit a "military target" near Palmyra in a raid overnight. In retaliation the jets were targeted by Syrian anti-aircraft missiles.

rt.com
"You can assume that these terrorists are fighting for Israel. If they aren't part of the regular Israeli army, they're fighting for Israel. Israel has common goals with Turkey, the United States, France, Britain, Saudi Arabia, Qatar and other countries," Assad was quoted by Ynet news as saying.
"Israel is working on helping these terrorists wherever the Syrian army is advancing. It attacks in one form or another to provide them with assistance, and to stop the Syrian army's momentum in the face of the terrorists," the Syrian leader added.
——————————————————————————————————————————————————————-
Female Palestinian minor sentenced to 10 years for attempted stabbing
Published time: 27 Apr, 2017 22:23
A Jerusalem court has sentenced a 17-year-old Palestinian female to 10 years in prison for an attempted stabbing attack on Israeli troops.
The verdict against Malak Salman from occupied East Jerusalem was announced by the city's District Court on Wednesday. Salman's lawyer, Ramzi Kteilat, has called the ruling unfair and promised to appeal it at the Israeli Supreme Court.
"Ten years is a brutal, unjust sentence that is against international law for a girl who is not yet an adult," Kteilat said as cited by Palestinian Ma'an news agency.
Malak's mother, Fatina Salman, told the agency that her daughter received the verdict "smiling and with her head high."
The teenager was detained at a checkpoint outside the Damascus Gate in Jerusalem on February 9, 2016.
According to security forces, Salman was stopped due to "moving in a suspicious way" and drew a knife from her bag when they attempted to search her.
She was swiftly subdued by the officers, without anyone suffering injuries in the incident.
Salman was convicted the next day and has been waiting her sentence since then, making several appearances before the court.
READ MORE: British students launch hunger strike in solidarity with Palestinian prisoners
The head of the Jerusalem Detainees' Parents Committee, Amjad Abu Assab, called the verdict against the 17-year-old another Israeli assault on children in occupied territories.
The ruling by the Israeli court showed the "real racist nature of the Israeli legal system," especially, considering the fact that Malak "never attempted any attack," IMEMC news reported.
Israel has recently introduced new legislation, allowing stricter sentences to Palestinian minors who throw rocks or carry out attacks against Israelis.
In January, a Palestinian youth was handed an 18-year sentence for throwing a rock at a car, causing the death of Israeli citizen in 2015.
A wave of Palestinian stabbing attacks in Israel and the occupied West Bank has led to the deaths of 37 Israelis, two Americans and a UK citizen since October 2015.
According to Israeli security forces, at least 162 Palestinians were killed as they attempted stabbing, shooting or ramming attacks.
Share on Facebook
Share on Twitter