Published time: 29 Apr, 2017 05:17
French presidential candidate Emmanuel Macron's campaign team, which rejected accreditation and accused RT of spreading fake news, has literally hung up on the request to clarify why they refuse to honor freedom of the press.
Macron's spokeswoman did not last on the phone for a minute, and hung up the moment she discovered she was being asked for a comment from the political movement's apparent arch-foe, RT, which En Marche! a day earlier called a "two-headed entity" engaged in state propaganda and fake news.
Refusing to speak to RT, the spokeswoman asked to send her an email and patiently wait for their comment – despite being told that several previous letters from RT were left without an answer. Seconds later, she hung up under the pretext of being outside of the office and having bad phone reception.
Speaking to Reuters, however, Macron representative was much more communicative going as far as accusing Russian media, such as RT and Sputnik, of "systematic desire to issue fake news and false information."
Although the spokesman failed to provide any specific examples of Russian media spreading fake news, he hinted that Macron's position on Russian media won't change.
"If this creates problems with the Kremlin, it will be the subject of an open discussion in the event of the candidate (Macron) being elected," the spokesman added.
En Marche official refuses to say when RT will be accredited by Macron's team (VIDEO)
So far, RT has not received any comments from Macron's camp, despite numerous attempts since last Sunday to clarify the situation. On Wednesday, RT caught up with En Marche's spokesperson at Whirlpool tumble dryer factory rally in Amiens to ask when the channel will be accredited.
"Will you finally accept the accreditation request by RT?" the RT correspondent asked. Twisting and turning the spokeswoman refused to comment, dodging the question. Seconds later, she just walked away, saying she had "work" that needed to be done.
"M. Macron wishes to underline his attachment to the campaign against Russia. When Western countries make allegations they never provide any evidence. It is not the point. The point is to get to the news showing he is anti-Russian," Robert Harneis, an independent journalist, told RT.
READ MORE: 'Russian hacking' used as dog-ate-my-homework excuse
Moscow views En Marche! attitude towards RT and Sputnik as a violation of freedom of speech and freedom of the press. RT asked Reporters Without Borders, Reporters Committee for Freedom of the Press, and Committee to Protect Journalists to issue a comment and intervene. RT also appealed to the Freedom of the Press Foundation, International Federation of Journalists and International Media Support to assess Macron team's actions.
On Thursday, Russian Foreign Ministry spokeswoman Maria Zakharova called En Marche!'s move "outrageous," calling the ban a "deliberate and bare-faced discrimination against Russian media by the presidential candidate of a state that has historically been vigilant when it comes to free speech."
Zakharova called on the relevant French authorities and international organizations to ensure that freedom of the press was upheld in the second round of voting.
Macron just seems to be riding the wave of an anti-RT campaign in the West just to score some political points, Martin Summers, a writer and broadcaster, has told RT.
"There has been a general witch hunt against RT. The impression is of a certain childishness in response to RT. It is partly due to the fact that RT has become a whipping boy for mainstream pundits and politicians," Summers told RT.
"There is a kind of collective hysteria that has developed in the ruling circles in the West, and in a way a backhanded compliment to RT because then they presume that RT has this huge influence," Summers added.
---
'Destabilizing factor': Russia urges US, S. Korea to reconsider THAAD anti-missiles deployment
Published time: 29 Apr, 2017 04:07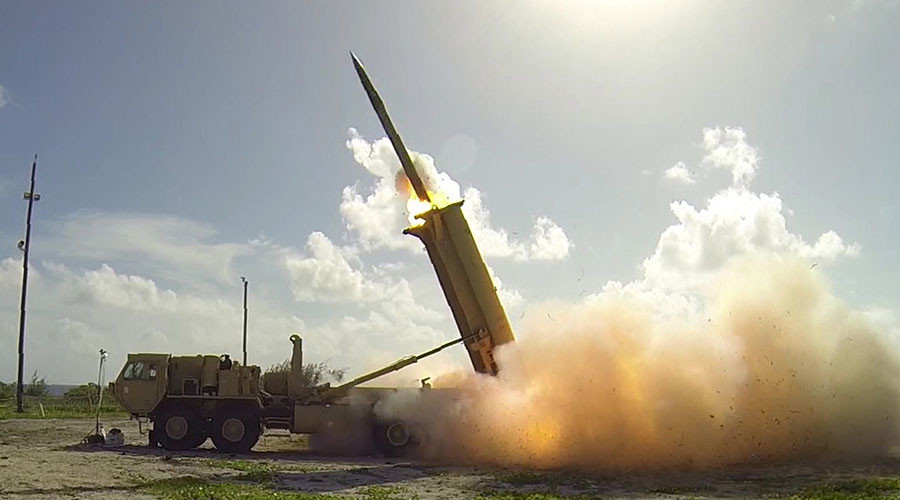 Russia has urged Washington and Seoul to reconsider their decision to station THAAD anti-missile system on the Korean Peninsula, warning that it will serve a "destabilizing factor" that could tip the existing military balance in the tense region.
Speaking in front of the UN Security Council just hours before North Korea reportedly conducted its second failed ballistic missile test this month, Russian Deputy Foreign Minister Gennady Gatilov noted that placing THAAD anti-missiles on North Korean borders will serve as "additional destabilizing factor in the region."
Gatilov said that the deployment of Terminal High Altitude Area Defense (THAAD) was made "in line with the vicious logic of creating a global missile shield." But the missile defense system deployment, he warned, is also undermining security and deterrent powers of adjacent states, such as China, thus threatening "the existing military balance in the region."
"It is not only we who perceived this step very negatively. We are once again urging both the United States and the Republic of Korea to reconsider its expediency and other regional states not to yield to the temptation of joining such destabilizing efforts," the deputy foreign minister said.
Following a series of nuclear and missile tests by North Korea, Barack Obama's administration in 2016 managed to strike a deal to place THAAD missiles in South Korea with the declared goal of keeping Pyongyang's nuclear ambitions at bay.
THAAD is designed to intercept short, medium and intermediate-range ballistic missiles during their terminal flight phase. Equipped with long-range radar, it is believed to be capable of intercepting North Korea's intermediate-range ballistic missiles.
This has nothing to do w/ N.Korea – US launch Minuteman III ICBM to verify its 'effectiveness, readiness & accuracy' https://on.rt.com/89z3 

US launches Minuteman III ICBM to show 'nuclear capabilities' amid N. Korea tensions — RT America

An unarmed intercontinental ballistic missile (ICBM) has been launched from a US Air Force base in California to ensure its "effectiveness, readiness and accuracy," and demonstrate "national nuclear…

rt.com
The first elements of the system were moved onto a golf course in Seongju, North Gyeongsang Province, South Korea on Tuesday, prompting clashes between locals and police. The system will be operational in the coming days.
US THAAD anti-missile deployment in S. Korea sparks clashes between locals & police
DETAILS: https://on.rt.com/89y4 
"It is moving very quickly, it will (have) initial operational capability very soon," Pentagon spokesman Captain Jeff Davis said Friday.
The illusion of security under the US anti-missile umbrella does not come for free, as US President Donald Trump apparently expects South Korea to pay around $1 billion for the deployment of the THAAD battery, according to his exclusive interview with Reuters.
"I informed South Korea it would be appropriate if they paid. It's a billion-dollar system," Trump told Reuters. "It's phenomenal, shoots missiles right out of the sky."
South Korean military officials however made clear that paying for THAAD was not part of the bilateral deal struck last year.
"South Korea will provide land and infrastructure and US will be responsible for purchase, operation and maintenance costs for the defense system per regulations of the Status of Forces Agreement (SOFA),"said officials at the South Korean Defense Ministry, the country's Donga newspaper reported.
China to go on with drills, weapons tests in response to #THAAD deployment – Defense Ministry https://on.rt.com/8a2z 

China to go on with drills, weapons tests in response to THAAD deployment – Defense Ministry — RT…

China will continue to stage live fire drills and test new weapons to protect its national security, the Defense Ministry says. It comes after the deployment of the US THAAD anti-missile system to…

rt.com
In response to the deployment of THAAD, China announced Thursday that it will continue to stage live fire drills and test new weapons to protect its national security.
"The deployment of the THAAD anti-missile system in South Korea damages the regional strategic balance and stability. The Chinese side is resolutely opposed to this," Defense Ministry spokesman Yang Yujun told reporters on Thursday, when asked about THAAD.
Back at the UN, Gatilov condemned the North Korean nuclear buildup and called for talks to find a diplomatic solution to the crisis. At the same time Russian diplomat found some sense in Pyongyang's argument that it is forced to pursue missile and atomic programs because it perceives US buildup in the region and annual war games with South Korea as a threat to its national sovereignty.
North Korea "will hardly give up nuclear weapons as long as it feels direct threat to its security," Gatilov said. "This is precisely how North Koreans qualify regular large-scale maneuvers and drills by the United States and its allies in the region – and also the dispatch to that region of a US naval armada as we witnessed this month."
Gatilov's comments came just hours before Seoul and Washington accused North Korea of conducting yet another test-launch of what is presumed to be a KN-17 medium range ballistic missile. The projectile allegedly exploded "within minutes" of the launch with the debris landing in the Sea of Japan.
---
Montenegro defies democracy by ratifying NATO membership without referendum – Moscow
Published time: 29 Apr, 2017 00:26
The ratification of Montenegro's NATO membership by a parliamentary vote instead of a referendum is a violation of democratic norms, Russia's Foreign Ministry said, adding that Moscow reserves the right to protect its national security after the move.
Russia's Foreign Ministry has expressed "deep regret that the current leadership of [Montenegro] and its Western backers didn't heed the voice of conscience and reason."
"The adoption of fundamental acts, affecting the key issues of state security, by the vote of individual MPs on the basis of a formal majority without taking into account the opinion of the country's people is a demonstrative act of violation of all democratic norms and principles," the statement read.
The ministry said that the will of around half of the population was ignored by the Montenegrin authorities with the NATO vote.
"What cynicism should one have to state unabashedly that there was no need to clarify the opinion of the people for such a decision, like the Montenegro president, Filip Vujanovic, did the other day," it said.
During the "shameful" NATO bombing of Yugoslavia in 1999 there were casualties in Montenegro as well, with children being among the victims, the Russian Foreign Ministry said. Blaming those deaths on Serbia, which is accused of having provoked the interference from the US-led military bloc, is a "hypocritical" interpretation of events, the ministry said.
"Those who voted in the Skupstina [parliament] for joining NATO under the pretext of an imaginary Russian threat should take responsibility for the consequences of implementing the plans of external forces, seeking to deepen the division in Europe and the Balkans, drive a wedge into the historically rooted friendly relations of Montenegrins with Serbs and Russians," the statement read.
The Russian ministry said that "given the potential of Montenegro, the North Atlantic Alliance is unlikely to receive significant 'added value' thanks to the inclusion of its 29th member.
"But Moscow can't ignore the strategic consequences of this step. Therefore, we reserve the right to adopt such decisions that are aimed at protecting our interests and national security," the Foreign Ministry said.
Earlier on Friday, the Montenegro parliament ratified the law on the country's accession to NATO, with all 46 lawmakers (out of the total of 81) present at the session supporting the country's inclusion into the bloc.
The move took place in absence of the main opposition party, the Democratic Front, which instead staged a protest, demanding a referendum on whether to join NATO.
The vote in the Montenegrin parliament followed the decision by US President Donald Trump to approve the country's membership bid on April 11. Accepting Montenegro into NATO will send a message to other aspirants that the "door to membership in the Euro-Atlantic community of nations remains open," the White House said at the time.
READ MORE: 'Fake news recycling': Russian Embassy calls out UK media over 'Montenegro coup plot' report
Montenegro, a country with a population of around 622,000 people that seceded from Serbia in 2006, was granted a NATO Membership Action Plan (MAP) in 2009. Since then the country remained split on the issue, with protests against NATO across the country only intensifying as the republic drew closer to becoming a member of the bloc.