Published time: 30 Apr, 2017 03:05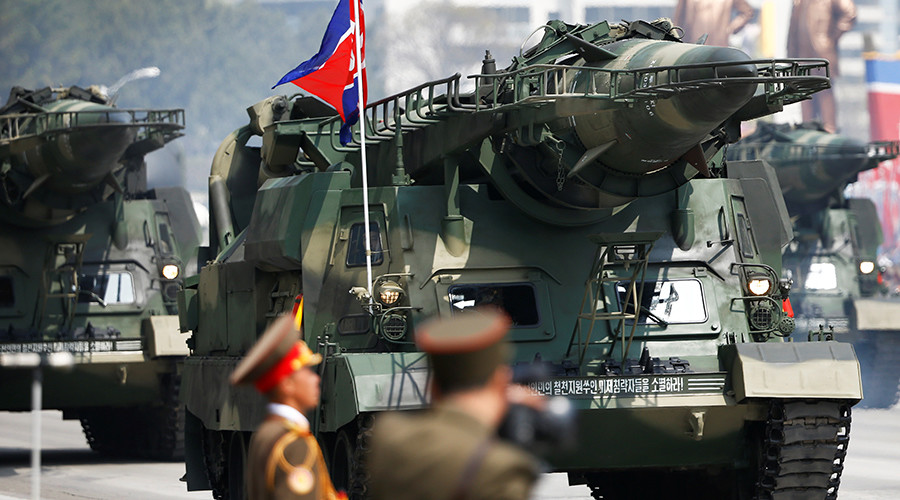 North Korea has accused Israel of being the "only illegal possessor" of nukes and threat to peace in the Middle East, and threatened Tel Aviv with a "thousand-fold punishment" after Israeli Defense Minister called Pyongyang's leadership a "crazy and radical group."
In an interview with Hebrew news site Walla this week, Avigdor Lieberman stated that North Korea's leader Kim Jong-un is a "madman" in charge of a "crazy and radical group" which is "undermining global stability."
Pyongyang "seems to have crossed the red line with its recent nuclear tests," the Israeli defense minister said, according to the Times of Israel.
In response, Pyongyang promised a "thousand-fold punishment to whoever dares hurt the dignity of its supreme leadership," calling Lieberman's "sordid and wicked" remarks a part of Israel's smear campaign to cover up its own crimes.
Firing back at the perceived hypocrisy, the North Korean Foreign Ministry said that, unlike Israel, which is a "disturber of peace" in its neighborhood, their country is full entitled to seek deterrence against "US aggression."
"Israel is the only illegal possessor of nukes in the Middle East under the patronage of the US. However, Israel vociferated about the nuclear deterrence of the DPRK, slandering it, whenever an opportunity presented itself," the Foreign Ministry spokesman said, as cited by state-run agency KCNA.
While Israel has never publicly confirmed or denied possessing nukes, it is universally believed to have dozens of warheads, and maintains ambiguous policy that it will not be the first to "introduce" them in the Middle East.
"The DPRK's access to nuclear weapons is the legitimate exercise of its righteous right for self-defense to cope with the US provocative moves for aggression and the DPRK's nuclear force is the treasured sword of justice firmly defending peace on the Korean peninsula and in the region," the North Korean statement added.
Pyongyang went on to call Israel a "culprit of crimes against humanity" and an "occupier" which seeks to dominate the region and oppress Palestinians.
Russia backs China's call to stop N. Korea nuke tests in exchange for halt in US, S. Korea military drills http://on.rt.com/8a9r 
Lieberman's remarks also sparked criticism at home, with some Israeli politicians noting that their country has enough enemies to create even more with such reckless statements.
"We have enough enemies. Let's focus on them," MP Shelly Yachimovich of the Zionist Union said on Twitter.
"The minister of talk is chattering irresponsibly about North Korea. And there is no prime minister to rein in the babbling and posturing ministers," former defense minister Moshe Ya'alon wrote on Twitter, Times of Israel reports.
US kicks off joint naval drills with S. Korea as US aircraft carrier group enters Sea of Japan https://on.rt.com/8ab5 
Already heightened tensions on the Korean Peninsula escalated further on Saturday after the North conducted yet another failed test of its ballistic rocket technology. The test was conducted as US kicked off joint naval exercises with South Korea just after the US aircraft carrier group led by the USS Carl Vinson entered the Sea of Japan.
'Just let him play… Don't play into his hands' – Duterte warns Trump of conflict with N. Korea https://on.rt.com/8ab8 
For some time now, it has been speculated that Pyongyang is also getting ready to conduct its sixth nuclear test. Speaking about North Korea on Saturday, Trump noted that neither China nor the US would welcome a further North Korean nuclear test.
"I would not be happy," Trump said in a CBS interview for Sunday's Face the Nation. When asked if the sixth Korean nuclear test would prompt American military action, Trump responded: "I don't know. I mean, we'll see."
---
'Euro is dead': Le Pen eyes return of the Franc, preserving single currency for int'l trade
Published time: 30 Apr, 2017 04:41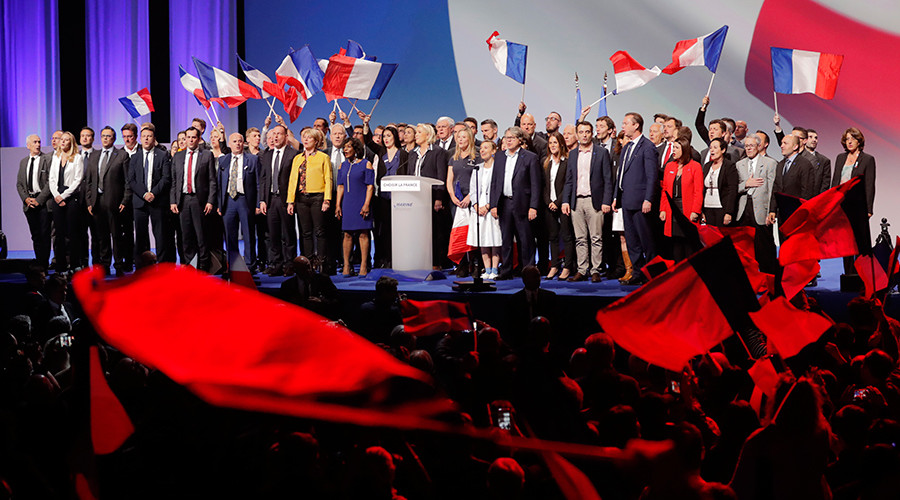 A week before the 2nd round of the French election, eurosceptic presidential hopeful Marine Le Pen has reminded her supporters that the "euro is dead" and should be left only for international trade, while France should regain control and reintroduce the Franc.
"We need to control the currency, to adjust it to the economy because today the single currency is a burden," Le pen said ahead of May 7 French presidential election, stressing that the "euro is dead." 
"We will have a national currency like all other countries, and we will have a common currency together," Le Pen said in in an interview with Le Parisien.
In her interview Sunday, she explained that euro should become the currency that will be used by "only large companies that trade internationally."
On Saturday, Marine Le Pen struck a deal with a former rival Nicolas Dupont-Aignan, a fellow euro critic who garnered 4.7 percent of votes in the first round, who will serve as the prime minister if the 48-year-old right-wing populist gets elected.
"We will create a government of national unity," said Le Pen, as she appeared with Dupont-Aignan on BFM television.
That same day, in an interview with newspaper Sud Ouest, Le Pen noted: "If everyone is agreed we could take a year or a year and a half to organize a coordinated return to national currencies."
Yet the alliance statement by Dupont-Aignan's Stand up France' produced following the forming of the coalition noted that the return to Franc is not a pre-requisite.
READ MORE: Smoke grenades at rally against French presidential candidates in Paris (VIDEOS)
"The transition from the single currency to the European common currency is not a pre-requisite of all economic policy, the timetable will adapt to the immediate priorities and challenges facing the French government," the statement said.
Le Pen's presidential race rival Emmanuel Macron, who is an advocate of deeper European integration, had also expressed scepticism about the euro in its current state before, although insisting on reforms to bolster the single currency union to make sure it does not fail.
"The truth is that we must collectively recognize that the euro is incomplete and cannot last without major reforms," Macron said in January, citing a lack of trust between France and Germany that hampers the needed reforms. "The dysfunctioning of the euro is of good use to Germany… The euro is a weak Deutsche Mark… The status quo is synonymous, in 10 years' time, with the dismantling of the euro."
Le Pen who will face off the big business' hopeful Macron next Sunday in a second round vote, has repeatedly promised her electorate to leave the euro zone, hold a Brexit-style referendum, and levy taxes on foreign workers. She also vowed to lower the retirement age and increase some welfare benefits, while cutting income tax.
READ MORE: 'He is a hypocrite!' France's Macron heckled by pro-Le Pen workers in his hometown (VIDEO)
Despite the daring and radical proposals, Le Pen is still running behind her rival in the polls. In a poll by Odoxa released Friday, Macron's support stands at 59 percent versus Le Pen's 41 percent.ed Friday, Macron's support stands at 59 percent versus Le Pen's 41 percent.
---
Russia slams US arms control report as 'biased', says it ignores Washington's violations
Published time: 29 Apr, 2017 19:27
The Russian Foreign Ministry has criticized an annual report by the US State Department on global arms control, saying Washington remains in denial about its own misdeeds, while accusing other nations of violations.
The US report, released earlier this month, reviewed several international treaties on arms control, non-proliferation and reduction in which the US has an interest. It stated that the US has been in compliance with its own obligations under those treaties and accused several other nations, including Russia, of deviating from theirs.
In a statement Saturday, the Russian Foreign Ministry said Washington's report was biased and failed to acknowledge issues with America's adherence to its international obligations.
"The US claims it has monopoly rights in assessing other nations' compliance with treaties. Washington does this in a lecturing manner and ignores the established practice for settling points of dispute through corresponding multilateral mechanisms," the statement said.
It also accused the US of bringing "unfounded accusations" and trying to conceal its own violations of international arms control treaties.
In recent years, Russia has received a "growing [amount] of evidence showing that the reasons for such actions by the US by no means consist in a reluctance to burden itself with a difficult and lengthy expert dialogue, but rather lie in something much more serious – in Washington's fear of being exposed as a [state] bringing unfounded accusations against other countries, as well as the US's own violations of international arms control treaties," the Russian Foreign Ministry said.
It went on to say that it was particularly "not the first time, when the US side repeats trite accusations against Russia concerning its alleged violations of the Treaty on Open Skies," adding that the US "keeps quiet about their own violations … of [this treaty] as well as about violations committed by their NATO allies and other states affiliated with the US."
First signed in March 1992, the Open Skies Treaty entered into force in 2002 and now has 34 states as signatories, including Russia, the US and most European countries. The agreement allows its participants to conduct unarmed surveillance flights over the entire territory of other countries and to gather information about those countries' armed forces to enhance mutual understanding and trust.
In total, the Russian Foreign Ministry listed 11 complaints Moscow has with Washington relating to arms control and nonproliferation. Many of these issues are also mentioned in the American report, but it only states that the US is in full compliance with its obligations.
One such issue is the Intermediate-Range Nuclear Forces (INF) Treaty. The US report states that Washington does not violate it while Russia does. Moscow disagrees, saying that America's drone program, the target missiles for testing ABM technology and the placement of a naval vertical launch system as part of the AEGIS Ashore shield in Eastern Europe are all in violation of the INF, as Russia has repeatedly told the US.
Another one is the agreement between Russia and the US on disposal of plutonium from decommissioned nuclear warheads. Under this agreement both countries pledged to process the material in reactors, rendering them useless for nuclear weapons.
Russia did so, but the US decided that it would be too costly and is instead mixing its plutonium with special dilutant, a process that can potentially be reversed. Russia considers this unilateral decision a violation of the deal and last year suspended it after the US refused to return to the original terms of the agreement.
Russia also sees problems with America's compliance with the Nuclear Non-Proliferation Treaty, saying that the US is stepping outside of it by its nuclear weapons-sharing arrangement with European nations. In particular, Moscow complains that the US trains non-nuclear nations to deploy American nuclear bombs stored in Europe.
The Foreign Ministry also challenged the State Department's accusations against Russia on several issues, saying the American report omitted key facts related to the accusations, which challenge the narrative and expose America's complicity in those disputes.
"We are calling on the US again to stop its unseemly practice of mounting ungrounded accusations against other nations, especially amid its own missteps, which only mislead global public opinion," the statement said.