Here Come The Bilderbergs: The Complete 2014 Cast And Host Nation Breakdown
The only thing more ominous for the world than a Fed raising interest rates is a Bilderberg Group meeting. The concentration of politicians and business leaders has meant the organisation, founded at the Bilderberg Hotel near Arnhem in 1954, has faced accusations of secrecy. Meetings take place behind closed doors, with a ban on journalists. As InfoWars notes, the 2014 Bilderberg meeting in Copenhagen, Denmark is taking place amidst a climate of panic for many of the 120 globalists set to attend the secretive confab, with Russia's intransigence on the crisis in Ukraine and the anti-EU revolution sweeping Europe posing a serious threat to the unipolar world order Bilderberg spent over 60 years helping to build.
Current list of Participants (source):
Chairman
FRA    Castries, Henri de    Chairman and CEO, AXA Group
Attendees
DEU    Achleitner, Paul M.    Chairman of the Supervisory Board, Deutsche Bank AG
DEU    Ackermann, Josef    Former CEO, Deutsche Bank AG
GBR    Agius, Marcus    Non-Executive Chairman, PA Consulting Group
FIN    Alahuhta, Matti    Member of the Board, KONE; Chairman, Aalto University Foundation
GBR    Alexander, Helen    Chairman, UBM plc
USA    Alexander, Keith B.    Former Comdr, U.S. Cyber Command; Former Director, NSA
USA    Altman, Roger C.    Executive Chairman, Evercore
FIN    Apunen, Matti    Director, Finnish Business and Policy Forum EVA
DEU    Asmussen, Jörg    State Secretary of Labour and Social Affairs
HUN    Bajnai, Gordon    Former Prime Minister; Party Leader, Together 2014
GBR    Balls, Edward M.    Shadow Chancellor of the Exchequer
PRT    Balsemão, Francisco Pinto    Chairman, Impresa SGPS
FRA    Baroin, François    Member of Parliament (UMP); Mayor of Troyes
FRA    Baverez, Nicolas    Partner, Gibson, Dunn & Crutcher LLP
USA    Berggruen, Nicolas    Chairman, Berggruen Institute on Governance
ITA    Bernabè, Franco    Chairman, FB Group SRL
DNK    Besenbacher, Flemming    Chairman, The Carlsberg Group
NLD    Beurden, Ben van    CEO, Royal Dutch Shell plc
SWE    Bildt, Carl    Minister for Foreign Affairs
NOR    Brandtzæg, Svein Richard    President and CEO, Norsk Hydro ASA
INT    Breedlove, Philip M.    Supreme Allied Commander Europe
AUT    Bronner, Oscar    Publisher, Der STANDARD Verlagsgesellschaft m.b.H.
SWE    Buskhe, Håkan    President and CEO, Saab AB
TUR    Çandar, Cengiz    Senior Columnist, Al Monitor and Radikal
ESP    Cebrián, Juan Luis    Executive Chairman, Grupo PRISA
FRA    Chalendar, Pierre-André de    Chairman and CEO, Saint-Gobain
CAN    Clark, W. Edmund    Group President and CEO, TD Bank Group
INT    Coeuré, Benoît    Member of the Executive Board, European Central Bank
IRL    Coveney, Simon    Minister for Agriculture, Food and the Marine
GBR    Cowper-Coles, Sherard    Senior Adviser to the Group Chairman, HSBC Holdings plc
BEL    Davignon, Etienne    Minister of State
USA    Donilon, Thomas E.    Senior Partner, O'Melveny and Myers; Former U.S. NSA
DEU    Döpfner, Mathias    CEO, Axel Springer SE
GBR    Dudley, Robert    Group Chief Executive, BP plc
FIN    Ehrnrooth, Henrik    Chairman, Caverion Corporation, Otava and Pöyry PLC
ITA    Elkann, John    Chairman, Fiat S.p.A.
DEU    Enders, Thomas    CEO, Airbus Group
DNK    Federspiel, Ulrik    Executive Vice President, Haldor Topsøe A/S
USA    Feldstein, Martin S.    Professor of Economics, Harvard University; President Emeritus, NBER
CAN    Ferguson, Brian    President and CEO, Cenovus Energy Inc.
GBR    Flint, Douglas J.    Group Chairman, HSBC Holdings plc
ESP    García-Margallo, José Manuel    Minister of Foreign Affairs and Cooperation
USA    Gfoeller, Michael    Independent Consultant
TUR    Göle, Nilüfer    Professor of Sociology, École des Hautes Études en Sciences Sociales
USA    Greenberg, Evan G.    Chairman and CEO, ACE Group
GBR    Greening, Justine    Secretary of State for International Development
NLD    Halberstadt, Victor    Professor of Economics, Leiden University
USA    Hockfield, Susan    President Emerita, Massachusetts Institute of Technology
NOR    Høegh, Leif O.    Chairman, Höegh Autoliners AS
NOR    Høegh, Westye    Senior Advisor, Höegh Autoliners AS
USA    Hoffman, Reid    Co-Founder and Executive Chairman, LinkedIn
CHN    Huang, Yiping    Professor of Economics, National School of Development, Peking University
USA    Jackson, Shirley Ann    President, Rensselaer Polytechnic Institute
USA    Jacobs, Kenneth M.    Chairman and CEO, Lazard
USA    Johnson, James A.    Chairman, Johnson Capital Partners
USA    Karp, Alex    CEO, Palantir Technologies
USA    Katz, Bruce J.    Vice President and Co-Director, The Brookings Institution
CAN    Kenney, Jason T.    Minister of Employment and Social Development
GBR    Kerr, John    Deputy Chairman, Scottish Power
USA    Kissinger, Henry A.    Chairman, Kissinger Associates, Inc.
USA    Kleinfeld, Klaus    Chairman and CEO, Alcoa
TUR    Koç, Mustafa    Chairman, Koç Holding A.S.
DNK    Kragh, Steffen    President and CEO, Egmont
USA    Kravis, Henry R.    Co-Chairman and Co-CEO, Kohlberg Kravis Roberts & Co.
USA    Kravis, Marie-Josée    Senior Fellow and Vice Chair, Hudson Institute
CHE    Kudelski, André    Chairman and CEO, Kudelski Group
INT    Lagarde, Christine    Managing Director, International Monetary Fund
BEL    Leysen, Thomas    Chairman of the Board of Directors, KBC Group
USA    Li, Cheng    Director, John L.Thornton China Center,The Brookings Institution
SWE    Lifvendahl, Tove    Political Editor in Chief, Svenska Dagbladet
CHN    Liu, He    Minister, Office of the Central Leading Group on Financial and Economic Affairs
PRT    Macedo, Paulo    Minister of Health
FRA    Macron, Emmanuel    Deputy Secretary General of the Presidency
ITA    Maggioni, Monica    Editor-in-Chief, Rainews24, RAI TV
GBR    Mandelson, Peter    Chairman, Global Counsel LLP
USA    McAfee, Andrew    Principal Research Scientist, Massachusetts Institute of Technology
PRT    Medeiros, Inês de    Member of Parliament, Socialist Party
GBR    Micklethwait, John    Editor-in-Chief, The Economist
GRC    Mitsotaki, Alexandra    Chair, ActionAid Hellas
ITA    Monti, Mario    Senator-for-life; President, Bocconi University
USA    Mundie, Craig J.    Senior Advisor to the CEO, Microsoft Corporation
CAN    Munroe-Blum, Heather    Professor of Medicine,, McGill University
USA    Murray, Charles A.    W.H. Brady Scholar, American Enterprise for Public Policy Research
NLD    Netherlands, H.R.H. Princess Beatrix of the
ESP    Nin Génova, Juan María    Deputy Chairman and CEO, CaixaBank
FRA    Nougayrède, Natalie    Director and Executive Editor, Le Monde
DNK    Olesen, Søren-Peter    Professor; Member of the Board of Directors, The Carlsberg Foundation
FIN    Ollila, Jorma    Chairman, Royal Dutch Shell, plc; Chairman, Outokumpu Plc
TUR    Oran, Umut    Deputy Chairman, Republican People's Party (CHP)
GBR    Osborne, George    Chancellor of the Exchequer
FRA    Pellerin, Fleur    State Secretary for Foreign Trade
USA    Perle, Richard N.    Resident Fellow, American Enterprise Institute
USA    Petraeus, David H.    Chairman, KKR Global Institute
CAN    Poloz, Stephen S.    Governor, Bank of Canada
INT    Rasmussen, Anders Fogh    Secretary General, NATO
DNK    Rasmussen, Jørgen Huno    Chairman of the Board of Trustees, The Lundbeck Foundation
INT    Reding, Viviane    Vice President and Commissioner for Justice,European Commission
USA    Reed, Kasim    Mayor of Atlanta
CAN    Reisman, Heather M.    Chair and CEO, Indigo Books & Music Inc.
NOR    Reiten, Eivind    Chairman, Klaveness Marine Holding AS
DEU    Röttgen, Norbert    Chairman, Foreign Affairs Committee, German Bundestag
USA    Rubin, Robert E.    Co-Chair, Council For'n Rel'ns; Former Secretary of the Treasury
USA    Rumer, Eugene    Senior Associate and Director, Russia Carnegie Endowment for Intnl Peace
NOR    Rynning-Tønnesen, Christian    President and CEO, Statkraft AS
NLD    Samsom, Diederik M.    Parliamentary Leader PvdA (Labour Party)
GBR    Sawers, John    Chief, Secret Intelligence Service
NLD    Scheffer, Paul J.    Author; Professor of European Studies, Tilburg University
NLD    Schippers, Edith    Minister of Health, Welfare and Sport
USA   Schmidt, Eric E.    Executive Chairman, Google Inc.
AUT    Scholten, Rudolf    CEO, Oesterreichische Kontrollbank AG
USA    Shih, Clara    CEO and Founder, Hearsay Social
FIN    Siilasmaa, Risto K.    Chairman of the Board of Directors and Interim CEO, Nokia Corporation
ESP    Spain, H.M. the Queen of
USA    Spence, A. Michael    Professor of Economics, New York University
FIN    Stadigh, Kari    President and CEO, Sampo plc
USA   Summers, Lawrence H.    Charles W. Eliot University Professor, Harvard University
IRL    Sutherland, Peter D.    Chairman, Goldman Sachs International;
SWE   Svanberg, Carl-Henric    Chairman, Volvo AB and BP plc
TUR    Taftal?, A. Ümit    Member of the Board, Suna and Inan Kiraç Foundation
USA    Thiel, Peter A.    President, Thiel Capital
DNK    Topsøe, Henrik    Chairman, Haldor Topsøe A/S
GRC    Tsoukalis, Loukas    President, Hellenic Foundation for European and Foreign Policy
NOR    Ulltveit-Moe, Jens    Founder and CEO, Umoe AS
INT    Üzümcü, Ahmet    Director-General, Organisation for the Prohibition of Chemical Weapons
CHE    Vasella, Daniel L.    Honorary Chairman, Novartis International
FIN    Wahlroos, Björn    Chairman, Sampo plc
SWE    Wallenberg, Jacob    Chairman, Investor AB
SWE    Wallenberg, Marcus    Chairman of the Board of Directors, Skandinaviska Enskilda Banken AB
USA    Warsh, Kevin M.    Distinguished Visiting Fellow and Lecturer, Stanford University
GBR    Wolf, Martin H.    Chief Economics Commentator, The Financial Times
USA    Wolfensohn, James D.    Chairman and CEO, Wolfensohn and Company
NLD    Zalm, Gerrit    Chairman of the Managing Board, ABN-AMRO Bank N.V.
GRC    Zanias, George    Chairman of the Board, National Bank of Greece
USA    Zoellick, Robert B.    Chairman, The Goldman Sachs Group
And, broken down by country of origin:
Oddly, not many Russians in there…
---
The Truth About Macron
---
Brigitte Macron, Emmanuel's Wife: 5 Fast Facts You Need to Know
---
Bloomberg Politics
Web Chatter Analysts: Macron's Lead May Not Be as Secure as Polls Say
by
and
31. März 2017, 06:00 MESZ
Online sentiment suggests Le Pen, Fillon may be advancing

Polls make independent centrist Macron clear front-runner
Ian Bremmer Says Le Pen Can Really Win and Cause Crisis
The French election campaign may have a few more surprises up its sleeve.
While independent centrist Emmanuel Macron has been favorite to become the country's next president since his Republican rival Francois Fillon was sideswiped by a financial scandal in January, two firms analyzing online chatter are suggesting his position may not be as secure as pollsters indicate.
Canadian firm Filteris says that Fillon might yet deliver a shock by eclipsing Macron in the race to join the nationalist Marine Le Pen in the presidential runoff on May 7, even though the Bloomberg Composite of French election polls shows Macron with a six-point lead. Filteris, based outside Quebec City, tracks online comments and hashtags to gauge support for candidates instead of interviewing potential voters like traditional pollsters.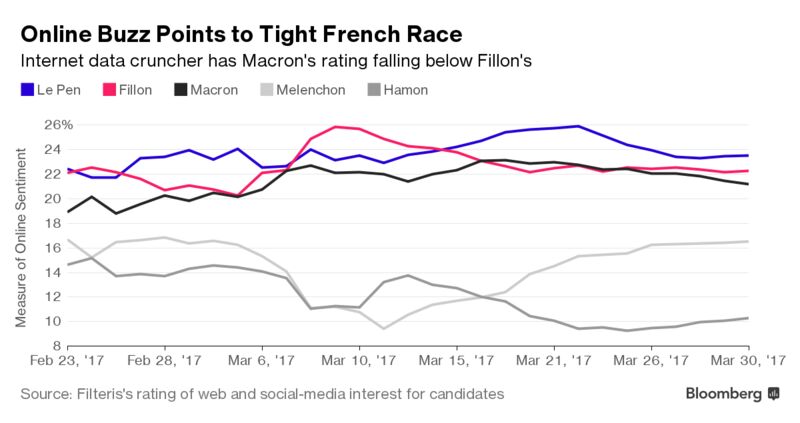 "Through data, then with qualitative filters, we look at the buzz, the talk around a candidate, measuring the balance between positive and negative buzz," said Jerome Coutard, the founder of Filteris which says it counts U.K. drugmaker GlaxoSmithKline Plc and the French defense ministry among its clients. "We use a scientific expertise to provide a political analysis."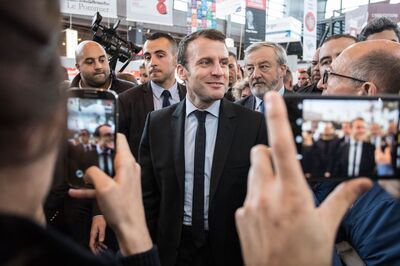 New York-based Predata used a similar technique to anticipate the outcome of last year's Brexit vote, though it also projected victories for Hillary Clintonin the U.S. election and Matteo Renzi in Italy's referendum on constitutional reform. Predata says polls may be overstating Macron's strength and both Fillon and Le Pen are gaining momentum.
Euro Exit Risk
This year's contest is shaping as the most open since France began directly electing its presidents half a century ago. Fillon already beat the national favorite Alain Juppe to claim the Republicans' nomination and polls show five candidates set for more than 10 percent in the first round on April 23 with a big chunk of voters still undecided.
Since Le Pen is pledging to lead France out of the euro if she wins, investors are tracking each twist of the campaign, wary of the sort of political surprises that saw Donald Trump win the U.S. election and the U.K. vote to quit the European Union.
Polls suggest another shock is unlikely in France. While Le Pen is neck-and-neck with Macron for the first round of voting, she's projected to lose the runoff to either of her rivals by about 20 points. Bookmakers give her 24 percent chance of victory. They have Fillon at 16 percent.
Fillon's closest aides Bruno Retailleau, Jerome Chartier and Valerie Boyer say the polls, and the bookies, are wrong. And they point to Filteris data to prove it.
Filteris is a privately held firm that works primarily on helping companies manage their reputations online. In 2007, it branched out with an app to measure sentiment for political candidates. Filteris says its analysis flagged up both Trump's presidential win and Fillon's success in his party's primaries in November.
Fillon Strength
Filteris's scan of social-media and web chatter was showing Fillon's rating at over 22 percent Thursday, ahead of Macron who has fallen to 21.2 percent from a mid-March high of about 23 percent. Le Pen is still leading with 23.5 percent, according to Filteris data.
The company doesn't disclose details of its algorithm or the number of comments it's crunching, but says its tracker is based on "qualitative and quantitative analysis" of web sentiment. It doesn't use representative samples and other usual polling techniques.
Companies like Filteris and Predata are seeing demand for their analysis because of the perceived shortcomings of traditional polling, said Jeremie Mani, co-head of Netino, which reviews and removes improper web content for clients including Danone SA and Le Figaro newspaper. All the same, it's difficult to know how much weight to give to these new tools because they are so opaque, he adds.
"This is not polling 2.0, they are like black boxes," Mani said. "There's no way to verify what's in the algorithm."
All the same, dig a little deeper into the polling numbers, and you'll find more evidence that Macron may still be vulnerable. His support is the softest among the top three contenders, with just 62 percent saying they are certain to back him in Ifop's rolling daily poll. Eighty-three percent of Le Pen's supporters said they are sure of their choice and 72 percent of those backing Fillon.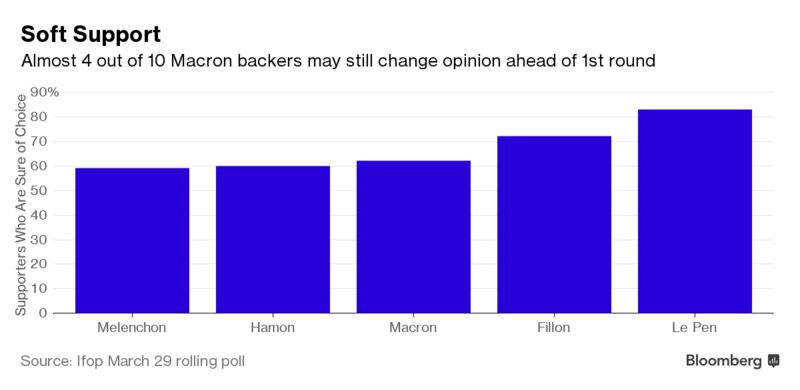 Filteris saw far-left candidate Jean-Luc Melenchon overtake his Socialist rival Benoit Hamon on March 16. The crossover showed up in polls around March 21.
Predata's director of research, Aaron Timms, says that its historical data records are too thin to provide any firm predictions for the French elections. He says Predata's 'digital momentum' indexes should be seen as a supplement to polling data.
Predata's indexes show Le Pen's momentum at more than 75 percent compared with less than 50 percent two weeks ago. Macron is at about 55 percent compared with over 60 percent at the start of the month, while Fillon is around 50 percent. He was at minus 25 percent in early March after admitting he faced criminal charges for embezzlement.
"Le Pen, Fillon, and Hamon may gain support over the coming week, largely at the expense of Macron," Timms said. "Polling support for Macron may be overstated."