Published time: 10 May, 2017 23:57
A children's clinic in Stockholm is being investigated after giving parents dubious information about vaccines and advising homeopathy, leaving their young patients at risk of developing potentially life-threatening diseases, local media report.
The Allvis clinic in the Sodermalm district, which practices alternative medicine, allegedly advised parents to wait before vaccinating their child against measles, mumps and rubella, claiming that having the diseases can help along their child's development.
At a briefing attended by a reporter from the newspaper Dagens Nyheter (DN) in May, one staff member told a father asking about measles: "In the Western world you don't die from childhood diseases." The staffer added that these diseases can "have a positive impact on their [the children's] personal development."
Measles is one of the leading causes of childhood deaths according to the World Health Organization. In 2015, it killed 134,200 people, with most victims under five years old.
"Now we hear of how a children's health center spreads fake news on vaccinations, which makes us very concerned. Child health services have a mission and it is important that they follow the existing guidelines," Stockholm health official Anna Starbrink told TT on Tuesday.
In Sweden, children over 18 months are routinely given shots against measles, mumps and rubella. Although Swedish parents have the right to refuse vaccinations, in Stockholm, 95.6 percent of children are vaccinated. But among those attending the Allvis clinic, only 44.2 percent of two year olds have had shots administered.
Doctors at the clinic allegedly recommended homeopathic medicines over vaccines.
"We have several child care centers that are bad and we recently had a measles outbreak in Jarvafaltet. If the vaccination rate is low, it can just as easily happen in Sodermalm," Starbrink told BN.
Depending on the outcome of the investigation, the clinic may have its license revoked.
"I've taken the initiative to start an investigation. If you're going to run a children's clinic for Stockholm County Council you have to follow our guidelines. If you don't do that, it's possible to end the agreement," Starbrink added, according to The Local.
---
'Papa throws a bomb and goes to jail': Belgian textbook for migrants comes under fire
Published time: 10 May, 2017 20:49
A textbook aimed at teaching French to newly-arrived immigrants has stirred controversy in Belgium after it was found to contain references to bomb-throwing and imprisonment, local media reports.
"Papa throws a bomb and goes to jail", "He threw a bomb and goes to prison" and "He shows me his bomb in prison" were among the sentences used to help teach word pronunciation in an Erasmus textbook used in the Anderlecht municipality of Belgium. The texts were spotted by Catherine Lemaire, a local woman currently hosting an Iraqi refugee.
"Are we really aware that these educational materials are being offered by the host country for inclusivity?" she asked the TV channel RTBF.
Raad, the Iraqi refugee staying with Lemaire, who at first didn't know what the words meant, was upset when he finally found out.
"When I was translated the sentence, I was surprised," he said. "I did not like those words because we suffered a lot in Iraq, bombs, car bombs. I don't know what to say and I'm really sad."
Read more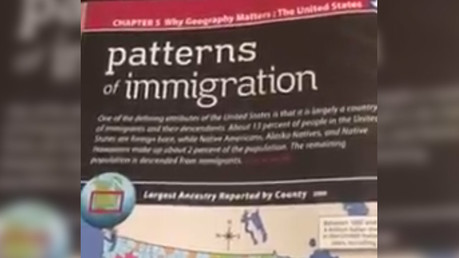 African slaves 'workers'? Description in Texas schoolbook creates uproar, publisher rewriting
The book, written three years ago, is part of the curriculum for a Level 2 literacy course taught as part of the Erasmus Social Promotion course.
Bernard Delecluse, the director of the Erasmus Center in Anderlecht, told RTBF he was "shocked and surprised" and admitted the "mistake."
Delecluse said he'd contacted the teaching staff to find out who was responsible, but did not want the entire team of 40 professors, who work with 2,500 students, to be blamed.
"As a director I have 40 teachers. It is impossible to redo the syllabus every year and check the educational materials from everyone here," he explained.
But, he added, "the effort will be made anyway so that this kind of thing does not appear any longer".
Education minister Isabelle Simonis said she was "shocked to learn the existence of the words expressed in this teaching manual" and called for an investigation.
"There are a multitude of sentences in the French language that would have done just as well," she said.
---
'Follow the money': Viktor Bout on US motives & politics driving his case (EXCLUSIVE)
Published time: 11 May, 2017 01:29Edited time: 11 May, 2017 05:02
Dubbed 'the merchant of death' in the West, Russian businessman Viktor Bout, sentenced to a quarter-century prison term in the US, has shared his thoughts on Washington's broken criminal justice system and political motives behind his case in an exclusive interview with RT.
Bout, the Russian owner of an international air transport company, is currently serving a 25-year jail term at a Penitentiary in Marion, Illinois. He was arrested in Thailand in 2008 in a sting operation by Drug Enforcement Administration (DEA) agents.
It took more than two and a half years to extradite Bout to the US, where in 2012, he was eventually convicted of conspiring to kill American citizens by allegedly selling weapons to the Revolutionary Armed Forces of Colombia (FARC).
In addition to slapping a quarter century prison term on Bout, US district judge Shira Scheindlin also ordered a $15 million forfeiture.
Having already spent nine years behind bars, Bout, 50, has expressed little hope, "Follow the money, as they say here," he said.
Bout says the DEA agents came up with a "perfect embezzlement scheme" to compensate for his costs to the US justice system.
"Look how much money they spent on me and where this money has gone," the Russian inmate noted.
Last year, Judge Scheindlin described her ruling to be "excessive and inappropriate," noting that there was no evidence that Bout would have committed any crime if he was not targeted by the sting operation.
"They reeled this guy in. They offered him a lot of money…," Scheindlin said in an interview last year with the New York Times. "I gave the lowest sentence I could possibly give."
Commenting on Scheindlin's revelations, Bout noted that "it's another sign of the broken, so-called criminal system," which he called an "industrial prison complex."
"It is not a criminal justice system," Bout told RT, joking that "they can indict a ham sandwich in this country," where the judges are "rubber stamping anything the government brings to them."
Bout's sentencing came after the US government portrayed "the merchant of death" as one of the world's worst villains, capable of empowering dictators in war-torn countries by supplying weapons that they could turn on their own people.
"They can demonize anybody starting from me, who's a nobody, just because they need to spend money on something. They have other geopolitical tasks, like to demonize Russia, Putin or even Trump," Bout noted.
In April, the Supreme Court rejected his defense team's appeal to review Bout's case. His lawyers claimed in the appeal that prosecutors had concealed evidence that could have affected the initial court ruling.
The Kremlin has repeatedly condemned Bout's sentence, calling the court's decision political and groundless.
Bout says he doesn't hope that his case will somehow get influenced by the Donald Trump administration, noting that the new US president "flip-flopped 180 degrees back" on many of his promises made during the election campaign.
"He tried to drain the swamp, but it looks like he drowned himself in that same swamp," Bout said.