Americans' debt level reached a record high this year, surpassing the peak touched just as the worst of the recession was taking hold in 2008, and marking a milestone for households that now lean less on mortgages and more on auto and student loans.
Total U.S. household debt was $12.73 trillion at the end of the first quarter of 2017, up $473 billion from a year ago, according to a Federal Reserve Bank of New York survey released on Wednesday.
Total indebtedness is now 14 percent above the 2013 trough of household deleveraging brought on by the 2007-2009 financial crisis and Great Recession. The previous peak, in the third quarter of 2008, was $12.68 trillion, and the New York Fed stressed that the pull-back since then marked an "aberration" from what had been a 63-year upward trend in household debt.
The quarterly survey on household debt and credit showed that overall delinquency rates were roughly flat at 4.8 percent. While balances have steadily shifted to more credit-worthy borrowers, New York Fed economists raised some concern over the 11 percent of student loan debt that was "seriously delinquent" at the end of March.
"This record debt level is neither a reason to celebrate nor a cause for alarm," Donghoon Lee, a research officer at the New York Fed, said in the report. "Auto loan and credit card delinquency flows are now trending upwards, and those for student loans remain stubbornly high."
The survey showed lenders tightened borrowing standards for home and auto loans, a sign of their increased caution.
Mortgage debt of $8.63 trillion, while up $258 billion from a year ago, represents a much smaller share of overall indebtedness than during the crisis.
Taking up the slack has been student loans, which rose $83 billion in a year to $1.34 trillion at the end of the first quarter, as well as auto loans, which rose by $96 billion to $1.17 trillion, the survey said.
The shifts in borrowers come after a slow and uneven recovery from recession in which the economy has grown at a roughly 2 percent pace, less than previous decades. In a nod to falling unemployment and stable inflation, the Fed has raised interest rates twice since December and plans further hikes this year.
Yet while the survey painted a rosy picture of delinquency rates generally heading lower, especially on mortgages and credit cards, the trend among student loans deteriorated from 2004 to 2014 "and has remained stubbornly high since then," New York Fed economists wrote in a blog.
Last month, New York Fed President William Dudley, among the most influential rate-setters at the U.S. central bank, warned that rising student loan debt could ultimately hurt overall home ownership and consumer spending.
(Reporting by Jonathan Spicer; Editing by Chizu Nomiyama)
————————————————————————————————————————————————————————————————————————————————————————————
NATO returning to 'historic role as war fighting command' to counter Russia – top US general
Published time: 4 May, 2017 06:10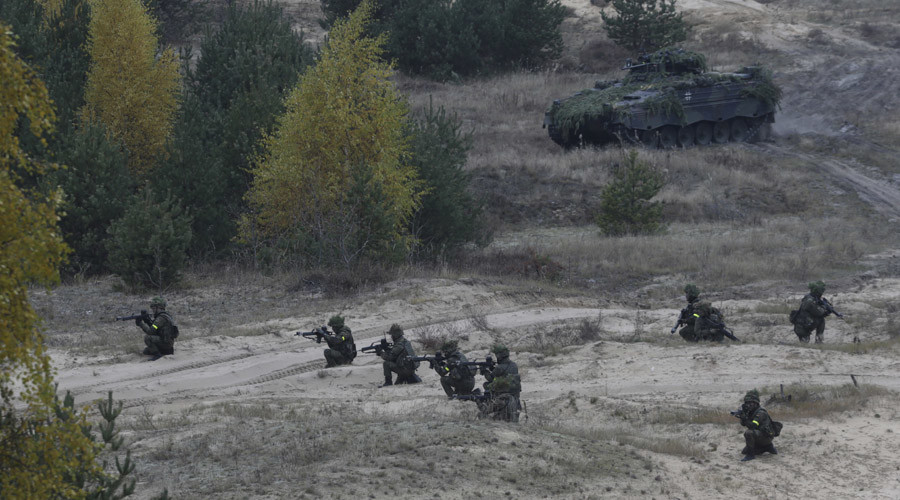 The commander of NATO and US forces in Europe has called for yet more armored vehicles and troops to be deployed on the continent to counter what he calls "a resurgent Russia."
Testifying before a Senate appropriations subcommittee on Tuesday, General Curtis M. Scaparrotti, head of United States European Command (EUCOM) – in charge of all US forces in Europe, as well as NATO's Supreme Allied Commander – accused Russia of threatening regional and global security.
"Today we face the most dynamic European strategic environment in recent history," he said in his testimony. "In the east, a resurgent Russia had turned from partner to antagonist as it seeks to undermine the Western-led international order and reassert itself as a global power."
"Accordingly, we are adjusting our plans, our posture, our readiness to remain relevant to combat the threats we face," he added. "In short, we are returning to our historic role as a war fighting command."
Two American combat brigades are permanently stationed in Europe: the 2nd Cavalry Regiment in Germany and the 173rd Airborne in Italy, which make up around 10,000 of the 60,000-strong American troop presence in Europe. Scaparrotti says more troops are needed – specifically more armored and infantry divisions to counter Russia's western flank, as well "enablers" like engineers, aviation and fire support staff for the European Reassurance Initiative.
"Russia's posture is not a light force, it's a heavy force," he continued.
"In order to have the posture that is both credible and of the right composition, we need more armored forces… to make sure that we do have a force of enough size that enables us to deter Russia."
"Five or six years ago, we weren't concerned about being ready [to fight] today," Scaparrotti added. "That has changed."
During the Senate hearing, Scaparrotti also called for more funding to improve local capabilities for infrastructure capable of moving and housing troops.
The European Reassurance Initiative was launched in 2014 in the wake of the political crisis in Ukraine and the perceived Russian intervention there, leading to the most vocal members of NATO – Poland and the Baltic states – claiming that they would be Moscow's next target. This prompted leading members of the alliance to agree on troop deployments. In March, 800 British soldiers began arriving in Estonia, while Germany sent troops and tanks to Lithuania. Earlier in April, 1,350 NATO soldiers arrived in northeastern Poland in line with the planned buildup.
READ MORE: Risk of nuclear weapons use at all-time high since Cold War – UN study
Russia has consistently criticized the NATO buildup on its doorstep, describing it as a threat to regional security.
"We deplore that deployment, for it raises tensions in Europe along the border between NATO and Russia. Russia doesn't pose any threat to Estonia nor any other NATO member state," Russian Ambassador to the UK Alexander Yakovenko recently told the Daily Mail.
---