Independent
Thom Yorke has said the criticism is 'disrespectful', 'patronising' and 'upsetting'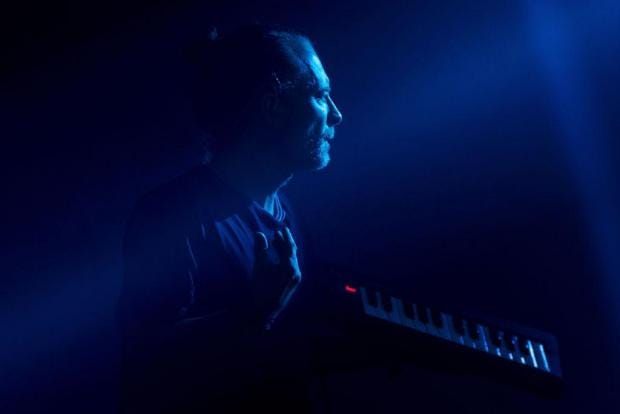 Radiohead were reportedly met with shouts of "free Palestine" during their headline slot at Glastonbury.
Protestors were apparently waving Palestinian flags in front of the Pyramid Stage as the band performed, while a banner read: "Israel is an apartheid state. Radiohead, don't play there," according to Jewish News.
The demonstrations would have been sparked by controversy over Radiohead's forthcoming show in Tel Aviv on 19 July.
Critics have urged the band to cancel the show as part of a widespread music boycott until Palestinians are granted the "right of return" and Israel's West Bank barrier is dismantled.
High profile artists from around the world, including director Ken Loach, actors Maxine Peake and Juliet Stephenson, and Roger Waters, signed an open letter calling on the band to reconsider the show.
Addressing the criticism in a recent interview with Rolling Stone, frontman Thom Yorke said the controversy had been "extremely upsetting" and said he was just one of several prolific figures who did not agree with the cultural ban, alongside J.K Rowling, Noam Chomsky and others.
"It's deeply disrespectful to assume that we're either being misinformed or that we're so retarded we can't make these decisions ourselves," he said.
"I thought it was patronising in the extreme. It's offensive and I just can't understand why going to play a rock show or going to lecture at a university [is a problem to them]."
Yorke also asked critics to consider how upsetting the controversy was for guitarist Jonny Greenwood, who "has both Palestinian and Israeli friends and a wife who's an Arab Jew".
"All these people to stand there at a distance throwing stuff at us, waving flags, saying: 'You don't know anything about it!' Imagine how offensive that is for Jonny," he said.
"Just to throw the word 'apartheid' around and think that's enough. It's f***ing weird. It's such an extraordinary waste of energy. Energy that could be used in a more positive way."
Make sure you stay up to date with the latest Glastonbury coverage here. Read our reporter Jack Shepherd's review of Radiohead's set here 
---
French Jew dresses as jihadist for Purim

Man arrives at synagogue wearing long North African robes, carrying a fake Kalashnikov and crying 'Allahu akbar'
ed note–like Sarah Silverman's infamous 'comedy' skit where she put a dog between her legs and simulated having sex with it, likewise, this is what you get from these people. Dozens of victims are lying in the morgue in the aftermath of the bombings in Brussels, and what is the Judaic reaction to it? –'Hey, let's make a joke out of it'.
Now, if it were Halloween or some other festive event, and some Gentile somewhere dressed up as Hitler, Himmler, or even Titus, the Roman general responsible for the destruction of Jerusalem in 70 A.D., everyone knows what the reaction would be to THAT.
Times of Israel
A 40-year-old Jewish man tempted fate by walking into a Paris synagogue dressed as a jihadist, carrying a fake rifle and shouting "Allahu Akbar," a police source said Friday.
For the soldiers guarding the Chabad Lubavitch synagogue in Vincennes in southeastern Paris it came as "a surprise," was the deadpan verdict of the police source.
The incident happened on Thursday evening when members of the synagogue were celebrating the festival of Purim, during which followers often dress up in costumes and give each other presents.
The source said the man arrived wearing long North African robes, carrying a fake Kalashnikov and crying "Allahu akbar," Arabic for "God is greatest."
"It created a certain emotion among the soldiers," the source said.
The initial shock passed quickly when members of the synagogue realized they knew the man, and that it was only a joke.
He was nonetheless ordered to present himself at his local police station on Friday.
Soldiers have been posted outside many Jewish buildings and other sensitive locations around France in the wake of deadly jihadist attacks last year.
Purim celebrates a story from Hebrew scripture in which the Jews of the Persian empire were rescued from annihilation. Every year, Jews celebrate by giving each other presents and wearing costumes.
Share this:
---
EXCLUSIVE: Israeli Colonel Leading ISIL Terrorists Captured in Iraq
Sourced from Fars News Agency, Tehran
Identical report available on Syrianfreepressnetwork
We have no idea if this story is true or not. Readers are invited to make up their own minds. It has been sent to us by a reliable correspondent, however,  who vouches for its authenticity. If true, this story proves beyond any shadow of doubt that Israel is behind the most sinister and bloodthirsty terrorist organization in the world, known variously as ISIS, ISIL, Islamic State (IS), or Daesh. ( LD) 
Israeli Colonel Yusi Shahak of the Golani Brigade,
captured in Iraq by Iraqi forces along with several other ISIL terrorists
TEHRAN (FNA)- Iraqi security and popular forces have caught an Israeli colonel from Golani Brigade along with a number of ISIL terrorists, a commander disclosed on Thursday."The security and popular forces have held captive an Israeli colonel," a commander of Iraq's popular mobilization forces said on Thursday.
"The Zionist officer is ranked colonel and had participated in the Takfiri ISIL group's terrorist operations," he added.
Noting that he was arrested along with a number of ISIL terrorists, the commander said, "The Israeli colonel's name is Yusi Oulen Shahak and is ranked colonel in Golani Brigade of the Zionist regime's army with the security and military code of Re34356578765az231434."
He said that the relevant bodies are now interrogating the Israeli colonel to understand the reasons behind his fighting alongside the ISIL forces and the presence of other Zionist officers among ISIL terrorists.
The Iraqi security forces said the captured colonel has already made shocking confessions.
Several ISIL militants arrested in the last one year had already confessed that Israeli agents from Mossad and other Israeli espionage and intelligence bodies were present in the first wave of ISIL attacks on Iraq and capture of Mosul in Summer 2014, but no ranking Israeli agent had been arrested.
Political and military experts told FNA that the capture of the Israeli colonel will leave a grave impact on Iraq's war strategy, including partnership with Israeli allies.
In a relevant development in July, Iraqi volunteer forces announced that they had shot down a drone that was spying on the Arab country's security forces in the city of Fallujah, Western Iraq.
Iraq's popular forces reported that they had brought down a hostile surveillance aircraft over the Southeastern Fallujah in Anbar Province.
They said that the wreckage of the ISIL's spy drone carried 'Israel-Made' labels. This was not the first Israeli-made drone downed in Iraq. In August an Israeli Hermes drone was shot down in the vicinity of Baghdad Airport.
Could THIS man
have anything interesting to teach us about ISIS
and its secret agenda?