Published time: 8 Jul, 2017 13:59Edited time: 8 Jul, 2017 17:39
The Donald Trump seen on television is different from the one in real life, Russian President Vladimir Putin said at the G20 summit, adding that after his meeting with the US leader in Hamburg, he felt like relations between the two countries could at least partially be restored.
"As for personal relations, I think that they are established," Putin said of his Friday meeting with Trump.
"The Trump we see on TV is very much different from the real person."
"I think that if we continue building our relations like during our conversation yesterday, there are grounds to believe that we'll be able to – at least partially – restore the level of cooperation that we need," Putin said.
Putin said that the issue of alleged Russian meddling in the US election was addressed by Trump during their conversation.
Putin reiterated that there is no reason to believe that Russia meddled in the US electoral process in 2016.
"He [Trump] asked many questions on that subject. I answered those questions as best I could. I think he took it into consideration and agreed with me, but you should really ask him how he feels about it," the Russian president said.
Regarding cybersecurity, the Russian leader said that he and Trump "agreed that there should never be a situation of uncertainty, especially in the future, in this sphere."
"The US president and I agreed that we'll create a working group and work together on how to jointly monitor security in cyberspace, how to ensure unconditional compliance with international legal norms, and how to prevent interference in internal affairs of foreign countries," Putin said.
"If we manage to organize this work – and I have no reasons to doubt that – then there will be no more speculation on this topic [of Russia meddling]," he added.
Speaking on the allegations of Moscow's interference in the affairs of foreign countries, Putin blamed the foreign media for doing exactly that in Russia.
"If you analyze the German, French and European media, in general – they're the ones who are constantly meddling in our internal affairs. But we feel confident and it doesn't bother us," he explained.
The situation in Syria was also addressed during the press conference, with Putin saying the new US administration had a "more pragmatic" stance on the issue.
"I think the [US] position became more pragmatic. It doesn't seem to have changed drastically [compared to the Obama administration], but there's an understanding that we can achieve a lot by joining forces," he said.
This approach by Washington made possible the agreement on the southern de-escalation zone in Syria, which was "one of the breakthroughs" during Friday's talks with Trump, the Russian president added.
Putin stressed the importance of the de-escalation zones for maintaining the territorial integrity of the Syrian state after the conflict.
The de-escalations zones "should become a prototype of such territories, which would be able to cooperate with each other and with the official [government in] Damascus," he explained.
The Russian president addressed comments by US Secretary of State Rex Tillerson and other Washington officials, who insisted that the Syrian conflict would be not be solved while President Bashar Assad remains in power.
"Mr Tillerson is a very respected person and the bearer of a Russian order. He has been decorated with the Order of Friendship. We love and respect him. But he's not a Syrian citizen, after all, and the future of Syria and the political future of President Assad should only be determined by the Syrian people," he said.
It's a positive development that Putin and Trump have achieved "some kind of personal chemistry," Martin Summers, journalist and political commentator, told RT.
Summers added, however, that it is still to be seen if the US president can persuade his administration to start mending ties with Moscow.
"It is to be hoped that it is possible that relations could be improved because obviously they have been in a pretty poor state up to now. I think the problem for the Russian side and for everybody really is how much Trump is in charge of his own administration. Because it is quite clear that the CIA, the Pentagon and so on are often wrong-footing Trump moves. And therefore there is some question about whether he can deliver whatever he discussed with Vladimir Putin," he said.
---
Qatar's rejection of Arab states' ultimatum & denial of terrorism financing 'shockingly naive' – UAE
Published time: 9 Jul, 2017 01:51Edited time: 9 Jul, 2017 05:06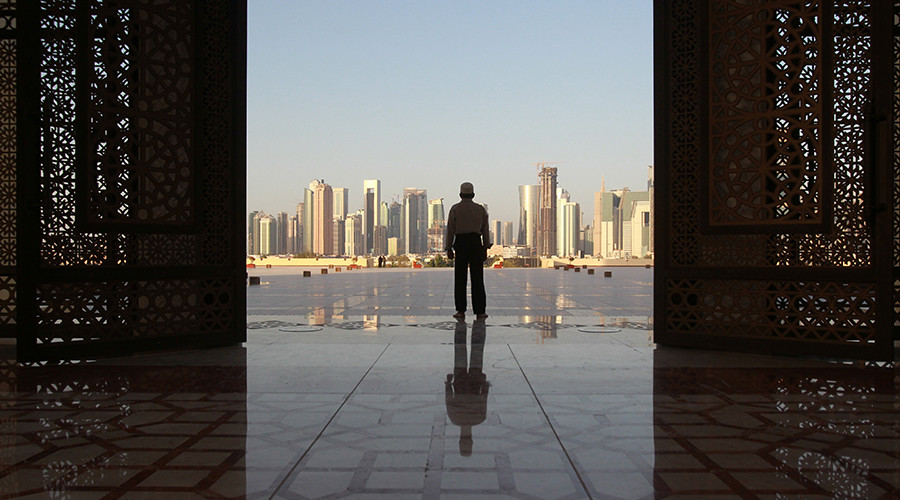 Accusations by the Arab quartet which imposed a blockade against Qatar over the monarchy's alleged support of terrorism are baseless defamation, the country's foreign ministry said. The UAE termed Doha's arguments weak and shockingly naive.
"The State of Qatar's position on terrorism is consistent and known for its rejection and condemnation of all forms of terrorism whatever the causes and motives are," the country Foreign Ministry said in a statement attributed to a senior Foreign Ministry source.
"Claims about the State of Qatar's interference in internal affairs of countries and financing terrorism are baseless allegations," the source stressed, adding, that Doha actively supports anti-terrorist efforts in the region which the "international community attests to."
The Foreign Ministry's strong-worded communication added that joint statements by Saudi Arabia, Egypt, the United Arab Emirates and Bahrain after Qatar's refusal to honor the list of 13 demands are regrettable and "amount to defamation in contradiction with the established foundations of international relations."
Doha also expressed its readiness to "cooperate and review all claims that do not contradict the sovereignty of the State of Qatar."
On Thursday, the four states engaged in the major diplomatic confrontation with Qatar, promised to impose additional "political, economic and legal measures" on Doha for its alleged support of terrorism. The announcement came a day after Qatar rejected the ultimatum which, among other demands, included severing ties with Iran, stopping aid for the Muslim Brotherhood and other groups, and shutting down its Al Jazeera global TV network.
READ MORE: Pentagon reaffirms 'strategic security partnership' & mutual interests with 'terrorist funder' Qatar
In a series of Arabic tweets late Friday, Anwar Mohammad Gargash, the UAE Minister of State for Foreign Affairs said the four Arab nations were "shocked" that Doha refused to bow to their demands.
READ MORE: Qatar 'open' to German intel in effort to clear up Arab states' accusations
"Those who followed Qatar's response to the demands were shocked by Qatar's denials and how it dealt carelessly with genuine concerns over the evils that have undermined security and stability and led to a real crisis," the Minister said on Twitter, adding, that Doha's arguments were "weak" and "shockingly naive."
لن ينجح أي جهد دبلوماسي أو وساطة خيِّرة دون عقلانية ونضج وواقعية من الدوحة، الإختباء خلف مفردات السيادة والإنكار يطيل الأزمة ولا يقصرها.
"No diplomatic efforts will succeed if Doha does not act reasonably… hiding behind the words of sovereignty and denial will only extend the Qatar crisis," the minister said as quoted by Gulf News.
Despite threats from the Arab quartet, petroleum and gas-rich Qatar remains defiant and confident that it can survive the isolation, especially after receiving assurances of support from Turkey and Iran.
'From stable to negative': Moody's changed Qatar's credit rating due to diplomatic & economic blockade http://on.rt.com/8h1g 

Moody's downgrades Qatar rating outlook as crisis deepens — RT Business

The Moody's rating agency has changed its outlook on Qatar's credit rating from stable to negative due to political anxiety ahead of the meeting between the Arab states who initiated a diplomatic and…

rt.com
"We have sovereign wealth funds of 250 percent of gross domestic product, we have Qatar Central Bank reserves, and we have a ministry of finance strategic reserve," the country's finance minister Ali Sharif al-Emadi told The Times, after his country rejected the list of demands.
"We are the fastest-growing country in the region, 40 per cent faster than the nearest Persian Gulf Co-operation Council country [the UAE]," al-Emadi said. "Bahrain and Egypt, they are at junk bond level… If you look at Saudi Arabia, they are having genuine issues with their finances."
Qatar to boost gas output regardless of Gulf diplomatic row https://on.rt.com/8gyi 

Qatar to boost gas output regardless of Gulf diplomatic row — RT Business

The world's largest liquefied natural gas (LNG) exporter Qatar plans to increase production by 30 percent over the next few years despite the country's diplomatic spat with the Gulf Arab nations,…

rt.com
The Turkish President, Recep Tayyip Erdogan spoke out against the sanctions on Doha Saturday, urging the Arab countries to apply "all diplomatic tools to resolve the Qatar crisis."
"As I mentioned before, there won't be any winners in the brothers' fight," Erdogan said in Hamburg, Germany at the end of the G20 summit.
With no imminent resolution to the diplomatic and economic standoff, the US and the UK are rushing to the region to help solve the crisis.
UK's Foreign Secretary is already in the Persian Gulf where he met with the Saudis Friday. Boris Johnson is already in Kuwait – currently serving as mediators – and will soon travel to Doha to aid the mediation efforts.
"The Gulf's security is our security." FS @BorisJohnson arrives in Saudi Arabia to discuss regional tensions

 http://ow.ly/qP4w30drE3X 
"The Foreign Secretary is urging all parties to get behind Kuwait's mediation efforts and work towards de-escalation and Gulf unity for the sake of regional stability," the UK Foreign office said in a statement.
Next week, US Secretary of State Rex Tillerson is also expected to travel to Kuwait to further push for a resolution to the rapidly escalating crisis.