Published time: 12 Jul, 2017 04:47Edited time: 12 Jul, 2017 05:20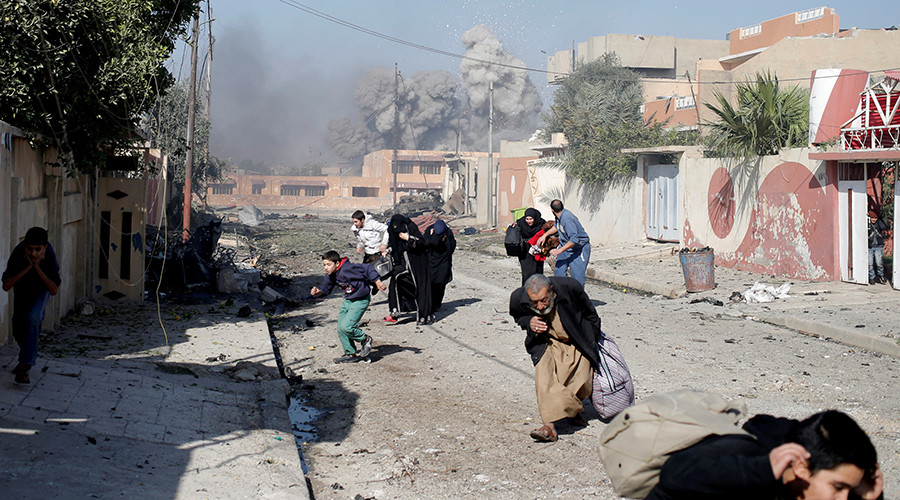 Iraq and the US-led coalition failed to create the conditions for an organized withdrawal of people from Mosul, which might have led to increased number of casualties during the operation against Islamic State, Russian Foreign Minister Sergey Lavrov has said.
READ MORE: 'Trying to give civilians justice': Artist captures brutality of Mosul in poignant drawings
"In case of Mosul, no conditions were created to allow civilians leave in an organized way. It was all chaotic, spontaneous. Obviously, when it happens in such an unexpected manner, it adds inconvenience and, probably, causes an increased number of victims," Lavrov told the journalists after an informal OSCE ministerial meeting in Mauerbach, Austria on Tuesday.
On Monday, Iraqi Prime Minister Haider Abadi officially declared that Mosul, which has been Islamic State's (IS, formerly ISIS/ISIL) de facto capital in Iraq for the last three years, has been fully liberated from the terrorists.
However, the eight-month-long operation, which the Iraqi forces carried out with the support of the US-led coalition's aviation and Special Forces, has left most of the city in ruins, leading to thousands of civilian casualties and around a million people internally displaced.
READ MORE: Iraqi PM congratulates military on 'victory' over ISIS in Mosul
"Of course, we are glad that the IS will suffer defeat, but, the price for victory against terrorism will be high in any case," Lavrov said.
On Tuesday, Amnesty International issued a damning report, which slammed the US-led coalition in Mosul for misplaced and excessive airstrikes, urging it to publicly admit its failure to protect civilian lives.
Earlier, the UN's humanitarian coordinator in Iraq, Lise Grande, said that over 8,000 civilians have been killed or wounded in Mosul, while 915,000 residents were forced to flee.
Of Mosul's 44 residential neighborhoods, six have been nearly completely destroyed, 22 were moderately damaged, and 16 lightly damaged, Grande said.
Lavrov has pointed out the apparent hypocrisy of the mainstream media coverage of Mosul, comparing it to the coverage of the liberation of Syria's Aleppo during the Syrian government's Russian-backed anti-terrorist operation. Even though special corridors were created to allow civilians and militants leave, the operation to liberation the eastern part of Aleppo was severely criticized.
"There was hysteria due to civilians allegedly suffering the most. There was hysteria because the Syrian Army and us, together with our partners from Turkey and Iran, organized corridors for the withdrawal of civilians from eastern Aleppo and withdrawal of militants, who were ready to do so. We were accused of ethnic cleansing," Lavrov said.
"However, now the fact that many residents are returning to Aleppo escapes our Western colleagues. They prefer to turn a blind eye to it," he added.
The Western media had also claimed that the Syrian-Russian humanitarian cargo contained "neither medicine nor medical equipment," which was later refuted by evidence from the ground.
"After East Aleppo was liberated [in December 2016] the representatives of the World Health Organization (WHO) visited that part of the city and discovered huge supply of those drugs and everything that's needed to take care of one's health," Russia's top diplomat stressed.
Lavrov said that Moscow officially addressed the UN for explanations on why WHO as the body, which is responsible for humanitarian issues, was unaware of the real situation with medical supplies in East Aleppo and did nothing to stop the media misinformation.
There has so far been no reply from the UN so far, but Moscow "will be pushing for explanations," Lavrov said.
The UN has meanwhile urged the liberators of Mosul to provide security to the civilian population of the city and assure their human rights, Farhan Haq, deputy spokesman for UN Secretary-General, told RT.
"On the one hand we're certainly pleased that they [Islamic State] are no longer in control of the city. But, at the same time, we want to make sure that all of the forces that have helped liberate the city of Mosul in recent days, including the Iraqi security forces and any of their allies, will make sure that civilians are protected and that the rule of law is respected," Haq said.
READ MORE: What we see in Raqqa is no attempt to protect civilians – Vanessa Beeley
The restoration of law in Mosul is of prime importance as "people of that city haven't had any real way of having their rights respected" during years of IS rule, he stressed.
Despite the Iraqi PM announcing the full liberation of Mosul, Haq said that "there may still be fighting in different pockets of the city. We want to make sure that the civilian population is safe; that they have access to water; that their rights will be respected."
---
'Europe's darkest hours': Soros spokesman bashes Orban's anti-migration campaign billboards
Published time: 11 Jul, 2017 17:13
A spokesman for George Soros has slammed campaign billboards and television ads from Hungarian Prime Minister Viktor Orban's party that feature a picture of the billionaire financier, saying they are "reminiscent of Europe's darkest hours."
The billboards and ads from Prime Minister Viktor Orban's party campaign feature a smiling Soros with the words "Don't let Soros have the last laugh."
Soros – a Hungarian-born Jew who emigrated to the US and UK after World War II and made a fortune – has long been a vocal critic of Orban's right-wing policies and supports open-borders for Europe.
Some of Orban's campaign billboards have been vandalized with graffiti reading "stinking Jew."
Read more
Israel backs Hungary's anti-Soros campaign, saying financier 'continually undermines Jewish State'
Michael Vachon, a spokesperson for Soros, has called the campaign"anti-European," saying it misrepresents the billionaire's views on migration.
"Last week the Fidesz-led government launched a nationwide billboard and television advertising campaign reminiscent of Europe's darkest hours," Vachon said, as quoted by Reuters.
"The Hungarian regime's xenophobia and demonization of refugees are anti-European," he said.
His comments come just days after Human Rights Watch (HRW) campaigner Lydia Gall stated that the billboards evoke memories of Nazi posters during the Second World War showing 'The Laughing Jew.'
Meanwhile, Orban's campaign has also been criticized by Jewish groups, including the Federation of Hungarian Jewish Congregations (Mazsihisz), which has called on the Hungarian prime minister to end it.
"This campaign, while not openly anti-Semitic, clearly has the potential to ignite uncontrolled emotions, including anti-Semitism," the federation said last week, as quoted by Reuters.
Orban quickly responded in a letter posted by state news agency MTI on Friday, saying it was his duty to protect Hungarians – including the country's some 100,000 Jews – from illegal migration.
"The person who uses his wealth, power, influence and a network of non-governmental organizations (NGOs) funded by him to settle millions of migrants in Hungary and the European Union puts our future in jeopardy," Orban wrote.
"The billionaire speculator George Soros has made it quite clear repeatedly that this is precisely what he wants to do," he said.
However, Vachon called this conclusion a "fantasy" on Tuesday.
"Soros's actual position on migration is that the international community should provide more support to the developing countries that today host 89 percent of refugees and that Europe should accept several hundred thousand fully screened refugees through an orderly process of vetting and resettlement," he said.
Orban has long proclaimed zero-tolerance for anti-Semitism and accused his opponents of playing the "anti-Semitism card." His government maintains that the campaign ads have nothing to do with Soros' heritage.
"The campaign has nothing to do with the heritage of George Soros or anyone else," government spokesman Zoltan Kovacs said last week, adding that Orban had met with Jewish organizations on Thursday to reaffirm this fact.
Orban has often found himself in the spotlight for his views and actions, many of which are disapproved of by the officials of other EU member states.
He butted heads with fellow European leaders during the refugee crisis after fortifying his country's southern border with a barbed wire fence. He has also rejected a quota scheme to distribute asylum seekers among EU countries that would force Hungary to take in more refugees.
Orban, who is seeking a third consecutive term as prime minister, will face re-election in 2018.