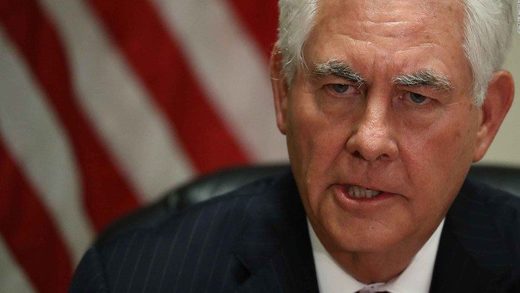 On July 19th the US State Department released its annual report, Country Reports on Terrorism 2016. (pdf here)
The seven-page section "Israel, the West Bank and Gaza, and Jerusalem" is extremely Israel-centric. It is written almost entirely from an Israeli point of view and much of its information comes from Israel. It does not discuss Israeli military terrorism and largely fails to report Israel's systemic oppression of Palestinians.
For example, it describes Israel's barrier as a "fence" even though many portions consist of a towering concrete wall with guard towers built on Palestinian land. It fails to mention that numerous Palestinian homes are being destroyed and prime agricultural confiscated in its construction.
The barrier is planned to be four times as long and in places twice as high as the Berlin Wall. More info here.
The report ignores the fact that the Israeli occupation of Palestinian land and creation of Jewish-only settlements is illegal under international law.
The report terms Palestinian groups resisting Israel's illegal actions "terrorist organizations," despite the fact that resistance is a legally recognized right. It fails to report that Palestinians have killed far fewer civilians than have Israeli forces. (In 2016 at least 115 Palestinians and 12 Israelis were killed by someone from the other side, including 36 Palestinian children and one Israeli child – the names and details are here.)
The report omits the regular invasions of the West Bank and Gaza by Israeli forces who terrorize the population nightly, beating and imprisoning dozens of people every week, frequently stealing and destroying personal property.
Israel partisans condemn the report
Despite these and other similar omissions, some pro-Israel groups and individuals have vociferously condemned the report, largely on the basis of two sentences near the end.
On the last page of the section the report states:
"Continued drivers of violence included a lack of hope in achieving Palestinian statehood, Israeli settlement construction in the West Bank, settler violence against Palestinians in the West Bank, the perception that the Israeli government was changing the status quo on the Haram Al Sharif/Temple Mount, and IDF tactics that the Palestinians considered overly aggressive.

"The PA has taken significant steps during President Abbas' tenure (2005 to date) to ensure that official institutions in the West Bank under its control do not create or disseminate content that incites violence."
B'nai B'rith International issued a statement saying: "It is astonishing that State is parroting the false Palestinian narrative. If it were not released by the State Department, it would be easy to mistake the inflammatory and accusatory language as coming directly from the Palestinians."
The Zionist Organization of America blasted the report and demanded that Secretary of State Rex Tillerson resign.
Comment: Israelis really do have the thinnest skin. "Astonishing!" "Inflammatory!" "Inconceivable!"
ZOA President Morton A. Klein and Elizabeth Berney, Esq. issued a "monograph" calling the report "bigoted, biased, anti-Semitic, Israel-hating error-ridden."
Comment: If there's one benefit to the self-inflicted destruction of left politics, it's that Israel's shameless identity politics and fake victim mentality just become more obvious. "Everyone that disagrees with me is a racist!" No, you're just a renegade, apartheid nation. And practically everyone knows it.
The monograph also condemned what it claimed were "false and exaggerated claims of Israeli 'settler' violence against Palestinian Arabs, based on fabrications by the Soros-funded discredited anti-Israel NGO Yesh Din and the UN."
The report had stated that suspected Israeli settlers had conducted two arson attacks on homes of relatives of the Dawabsheh family, whose house had been set on fire by settlers in 2015 that "resulted in the deaths of three Palestinians."
The deaths were of an 18-month-old and his parents. Israeli media reported that Orthodox Jewish wedding-goers celebrated the killing, one of the dancers repeatedly stabbing a photo of the 18-month-old victim (video here).
Comment: And it's also getting much harder to obscure the fact that Jewish settlers are as fanatic and barbaric as their radical Muslim brethren.
In his monograph Klein praised Illinois Congressman Peter Roskam, co-chair of the Republican Israel caucus and one of Israel's most dependable cheerleaders, for writing a letter to Tillerson, asking the Secretary to correct the report's alleged "numerous mischaracterizations."
Klein had opposed Tillerson from the beginning, saying: "In general, people who have led oil companies are not that friendly to Israel. That concerns me."
Klein's concerns were shared by others, as reported by the Forward article "Trump's Pick of Exxon's Rex Tillerson as Secretary of State Spooks Jewish Groups."
The article reported that the groups "voiced general suspicion of oil executives, who they said often have longstanding relationships with Arab leaders, and are generally not attuned to Israeli interests."
'More anti-Israel than Obama'
A number of reports accuse Tillerson of being harder on Israel than Obama was.
Adam Eliyahu Berkowitz, who immigrated to Israel and lives in the Golan Heights, writes in Breaking Israel News that the new report used " language even more anti-Israel than was used in last year's report."
Comment: With any luck, there's more where that came from. Israeli squatters will just have to deal with it.
Jordan Schachtel, who previously worked for The Israel Project, reports in Conservative Review: "Rex Tillerson's State Department added blistering anti-Israel language to this year's 'Country Reports on Terrorism,' adopting a tone not seen even during the hostile Obama era."
Comment: Overreaction much? A nation of snowflakes.
According to Schachtel: "Last year's report under Obama said the Palestinians argued that terrorism is sometimes caused by frustration over 'occupation.' But that report was much less accusatory because it makes clear that the position is reflecting the views of Palestinian officials, and not the U.S. government."
An earlier article by Schachtel complained that "The secretary of state has been perhaps the most hostile Trump cabinet member to the Jewish state."
Schachtel reported that during a conversation with reporters, Tillerson had "refused to recognize that the holiest site in Jerusalem is part of Israel. The Western Wall is 'in Jerusalem,' Tillerson told reporters, stating the obvious geographic fact, but refusing to note Israel's sovereignty over it."
In point of fact, Jerusalem is not part of Israel. The State Department issued this statement:
"Since 1948, every administration has taken the official position that no state has sovereignty over the city of Jerusalem. The status of Jerusalem is an issue that should be resolved in final status negotiations between the Israelis and Palestinians," a State Department official told Conservative Review last week."
Schachtel writes that Tillerson is "part of a contingent that is advising President Trump not to move the American embassy in Israel from Tel Aviv to Jerusalem."
Trump national security adviser H.R. McMaster had also refused to answer questions about Jerusalem, commenting, "That's a policy decision." Press Secretary Sean Spicer would also not say that Jerusalem's Western Wall is in Israel. (Spicer has since resigned, and McMaster may also be on his way out.)
In an IsraelNationalNews column "The Jews did not start this, Mr. Tillerson," New York-based author Jack Engelhard writes: "President Trump needs to have a talk with Rex Tillerson. Tillerson's State Department has issued a report that blames Israel for…EVERYTHING.
"Nobody saw that coming. Well I sure didn't. Love Trump. Tillerson, not so much, even from the start."
Engelhard complains that the problem goes beyond the State Department: The World Council of Churches feels the same way as the State Dept… likewise the UN…and the EU…and the NY Times…and the entire media apparatus…here, there, everywhere. They say the Temple Mount flare-up is also our fault. They say everything is our fault.
"There are days when the entire world cares about nothing besides the Palestinian Arabs."
Engelhard, who is a recipient of the Ben Hecht Award for Literary Excellence, continues: "Are the Jews happy? Silly question. Nobody talks about that and nobody cares. We are on our own."
(Engelhard is the author of the bestselling novel and Hollywood movie Indecent Proposal.)
Comment: That's ridiculous. Nobody cares about official Israel. (As if nobody talks about or cares about Jews as a whole! What's this guy smoking?) Start behaving like adults, and that might change.
Tillerson has also been less hostile to Iran than Israel hardliners would like, certifying that Iran is complying with the 2015 nuclear deal. AIPAC has endorsed harsher treatment of Iran, which has long been seen as a threat to Israel.
There are indications that some White House and Congressional insiders are attacking Tillerson over these stances and of his retention of Obama officials in the State Department.
According to an anonymous source quoted by Adam Kredo in the pro-Israel Washington Free Beacon: "Some really good people have tried to clean house, but every time anything got going Tillerson went to the president personally to protect the Obama holdovers."
Recent news reports suggest that Tillerson may be on his way out for these and other actions.
Alison Weir is executive director of If Americans Knew, president of the Council for the National Interest, and author of Against Our Better Judgment: The Hidden History of How the U.S. Was Used to Create Israel.
——————————————————————————————————————————————————————————————————————————————————————
Extrajudicial killing in broad daylight, Hebron, March 2016
---
Diverse groups push for 'Anti-Semitism Envoy' who monitors criticism of Israel
By Alison Weir
The Trump administration has failed to appoint an antisemitism monitor or staff the State Department's antisemitism monitoring office, drawing fire from diverse groups that range from the Anti-Defamation League (ADL) and Israel lobbying organizations to Think Progress and the Southern Poverty Law Center.
But the State Department Office to Monitor and Combat Anti-Semitism, and the "antisemitism envoy" who heads it, haven't just been keeping tabs on anti-Jewish bigotry around the world. In reality, they have been monitoring international pro-Palestinian activism and promoting a crackdown on such activism in various countries.
Congress created the antisemitism monitoring office and envoy in 2004. Since then, the office has adopted a definition of antisemitism that includes many forms of criticism of Israel and it has pushed for that definition to be used worldwide to crack down on criticism of Israel. (Read more about who else has adopted the definition and how it is being used to curtail criticism of Israel and pro-Palestinian activism.)
Allan C. Brownfeld of the American Council for Judaism is disturbed by this trend, commenting: "The redefinition of antisemitism to mean criticism of Israel is clearly an effort to end freedom of speech and discussion when it comes to Israel and its policies. It has nothing to do with real antisemitism, which this effort trivializes and which, fortunately, is in retreat."*
In 2015 Brownfeld wrote "What they seek to silence are criticisms of Israeli policies and efforts to call attention to them through such things as campaigns for academic boycotts or BDS. Whether one agrees with such campaigns or not, they are legitimate criticisms of a foreign government and of U.S. aid to that government. Only by changing the meaning of words entirely can this be called 'antisemitism.'"
The organization Palestine Legal has similarly objected to the new definition, pointing out that the redefinition of antisemitism allows "virtually any criticism of Israel to be labeled as antisemitic." It states: "The effect of blurring antisemitism with criticism of Israel is to censor speech. It aims to silence those who wish to criticize Israel's well-documented human rights violations by making it unacceptable and taboo to do so. It silences the everyday observer of Israel's actions who may wish to comment and draw parallels with other experiences, or do anything at all to oppose it."
Meanwhile, the antisemitism envoy position has proved a revolving door to Israel lobbying organizations and activities.
State Department Antisemitism Office Monitors Criticism of Israel
The monitoring office's 2016 report on global antisemitism included monitoring of pro-Palestinian activism. Below are a few quotes from the report:
♦ "50 Palestinian students protested and boycotted a conference presentation by an Israeli professor who was a guest speaker at the Eastern Mediterranean University (EMU). Approximately 50 Palestinian students opened banners during the conference reading, 'Free Palestine,' 'Terrorist Israel,' and held photos of suffering Palestinian children."
♦ "Following the September 28 death of former Israeli president Shimon Peres, the FPDC [Palestinian Federation of Chile] labeled him a 'war criminal' on its official Twitter account."
♦ "activists of the Boycott, Divestment, and Sanctions (BDS) movement against Israel, spilled red paint on the facade of the restaurant and posted signs reading: 'Free Palestine,' 'Avillez collaborates with Zionist occupation,' and 'Entree: A dose of white phosphorus.' The attack followed picketing opposite the restaurant by BDS activists…"
In addition, the report cited statements that connected Israeli actions to all Jewish people, reporting, for example, that some Kuwaiti columnists "often conflated Israeli government actions or views with those of Jews more broadly," and "Swedish Jews were at times blamed for Israeli policies." While it is incorrect and unfair to associate Israeli actions with all Jewish people, the report entirely omitted reference to the many Israeli leaders and pro-Israel organizations who promote this view, claiming that Israel represents all the world's Jewish people.
There were additional questionable listings of alleged antisemitism related to Israel, for example: "the RT channel's June 27 airing of Palestinian allegations [by Palestinian Authority head Mahmoud Abbas in an address to the European Parliament] that an Israeli rabbi approved the poisoning of Palestinian wells." Reporting allegations made by national leaders is what news media do, particularly when there is a context supporting the allegations. There is a documented record of Israeli settlers and, longer ago, the early Israeli military contaminating Palestinian water supply, cisterns, and wells, and of some extremist Israeli rabbis approving – and even calling for – the killing of civilians of all ages.**
Antisemitism Office Promotes Crackdown on Palestine Activism
When Congress created the antisemitism monitoring office and envoy in 2004, the legislation included criticism of Israel among the "antisemitism" to monitor (although that inclusion was buried and not obvious in a quick read of the main legislation).
At that time, the State Department declared publicly that such an office was unnecessary and would be a "bureaucratic nuisance" that would actually hinder the Department's ongoing work against antisemitism. A State Department press release opposing the new office described the many actions the department was already taking against antisemitism.
After the office was in place, the conflation of criticism of Israel with antisemitism grew incrementally, until it became part of the office's official definition.
The first antisemitism envoy, Gregg Rickman, endorsed an Israel-centric definition originally proposed by an Israeli government minister and disseminated by Israel partisans in Europe. After his term of office, Rickman went to work for the pro-Israel lobbying organization AIPAC (the American Israel Public Affairs Committee).
The second antisemitism envoy, Hannah Rosenthal, officially adopted the new Israel-centric definition in 2010, making it "the State Department definition." She then pushed through a training program about antisemitism for U.S. diplomats that used what she called the new "breakthrough definition."
After she left the envoy position, Rosenthal headed up the Jewish Federation of Milwaukee, where she worked on numerous activities supporting Israel, including promoting a Stand with Israel event (see her promotional video for the event here and below).
The next envoy, Ira Foreman, also worked for AIPAC, and was instrumental in spreading the new Israel-centric definition to other nations. Indeed, Forman declared that "the United States pushed for a global definition of antisemitism" and that this "changed the global discourse on the issue" during an Anti-Defamation League press conference.
Pressure to Staff Antisemitism Monitoring Office
The administration has indicated it may not fill these positions as part of budget cutting; out of 13 Special Envoy positions in the State Department, 8 are currently vacant (there is no Special Envoy to monitor and combat other forms of racism, for example against African Americans)***. Trump's failure to fill the antisemitism positions has provoked an escalating bipartisan outcry by Congressional representatives and advocacy groups, amplified by certain media coverage and commentary.
Among those pushing for Trump to fill the office are the Anti-Defamation League, the American Jewish Committee, various pro-Israel groups, diverse Congressional representatives supportive of Israel, and, more mildly, the liberal organizations Think Progress and the Southern Poverty Law Center.
♦ The Anti-Defamation League has long used an Israel-centric definition of antisemitism and is known for hardcore Israel advocacy that leans heavily towards blind promotion of the most extremist right-wing elements of Israel's government. It has created a petition demanding that Trump fill the envoy position. Former ADL director Abe Foxman said: "The special Ambassador to combat antisemitism at the State Department is one of those things that 'make America great.'"
♦ The American Jewish Committee says it engages in "pro-Israel advocacy at the highest levels." It has also called for Trump to name an envoy and has created its own petition.
♦ Think Progress, a progressive organization close to the Democratic Party, featured an articlecritical of the failure to fill the post, announcing: "Attacks targeting Jews are at a record high at home, but the State Department doesn't think special monitoring abroad is necessary."
♦ The Southern Poverty Law Center then featured the Think Progress article about the State Department "abandoning the office" in its "Hate Watch Headlines." The SPLC is often revered for its important work to oppose bigotry and hate, but it has praised Israel and been criticized for equating anti-zionism with antisemitism. Furthermore, its over $300 million operation has sometimes been brought into question as a cash cow that benefits from finding "hate" where it might not actually exist.
The various advocates, as well as the Think Progress article, have cited an Anti-Defamation League report that antisemitism is on the rise, and fast. On the face of it, this certainly should be disturbing to anyone who supports equality and human rights. However, a number of groupshave questioned the ADL report, and an ADL official admits that it is "not a scientific study." The ADL report does not include a spreadsheet of the incidents it has included for independent researchers to examine, and it is unknown how many of the incidents may have been actually pro-Palestinian activism, but we do know that the "rise" included 2,000 hoax threats made by a young Jewish Israeli reportedly suffering from mental problems.
♦ Members of the House of Representatives' Bipartisan Task Force Against Anti-Semitism initiated a letter in March calling on Trump to fill the position, another bipartisan letter was sent in June, and Democratic Senator Ben Cardin implored Trump to fill the "critical" position. Legislation was introduced into both the Senate and the House that would elevate the envoy position to ambassadorial level and would require even more detailed reporting than it is already doing.
♦ Most recently, Katrina Lantos Swett, whose father Congressman Tom Lantos sponsored the legislation that created the position, sent a letter to Tillerson outraged that there hasn't been "great eagerness to move swiftly to fill this post." The Daily Caller reports her view that the special envoy is the "tip of the sword' to focus on and combat antisemitism on a global scale."
On June 26 the ADL organized a conference call with the media in which former envoys Hannah Rosenthal and Ira Forman called on Trump to fill the position, saying that "the envoy's working definition of antisemitism helped U.S. personnel in foreign countries determine what is and is not antisemitism" — in other words, clarifying to them that they must consider various forms of criticism of Israel as antisemitism.
Rosenthal told NBC News: "This is another example of America losing its leadership role in the world."
In arguing for the office, ADL head Jonathan Greenblatt pointed out: "These dedicated diplomats drove an exponential growth in U.S. reporting on antisemitism and mobilized a full arsenal of U.S. diplomatic tools and training."
Prognosis
The next tactic may be for Congress to vote to fund the office. Since Israel lobby bills usually easily pass, often with overwhelmingly positive votes (most recently, 98-2), this will quite likely go through. The Religious Action Center of Reform Judaism already has a petition telling Congress to "Fully Fund State Department Office for Monitoring and Combating Anti-Semitism."
Both Forman and Rosenthal say they expect Congress to fund the envoy's office in the coming budget, and expect this will succeed in pushing Trump to appoint someone to the post.
Unfortunately, given Trump's failure to failure to reign in bigotry and antisemitism among some of his supporters, it may be unlikely that the new envoy will turn a focused attention to real cases of anti-Jewish bigotry. In fact, given Middle East advisor and son-in-law Jared Kushner's support for rightwing Israeli settlers, as well as the Islamophobia embraced by elements of the Trump circle, the Trump administration could well move the office even more in the direction of suppressing support for Palestinian rights and criticism of Israel.
Meanwhile, on July 3rd alone, Israeli authorities forced a Palestinian family to demolish its own home, Israeli forces rounded up 18 Palestinians in predawn raids, prisoners in Israel's notorious Ktziot prison faced life-threatening conditions (40 percent of Palestinian males have cycled through Israeli prisons), and the Israeli military invaded and bulldozed land in Gaza. A typical day in Palestine. But don't let the special envoy hear you say that.
---
Alison Weir is executive director of If Americans Knew, president of the Council for the National Interest, and author of Against Our Better Judgment: The Hidden History of How the U.S. Was Used to Create Israel. Additional citations and information on this topic are in her recent report and timeline: "International campaign is criminalizing criticism of Israel as 'antisemitism'".
* Allan C. Brownfeld, Publications Editor of the American Council for Judaism, provided the comment below for inclusion in discussing the expanded definition of antisemitism:
The meaning of the term "anti/Semitism" has undergone dramatic change in recent years.  It used to refer to hostility to Jews and Judaism.  It has been redefined by some to mean criticism of Israel. In recent days, establishment Jewish organizations from the Anti-Defamation League (ADL) to the Simon Wiesenthal Center have called the BDS movement "anti-Semitic"—despite the fact that it is supported by groups such as Jewish Voice for Peace and such international groups as Jews for Palestinian Right of Return and the Israeli activist organization Boycott from Within.

The effort to redefine anti-Semitism as criticism of Israel has been going on for more than  four decades.  In 1974, Benjamin Epstein, the national director of the ADL co-authored "The New Anti-Semitism," a book whose argument was repeated in 1982 by his successor at ADL, Nathan Perlmutter, in a book entitled "The Real Anti-Semitism In America."  After World War II, Epstein argued, guilt over the Holocaust kept anti-Semitism at bay, but as memories of the Holocaust faded, anti-Semitism had returned—this time in the form of hostility to Israel.  The reason:  Israel represented Jewish power.  Jews  are tolerable, acceptable in their particularity, only as victims," wrote Epstein and  his ADL colleague Arnold Forster, "and when their situation changed so that they are either no longer victims, or appear not to be,the non-Jewish world finds this so hard to take that the effort is begun to render them victims anew."

Jewish critics of Israel are as likely to be denounced as "anti-Semites" as non-Jews. For example, columnist Caroline Glick, writing in the International Jerusalem Post (Dec. 23-39, 2011) found New York Times columnist Thomas Friedman guilty of employing "traditional anti-Semitic slurs"  and "of channeling long-standing anti-Semitic charges."  In a February 2012 Commentary article, Ben Cohen writes that, "The list of flagrant Jew-baiters  is growing;  those with Jewish names provide an additional frisson."  Among those he names are M.J. Rosenberg, a former employee of AIPAC. Mondoweiss editor Philip Weiss, New Yorker correspondent Seymour Hersh, and Time Magazine columnist Joe Klein.

The redefinition of anti-Semitism to mean criticism of Israel is clearly an effort to end freedom of speech and discussion when it comes to Israel and its policies. It has nothing to do with real anti-Semitism, which this effort  trivializes and which, fortunately, is in retreat.
** Abbas later apologized for and retracted his allegation that the rabbi had approved contaminating wells, which numerous media had compared to Medieval "blood libels" of Jews. The Western media and the antisemitism report did not mention the extensive evidence that Israeli settlers have contaminated wells and that the state of Israel did the same during the conquest of Palestine. The suggestion that evidence of human rights violations cannot be discussed if similar accusations have been unfairly made against other people at another time in history enables current violations to continue.
*** State Department Special Envoys (as of June 30, 2017)
mote a "Walk for Israel" event in Millwaukee in May, 2017 . The event was to celebrate the creation of Israel, "the world's first Jewish state in 2,000 years."
RELATED ARTICLE: International campaign is criminalizing criticism of Israel as 'antisemitism'