Published time: 29 Jul, 2017 21:05
Violence, alcohol abuse and reports of rape have become a daily routine for people in and around an illegal migrant camp in the town of Metz in north-eastern France, where "a second Calais" is said to be emerging.
Reports of appalling living conditions have been emanating from Metz, where hundreds of migrants have set up camp. Although the illegal site has been dismantled several times, more people arrive and start it all up again.
"The city of Metz was not prepared for the camp. The authorities emptied it, but now there are 700 refugees back there again. It's becoming a second Calais," a concerned local woman told RT's Charlotte Dubenskij.
"This problem has to be addressed quickly, for their sake as well as for us," another local woman said.
Even aid workers don't feel safe at the camp which has been dubbed a "humanitarian slum."
"There is a problem with alcohol and violence. Even as an aid worker, I've faced problems. They don't have food, but they manage to get hold of alcohol. We don't know how to handle the situation. There is not enough security for the number of people here," an aid worker at the Metz camp told RT.
Locals say the many problems at the site are being downplayed by the authorities.
"There are a lot of home break-ins. A lot of aggression. They snatch women's handbags, but no one talks about that on TV," a local taxi driver told the RT crew while driving them to the camp site. "The migrants are everywhere in Metz," he added.
Security guards at the camp interfered with RT's filming, saying they didn't "want journalists here."
"People here are hiding from those who are looking for them in their own countries," a guard claimed.
'Too many foreigners': French protesters build wall around former hotel set to become migrant shelter https://on.rt.com/8ima 

French protesters build wall around former hotel set to become migrant shelter — RT News

Angry residents in a French town have built a wall around the entrance of a former hotel which is slated to become a migrant center, accusing the government of failing to consult citizens over the…

rt.com
This week, French president Emmanuel Macron unveiled an ambitious plan to rid the country of its migrant camps and to better accommodate refugees in the coming months.
"The first battle is to house everybody in a dignified manner. By the end of the year, I want no more women and men in the streets, in the woods, lost. It's a question of dignity, a question of humanity but also of efficiency. Everywhere where the emergency housing is built to welcome them, I want administrative steps for their cases to be examined," Macron pledged at a ceremony welcoming some of France's newest citizens.
READ MORE: French police 'routinely' pepper spray innocent migrants, incl. children, in Calais – HRW
France has struggled with refugee camps for years. One of the most infamous of these, the so-called "Jungle" in the port of Calais was dismantled last year, but migrants are still reportedly arriving at the illegal site. Human Rights Watch says over 400 people are now there, but other estimates say it could be up to 600.
---
Canada jumps on bandwagon of countries mulling tougher Russia sanctions
Published time: 10 Apr, 2017 17:07Edited time: 11 Apr, 2017 12:03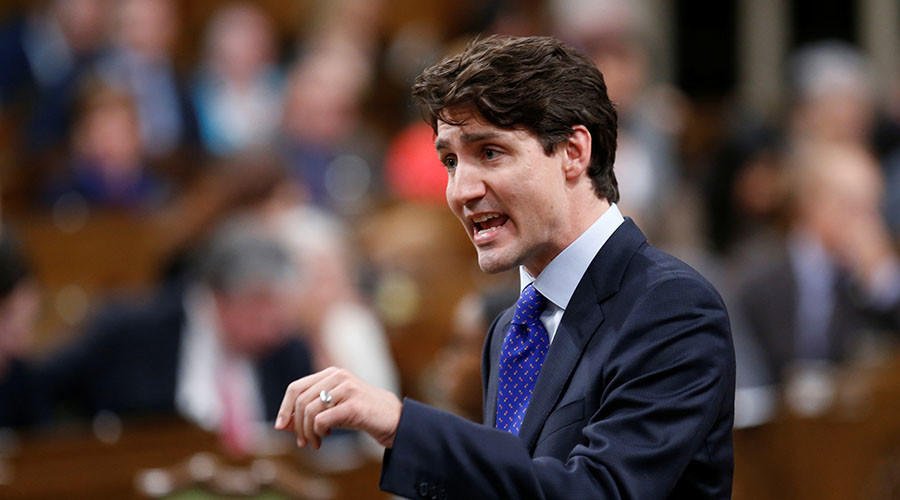 Canada's prime minister says he will consider hitting Russia with stiffer sanctions amid the Syrian crisis, after the US and UK said they were mulling the same possibility. It comes as G7 countries prepare to discuss the topic during a meeting in Italy.
Prime Minister Justin Trudeau said on Monday that he believes "Russia needs to be aware, made aware of its responsibility in the bloody actions last week by the Assad regime and therefore we are always open to working with our friends, allies and partners allies to send clear messages through sanctions and other means to Russia," as quoted by Reuters.
He went on to state that although Canada already has strict sanctions in place against Russia, his country is "always ready to strengthen those sanctions in concert with the international community."
Trudeau, speaking to reporters at a military commemoration ceremony in France, also said that Canada fully supported US missile strikes on a Syrian airbase which killed 14 people – including nine civilians – last week.
The US missile strikes came after a chemical attack in Syria killed 86 people, including dozens of women and children. The US and its Western allies have placed the blame on the Syrian government, despite not presenting any evidence to prove Damascus was behind the deadly attack.
Meanwhile, Russia's Ministry of Defense (MoD) says the chemicals were released after the Syrian Air Force destroyed a rebel-held warehouse where such weapons were being produced and stockpiled before being shipped to Iraq. The MoD has confirmed that information as "fully objective and verified."
Canada is not the first Western country to voice the possibility of more Russian sanctions following the chemical attack in Syria. Earlier on Monday, British Prime Minister Theresa May's spokesperson said the UK government is considering how to put "further pressure" on backers of the Syrian government, including Russia.
READ MORE: Syria could become US-Russian proxy war – Jeremy Corbyn
Also on Monday, British Foreign Secretary Boris Johnson said Russia must decide whether it will stick with the "toxic" Assad government or work with the rest of the G7 on a political solution in Syria.
Johnson added that the UK and fellow G7 nations – France, Germany, Italy, the US, Canada, and Japan – will be discussing the possibility of further sanctions against Syrian and Russian figures during a meeting in Lucca, Italy, this week.
"We will be discussing the possibility of further sanctions certainly on some of the Syrian military figures and indeed on some of the Russian military figures who have been involved in coordinating the Syrian military efforts," Johnson said in a television clip shown on Sky News.
On Sunday, the US envoy to the United Nations, Nikki Haley, toldCNN that President Donald Trump is also considering sanctions against both Russia and Iran.
Meanwhile, US Secretary of State Rex Tillerson also accused Russia of "failing" to "live up to its commitments under the chemical weapons agreements" in relation to the current situation in Syria.
But while the US and its allies continue to support the deadly missile strikes on the Syrian airbase despite a lack of evidence, Belgian Foreign Minister Didier Reynders has stepped up to say that Trump's decision was outside of the UN framework, and that further decisions must go through it.
Moscow has decried the US bombing of the Syrian airbase as being an "aggression against a sovereign nation" in violation of international law, stating that it was conducted "under an invented pretext."
Iran has also slammed the missile strikes, with President Hassan Rouhani stating that "all terrorists in Syria are celebrating the US attack," despite Trump claiming that he wants to fight terrorism.
The US and EU have already placed a number of economic sanctions on Russia, as punishment for its alleged role in the Ukraine conflict which led to Russia's reunification with Crimea, following a 2014 referendum. That same year, the Kremlin responded with a broad embargo on food imports from all countries which slapped Russia with sanctions.