The West claims that the Kurds are one of the most moral and dignified forces in the Middle East fighting against Daesh. But if their focus is on defeating Daesh, as they claim, why are they committing genocide against Syrians in the process? Taking this into consideration, it is hard to justify the West's persistent claim that armed Kurdish terrorist groups are trying to help Syria. The reality on the ground contradicts these empty compliments, which the West uses to save face while supporting these terrorist organizations. This false narrative was in fact used to arm the Kurds in Syria in order to create instability and division.
For separatist Kurds to claim an area that they have lived in or have liberated as being rightfully theirs defies international law and logic.
The U.S. has armed the Kurds and supported their efforts since helping them establish the Syrian Democratic Forces on Oct. 10, 2015. The U.S. needed to fund a group within Syria that was fighting against Daesh, but that was not as extremist as the Free Syrian Army, which was outed as being affiliated with al-Qaeda.
Per South Front on October 1, 2017, Omid Kabar a commander of the US-backed Syrian Democratic Forces (SDF) said, at a funeral for SDF fighters who were killed in Raqqa city, that the SDF will not handover al-Tabqah town or any other area to the Syrian government.
"The regime says we will hand over our regions or al-Tabqah town to the regime's army … Our people must realize that within five years of our revolution as the People Protection Units and after our alliance with other factions in the name of Syrian Democratic Forces, we have not handed over any inch of our land… We will never hand it over. Our law is clear. The land that is watered with the blood of the martyrs belongs to the people and we will not hand them over to any force," Kabar said.
It is strange that the Kurds would be so antagonistic towards Syrians, as the country has largely been welcoming for them. For example, reforms were made in Syria in 2012 to benefit the Kurds.
"President Assad issued a decree granting Arab Syrian citizenship to people registered as foreigners in the (governorate of Hassake)," said the SANA news agency.
The measure, which benefited about 300,000 Kurds, came a week after Assad tasked a committee with "resolving the problem of the 1962 census in the governorate of Hassake."
In January 2015, SANA news reported that then-Syrian Prime Minister Dr. Wael al-Halqi said:
"the Kurds are a deeply-ingrained component of the Syrian society and Ayn al-Arab is part of Syria that is dear to the hearts of all Syrians."
Al-Halqi's affirmation came during his meeting with a Kurdish delegation which comprised Kurdish figures. He also urged all to discard violence and spread amity, reiterating that a solution to the Syrian crisis could be achieved "through national dialogue and consolidating national reconciliations," indicating that dialogue will definitely be "under the homeland's umbrella away from foreign dictates."
In 2014, The Civil Democratic Gathering of Syrian Kurds said that the steadfastness of the people of Ayn al-Arab in the face of terrorists was a form of expression of the Syrian Kurds' commitment to their affiliation to their homeland of Syria. The gathering's Higher Council of Secretaries said that the steadfastness of Ayn al-Arab was cause for admiration and that attempts to transgress against the territorial integrity of Syria were parts of a plot to cause chaos and division and undermine the resistance axis.
These are just a few examples of the Syrian government's attempts to unify all of those who live within the country's borders. But even with these actions of good faith, the SDF has chosen to side with Syria's enemies rather than work with the Syrian army.
A recent agreement – initiated and brokered by the U.S. between a Free Syrian Army (FSA) faction and the Kurdish-led SDF lays out conditions whereby U.S.-initiated negotiations would allow the FSA faction al-Muatasim Brigade to peacefully take over 11 villages in northern Syria that are controlled by the SDF. The general outlines of this unprecedented agreement were announced on May 10, stating that the U.S.-led coalition had delegated to al-Muatasim the task of being in charge of and administering the designated villages.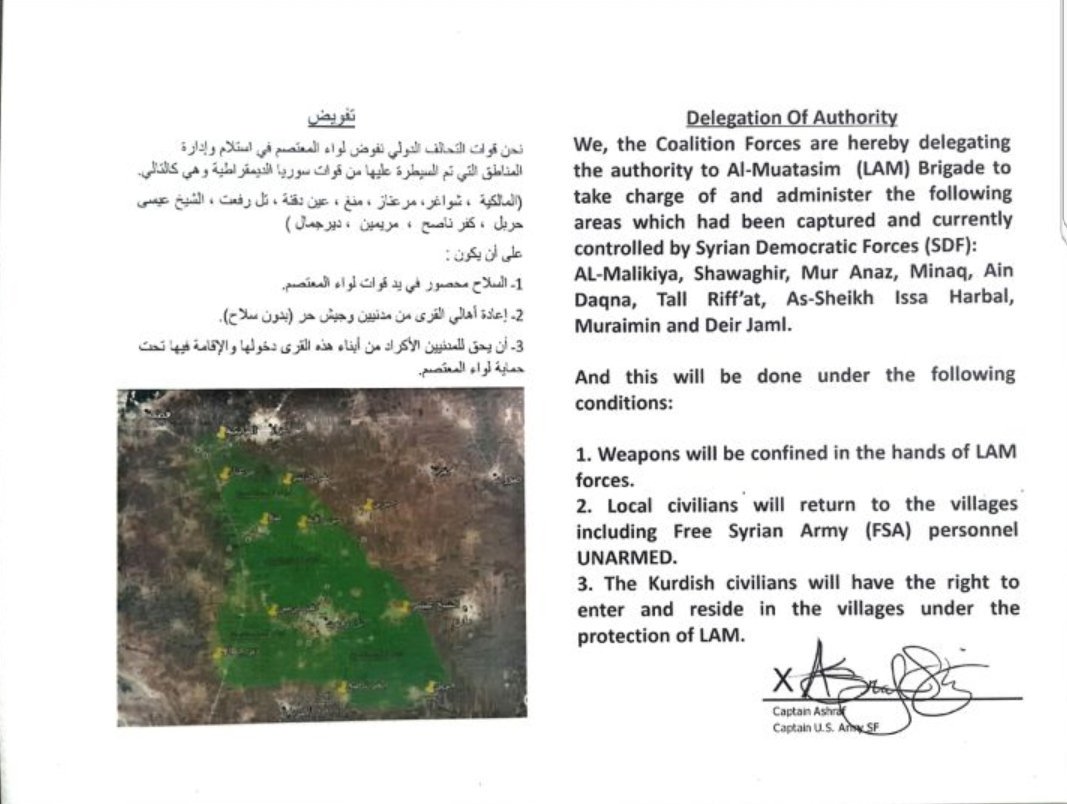 Image copied from Mustafa Sejari Twitter Credit
Al-Muatasim is known to be a strong ally of the U.S., which is why it was chosen to be in charge of the designated villages. This further proves the point that the U.S., SDF, and FSA are still working together. Their cooperation is part of an effort to counter the progress being made by the Syrian Arab Army and its allies.
The leaders of the SDF announced that they'll try to annex the majority-Arab city of Raqqa if they manage to liberate it. The Kurds are ethnically cleansing Arabs from Raqqa en masse in order to pave the way for the city's annexation to their unilaterally declared "Federation" after its forthcoming capture.
Sarah Abed is an independent journalist and political commentator. Focused on exposing the lies and propaganda in mainstream media news, as it relates to domestic and foreign policy with an emphasis on the Middle East. Contributed to various radio shows, news publications and spoken at forums. For media inquiries please email sarahabed84@gmail.com.
This article was originally published by The Rabbit Hole.
————————————————————————————————————————————————————————————————————————————————————————————————————
Ousted Brazilian President: US Intervention in Venezuela Could Spark "Civil War"
Former Brazilian President Dilma Rousseff warned Sunday that Washington's interference in Venezuela is "extremely dangerous" and could provoke an armed conflict.
Former Brazilian President Dilma Rousseff warned Sunday that Washington's interference in Venezuela is "extremely dangerous" and could provoke an armed conflict. 
"Our continent has been living in peace for 140 years. Any attempt to interfere in the legitimate constitutional process in Venezuela, including by forcing a presidential election, is extremely dangerous, as it might lead to a civil war," she said in an exclusive interview with RT in Moscow.
Rousseff was herself impeached and removed from her elected post last year in what was widely decried as a "parliamentary coup".
The Brazilian leader likewise took aim at her congress-designated successor, Michel Temer, who has moved to align Brasilia's foreign policy closely with Washington, leading the regional charge against the government in Caracas.
"The Temer government has an absolutely incorrect attitude with respect to Venezuela and it's not only the pressure from Trump and (Temer's) intention to appear submissive, but above all the fact that it accepted joint action with US troops in the Amazon," she continued, referencing a US-led military exercise set for November, in which the armed forces of 14 countries will participate.
Rousseff denounced the drills, which will involve the creation of a "multinational logistics base" in the Brazilian city of Tabatinga, as part of an "anti-democratic vision to besiege Venezuela".
Located on the border with Peru and Colombia, Tabatinga is a little over 630 kilometers south of Venezuela.
The ex-president additionally criticized US support for Venezuela's right-wing opposition, which led four months of violent anti-government mobilizations aimed at toppling the Maduro government earlier this year.
Comparing Venezuelan anti-government forces to the Syrian rebels, Rousseff said the US has "often been mistaken in regard to oppositions".
"(Washington) says: 'Those are democracy supporters'. They've said it about opposition forces in Syria too. And what has happened with that opposition? Islamic State has emerged, which has nothing to do with democracy."
Over one hundred people were killed in the unrest, including at least 14 at the hands of Venezuelan state security forces and 31 direct and indirect victims of opposition political violence.
Lastly, Rousseff condemned as an "absurd error" the decision by the right-wing governments of Argentina and Brazil to indefinitely suspend Venezuela from the Common Market of the South (MERCOSUR) on the grounds of a breach of the body's democratic clause.
She slammed the move as hypocritical, noting that a similar measure was not taken against Brazil following her ouster.
In August, MERCOSUR's parliament issued a statement backing Venezuelan sovereignty and rejecting US President Donald Trump's threats of military intervention.
At the time, former Brazilian President Luis Inacio Lula Da Silva similarly hit back at the White House, calling US military threats "inadmissible".
———————————————————————————————————————————————————————————————————————————————————————————————————
————————————————