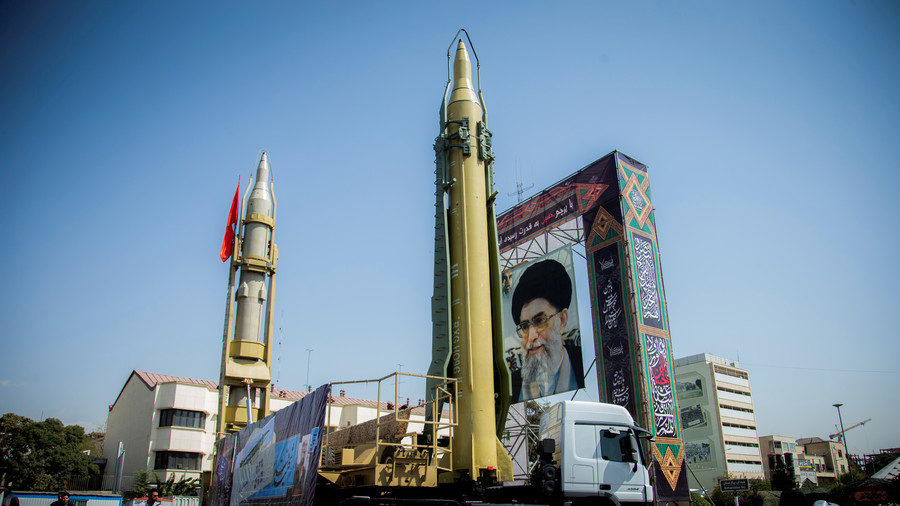 Tehran will consider negotiating over its ballistic missiles only after the US and Europe dismantle their nukes, a top Iranian military official said. Iran has repeatedly dismissed Western calls to disarm as unreasonable.
"The condition for negotiating Iran's missiles is the destruction of the nuclear weapons and long-range missiles of the United States and Europe," Iranian Armed Forces spokesman Masoud Jazayeri said on Saturday, as cited by state media.
Although agreeing to limit its nuclear energy program in exchange for the lifting of economic sanctions, Iran – which is surrounded by US military bases and war-torn failed states – has never expressed interest in negotiating over its ballistic missiles, insisting that they are a much-needed deterrent.
In February, Iranian President Hassan Rouhani stated unequivocally that: "We will negotiate with no one on our weapons." He added that Iran's missiles "are defensive and are not designed to carry weapons of mass destruction, since we don't have any."
Several weeks later, Tehran was compelled to lay out its position once again after French President Emmanuel Macron called on Iran to place its missile program under international surveillance. Iranian Foreign Ministry spokesman Bahram Qassemi dismissed Macron's remarks, saying that Iran's missile capabilities were within the framework of the country's military doctrine, which is based on a policy of defense and deterrence.
The spokesman went on to suggest that the real threat to the region stems from the United States and Europe flooding the Middle East with sophisticated weapons.
Washington and Europe have tried on numerous occasions to use the Joint Comprehensive Plan of Action (JCPOA), known colloquially as "the nuclear deal," as a springboard for forcing concessions to Iran's missile program – but to no avail.
Iran's Deputy Foreign Minister and chief nuclear negotiator Abbas Araghchi noted that Western powers must adhere to the 2015 deal before pressing Tehran to negotiate on other issues.
"Now they ask Iran to enter discussions on other issues. Our answer is clear: make the [deal] a successful experience and then we discuss other issues," Araghchi said in February.
President Donald Trump has repeatedly threatened to pull the US out of the historic agreement, describing it as "a very, very bad deal." In January, Trump said the US would withdraw from the deal unless its "terrible flaws" are fixed.
"The US is trying to pressure us into withdrawing from the nuclear deal, but we will not fall into their trap," Araghchi stated. "If the US withdraws, no country would hold negotiations with them any longer."
---
Iranian scholar banned from BBC debate at American university in Lebanon
An Iranian scholar has been banned from taking part in a BBC debate about Iran and Saudi Arabia at an American University in Lebanon.
In an interview with Press TV on Saturday, Mohammad Marandi, a professor at the University of Tehran, suggested that the decision has been politically motivated.
"I really do not know what is behind this decision but obviously the US government and the Saudi regime and other such antagonists have always been putting pressure on governments and academic institutions and as well as other institutions to toe the line. Whatever reason behind this ban I find it completely unacceptable," Professor Marandi said. " I think it discredits the American University of Beirut and it discredits the image that the United States wishes to promote about itself. Also, I believe that the BBC must refuse to hold the debate at this venue, whether I am included in the discussion or not. AUB must not be allowed to dictate the terms of the debate."
The Iranian scholar had been invited to speak at the English-speaking panel, but the AUB's administration informed BBC on Saturday that he is not be permitted to take part in the debate on its campus.
"If one cannot speak freely for a few minutes at a university which is controlled by Americans and which all the academics are hired by Americans, if they do not have the self-confidence to allow an alternative voice to speak at such a debate with five other people on the panel, including hardline opponents of Iran, if they do not have that sort of confidence, then it shows that the narrative that the Americans, American institutions, the American government, and the American mainstream media are promoting is weak and lacking in reason and logic," he added.
Iran has been a staunch critic of Saudi Arabia's hostile policies including attempts to destabilize the region namely through incessant bombardment of impoverished Yemen as well as support for Takfiri militants across the region.
---
French FM to visit Tehran for talks with Iran officials
French Foreign Minister Jean-Yves Le Drian will arrive in Tehran Sunday night to hold talks with senior Iranian officials, Foreign Ministry spokesman Bahram Qassemi has said.
During his two-day visit, Le Drian will meet and exchange views with Iran's President Hassan Rouhani and Foreign Minister Mohammad Javad Zarif on bilateral, regional and international issues, Qassemi said.
The French embassy had earlier said in a statement that an exhibition called "The Louvre in Tehran" will be held at the National Museum of Iran between March 5 and June 8 and inaugurated by Le Drian and Louvre's president Jean-Luc Martinez.
In 2017, France was Iran's second biggest trade partner in the European Union. According to the French Treasury, Iran's trade exchanges with France stood at €3.8 billion last year.
Le Drian's trip to Iran comes amid France's recent meddlesome stance on Iran's defense capabilities.
On February 27, the top French diplomat claimed that Iran's ballistic missile program was very worrying and ran counter to a UN resolution.
He also claimed the need to prevent the Iranian missile activities from becoming a threat to "all regional actors," adding that he would bring up the matter during his visit to Tehran.
Ali Akbar Velayati, a senior adviser to Leader of the Islamic Revolution Ayatollah Seyyed Ali Khamenei on international affairs, on Saturday urged Paris not to make claims that it could not deliver on.
He expressed confidence that Iran would not allow anyone to interfere in the type of defense equipment it can possess in the field of conventional weapons, whether missile or others.
Stressing Iran's peaceful relations with all its neighboring countries, Velayati said, "If the French foreign minister's visit is aimed at strengthening relations, he'd better avoid taking such negative positions."
On February 13, French President Emmanuel Macron said Iran's ballistic missile program must be placed under international surveillance.
The Iranian Foreign Ministry spokesman responded to the comments, saying the Islamic Republic would not permit other countries to undermine its defense might while they are themselves supplying regional countries with lethal weapons.