Auschwitz rebuffs criticism of its new sprinklers

TIMES OF ISRAEL – The Auschwitz Museum on Monday dismissed criticism of its installation of sprinklers at the entrance to the Nazi death camp, saying they were put there for the health and safety of visitors during extreme summer heat, and that it was wrong to associate them with gas chamber showers.
The museum's official Facebook posted its response as a comment on a Times of Israel report to the effect that recent visitors to the Auschwitz-Birkenau camp were alarmed to see "showers" installed at the entrance of the site, where over a million Jews were killed in gas chambers disguised as shower rooms.
"It is really hard for us to comment on some suggested historical references since the mist sprinkles [sic] do not look like showers and the fake showers installed by Germans inside some of the gas chambers were not used to deliver gas into them," the museum said in its comment. "Zyklon B was dropped inside the gas chambers in a completely different way — through holes in the ceiling or airtight drops in walls."
The decision to install the sprinklers came in response to extreme heat afflicting southern Poland during the dog days of summer. Local temperatures recently soared to 37°C (98.6º F).
"Because of the extreme heat wave we have experienced in August in Poland, mist sprinklers which cool the air were placed near the entrance to the Museum," the Auschwitz Museum wrote. The sprinklers were placed at the entrance to the museum, where there's no shade and where people wait for tickets, Auschwitz said. The decision to do so was made after several visitors fainted from recent extreme heat.
The museum said it "had to do everything we could to minimize the risks connected with the heat and high temperatures," emphasizing that "the safety and health of visitors are our priority during the period of extreme heat."
While many refreshed themselves in the suspended pipes that sprayed a fine mist of cool water, Israeli visitors found the presence of the showers at Auschwitz offensive.
"Youth groups that were there didn't really notice and treated it like fun, but for me it was déjà vu of the selection and extermination in the showers," an Israeli visitor, Meir Bolka, told Channel 2 in a report published Monday. "People came by and had a shower."
Bolka took his misgivings to the main office at the site and told an employee of his concerns over the arrangement.
"She said that it was the solution that they found to cool off because of the heat," he recalled.
"She of course apologized that it made me feel that way, but beyond that, they didn't do anything," Bolka said.
One million European Jews were murdered at Auschwitz-Birkenau, which was set up by Nazi Germany in occupied Poland in 1940-1945. More than 100,000 others, including non-Jewish Poles, Roma, Soviet prisoners of war and anti-Nazi resistance fighters, also died there, according to the museum.
Some prisoners were forced to enter gas chambers disguised as shower rooms, where poisonous gas was inserted through holes in the ceiling, killing the occupants.
---
Jews moved to Warsaw Ghetto during WWII to avoid non-Jews & 'nasty Poles' – father of Polish PM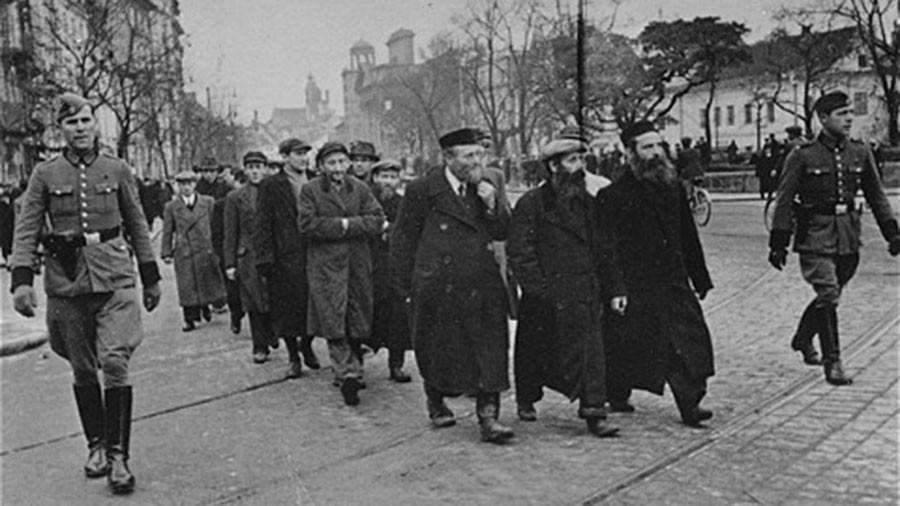 Jews moved to the ghetto during WWII to avoid non-Jews, including "nasty Poles," an ex-senator and father of the current Polish PM said. The claim comes amid the ongoing spat between Israel and Poland over Warsaw's Holocaust bill.
"Do you know who chased the Jews away to the Warsaw Ghetto?" Kornel Morawiecki asked while speaking to Polish Kultura Liberalna magazine on Tuesday.
"The Germans, you think? No. The Jews themselves went because they were told that there would be an enclave, that they would not have to deal with those nasty Poles."
The eyebrow-raising statement was made by the father of current Polish Prime Minister Mateusz Morawiecki, who assumed office in December 2017.
The ex-politician went further, touching upon another hot topic – the alleged complicity of Jews in the Nazi-led genocide against the Jewish population.
Polish authorities tried to distance themselves from the controversial remark by the prime minister's father. According to Deputy Foreign Minister Bartosz Cichocki, Morawiecki's comment "does not reflect the position of the government." 
Relations between Poland and Israel started to sour after Warsaw passed controversial legislation in February outlawing use of the phrase "Polish death camp." It also blamed Poles for complicity in Holocaust crimes during the World War II. The bill attracted harsh criticism from Israeli authorities and Jewish groups worldwide.
The spat reached new levels after Morawiecki Jr referred to "Jewish perpetrators" during the Nazi era. "There were Polish perpetrators, as there were Jewish perpetrators, as there were Russian perpetrators, as there were Ukrainian and German perpetrators," the newly-appointed PM said, responding to an Israeli journalist.
READ MORE: Poland's Holocaust-related law triggers backlash from Israel
The remark immediately drew fire from his Israeli counterpart, Benjamin Netanyahu, who criticized Morawiecki's "inability to understand history and a lack of sensitivity to the tragedy" of Israeli people. Jewish groups immediately responded that the Polish prime minister definitely 'crossed line of common sense.' 
Think your friends would be interested? Share this story!
---
Welcome To Post-Coup Brazil, Where Jews and "Christian" Zionists Run Wild
By Jonathan Azaziah with Contributions from Nick Spero
It's only been a few weeks since the Zionist coup in Brazil and a Judaized shift in the Latin American powerhouse and BRICS stalwart is already unfolding. Michel Temer, the putschist who seized power from Dilma Rousseff, is known as a "friend of the Brazilian Jewish community", and this "righteous Gentile" (as the 'Israelis' like to call all their puppets) has already appointed another "friend of the Brazilian Jewish community", Jose Serra, as Brazil's foreign minister. It has also been revealed that the Coupmonger-In-Chief worked closely with Fernando Lottenberg, the president of the Brazilian Israelite Confederation, on raising awareness (read: brainwashing) among Brazilians about "Holocaust Remembrance Day" as well as passing Zionized "anti-terrorism" legislation that will undoubtedly have an Orwellian effect on Brazil's citizenry.
Temer has also opened the doors to the "Christian" Zionist scourge that has infected much of America, as well as other Western nations–albeit to a lesser extent–like Canada, the UK and Australia. The International Fellowship of Christians and Jews (IFCJ), led by Rabbi Yechiel Eckstein, arrived in Brazil mere days after Rousseff's overthrow and just concluded its trip 24 hours ago. Rabbi Eckstein's gang  was on a mission to turn every major "mega-church" in Brazil into even stronger supporters of the usurping Zionist entity for the "cause" of combating "anti-Semitism". The good "rebbe" and Temer aren't strangers and thus, this entire event should be looked at not just as a consequence of the Zionist coup against the Workers' Party (PT), but part and parcel of it. Furthermore, Rabbi Eckstein's subversive visit should be seen in the greater context of "Christian" Zionist penetration into Brazil and Latin America as a whole.
Brazil, which was once a hotbed of Christian Liberation Theology led by revolutionary luminaries such as Leonardo Boff, is now spiraling into a bottomless pit of "Christian" Zionist hell and has been so since 1977 when the Universal Church–an ultra-Freemasonic institution right down to its reconstruction of Solomon's Temple–came into being.  And let there be no doubt that this "Christian" Zionism is a byproduct of the utterly devilish Rockefeller-financed Wycliffe Bible Translators and the CIA which have worked hand-in-hand from the "Christian" Zionist outfit's beginnings in 1942 to evangelize the Catholics of Latin America, with a special focus on Brazil, using the satanic Scofield Reference Bible.
It should be noted for the record that the Freemasonic Universal Church and other like-similar institutions were welcomed by the Brazilian military dictatorship as a counterweight to the Christian Liberation Theologians, who, despite being tortured, killed and disappeared, remained a formidable anti-Imperialist opposition current until the end of the coup regime. And how can we forget that the US-'Israeli'-backed tyranny that did all of this murdering and maiming would never have attained power if it wasn't for the Zionist Jew Harold Geneen, who was deathly afraid of losing his multinational ITT telecom giant to democratically-elected Brazilian President João Goulart in a wave of nationalizations.  So the Zionist Jew simply called his "shabbos goy" friend CIA Director John McCone, gave him all-access to ITT's resources and then the CIA used this new, incredibly useful instrument to push forward with the coup full throttle, ultimately deposing Goulart in 1964. It was International Jewry that crushed Brazil's first attempt at nationalist-socialism, and it was International Jewry that crushed Brazil's new experiment in nationalist-socialism exemplified by Dilma Rousseff and her Workers' Party.
Quite possibly NOTHING encapsulates this entire sad affair like BreakingIsraelNews, a known gateway for Zionist propaganda, which called the illegal ouster of Dilma Rousseff "karma" for her anti-'Israeli' posturing and quoted a verse from the genocidal, Jewish supremacist book of Deuteronomy to drive its pro-coup point home even further. The arrogance of World Zionism is indeed boundless and this hubris is certainly driving its offensive throughout Latin America. It's not just Brazil. Pedro Pablo Kuczynski, a former World Bank economist whose Jewish roots and strong ties to numerous international banks and investment firms (read: the Rothschild Octopus) make him a prime mover and shaker for the Zionist project in the region, is about to take over Peru. Argentina, once run by the fiery anti-globalist Cristina Fernández de Kirchner, is now a pro-US, pro-'Israel' neoliberal nightmare run by neocon Mauricio Macri. And Venezuela, home of the Bolivarian Revolution, is once again in the throes of a coup as US-Zionist-aligned oligarchs wage economic war on Caracas through the deliberate creation of food shortages and other forms of destabilizing malice. The homeland of Hugo Chavez (RIP) has long been a target of 'Israel'–he said so himself–for El Comandante fought the Jewish New World Order tooth and nail, and considering the above-mentioned pomposity of these bloodthirsty "chosenite"  coupmongers, it's a safe bet to assume they are going to continue their efforts to crush the Bolivarian phenomenon permanently.
If Brazil and Venezuela are to survive this dark, dark period, the peoples of these respective great nations must come to terms with the simple fact that it is not merely "Imperialism" which is seeking to destroy their nationalist-socialisms and impose economic neoliberalism on their societies, but International Jewry's ZIO-IMPERIALISM which is seeking to impose TOTAL neoliberalism on their societies in the political, financial, cultural and even spiritual sectors, hence the blatant "Christian" Zionist surge as of recent. Resistance on all fronts is the only antidote to this growing poisonous trend, and if it is not fiercely engaged in, as Venezuelan President and Chavez successor Nicolas Maduro is desperately attempting to do now, then the darkness is not only going to continue, but worsen to levels not seen since Guatemala in '54, Brazil in '64, Chile in '73, Argentina in '76 and in more recent times, Honduras in '09, ALL PUT TOGETHER. Our full solidarity with the Latin American peoples in the face of Empire Judaica's storm.