IN THESE VIDEOS we see French police coming under Kalashnikov fire in Marseilles.
The local people interviewed about this incident afterwards said it was nothing special; things like that happen almost every day. Some of the footage showed them just walking around normally as the shooting went on.
Here, in a separate incident in another part of Marseille, we see a police car completely surrounded by moped-riding "jeunes" [young people]. They are intimidating the police.
Marseilles is estimated to be about 40% Muslim now.
"En France il n'y a plus une préfecture ou une sous-préfecture où il n'y ait pas 1 quartier chaud, 1 cité.
Même des petits villages de 5 000 habitants comme Trèbes, lieu de l'attentat contre Arnaud #Beltrame, ont 1 zone sensible": Jérôme Fourquet de @IfopOpinion dans #LeFigaro
In France, there isn't a prefecture or sub-prefecture where there isn't a "hot" district, an estate. Even small villages with 5,000 inhabitants like Trèbes, scene of the attack against Arnaud #Beltrame, have a sensitive zone": Jérôme Fourquet in Le Figaro
Laurence Obertone wrote a book called France: Clockwork Orange about the disintegration of public order and decency and the innumerable small eruptions of incivility and crime. In the course of writing his book, he made many contacts in the police. Here he relays a message he received from an anonymous member of the GIGN (police special forces units).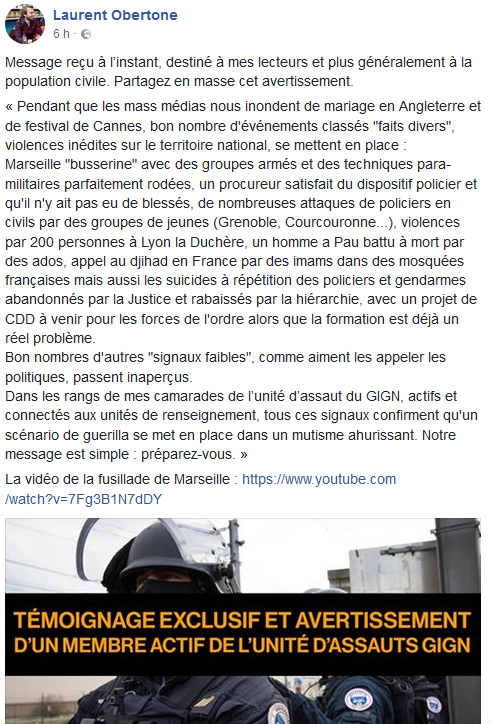 Message just received, intended for my readers and more generally for the civil population. Share this warning massively.
"While the mass media inundate us with the marriage in England and the Cannes festival, a large number of events described as "Miscellaneous news", unheard-of violence on the national territory, are moving into place: Marseille "busserine" [the shooting incident shown above] with armed groups and paramilitary techniques perfectly executed, a prosecutor satisfied with the police deployment and that no one was injured, numerous attacks on police in civilian clothes by groups of "jeunes" (Grenoble, Courcouronne, etc.), violence from 200 people in Lyon La Duchère, a man beaten to death by a group of teenagers in Pau, calls for jihad in France from imams in French mosques, but also repeated suicides of police and gendarmes abandoned by the Justice system and demeaned by the higher-ups with a fixed-duration contract project to come for the forces of order while training is still a real problem.

A large number of "faint signs", as the politicians like to call them, are passing unnoticed.

Among my comrades in the GIGN assault unit, members of and connected to intelligence units, all of these signals confirm that a guerrilla scenario is establishing itself amid a deafening silence. Our message is simple: prepare yourself."
* * *
Source: Diversity Macht Frei
---
———————————————————————————————————————————————————————————————————-
'French' President Emmanuel Macron has said that President Bashar al-Assad needs to be 'overthrown' in order to build a "new Syria" that will fit into the new world order. The Rothschild sponsored President spoke to Fox News on Sunday saying that France and its allies "would have to build a new Syria after the war," adding that the US role would be "very important" in the process. Macron went on to say that foreign states should "remain in Syria" because of the "threat" of Iran and Syrian President Bashar Assad.
———————————————————————————————————————————————————————————————————–
---
On Sunday, marchers in the trade union organized event descended on the Bastille to show their opposition to the changes.
Thousands of people flooded the streets of France to demonstrate against President Emmanuel Macron's economic reforms.
RELATED:
French Workers Protest Against Privatization of Public Services
"In the name of the poor, the humiliated, the homeless and the jobless, we are telling you, 'Enough, enough of this world,'" leader of the far-left Defiant France party leader, Jean-Luc Melenchon, said.
On Sunday, marchers in the trade union-organizedevent descended on the Bastille to show their opposition to the changes. Protests were held across 160 locations in cities including Paris, Marseille and Nantes.
Macron says his economic changes are meant to increase France's global competitiveness, adding that the protests will not block the country.
"No disorder will stop me, and calm will return."
French Interior Minister Gerard Collomb accused the protesters, and by extension the unions, of being "passive complicity" with people who have smashed shops and banks and set fire to cars during demonstrations.
"What is astonishing is that the black blocs can do what they are doing in the middle of a crowd that, at the end of the day, does nothing. If we want to have the right to demonstrate, those taking part must oppose those smashing things up and not, by their passiveness, be accomplices to what is happening from a certain point of view," Collomb said.
Former presidential candidate Benoit Hamon countered the foreign minister saying: "It's for the police to protect the demonstrations instead of making us responsible for the behavior of an ultra-violent few."
French train drivers have been protesting the Macron government reforms for the past three months. In recent demonstrations, Air France staff, students and other workers have joined the drivers.
Some 26 of 43 people who were arrested in Paris, remain detained on charges including suspicion of planning vandalism or weapons possession. Police estimated that 21,000 people took part in the Paris protest, while unions put the number at 80,000.
More than 1,500 police officers were dispatched in Paris.
Demonstrators denounced the overhaul of labor rules that would reduce worker protections, laws increasing police powers, a plan making it harder for students to attend the public universities of their choice, more restrictive immigration laws and police methods in underprivileged neighborhoods that protesters consider "repressive."
——————————————————————————————