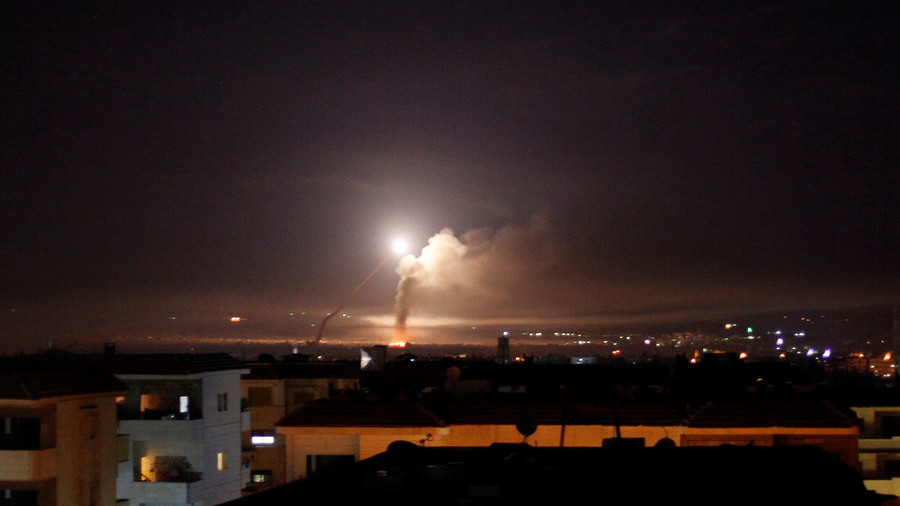 Striking targets in Syria and threatening to assassinate the leader on the pretext of fighting Iranian influence is a sign that Israel is in "panic" after losing its "dear" terrorist assets, President Bashar Assad told RT.
Over the last couple of months, Israel has intensified its bombing of military infrastructure in Syria, arguing that the Iranian presence in the Arab Republic jeopardizes its own national security. However, Israel's justification for its air strikes based on alleged Iranian assets is a "lie," Assad told RT's Murad Gazdiev in an exclusive interview.
"We don't have Iranian troops," Assad said. "We always said that we have Iranian officers, but they work with our army, we don't have [Iranian] troops."
Some Israeli politicians have threatened to "liquidate" Assad and topple his government if Iran continues to operate in Syria and transfer weapons to the Lebanese Hezbollah. The Syrian president, however, has made it clear that he is not afraid of the threat.
"The Israelis have been assassinating, killing, occupying for decades now, for around seven decades, in this region, but usually they do all this without threatening. Now, why do they threaten in this way? This is panic, this is a kind of hysterical feeling because they are losing the 'dear ones,' the dear ones Al-Nusra and ISIS, that's why Israel is panicking recently, and we understand their feeling," Assad said.
Rejecting claims that Syria's air defenses are practically useless against Israeli jets, the 52-year-old Syrian leader said the old Soviet weapons were capable of repelling numerous IAF strikes and the US-led bombardment in April, when the US, Britain, and France fired over 100 cruise missiles at Syria.
"Our air defense is much stronger than before, thanks to the Russian support and the recent attacks by the Israelis and by the Americans and British and French proved that we are in a better situation" than at the start of the civil war seven years ago, he said.
To protect the sovereignty of Syria, Assad vowed to "improve our air defense, this is the only thing we can do, and we are doing that."
READ MORE: Israeli military on' high alert', reservists and bomb shelters primed over Iran activity in Syria
Assad also said that crippling Syria's air defenses was one of the original tactics used by the "mercenaries" at the beginning of the conflict, and that it was never designed to aid the "peaceful demonstrators," but would certainly help in case of a foreign military intervention to depose the government.
"So, they attacked those bases, and they destroyed a big part of our air defenses," he said, arguing that Israel continues to take advantage of that to this day. "This is the other proof that Israel was in direct link with those terrorists in Syria."
If you like this story, share it with a friend!
---

'The jihadists JEWHADISTS
————————————————————————————————————————————————————————————————————————————
U.S. walks-out of UN Disarmament Forum – because Syria was allowed to speak
Today, we were told that the US ambassador to the UN in Geneva led a protest over Syria's role at head of the Conference on Disarmament, calling the event a "travesty."

Apparently, US officials left the room when Syrian representative took the floor.
"Syria's presence here is a travesty. This regime has committed countless crimes against its own people through the use of chemical weapons, and it is just unacceptable for them to be leading this body," said US ambassador Robert Wood.
Wood also threatened more actions led by the US designed to undermine and damage the UN conference, saying that he also said that he "will be taking other actions that you will see over the course of Syria's presidency, so please stay tuned".
Of course, this pattern of behaviour is nothing new – where US officials rail in anger anytime Syrian officials are allowed to speak in an international forum. It is now a normal occurrence for US ambassador to the UN, Niki Haley to get up and leave a room whenever either Syria or Palestinian envoys address a UN forum, as Washington does not recognise Syria's government or its overwhelming mandate as "legitimate", although for some reason US officials still generally recognise the receding conclave of jihadist militants in Syria as legitimate "opposition forces."
What Washington officials fail to acknowledge however, is their own sordid role in a massive illegal weapons trafficking operation into Syria starting from 2012, and escalating through 2014 – 2017, culminating in 350 diplomatic charter flights transporting US-procured weapons destined for conflict areas like Syria, with much of the cargo heading for known terrorist enclaves in Syria, where weapons fell onto the hands of al-Nusra Front (al Qaeda in Syria) and ISIS. Additionally, other arms made their way to other conflict zones including Central Asia and Africa.
Haaretz (via Reuters) reports…
The United States staged a walkout in protest at Syria's presidency of the Conference on Disarmament at the United Nations in Geneva on Tuesday.
The delegation stood from their seats as the Syrian ambassador to the U.N., Hussam Edin Aala opened the latest round of the conference.
Wood said Syria's presidency of a body committed to non-proliferation was a travesty, given that "the regime was responsible for killing countless of its own civilians, many of whom have been impacted by chemical weapons attacks."
Washington did not plan a boycott of the four-week presidency but wanted to hold Syria to account for its use of chemical weapons, he said.
READ MORE SYRIA NEWS AT: 21st Century Wire Syria Files
---
Syria civilians protest against US-backed Kurdish forces
Syrian civilians held demonstrations across the city of Raqqa yesterday calling on US-backed Kurdish militias to leave the area, according to Syria Call news agency.
Protests took part in the main Al-Sakia Street as well as in several of the city's neighbourhoods, including Al-Mashbal. Demonstrators shouted slogans against the Kurdish authorities and expressed opposition to the federalist system they seek to implement in the northern territories under their control.
People's Protection Unit (YPG) militias sent security reinforcements to suppress the demonstrations and reportedly fired on the crowded protesters, resulting in several injuries.
The protests come a week after the YPG imposed forced conscription on residents of the city, mandating that men between the ages of 18 and 30 join militias for at least nine months, dubbing the policy "compulsory conscription in the duty of self-defence".
The YPG, an offshoot of the designated terror organisation the Kurdistan Workers' Party (PKK), has started to face increasing resistance to its policies from Syrians, including the formation of a new battalion called the Al-Raqqa Brigade.
READ: 23 civilians killed in Syria in suspected US coalition air strikes
Earlier this week, Kurdish militias stormed a bastion of the group in an operation that left three opposition fighters dead. Despite the attack, Al-Raqqa Brigade called on civilians to show their resistance to the YPG in yesterday's demonstrations.
US-backed Kurdish forces, known collectively as the Syrian Democratic Forces (SDF), have secured swathes of land in the north of Syria causing heightened tensions with neighbouring Turkey.
Since January, Turkey has undertaken an air and ground offensive in Syria as part of "Operation Olive Branch" against the YPG in Afrin. The move prompted the Kurdish militia to call on the Syrian regime of President Bashar Al-Assad to aid them in the fight against Turkish soldiers.
Cooperation between the YPG and the Syrian regime is ongoing, with a member of the Central Committee of the Kurdish Democratic Party in Syria revealing last week that the YPG had handed over more than 90 Kurdish detainees to the security branch of the Assad government, after withdrawing from the city of Afrin in the north-west of Aleppo.
The YPG has also received increased backing from Europe; French forces have established six artillery batteries in the north of the country and along the Syria-Iraq border since their arrival last month.