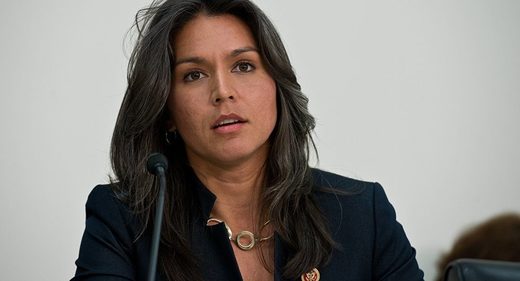 Speaking on the House floor on September 13, Congresswoman Tulsi Gabbard accused the Trump administration of protecting al-Qaeda terrorists in Idlib. According to the congresswoman, this amounts to the betrayal of the American people and victims of al-Qaeda's 9/11 attacks in the US.
Rep. Tulsi Gabbard (HI-02) called out President Donald Trump and Vice President Pence for allegedly protecting al-Qaeda* in Idlib, Syria, while speaking in the House on September 13.
"Two days ago, President Trump and Vice President Pence delivered solemn speeches about the attacks on 9/11, talking about how much they care about the victims of al-Qaeda's attack on our country. But, they are now standing up to protect the 20,000 to 40,000 al-Qaeda and other jihadist forces in Syria, and threatening Russia, Syria, and Iran, with military force if they dare attack these terrorists,"the congresswoman stressed.
Gabbard qualified the Trump administration's handling of the Idlib problem as nothing short of "betrayal of the American people" and most notably, "the victims of al-Qaeda's attack on 9/11 and their families."
"For the president, who is commander in chief, to act as the protective big brother of al-Qaeda and other jihadists must be condemned by every member of Congress," she emphasized.
While Damascus is preparing to launch an advance on Idlib, the last terrorist stronghold in Syria, which accommodates, according to some estimates, up to 70,000 jihadi militants, Washington continues to issue threats against Syrian government forces and their allies trying to pressure them into abandoning the operation.
In late August, National Security Adviser John Bolton expressed suspicions that the Assad government could resort to the use of chemical arms in Idlib and threatened Damascus with a "strong" response.
The Syrian government has repeatedly pointed to the fact that it destroyed its chemical weapon stockpiles as well as chemical weapon production facilities between September 2013 and August 2014 under the supervision of the Organization for the Prohibition of Chemical Weapons (OPCW), which was verified by the OPCW in January 2016.
Commenting on the upcoming offensive on the terrorist-held province, President Trump tweeted on September 3 that "President Bashar al-Assad of Syria must not recklessly attack Idlib province."
​"The Russians and Iranians would be making a grave humanitarian mistake to take part in this potential human tragedy. Hundreds of thousands of people could be killed. Don't let that happen!" he claimed.
On September 12, US Ambassador to the United Nations Nikki Haley groundlessly blamed Russia, Iran and Syria of what she called a plan to "use" chemical arms in Syria.
"What we told, you know, the Syrians, the Russians and the Iranians was, well, twice we have warned you not to use chemical weapons; twice you have used it, and twice President Trump has acted. Don't test us again," Haley said in an interview with Fox News, referring to chemical incidents in Khan Sheikhoun and Douma and subsequent missile strikes against Syrian government forces by the US and its allies.
However, no evidence has been presented so far to confirm the involvement of Damascus and its allies in the incidents so far. Likewise, there has been no proof presented backing the claim that the Syrian government is going to use poisonous substances in the region.
In contrast, the Syrian Foreign Ministry and Russian Ministry of Defense are citing evidence of a potential terrorist-arranged chemical provocation being coordinated in Idlib province. It was reported that the White Helmets NGO had smuggled a large shipment of poisonous substances to Ahrar al-Sham warehouses in Idlib.
Comment: There's plenty of proof to be had, if Ms. Haley would stir herself to look at it. Can't acknowledge any facts that contradict the narrative, can we?
Meanwhile, Damascus is amassing forces to launch an attack against Idlib, which is home to Hayat Tahrir al-Sham*, an umbrella terrorist organization led by al-Nusra Front*, an al-Qaeda associated group in Syria.
For its part, Russia is holding talks on the situation in the region with Iran and Turkey as well as with other players within the framework of the UN Security Council and on the Geneva platform.
*Hayat Tahrir al-Sham, al-Nusra Front (Jabhat Fatah al-Sham), al-Qaeda are terrorist groups, banned in Russia.
———————————————————————————————————————————————————————————————————————————-
Israel´s, Saudi Arabia´s and USA´s Planned Road to Upcoming WW3: Netanyahu´s Declaration of War on Iran follows that of Trump in Spite of Putin´s Plea
Mainstream media time and again keep referring to WW3. This final war  war  has been vividly predicted in Bible prophecies (e.g Jeremia 25, Isaiah 33, 34), by Jesus Christ (Luke 21, Matth. 24), in Illuminati Albert Pike/William Carr  planning  of 3 world wars.
Today, Syria is a confusion of dangerous fronts  between US/Russian proxies – and between the US and Russia!
AFTER TRUMP, NETANYAHU DECLARES WAR ON RUSSIA´S ALLY, IRAN
DEBKAfile 18 Febr. 2018: Prime Minister Benjamin Netanyahu told the Munich security conference on Sunday: "We will act if necessary not just against Iran's proxies but against Iran itself, if needed."
Holding aloft a piece of the Iranian drone which Israel captured over its air space, he stressed that Tehran was the world's greatest threat and "Israel will not allow the regime to put a noose of terror around its neck." Taunting Iran's' foreign minister Mohammad Javad Zarif in the audience, he asked," Do you recognize this? You should. It's yours," he said. "You can take a message back to Iran. Do not test Israel's resolve." This drone violated Israel's sovereignty and posed a threat to our security, he said "We destroyed it and its control center in Syria."
Tehran wants to dominate Syria and move its bases and army into Israel's back yard, acquire Mediterranean naval bases, and transfer tens of thousands of Shiite fighters to Syria. "I said we would not let this happen and have backed up words with deeds," he said. "Israel will continue to prevent Iran from establishing a permanent military presence in Syria and would continue to prevent it from crossing red lines," he continued.
DEBKAfile's military sources add that Netanyahu had in mind the Iraqi Shiite army that Iran is preparing to send into Syria in two months' time. The prime minister did not refer to Russia's complicity in Iran's plans.
After delivering his remarks, the prime minister was asked about the chances of a military escalation in light of the drone incident. "It's up to Iran. Iran is changing the ground rules. The unfortunate thing is that as ISIS compresses, Iran moves in."
Netanyahu keeps repeating this although Putin PLEADS Netanyahu not to go to war against Iran
In Munich on 17 Febr. 2018, Netanyahu called for jointly combating terrorism!
Above he deplores ISIS /Israeli Special Intelligence Secret being defeated. Netanyahu does not fight Terrorism – he promotes it, trains, funds  ISIS.

Israel´s role in 9/11 is unquestionable
Listen to what Jewish convertite to Orthodox Russian Church priesthood has to say about Israel´s  choise today between real politik or risking war with Russia:
Maybe, the most uncanny part of this is that the the real rulers of the world, the Jewish Pharisee  Chabad Lubavitch Doomsday sect, is using Bible prophecy as its working program towards the fulfilment of exactly this war as a prerequisite for the coming of their Messiah, ben David, a politician who is to make Israel the master of the world – as described in Rothschild´s, Rockefeller´s ,Warburg´s (p. xviii) terrible Protocols of the wise Elders of Zion.
Wolfgang Eggert tells about the  Chabad Lubavitch Doomsday sect of Pharisees – the rulers of the world´s rulers – having just one aim: To let their messiah, ben David, come as soon as possible. They use the Bible as their working manual: So they know the coming of their (Antichristisn) messiah must take place in a worldwide bloodbath ("Armageddon").
But before ben David comes, the Chabad Lubavich must stage the attack of Gog from the land of Magog (Russia): Israels demise in the last days (Ezekiel 39,39) – to take place when Damascus ceases to be a city forever (Isaiah 17).
For that reason, Lubavich Rebbe Berel Lazar is the rabbi  and bosom friend of Putin who is Jewish President and King of Jews, .
It seems that Benjamin Netanyahu was given the Task of ben Yosef by Rebbe Schneerson (who by the Chbadniks is seen as ben David to rise from the dead). Ben Yosef is to lead Israel into the Armageddon bloodbath that will  cause ben David´s coming.

Now how long has the Chabad Lubavich come in bringing enmity between Russia (Land of Magog) and Israel?
Some think Gog and Magog are Turks – probably for political reasons. Texe Marrs thinks its´the Khazars – the Azhkenazi Jews, the Rothschilds!  Which means that the Rothschids would destroy their own property: Israel! (Rothschild bought Jerusalem already in 1829). Just one problem: The Rothschilds and other Azhkenazy Jews are genetically NOT Khazars – They are Jewish-European mongrels!).
Here is what the Jewish Encyclopedia 1906 has to say: "Magog is mentioned (Gen. x. 2; I Chron. i. 5) as the second son of Japheth (son of Noah), between Gomer and Madai. Gomer representing the Cimmerians and Madai the Medes, Magog must be a people located east of the Cimmerians and west of the Medes.
B
ut in the list of nations (Gen. x.) the term connotes rather the complex of barbarian peoples dwelling at the extreme north and northeast of the geographical survey covered by the chapter. Josephus (Flavius) ("Ant." ii. 6, § 1)identifies them with the "Scythians," a name which among classical writers stands for a number of unknown ferocious tribes. According to Jerome, Magog was situated beyond the Caucasus, near the Caspian Sea.  In Ezek. xxxviii. 2 "Magog" occurs as the name of a country (with the definite article); in Ezek. xxxix. 6 as that of a northern people, the leader of whom is Gog.
ARE THERE SIGNS OF AN UPCOMING CONFLICT BETWEEN ISRAEL AND IRAN/IRAN´S PROXIES?
JUST HAVE A LOOK.
The commentator, Jake Morphonios, has been incredibly accurate with predictions of events in the Middle East (Griffin´Need to Know 15 Febr. 2018).
He is saying the aggressive foreign policy of Israel, the Saudis, and the US acting together is designed to escalate into a full-blown World War that will involve Russia, China, and much of the rest of the world.
This video is about how World War Three will serve the agenda of world government. It's all about profit from control of the world's oil reserves, power over people, and the fusion of corporations and governments. Be prepared, also, for the theory that President Trump may actually support this plan.
On the other hand, the tensions between these 2 gentlemen: Putin and Netanyahu, is unimportant: Both have their Illuminati-assigned roles in the planned Albert Pike/Biblical end time scenario. And they will not act until given orders from the London City/Chabad Lubavitch.
DEBKAfile Feb 13, 2018: In the first military clash between US and Russian forces in Syria, more than 200 Russian "mercenaries" are reported killed,scores more injured. President Vladimir Putin's spokesman, Dmitry Peskov, declined to comment.
US forces posted in eastern Syria repelled a Syrian-pro-Iranian attack led by T-72 and T-55 tanks on a base held by American and US-backed Syrian Democratic Forces east of the Euphrates River near the oil town of Tabiye.
The strike force was fighting under the command of Iranian Revolutionary Guards officers. It included Russian mercenaries.orces to fight for Assad alongside the pro-Iranian and Russian combatants.
Against that fighting strength, the Americans used F-22 Raptors, F-15 Strike Eagles, Air Force AC-130 gunships, Marine artillery and Army Apache attack helicopters, as well as Special Operations forces, which stopped the multiple assault in its tracks.
Haaretz 3 Febr. 2018: A delegation of Russian officials that arrived in Israel this week did so in an attempt to prevent a planned Israeli attack on Iranian missile factories in southern Lebanon and Syria, the Saudi daily ASharq Al-Awsat reported on Saturday.
Netanyahu tells Putin: Iranian missile factories in Lebanon are already in progress, we won't accept this threat
DEBKAfile 1.Febr. 2018: Contrary to Moscow's promises, the Russian military is not pulling out of Syria, but adding four more air bases (one shared with Iran) and 6,000 more troops.

Russia Today 1 Febr. 2018: Tel Aviv is ready for an all-out ground invasion of Lebanon in the event of a military conflict with Beirut, Defense Minister Avigdor Lieberman said.
Lieberman said that, in a worst-case scenario, Israel would conduct the operation at "full strength."  We will move forward as fast as possible,"  adding that Israel's past experience has shown that "all the conflicts in the Middle East" do not "come to an end" without "soldiers on the ground."
"If in Israel they sit in shelters, then in the next fighting all of Beirut will be in shelters," Lieberman add
The minister's comments come amid Israel's concerns over the Lebanese Hezbollah armed group, which allegedly plans to arm itself with locally-produced precision-guided missiles.
Lieberman also said that he sees no difference between Hezbollah and the rest of Lebanon. "They are part of Hezbollah and they will all pay the full price" for any large-scale attack on Israel.
In late November, the Lebanese Army asked the military to be at "full readiness" to face "the Israeli enemy" on the southern border.
The Guardin 28 Aug. 2017: At the start of a meeting in Jerusalem with U.N. Secretary-General Antonio Guterres, Netanyahu accused Iran of turning Syria into a "base of military entrenchment as part of its declared goal to eradicate Israel."
"It is also building sites to produce precision-guided missiles towards that end, in both Syria and in Lebanon. This is something Israel cannot accept. This is something the U.N. should not accept," Netanyahu said.
Now comes a dispute between Israel and Lebanon on oil  and gas reserves in the Mediterranean. Israel has declined Secr. of State Tillerson´s compromise on dividing the field.
Comment
There is more to this story: Netanyahu and the Jewish mind is madly obsessed with AMALEK – the eternal enemy of Israel who ambushed the Israelites on their journey in the Desert of Sinai on their way from Egypt  to invade Kannaan.
Erich Follath Spiegel online 22 June 2009: When American author and Israel expert Jeffrey Goldberg recently asked a Netanyahu confidant to explain this fixation, he simply replied: "Think Amalek." This is the Jewish concept that forms a potentially disastrous parallel to the Islamic Haqqani school — a pair of mirror-image concepts that could spell war. In a biblical context, Amalek was a descendant of Esau who, with his tribal warriors from Canaan, launched a treacherous and unprovoked attack on the Hebrews as they were traveling to the Holy Land, Eretz Israel. In a broader sense, the term Amalek refers to the existential threat to Judaism at all times, under all circumstances and by all enemies. The Torah, Devarim 25, Fifth Book of Moses, reads: "Remember what Amalek did to you on your journey, after you left Egypt–how, undeterred by fear of God, he surprised you on the march, when you were famished and weary, and cut down all the stragglers in your rear."
---
RT
Fri, 14 Sep 2018 09:53 UTC – SOTT net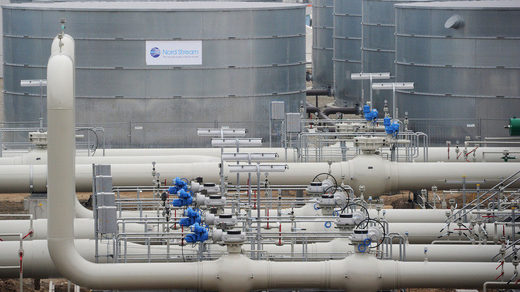 Moscow and Berlin have expressed the importance of the Russian gas pipeline project Nord Stream 2 to Germany, Russian Foreign Minister Sergey Lavrov stated on Friday.
"We've discussed the complex of issues related to energy cooperation and confirmed the support for the Nord Stream 2 project, which is of a commercial nature and the implementation of which will strengthen the energy security of the European continent," said Lavrov after a meeting with his German counterpart Heiko Maas in Berlin.
The topic of the Nord Stream 2 pipeline was also raised during German Chancellor Angela Merkel's visit to Lithuania. Merkel said that she understood the Baltic countries' criticism over the expansion of the Nord Stream gas pipeline, but insisted that the project made economic sense. She added that Ukraine would still be a gas transit country after the pipeline is complete.
The goal of the $11 billion Nord Stream 2 pipeline project is to double the existing pipeline's annual capacity of 55 billion cubic meters. The first part of the joint project has been in operation since 2011. Moscow has repeatedly described Nord Stream 2 as a "purely economic project" and said Washington opposes it because it wants to force-feed its own liquefied natural gas (LNG) to Europe.
Despite political setbacks between Russia and Germany, Berlin has been a firm supporter of the Nord Stream 2 pipeline and has been pushing for its implementation through the EU.