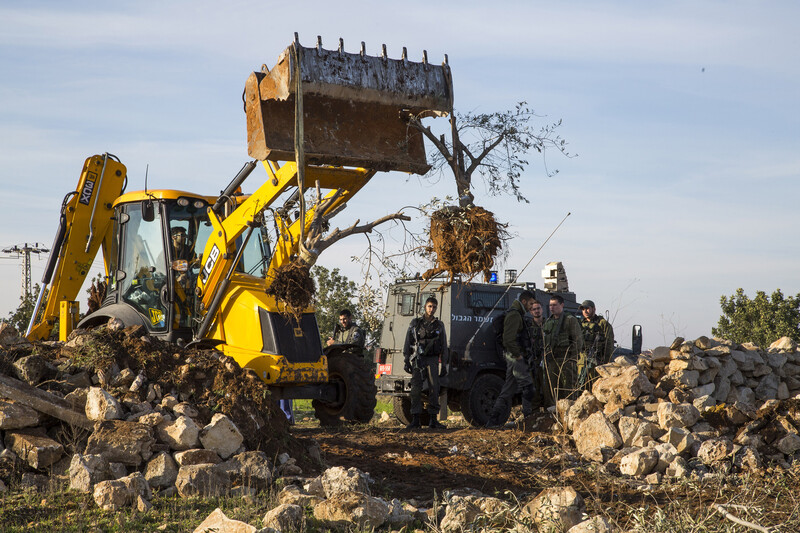 Occupation authorities have given residents of the Palestinian village of Khan al-Ahmar until 1 October to demolish their own homes.
Earlier this month Israel's highest court gave final approval to destroy the West Bank village to make way for Israeli settlements.
If the residents don't comply, Israel is expected to send in its bulldozers any day. It is almost certain they will include machines made by British firm JCB, whose equipment has been used for years to demolish Palestinian property in the occupied West Bank.
Destruction of Khan al-Ahmar would be a war crime under international law, and JCB executives are being warned they could face criminal liability for their role.
Last July, JCB equipment was spotted in the Bedouin villages of Khan al-Ahmar and Abu Nuwwar near East Jerusalem.
British Palestine solidarity activists blocked the entrance to the JCB distribution center in Derby this month to protest the company's involvement in the demolitions of Palestinian homes.
Half of the almost 200 residents of Khan al-Ahmar are children and teenagers.
JCB's claim that it wants "to help build a better future for our children, where hard work and dedication are given their just reward" must taste bitter for these youth.
JCB and Khan al-Ahmar
On 4 July, BBC correspondent Tom Bateman tweeted a photo of Israeli forces using a JCB excavator to clear the way for the forcible evacuation of Khan al-Ahmar.
London-based Lawyers for Palestinian Human Rights immediately wrote to UK Foreign Office minister Alistair Burt urging the government to intervene and charging that JCB's involvement in the pending demolition of Khan al-Ahmar "may amount to aiding and abetting a war crime."
Labour Party lawmaker Paula Sherriff raised the issue in Parliament and Burt assured her that an investigation into the use of JCB machinery in the demolition of Khan al-Ahmar would be carried out.
But European governments have a history of prioritizing trade with Israel over respect for international law, and no history of imposing costs on Israel or on the companies that assist its violations.
European Union diplomats have limited their response to toothless statements and symbolic visits.
In August, Lawyers for Palestinian Human Rights also wrote to JCB asserting that "involvement in the demolition process of Khan al-Ahmar may amount to aiding and abetting the war crime of forcible transfer."
JCB has not responded to an invitation from the Business and Human Rights Resource Centre, a corporate accountability watchdog, to answer the allegations in the letter.
A record of destruction
Six years ago, the British campaign group War on Want published a report detailing Israel's use of JCB machines to destroy Palestinian homes, mosques and olive trees and to build settlements in the West Bank, all of which are illegal under international law.
Since then, the use of JCB machines has been documented repeatedly during Israel's violations of Palestinian rights:
25 July 2018: A JCB bulldozer was used in the demolition of an EU-funded daycare facility that served dozens of children and a women's community center in Jabal al-Baba village near East Jerusalem in the occupied West Bank.
4 July 2018: Israeli forces demolished nine Palestinian homes and three farm buildings in the Abu Nuwwar community near East Jerusalem with JCB equipment, leaving 62 people homeless.
5 January 2015: JCB equipment was documented being used for construction in the West Bank settlement of Ariel.
"Criminal liability"
JCB's corporate leaders cannot have failed to notice Israel's use of their products in its systematic violations of Palestinian rights.
As Lawyers for Palestinian Rights has spelled out, the provision of JCB's products for use by Israel in these and other acts is contrary to the human rights responsibilities businesses have under the United Nations Guiding Principles on Business and Human Rights and the OECD Guidelines for Multinational Enterprises.
That is why Palestine solidarity activists have initiated a campaign in the UK to hold JCB accountable .
Lawyers for Palestinian Human Rights gave JCB chair Anthony Bamford and CEO Graeme MacDonald fair warning that their firm's involvement in the imminent demolition of Khan al-Ahmar could "incur the criminal liability of individuals within the company."
---
Five days of hell
Traveling between Egypt and Gaza should only be a matter of hours. Cairo is only some 200 miles from Rafah, the strip's southernmost city.
Yet the siege imposed by Israel – with Egypt's cooperation – more than a decade ago has turned that journey into an ordeal. The frequent closures at the Rafah crossing – the sole point of exit and entry for most people in Gaza – have been well documented. Less well known is that returning from Egypt can involve extremely long delays.
One recent trip from Cairo to Rafah took a full five days. For Mahmoud al-Madhoun, 28, the experience was "like being in hell."
On 30 August, Mahmoud, accompanied his mother Afaf, 54, who was going back to Gaza by bus. She had been in Egypt to receive treatment for thyroid cancer.
Mahmoud and Afaf set out at dawn, joining a minibus. Their problems began at approximately 7 am when they reached al-Firdan Bridge near the city of Ismailia.
Located on the Suez Canal, the bridge has an important place in history as it enabled rapid transit between Africa and Asia. That seems ironic given how the bridge is being used today.
Following the 2013 coup under which Abdulfattah al-Sisi, a military general, took power in Cairo, the Egyptian authorities established a checkpoint at al-Firdan to inspect Palestinians leaving and entering Gaza.
There were 29 other passengers – all female – on the bus carrying Mahmoud and Afaf. Most had also been in Egypt for medical treatment.
The authorities displayed no concern regarding their plight. The passengers were left waiting at al-Firdan for three days without even the most basic of facilities.
Because there were no restrooms at the crossing, the passengers had to relieve themselves in nearby fields. "That was really humiliating," said Mahmoud.
Although there was a large group of people from Gaza at the crossing, the only noticeable assistance they received from the Palestinian Authority's diplomatic mission in Cairo was the provision of some water.
"We didn't meet anyone from the embassy during our journey," said Afaf. "We expected them to intervene to ease the procedures for us, especially at al-Firdan Bridge. But they did nothing."
On the third day, one passenger fainted. The woman in question had received surgery for a cyst in her ear and needed to change the dressings on her wound regularly.
The woman was revived and given water to drink.
Bribe
As the passengers grew increasingly frustrated, their driver suggested that they might be permitted to cross the checkpoint through bribing an Egyptian soldier.
Mahmoud collected around $200 from the passengers but the soldier offered the bribe initially refused it.
Some of the women pleaded with the soldier. One offered him a gold ring, in addition to the $200. The soldier then accepted the bribe.
The ring belonged to Nisreen al-Rayes, who was traveling with her sister. Nisreen's sister had recently received treatment for a slipped disk in her back.
"If he asked for all the money I had, I would have said yes," Nisreen said of the soldier. "I didn't want to spend one more night in those conditions. My sister was in a lot of pain."
An hour later, the bus and 30 other vehicles were allowed through the crossing.
Yet the passengers only went a short distance before they were brought to a building on the far side of the bridge.
Next they were instructed to leave the bus and form a line. The passengers were brought into a room, where their bags were searched.
Theft
"The soldiers inspected every single bag," said Mahmoud al-Madhoun. "And when they finished inspecting each bag, they told me and the driver to close it and carry it back to the bus. For a moment, I felt like a prisoner sentenced to hard labor."
The inspection process took around three hours. The driver was then able to drive the bus. But he had only gone 500 meters, when soldiers decided to check all the bags a second time.
The second inspection process differed from the first one. This time soldiers confiscated some of the passengers' belongings.
Hania Zumlot, 54, was returning to Gaza after receiving treatment for osteoporosis.
"I had bought some gifts for my husband and sons," she said. "An Egyptian soldier stole cigarettes, perfume and new shoes. I asked him to leave my stuff alone as I had nothing that was harmful or forbidden. But he shouted in my face, telling me to stop talking and threatening that he would make me turn back."
Eventually, the bus was able to drive on. But passengers were subject to further checks during the remainder of the journey. In total, they had to go through 15 checkpoints.
Deal "around the corner?"
Reaching the Rafah crossing was by no means the end of the ordeal. The passengers had to wait 18 hours in the Egyptian-controlled hall at the crossing.
The hygiene in this hall is notoriously poor. Travelers have to pay to use the restrooms, which are seldom clean. Prices for food and drink in its cafeteria are around twice what people would normally pay in Gaza.
On the fifth and final day of their journey, an Egyptian officer handed the passengers their passports – which had been stamped. The passengers were then placed on a large bus that brought them into Gaza.
The ordeal recounted here took place amid speculation that the suffering of Palestinians will be eased. Ismail Haniyeh, a leading figure in Hamas, predicted in August that an end to Israel's siege of Gaza was "around the corner."
Egypt is reported to be facilitating talks aimed at introducing a truce between Hamas and Israel.
For all the speculation, a deal has yet to emerge. And any eventual agreement will not erase the cruelty inherent in the movement restrictions that the Cairo authorities have imposed on Palestinians until now.
Afaf al-Madhoun never imagined that traveling would be so horrendous.
"If I knew that my journey was going to be like this, I would prefer to have died in Gaza," she said. "It was like we were killed 1,000 times on our way back."
Hamza Abu Eltarabesh is a journalist from Gaza.
---
Death before life
On the evening of 8 August, Muhammad Abu Khamash, 29, bought some food for his pregnant wife Inas, 23, some sweets for his daughter Bayan, one-and-a-half, and some feed for the poultry he raised outside their modest rented house in eastern Deir al-Balah in the middle of the Gaza Strip.
Like many in Gaza that night, Muhammad, a police officer, was tuned to the news on his battery-powered radio waiting for a ceasefire announcement. On 7 August, Israel had shelled an observation post in northern Gaza and killed two Hamas fighters.
The small family then gathered around dinner before preparing bedding in the living room, Muhammad later told The Electronic Intifada. The room was the coolest and most pleasant to sleep in. It was a warm summer evening and there was no electricity.
Around 1:30 in the morning, an Israeli missile, apparently fired from a fighter plane, struck the house. Inas, her unborn baby and Bayan were all killed.
A shocking scene
It took neighbors almost 30 minutes before they realized where the missile struck and could get to the house. The area is rural and buildings are spread out. Being only four kilometers away from the boundary with Israel, moreover, residents have to move cautiously to avoid themselves becoming targets.
When they finally reached the house, they found a shocking scene.
"My brothers and I were the first to arrive," said Sakher Jaber, 23. "There was blood everywhere. Some of the neighbors fainted when they saw the place."
Inside, even the ceiling had traces of blood. Next to a blue crib ready for a new baby, but destined never to be used, some of Bayan's toys lay scattered.
It seemed impossible for anyone to survive, but Muhammad somehow was thrown out of the house by the force of the blast. He was found unconscious at the entrance.
Muhammad was still in a coma when his family was buried, all together in one coffin.
A bad dream
The Abu Khamash family joins a long list of civilian casualties of Israeli violence in Gaza. And while the Israeli military claimed its planes were bombing a Hamas target nearby, neighbors say no such target existed.
Instead, residents and family members are simply left to mourn the victims of what they see as another senseless Israeli bombardment like the one that targeted a multi-story building housing the Said al-Mishal Cultural Center in Gaza City later that day.
Iman Abu Khamash, 19, remembered her older sister Inas as someone who "brought happiness to our house."
"Inas was going to graduate as a primary school teacher next year. She wanted a job to help her husband in making a better life for their children."
Muhammad, who suffered injuries to his leg and head, spent four days in a coma and knew nothing when he awoke.
"The last thing I remember is that we went to sleep. Then I woke up in the hospital," he told The Electronic Intifada.
He immediately asked after his family, but would not believe it when his cousin, Yousif, told him what had happened. Yousif, 32, had to bring his uncle, Muhammad's father Kamil, to break the news again and Muhammad, who trained as a police officer in Sudan, still finds it hard to believe.
"I still feel like it's a dream. My family didn't do anything to Israel," Muhammad said. "They broke my heart and destroyed my life. We were targeted while we were sleeping and then their media claim that we're terrorists. How come?"
Life, unforgiven
This is the third time Muhammad has lost family members in recent years. An older brother, Amer, died in 2013 in an explosion in a commercial tunnel – a tunnel used for smuggling under the Gaza border with Egypt.
And earlier this year, his youngest brother Mukhtar was shot dead by Israeli snipers during the Great March of Return protests.
Muhammad and Inas had in fact been planning to call their unborn daughter Razan, after Razan al-Najjar, a medic who was also shot and killed during the Great March of Return protests.
But no one knew this. When the unborn child was buried, authorities issued her with a death certificate naming her Hayat, Arabic for "life."
"Imagine," said Muhammad, who declared he could never forgive what happened, "my baby daughter was issued a death certificate before she even had a birth certificate."
Hamza Abu Eltarabesh is a journalist from Gaza.
---