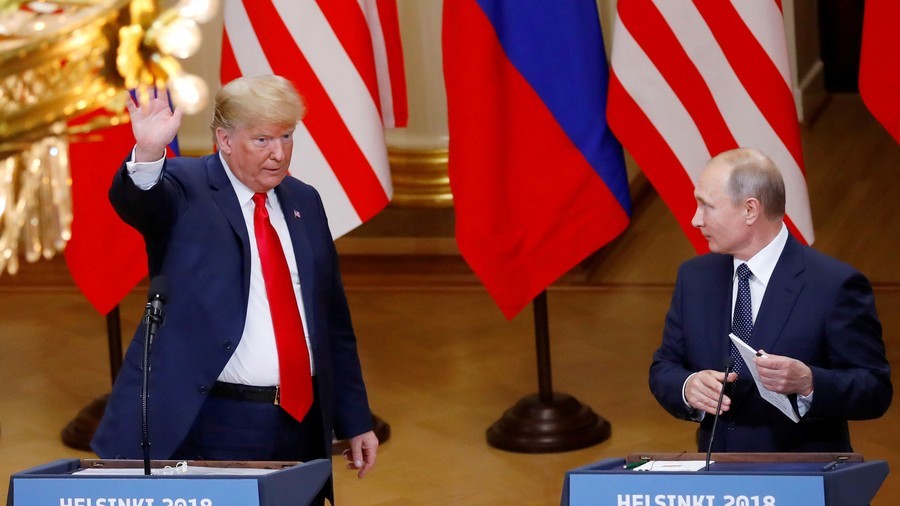 US President Donald Trump cited the recent incident in the Kerch Strait when canceling the meeting with Russian counterpart Vladimir Putin. Experts who spoke with RT doubt that this is the real reason behind the last-minute move.
Officially, Trump called off the meeting because "the ships and sailors have not been returned to Ukraine from Russia," he tweeted on Thursday, referring to the three vessels seized by the Russian coast guard while attempting to pass from the Black Sea to the Sea of Azov through Russian waters.
"I think if it was the reason for the meeting being canceled it was a bad reason," Dan Kovalik, professor of human rights at the University of Pittsburgh School of Law, told RT. "No matter how one views the Kerch strait situation and who was at fault there, I think it's the very time to have a meeting between the US and Russia to try and sort that incident out, to try to deal again with all the tensions that are happening anywhere in Europe between Russia and NATO."
ALSO ON RT.COMHow Trump was finally tripped by sabotage of every meeting with PutinKovalik also argued that Trump might be feeling pressured not to look like he's "colluding" with Putin – a charge leveled by his Democrat critics even before he defeated Hillary Clinton in the 2016 US presidential election, and used since to challenge the legitimacy of his presidency.
"It is certainly to avoid bad publicity. As you've noted, last time he met with Putin somehow he was seen as a traitor. That's how crazy things have gotten in this country," he told RT.
US media reacted with outrage to the Trump-Putin meeting in Helsinki, Finland, in July, with more than one outlet and talking head calling his remarks at a press conference there "treasonous." That's because Trump did not bring up Russian "meddling" in the 2016 election, which has become an article of faith in the US despite no actual evidence of it ever being produced.
"I think it's more than a headline diversion," former US diplomat Jim Jatras, told RT, saying that it might be more related to the appearance of Trump's former lawyer Michael Cohen in federal court and his guilty plea about discussing plans for a Trump Tower in Moscow that "all the anti-Trump people are chattering about today."
"I think that's the atmospheric reason why he feels he needs to cancel this meeting," Jatras said.
Instead of being a statesman and starting a conversation with the leaders of Russia, India and China at the summit to resolve tensions from the Black Sea to the South China Sea, Trump is being dragged down by "these petty little political problems domestically here that are designed simply to undermine Trump's presidency – and I'm sorry to say, he's dancing like a monkey on a string," Jatras said.
"I think he is afraid," the former diplomat added.
© Reuters / Grigory Dukor
Journalist Neil Clark thinks the only surprise about the cancellation is that anybody is surprised by it.
"I think that Trump in many ways was damned if he did and damned if he didn't," Clark told RT, noting that Democrats who called for him to cancel the meeting are now saying he should still meet with Putin, if only to criticize him over Russia's alleged misconduct. If Trump had gone ahead with the meeting, he would've been accused of "appeasing Russian aggression" just like after Helsinki, Clark said.
ALSO ON RT.COMTrump cancels planned meeting with Putin at G20 over Russia-Ukraine flare upThere is a general atmosphere in Washington, the "mood music" pushing Trump to take a hard line towards Russia, and he is going along with it, Clark explained. He was also skeptical that the current US-Russia tensions could have been resolved in an hour-long meeting.
"There are forces at play here," Clark told RT. "We've got the military-industrial complex, we've got the neocon think tanks, we've got the US energy industry, which is very keen to push Russia out of the European energy market."
He also said he could see how Ukraine could have staged the Kerch Strait incident in order to sabotage the meeting, fearing that Trump and Putin might actually get along and eliminate some tensions between Washington and Moscow.
"There's a lot of people out there who don't want that to happen," Clark said. "They really don't want Russia and the US to have better relations
Like this story? Share it with a friend!
---
Ron Paul: Allow Americans to 'Opt Out' of Abortion and War
It may be impossible to find a welfare-warfare state program that does not offend someone's moral or religious beliefs.
Authored by Ron Paul via The Ron Paul Institute for Peace & Prosperity:
---
The Department of Health and Human Services (HHS) recently released proposed rules allowing individuals to opt out of Obamacare's abortion and contraception mandates for moral or religious reasons. These new rules should be cheered by all who agree with Thomas Jefferson that forcing people to subsidize that which they find abhorrent is "sinful and tyrannical."
Sadly, Congress continues to pass, and President Trump continues to sign, spending bills subsidizing abortion providers. When government gives taxpayer money to abortion providers, it forces anti-abortion taxpayers to fund something they believe is murder. This is every bit as "sinful and tyrannical" as forcing health plans to pay for abortion and contraception.
If Congress is going to continue giving taxpayer dollars to abortion providers, then it should at least find a way to protect those with moral or religious objections to abortion from subsidizing the practice with their tax dollars. Creating a special fund for the taxes of those who object to abortion and ensuring money in that fund is not used to subsidize abortion providers would help ensure that anti-abortion taxpayers are no longer directly subsidizing what they believe is the murder of unborn children. However, it would force pro-life taxpayers to indirectly subsidize abortion because money is fungible. So, if the government used money from the pro-life taxpayers to increase spending on programs that do not subsidize abortion, it would be able to use a greater percentage of the taxes collected from other taxpayers to fund abortionists.
A better way to protect anti-abortion taxpayers is to give them an expanded charitable tax credit. Pro-life taxpayers could use the credit to support crisis pregnancy centers and other charities that help pregnant women and new mothers. This approach would increase funding to private charities, while ensuring that, since the plan reduces government revenue, anti-abortion taxpayers are neither directly nor indirectly subsidizing abortions.
Opponents of abortion are not the only Americans who should be allowed to opt out of paying for what they consider murder. The many Americans with moral and religious objections to Washington's militaristic foreign policy should also be able to redirect some of their taxes from the warfare state to private charities. Some may claim this would weaken America's defenses. However, since America's military budget is higher than the combined military budgets of the next seven biggest spending countries, and since our militaristic foreign policy has little or no relation to actual security, there is no reason the military budget cannot and should not be reduced.
Allowing taxpayers to opt out of subsidizing war and abortion would be major victories. However, there are other government programs that might offer exemptions for moral or religious objections. For example, followers of Ayn Rand have moral objections to government-funded welfare. Some Christians also find government-provided welfare morally objectionable because they believe it is the duty of the church, not the state, to help the less fortunate. Others may find corporate welfare, the drug war, or restrictions on the First and Second Amendments morally objectionable.
It may be impossible to find a welfare-warfare state program that does not offend someone's moral or religious beliefs. For many the entire welfare-warfare state is immoral because it is built on a foundation of aggression. The only way to stop the government forcing taxpayers to subsidize activities they consider immoral is to return to limited, constitutional government that does not steal from the people via the income tax and the inflation tax.
---
Israel denies its jet or any other 'airborne target' was downed during Syria raid
The Israeli military has described reports that one of its jets was brought down while carrying out airstrikes in Syria as "bogus," amid reports that the country's air defense systems engaged and downed several "hostile targets".
Israeli Defense Forces have refused to comment on the country's alleged role in the attack, with a spokesperson saying that they're not commenting on reports in foreign media. Yet the IDF has denied a particular report that it had lost a warplane during the raid on Syria.
A Syrian security source earlier told RIA Novosti that an Israeli jet was among the targets downed by the air defense. "Our air defense have downed an Israeli jet and four rockets before they could reach their targets," the source said.
ALSO ON RT.COMSyrian air defense downs several 'enemy targets' in southern Syria – reportsMeanwhile, Syria TV reported that a missile strike against Syria was deflected, without specifying what the downed objects were. The incident reportedly occurred in the Kiswah area, located 13 kilometers (8 miles) south of Damascus.
Like this story? Share it with a friend!