Published time: 12 Feb, 2019 05:07
Edited time: 12 Feb, 2019 07:13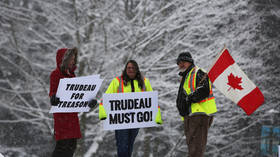 Canadian PM Justin Trudeau is being investigated for illegally attempting to shield engineering firm SNC-Lavalin from criminal fraud and corruption charges involving millions of dollars in bribes to the Libyan government.
Trudeau claims he "welcomes" the probe, launched by the Conflict of Interest and Ethics Commissioner on Monday after requests from two New Democrat MPs followed on the heels of an incendiary report published last week in the Globe and Mail that placed him at the center of what the Conservative opposition has termed an "unprecedented" effort to illegally influence a criminal proceeding.
The PM allegedly pressured former justice minister and attorney general Jody Wilson-Raybould to curtail the criminal prosecution of a multi-million-dollar corruption and fraud case against SNC-Lavalin, redirecting the matter out of the courts and into a "remediation agreement," which would have spared the company the negative financial and reputational consequences of a criminal trial – the most devastating of which would include a 10-year ban from accepting government contracts, a stipulation which would economically cripple the Montreal engineering firm.
When Wilson-Raybould refused to ask federal prosecutors to make the non-prosecution deal with SNC-Lavalin in December, according to the Globe and Mail, Trudeau essentially fired her, leaving her to wash up at Veterans Affairs, a significant demotion.
Trudeau denies the allegations, claiming "Neither the current nor the previous attorney general was ever directed by me or anyone in my office to take a decision in this matter."
Conservative Leader Albert Scheer has led the charge to haul Trudeau's aides and top members of his party in front of an emergency meeting of the justice committee for what he calls "unprecedented" attempts at influencing a criminal proceeding.
"Obviously Justin Trudeau's trying to hide something," Scheer said. "All we have to go on is his word."
For the details of Trudeau's involvement in tampering with the SNC-Lavalin case, however, all Scheer has to go on is an anonymously-sourced report in the Globe and Mail.
SNC-Lavalin was charged with paying out $48 million in bribes to Libyan officials in the decade leading up to the NATO-led overthrow of Muammar Gaddafi's government in 2011, payments intended to influence government decision-making, though the company was also charged with defrauding Libyan companies of about $130 million.
If you like this story, share it with a friend!
---
A bridge too far: US claims Venezuela blocked aid deliveries… at a crossing that was never open
Published time: 12 Feb, 2019 01:03
Edited time: 12 Feb, 2019 07:11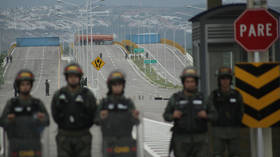 Photos and video of oil tankers and shipping containers blocking a bridge between Venezuela and Colombia were used as proof Caracas was "blocking" US aid. Left out was the fact that the bridge was never open for traffic.
The bridge figured prominently in last week's push by official Washington to paint the elected government of Venezuela as hostile to the people, and build support for the US-backed self-proclaimed president Juan Guaido. A USAID convoy arrived in Colombia on Friday, but media outlets reported that the government of President Nicolas Maduro had "blocked" it by setting up fencing and obstacles on the Tienditas International Bridge.
US Secretary of State Mike Pompeo used the photo to claim that "Venezuela's military under Maduro's orders is blocking aid with trucks and shipping tankers. The Maduro regime must LET THE AID REACH THE STARVING PEOPLE."
The Venezuelan people desperately need humanitarian aid. The U.S. & other countries are trying to help, but #Venezuela's military under Maduro's orders is blocking aid with trucks and shipping tankers. The Maduro regime must LET THE AID REACH THE STARVING PEOPLE. #EstamosUnidosVE
The fact-checkers in mainstream media that comb through every word spoken by US President Donald Trump and his cabinet officials stayed silent on Pompeo's claim. It was left to independent journalists and observers to reveal that, while the containers may have been placed by the Venezuelan government, the bridge was already blocked from the Colombian side. In fact, a cursory search online reveals that the bridge had never actually been open for traffic.
How to turn an unopened bridge into an international news story to build support for your coup. #Venezuela #Tienditas @georgegalloway @OffGuardian0 @AaronBastani https://medium.com/@justin.emery/the-tienditas-bridge-blockade-f240728fe5f7 …

The Tienditas Bridge "blockade" – Justin Emery – Medium

Or how to turn an unopened bridge into an international news story to build support for your coup

medium.com
The bridge was intended to connect Cucuta in Colombia to Ureña in Venezuela, spanning the Tachira river. According to local media, construction work on it was finalized in early 2016. By that time, however, Colombia had cracked down on its border with Venezuela due to the exodus of up to four million Venezuelans claiming economic hardship and famine in their homeland.
Photos from 2017 show the fencing and concrete slabs blocking the bridge on the Colombian side, as blogger Justin Emery pointed out on Medium.
There are two other bridges linking Colombia to Venezuela in the same area, both named after heroes of the 1800s struggle for independence from colonial Spain: Simón Bolívar and Francisco de Paula Santander.
@AbbyMartin @danielmkovalik @MaxBlumenthal One more time corp media is spreading fake news to favours warmongers. Las Tienditas Binational Bridge hasn't been in used since built in 2015. The International Simón Bolívar Bridge for both, car and pedestrian cross border is OPEN

See Margarita Paz Peace Justicia Justice's other Tweets
Though Venezuelan border guards are not allowing the USAID vehicles in, both bridges remain open to cross-border traffic. So why would the US government and most Western media outlets claim the aid is blocked by showing photos of the never-operational Tienditas bridge? Writing at FAIR, Adam Johnson argued the whole affair was a "transparent, cynical PR strategy to delegitimize a Latin American government" the US is trying to overthrow.
Johnson pointed out that Elliott Abrams, the State Department's special envoy for "freedom and democracy" in Venezuela, has a history of abusing humanitarian aid for shipments of weapons to US-backed militants in Latin America.
ALSO ON RT.COMTime for talks 'long passed': US weaponizes aid amid push for regime change in VenezuelaThere is no denying that the objective of US officials running the Venezuela policy is regime change in Caracas. The preferred method of doing so appears to be persuading the people of Venezuela – or better yet, the military – to turn away from Maduro and back Guaido.
National Security Advisor John Bolton has tried a variety of psychological operations to that effect, from the "5,000 [US] troops to Colombia"notepad scribble to claims that high-ranking Venezuelan officers were in talks with Guaido. Senator Marco Rubio (R-Florida) has been singing from the same hymnbook, though not without getting a ribbing online.
ALSO ON RT.COMPompeo: America 'obligated' to fight 'Hezbollah' in Venezuela to save 'duly elected' GuaidoMeanwhile, Secretary of State Mike Pompeo has been trying to sell the intervention to the American people and US allies overseas, going so far as to call Guaido "duly elected" (he wasn't) and even claim that the Lebanon-based Hezbollah was operating in Venezuela.
Pompeo seems to have been more successful in his endeavor than Bolton and Rubio: aside from a handful of anti-war Democrats, there is very little criticism inside the US of the official policy in Venezuela. Meanwhile, almost three weeks since the US recognized Guaido as president, Maduro is still standing and the military has not abandoned him.
Think your friends would be interested? Share this story!