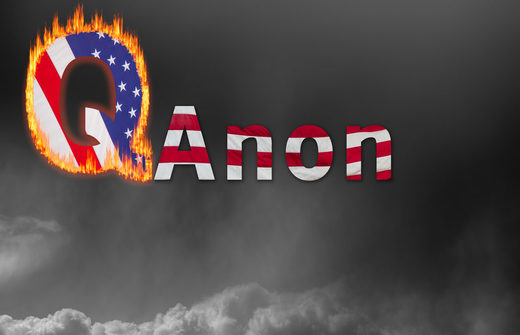 The QAnon, Q-Anon or Q phenomenon, which started around October 2017, managed to attract a large amount of die-hard followers who hung on to Q's every word. However, 1.5 years later, we have enough clues to see who was really behind the whole thing, which now appears to be over. There were many clues that QAnon was a psy-op, including his blatant support of regime change in Iran (right in line with the Zionist NWO agenda), his insistence that rabid warmonger and neocon John Bolton was cleaning up Washington, and his praise for current US President Donald Trump, who has dropped more bombs and fired more missiles than Obama.
QAnon Praises Neocon Warmongers
Whitney Webb wrote in this June 2018 MintPressNews article:
The reality constructed by QAnon has ultimately unfolded much like a fictitious spy novel, one that details a "secret" counter-coup by the Trump administration against the so-called "Deep State" that Trump – in reality – has dutifully served ever since winning the 2016 election. Despite QAnon's having been proven wrong repeatedly, its following remains large and the phenomenon itself remains influential.

Robert Martin, a documentary filmmaker whose series A Very Heavy Agenda delves into the nefarious political influence of the neoconservatives, told MintPress that QAnon is the "perfect wish-fulfillment conspiracy snowball" aimed at conservatives, adding that it has worked to "rehabilitate some of the most tarnished and scary neocons to all of a sudden be heroic figures."

Jason Bermas' Interview with Defango and Dreamcatcher
In this January 2019 interview, Jason Bermas (producer of documentaries such as Fabled Enemies) interviews 2 men who go by "Defango" and "Dreamcatcher." They claim they started Q as a LARP (Live Action Role Playing) game which sprung from Cicada 3301, a group that constructs very difficult-to-solve puzzles. Dreamcatcher admits that, at the start, he was "shitposting" just to see what would stick and, to his surprise, the QAnon phenomenon took off like no other LARP before it had. Both Defango and Dreamcatcher refer to another person who posted as Q known as "Microchip" who they say took trips to Israel. They speculate that he may be connected with the notorious Israeli spy agency, the Mossad.
What About the Sealed Indictments?
QAnon supporters will point to PACER (Public Access to Court Electronic Records, the US nationwide database of court records for Appellate, District and Bankruptcy courts) as proof that not all of Q's posts were without substance. However, the presence of an increase of sealed files itself is not evidence. We don't know what's in these sealed files. They may be arrest warrants or they may be something far less serious. As this articlestates:
Essentially, the number #QAnon is using is factually correct, but leaves out vital context that explains that relatively few of the 1,077 are actual criminal indictments. Most are routine court matters… A random sampling of these files showed 83 percent of sealed magistrate cases to be warrant applications or tracking devices. They are NOT indictments, but #QAnon's number includes them anyway.
QAnon Phenomenon Explained: Cryptic Clues, Cult Following, Gamification
This Corbett Report podcast explains how society is being gamified as a way to lure us into surveilling ourselves and giving over our data to the Corporatocracy and Big Gov. Examples are the Pokemon app a few years back and the Chinese Sesame Credit system. Look how QAnon worked. It consisted of dropping some real info to build credibility and attract a cult following, all the while propagating cryptic clues (as is Cicada 3301's specialty) rather than just spelling out the facts (and proving it with documents) as genuine whistleblowers like Julian Assange and Edward Snowden do. This led to countless hours being wasted on a game and puzzle of no importance when more pressing matters that require activist attention went unnoticed.
Who Endorsed QAnon?
Early on, Alex Jones jumped aboard the QAnon bandwagon by devoting a lot of attention and airtime (and employing Jerome Corsi) in analyzing Q's cryptic threads. However, Jones' credibility has been in question for a very long time now over his failure to grasp the issue of Zionism (whether deliberately or not), plus the way he has gone off the rails and has devoted his headlines to how Trump and Republicans are good, and how Democrats, Muslims and immigrants are bad, no matter what, end of story. Many people have used Alex Jones and InfoWars to start their awakening process, only to quickly move beyond his very limited and partisan perspectives. Anyone who simplistically believes that one political party is "good" and the other "bad" has fallen very deeply for the fake left-right paradigm.
David Wilcock's Damaged Street Cred
In this recent interview, David Wilcock stated he believed that there was something to the QAnon phenomenon. For his part, Wilcock has over the years also lost a lot of street credibility with his staunch support for Obama, who turned out to be a wolf in sheep's clothing (read about the top 10 lowlights of the Obama legacy here). Wilcock has thrown his weight behind Corey Goode and his stories of the Blue Avian ETs, a phenomenon which remains to be corroborated, since of the tens or hundreds of thousands of other ET abductees and contactees around the world, no one else to my knowledge has ever spoken of "blue avian" aliens apart from Goode (some other SPP [Secret Space Program] whistleblowers like Tony Rodrigues believe him however). Wilcock also foolishly led a lot of people up the garden path on a road to nowhere by teaming up with Benjamin Fulford (and a mysterious, anonymous "Drake" character) around 2011-2012 to propagate the idea that "mass arrests of the Illumunati are imminent" and that there's nothing we have to do other sit back and watch it happen. We're all going to be saved. Hmm-hmm. Nothing of the sort ever happened.
Does the QAnon phenomenon contain the same sort of embedded psychology when it advocates that we just need to sit back and "trust the plan" that mass arrests or incarcerations will occur due to the "sealed indictments"?
Save Me! Save Me!
This idea that we can all be lazy and complacent while some white hat, good guy group comes out of nowhere to take down the bad guys is absurd. A study of history shows us that it is extremely rare for one group to overthrow another and then to voluntarily relinquish the reins of power to hand it back to the masses. It happens occasionally, but it is not the norm. We have to be vigilant when we come across movements that promise such a thing, for it could very well be a trick to exploit the part of human psychology that wants to hope, to believe and to be saved without doing any of the grunt work that it takes to be free.
QAnon is Over
The QAnon phenomenon appears to be over for now. So what lessons can be learned from it? QAnon was a distraction and a puzzle that kept people entertained and engaged in digging for clues or solving mysteries of no importance while real injustices deserving of attention were ignored. As Whitney Webb wrote, "trust the plan" was just the sequel to "hope and change" to suck us into a hope-rollercoaster that goes nowhere. How can Trump really be fighting the "Deep State" (Shadow Government/NWO) when the NWO is nonpartisan? How can Trump be fighting the Deep State or "draining the swamp" when he has surrounded himself with swamp-dwellers and swamp-critters, such as Goldman Sachs and Rothschild-affiliated agents, Zionists and generals?
The QAnon phenomenon has shown that many people still lack the discernment to be able to separate truth, hoax, psy-op and other forms of disinfo from each other. It's difficult because truth is never just served up on a silver platter and there are times when you have to follow your intuition in the absence of hard evidence. Swinging to one extreme and demanding hard, material proof for everything will limit your perspective, as will swinging to the other extreme by believing any fairy-tale that comes along.
Hopefully this will act us a wake-up call to those who fell for it. Ultimately, the truth is out there and I believe we all the capacity to resonate with it and see through the lies… but it requires hard work, wide reading, critical thought, measuring different perspectives in your mind and an ability to see general patterns amidst all the detail.
About the author

Makia Freeman is the editor of alternative media / independent news site The Freedom Articles and senior researcher at ToolsForFreedom.com, writing on many aspects of truth and freedom, from exposing aspects of the worldwide conspiracy to suggesting solutions for how humanity can create a new system of peace and abundance. Makia is on Steemit and FB.
---

Maybe Donald Trump isn't as stupid as I thought. I'd hate to have to admit that publicly, but it does kind of seem like he has put one over on the liberal corporate media this time. Scanning the recent Trump-related news, I couldn't help but notice a significant decline in the number of references to Weimar, Germany, Adolf Hitler, and "the brink of fascism" that America has supposedly been teetering on since Hillary Clinton lost the election. I googled around pretty well, I think, but I couldn't find a single editorial warning that Trump is about to summarily cancel the U.S. Constitution, dissolve Congress, and proclaim himself Führer. Nor did I see any mention of Auschwitz, or any other Nazi stuff … which is weird, considering that the Hitler hysteria has been a standard feature of the official narrative we've been subjected to for the last two years.

So how did Trump finally get the liberal corporate media to stop calling him a fascist? He did that by acting like a fascist (i.e., like a "normal" president). Which is to say he did the bidding of the deep state goons and corporate mandarins that manage the global capitalist empire … the smiley, happy, democracy-spreading, post-fascist version of fascism we live under.

I'm referring, of course, to Venezuela, which is one of a handful of uncooperative countries that are not playing ball with global capitalism and which haven't been "regime changed" yet. Trump green-lit the attempted coup purportedly being staged by the Venezuelan "opposition," but which is obviously a U.S. operation, or, rather, a global capitalist operation. As soon as he did, the corporate media immediately suspended calling him a fascist, and comparing him to Adolf Hitler, and so on, and started spewing out blatant propaganda supporting his effort to overthrow the elected government of a sovereign country.

Overthrowing the governments of sovereign countries, destroying their economies, stealing their gold, and otherwise bringing them into the fold of the global capitalist "international community" is not exactly what most folks thought Trump meant by "Make America Great Again." Many Americans have never been to Venezuela, or Syria, or anywhere else the global capitalist empire has been ruthlessly restructuring since shortly after the end of the Cold War. They have not been lying awake at night worrying about Venezuelan democracy, or Syrian democracy, or Ukrainian democracy.

This is not because Americans are a heartless people, or an ignorant or a selfish people. It is because, well, it is because they are Americans (or, rather, because they believe they are Americans), and thus are more interested in the problems of Americans than in the problems of people in faraway lands that have nothing whatsoever to do with America. Despite what the corporate media will tell you, Americans elected Donald Trump, a preposterous, self-aggrandizing ass clown, not because they were latent Nazis, or because they were brainwashed by Russian hackers, but, primarily, because they wanted to believe that he sincerely cared about America, and was going to try to "make it great again" (whatever that was supposed to mean, exactly).

Unfortunately, there is no America. There is nothing to make great again. "America" is a fiction, a fantasy, a nostalgia that hucksters like Donald Trump (and other, marginally less buffoonish hucksters) use to sell whatever they are selling … themselves, wars, cars, whatever. What there is, in reality, instead of America, is a supranational global capitalist empire, a decentralized, interdependent network of global corporations, financial institutions, national governments, intelligence agencies, supranational governmental entities, military forces, media, and so on. If that sounds far-fetched or conspiratorial, look at what is going on in Venezuela.

The entire global capitalist empire is working in concert to force the elected president of the country out of office. The US, the UK, Canada, France, Germany, Spain, Austria, Denmark, Poland, the Netherlands, Israel, Brazil, Peru, Chile, and Argentina have officially recognized Juan Guaido as the legitimate president of Venezuela, in spite of the fact that no one elected him. Only the empire's official evil enemies (i.e., Russia, China, Iran, Syria, Cuba, and other uncooperative countries) are objecting to this "democratic" coup. The global financial system (i.e., banks) has frozen (i.e., stolen) Venezuela's assets, and is attempting to transfer them to Guaido so he can buy the Venezuelan military. The corporate media are hammering out the official narrative like a Goebbelsian piano in an effort to convince the general public that all this has something to do with democracy. You would have to be a total moron or hopelessly brainwashed not to recognize what is happening.

What is happening has nothing to do with America … the "America" that Americans believe they live in and that many of them want to "make great again." What is happening is exactly what has been happening around the world since the end of the Cold War, albeit most dramatically in the Middle East. The de facto global capitalist empire is restructuring the planet with virtual impunity. It is methodically eliminating any and all impediments to the hegemony of global capitalism, and the privatization and commodification of everything.

Venezuela is one of these impediments. Overthrowing its government has nothing to do with America, or the lives of actual Americans. "America" is not to going conquer Venezuela and plant an American flag on its soil. "America" is not going to steal its oil, ship it "home," and parcel it out to "Americans" in their pickups in the parking lot of Walmart.

What about those American oil corporations? They want that Venezuelan oil, don't they? Well, sure they do, but here's the thing … there are no "American" oil corporations. Corporations, especially multi-billion dollar transnational corporations (e.g., Chevron, ExxonMobil, et al.) have no nationalities, nor any real allegiances, other than to their major shareholders. Chevron, for example, whose major shareholders are asset management and mutual fund companies like Black Rock, The Vanguard Group, SSgA Funds Management, Geode Capital Management, Wellington Management, and other transnational, multi-trillion dollar outfits. Do you really believe that being nominally headquartered in Boston or New York makes these companies "American," or that Deutsche Bank is a "German" bank, or that BP is a "British" company?

And Venezuela is just the most recent blatant example of the empire in action. Ask yourself, honestly, what have the "American" regime change ops throughout the Greater Middle East done for any actual Americans, other than get a lot of them killed? Oh, and how about those bailouts for all those transnational "American" investment banks? Or the billions "America" provides to Israel? Someone please explain how enriching the shareholders of transnational corporations like Raytheon, Boeing, and Lockheed Martin by selling billions in weapons to Saudi Arabian Islamists is benefiting "the American people." How much of that Saudi money are you seeing? And, wait, I've got another one for you. Call up your friendly 401K manager, ask how your Pfizer shares are doing, then compare that to what you're paying some "American" insurance corporation to not really cover you.

For the last two-hundred years or so, we have been conditioned to think of ourselves as the citizens of a collection of sovereign nation states, as "Americans," "Germans," "Greeks," and so on. There are no more sovereign nation states. Global capitalism has done away with them.Which is why we are experiencing a "neo-nationalist" backlash. Trump, Brexit, the so-called "new populism" … these are the death throes of national sovereignty, like the thrashing of a suffocating fish before you whack it and drop it in the cooler. The battle is over, but the fish doesn't know that. It didn't even realize there was a battle until it suddenly got jerked up out of the water.

In any event, here we are, at the advent of the global capitalist empire. We are not going back to the 19th Century, nor even to the early 20th Century. Neither Donald Trump nor anyone else is going to "Make America Great Again." Global capitalism will continue to remake the world into one gigantic marketplace where we work ourselves to death at bullshit jobs in order to buy things we don't need, accumulating debts we can never pay back, the interest on which will further enrich the global capitalist ruling classes, who, as you may have noticed, are preparing for the future by purchasing luxury underground bunkers and post-apocalyptic compounds in New Zealand. That, and militarizing the police, who they will need to maintain "public order" … you know, like they are doing in France at the moment, by beating, blinding, and hideously maiming those Gilets Jaunes(i.e., Yellow Vest) protesters that the corporate media are doing their best to demonize and/or render invisible.

Or, who knows, Americans (and other Western consumers) might take a page from those Yellow Vests, set aside their political differences (or at least ignore their hatred of each other long enough to actually try to achieve something), and focus their anger at the politicians and corporations that actually run the empire, as opposed to, you know, illegal immigrants and imaginary legions of Nazis and Russians. In the immortal words of General Buck Turgidson, "I'm not saying we wouldn't get our hair mussed," but, heck, it might be worth a try, especially since, the way things are going, we are probably going end up out there anyway.

The preceding essay is entirely the work of our in-house satirist and self-appointed political pundit, CJ Hopkins, and does not reflect the views and opinions of the Consent Factory, Inc., its staff, or any of its agents, subsidiaries, or assigns. If, for whatever inexplicable reason, you appreciate Mr. Hopkins' work and would like to support it, please go to his Patreon page (where you can contribute as little $1 per month), or send your contribution to his PayPal account, so that maybe he'll stop coming around our offices trying to hit our staff up for money. Alternatively, you could purchase his satirical dystopian novel, Zone 23, which we understand is pretty gosh darn funny, or any of his subversive stage plays, which won some awards in Great Britain and Australia. If you do not appreciate Mr. Hopkins' work and would like to write him an abusive email, please feel free to contact him directly.