Our Battle Of Britain
The UK's parliament needs to be hosed clean. Our freedom and democracy are being destroyed by corrupt politicians. We are custodians of this democracy, not its owners. We have no right to weaken it for future generations, any more than we have the right to leave them poisoned water or air. The European Union is a model for an anti-democratic global government. The purpose of the EU is to destroy the nation state and to transform Europe from a rich and diverse continent of sovereign nations into a single homogenous political bloc governed by a committee of unelected bureaucrats who think they know best. And they think we're so docile and thick that we'll just roll over and accept it if they keep telling us how sensible it is. Nobody's feelings were consulted during the making of this video. Anyone who has a problem with that can drop dead. Everyone is free to download this video and post it to their own account if they wish, as long as it is not edited in any way (including the title) and not monetised.
---
Jonathan Pie
YouTube
Sun, 30 Oct 2016 07:08 UTC -SOTT net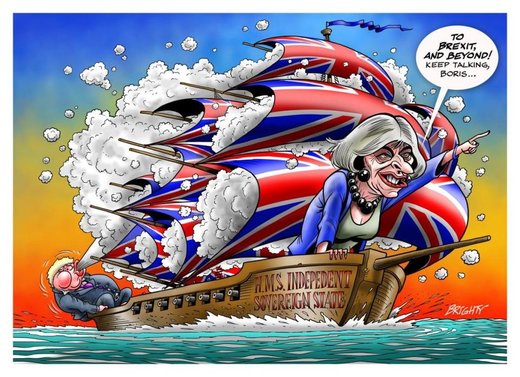 The latest political developments on 'Brexit' from intrepid UK News reporter Jonathan Pie.
Brexit means Brexit! Why? Because democracy means democracy.
Warning: contains strong language
For more hilariously, tragically, true news reports,
——————————————————————————————————————————————————————————————————————————–
Labour's Tom Watson Storms Out Of Meeting, PM May Sets Deadline on Brexit Talks
© AFP 2019 / BEN STANSALL
Shadow cabinet members were only given a presentation of the manifesto on a large screen instead of being offered hard copies of the document, a government source close to the Independent said on Tuesday.
Labour deputy leader Tom Watson has reportedly stormed out of a shadow cabinet meeting after UK Labour and opposition leader Jeremy Corbyn kept a copy of his draft policy on holding a second Brexit referendum a secret.
"The shadow cabinet were not going to see the draft, so what's the point in being there," a second source close to Mr. Watson told the Independent. "It was very disrespectful to the shadow cabinet."
The news comes just hours after Labour was expected to select an election manifesto on the European parliamentary elections set to take place on 23 May. Mr. Corbyn and his top aides met on Tuesday, just before the party's National Executive Committee, where the Labour leader is expected to resist demands from Mr. Watson on holding a second referendum under all scenarios.
© REUTERS / YVES HERMAN
Mr. Corbyn has instead kept a policy of holding a referendum against a "Tory Brexit", or no-deal Brexit, aimed at appealing to Labour Leave voters.
But Mr. Watson denied "storming out" of the meeting, which was raised by Pippa Crerar, Daily Mail Political Editor, with the deputy leader stating that she had received an "inaccurate briefing" and that he had "politely asked" if the shadow cabinet was going to see the draft and was told "no".
"So I left to walk to the NEC where the document will be available and the decision will be made," Mr. Watson said.
Hours after the walkout, UK prime minister Theresa May said that she would abandon talks with Labour should cross-party talks fail to reach an agreement in a week's time. The UK prime minister bowed to pressure to set a deadline for ending talks with the Labour leader in seven days, according to a government source cited by the Independent.
Should Labour officials allow PM May's withdrawal agreement to proceed, it will be tested again in Commons, but the government will "move in another direction" without a guarantee, according to the source.
Government ministers have accused Mrs. May of stalling updates on how long talks with Labour would last, with nascent Brexit Party leader Nigel Farage receiving a major surge in public support due to the Conservative leader's lack of progress. Both sides in negotiations remain divided over Labour's demands for a customs union with the European Union, as well as guarantees that future Conservative prime ministers would not cancel the deal.
READ MORE: UKIP on Johnson's PM Ambitions: 'He Would Cause Conservative Party to Collapse'
Mr. Corbyn, who currently has support of 22 of the 39 NEC members, has been resisting efforts to shift Labour's stance to supporting a "People's Vote" in all circumstances, affording him the support of Unite the Union, the UK's largest trade union. Mr. Corbyn and shadow Brexit secretary Keir Starmer inked a major agreement in February stating that Labour would agree that UK prime minister Theresa May's embattled Brexit deal "should be subject to the lock of a public vote".
But Momentum director Laura Parker wrote in a London Guardian column that Mr. Corbyn should "take a side" in order to avoid driving a wedge between the leader and his supporters "Labour's members already know which side they are on. The party should commit to bringing whatever Brexit deal is done back to the people," Ms. Parker said a day after a list of 118 MEPs and MPs signed a letter backing a public vote on all proposed Brexit deals.
---
UK COLUMN: Ukraine Election Circus, Brexit & EU Army, Joe Biden's Demise
Despite all the talk of Brexit, EU Military Unification continues to roll ahead. Also the Ukraine elections have produced a front-runner straight off of the TV screen, literally – with comedian and actor Volodymyr Zelensky leading incumbent Petro Poroshenko going into the second round of voting. Also, hundreds of millions in public funds are being spent on new EU propaganda and censorship agencies – all in the name of protecting the people against 'Russian influence.' Lastly, former Democratic Vice President Joe Biden has been outed in a sexual harassment case which may upend his 2020 Presidential aspirations. All this and more. 
UKC News hosts Mike Robinson and Patrick Henningsen with the early week news round-up. Watch:

.
21WIRE.TV MEMBERS CAN WATCH OUR SPECIAL EXTRA SESSION HERE:
UKC Extra Time: Off-Air Discussion with Patrick & Mike
SUPPORT 21WIRE – SUBSCRIBE & BECOME A MEMBER @21WIRE.TV