Published time: 16 Apr, 2019 01:23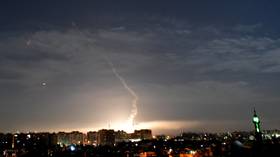 An Israeli intelligence firm says it has evidence a recent airstrike in Syria destroyed an Iranian missile site – but isn't quite sure if it really was a missile site, or whether it was actually operated by Iran.
Israeli intelligence contractor ImageSat International (ISI) posted a series of tweets on Sunday about the strike in Masyaf, saying that it targeted manufacturing hangars for Iranian surface-to-surface missiles (SSM), citing "open source intelligence."
ISI's assessment was derived from a series of satellite images which it says depict the aftermath of the Israeli strike.
"It is unclear which entity controls and owns the base," said ISI, adding that "If the bombed site was indeed a missile factory, it could allow for the production and assembly of different SSM elements or for improving the accuracy of missiles."
That's quite the "if."

30 people are talking about this
As is typically the case for Israeli operations in Syria, Israeli officials will not confirm whether IDF carried out the strike. Prime Minister Benjamin Netanyahu on Sunday hinted his country was behind it, however.
"We are not prepared to allow someone to entrench themselves in a way that endangers Israel," Netanyahu said at an event in Jerusalem, likely referring to Iran's presence in Syria. "Strength is the guarantee of our existence and is the crucial and basic condition for achieving peace with our neighbors."
ALSO ON RT.COM3 people injured in Israeli rocket attack on Syria's Hama province – reportsDamascus also blamed the bombing on Israel and said Syrian air defenses partially intercepted the attack. The strike against the facility in the Hama Governorate wounded three soldiers, according to Syrian media.
Israel has carried out scores of strikes on Syrian territory throughout the eight-year conflict in that country, claiming they are intended to deter Iran's presence, as well as that of militia groups like Hezbollah, who both fight alongside the Syrian government.
Think your friends would be interested? Share this story!
---
Trump's Mideast Peace Plan Will Likely Give Israel All It Wants, Palestinians Nothing
The final version of President Trump's long-anticipated Middle East peace plan has not been reached, according to officials, but all indications are that it will give Israel all they want and then some, and the Palestinians will get effectively nothing.
Saying that the peace plan is going to "stop short of Palestinian statehood" is putting it mildly. With the administration having endorsed Netanyahu's talk of annexation and disavowal of the Palestinians ever having self-determination, the "deal of the century" now hinges on the Palestinians accepting some variation of the ever-worsening status quo.
While early talk was that Trump intended to give the Palestinians something at some point, more recently the administration has said the plan will be deliberately biased against the Palestinians, just to prove that the US is supportive of Israel.
Israeli officials say they are being "open-minded" to the deal now that it's clearly skewed entirely in their favor. Even then, it's unclear if Israel's incoming far-right coalition will accept anything that formalizes any sort of status quo, as their government seems set to redefine the Palestinians into an even more remote corner of society.
As with past plans, the idea at this point seems to be for the Palestinians to reject it, which they of course will since they're not being offered anything. Then Israel can use this to try to sell the idea internationally that they don't have a partner willing to negotiate with them.
READ MORE PALESTINE NEWS AT: 21st Century Wire Palestine Files
---
Zionist terror pits Christians vs. Muslims
Animals uniting in jungle uprising?
Watch False Flag Weekly News above, click HERE for the list of stories we covered
By Kevin Barrett, Veterans Today Editor
Most of the stories Jeremy Rothe-Kushel and I covered on this week's False Flag Weekly News are just bits and pieces of the larger mosaic discussed in the article below, published yesterday at HenryMakow.com. If the Christians and Muslims ever wake up to the divide-and-conquer game that's being played on them, the Zionists will go the way of the rhino poacher in our final FFWN story.  -KB
Zionist Terror Pits Christians Vs Muslims
April 12, 2019
MSM propagandists, including phoney alt-right outlets run by Zionists, want to confound patriots by hyping the 'Muslim immigrant' or 'Islamic invasion' threat. What they don't want you to know about Islam is that Muslims are the world's biggest potential allies of Christianity. Hindus and Buddhists have no use for Jesus; Jews and atheists detest Jesus, but Muslims love and revere Jesus. Given half a chance, real Muslims, the ones who pray five times a day and attend the local mosque would step forward to defend Christian holy places against pussy rioters and other vandals.
THE WHITE NATIONALISTS ARE PARTLY RIGHT: THE ZIONIST NEW WORLD ORDER AND ITS BOUGHT-AND-PAID-FOR MAINSTREAM MEDIA ARE CONSPIRING TO DESTROY WESTERN CULTURE. BUT THEY HAVEN'T FIGURED OUT THAT THIS IS A RELIGIOUS, NOT RACIAL ISSUE.
Don Isaac Abravanel (1437-1508), Netanyahu's family hero and role model, was the first modern Zionist. Abravanel preached a pragmatic plan to create a Jewish state in the Holy Land while taking revenge on Christians and Muslims by tricking them into fighting each other in an apocalyptic war that would destroy both religions and leave Zionist Jews masters of the world. A little over five centuries later, Abravanel's plan' hyped by Bibi's father Benzion Netanyahu' is nearing fruition.
Full article at HenryMakow.com
[the_ad id="510264″]
EDITORIAL DISCLOSURE
All content herein is owned by author exclusively.  Expressed opinions are NOT necessarily the views of VT, authors, affiliates, advertisers, sponsors, partners, technicians or Veterans Today Network (VT).  Some content may be satirical in nature.
All images within are full responsibility of author and NOT VT.
About VT
 – 
Read Full Policy Notice
 – 
Comment Policy
—————————————————————————————————————————————————————————————————————————–