President Donald Trump claims that US immigrant detention centers are "well run and clean," despite the facilities' appalling conditions as described by reporters.
Trump made the claims on Twitter Sunday two days after Mike Pence visited two foul-smelling and over-crowded detention centers in the state of Texas near the US-Mexico border.
Pence toured the McAllen Border Patrol station on Friday and a detention center for women and children in Donna, Texas near the border with Mexico.
When the caged migrants saw reporters arrive, many began shouting, saying they had been there for 40 days or more and they were hungry and wanted to brush their teeth.
A reporter with the Washington Post said the fenced cages were so crowded that it was impossible for all the men to lie on the concrete.
Nonetheless, Trump said that "Friday's tour showed vividly, to politicians and the media, how well run and clean the children's detention centers are."
Friday's tour showed vividly, to politicians and the media, how well run and clean the children's detention centers are. Great reviews! Failing @nytimes story was FAKE! The adult single men areas were clean but crowded – also loaded up with a big percentage of criminals……
He also said that if the centers were too crowded, "tell them not to come to USA," blaming Democrats for the problem.
Donald J. Trump

✔@realDonaldTrump

Friday's tour showed vividly, to politicians and the media, how well run and clean the children's detention centers are. Great reviews! Failing @nytimes story was FAKE! The adult single men areas were clean but crowded – also loaded up with a big percentage of criminals……
Pence's visit lasted 90 seconds, reports said. "Look, this is tough stuff," Pence said at a news conference after the tour. "I knew we'd see a system that is overcrowded," he said, adding, "It's overwhelmed."
Pence then blamed Congress for the problems. "Congress has to act," he said.
The scenes that reporters had witnessed resembled what was found in a damning report delivered last week based on trips to Border Patrol facilities near the Rio Grande, including the station Pence visited.
The inspector general who wrote the report described the situation at the detention center as a "ticking time bomb."
---
US lawmaker Rashida Tlaib compares 'racist' Israel's anti-Palestinian policies to Jim Crow laws
Published time: 14 Jul, 2019 10:33
Edited time: 15 Jul, 2019 06:19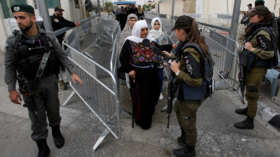 Congresswoman Rashida Tlaib (D-Michigan) has denounced Israel's treatment of Palestinians, describing that country's policies as an affront to human rights and comparable to racial segregation in the American South.
Tlaib, the first Palestinian-American to serve in Congress, told Jacobin magazine that she'd witnessed Israel's "racism"first-hand, while visiting Palestine.
I can tell you when I was in Palestine with my mother and she had to get in a separate line. There are different-colored license plates if you are Palestinian or Israeli.
She denounced these policies as "racist" and argued that Israel's "continued dehumanization" of the Palestinian people "violate[s] international human rights," as well as her values as an American.
The freshman lawmaker went on to compare the situation in Israel to segregation in the United States, which was enforced by the infamous Jim Crow laws, and the concept of "separate but equal."
While insisting that she wanted a peaceful resolution to the Israel-Palestine conflict, Tlaib stated that her ancestors were "killed" and "uprooted from their land" during the creation of the state of Israel – something "no one even wants to acknowledge."
.@HouseForeign wants to move forward w/ #HR246 #AntiBDS bill to silence opposition of Israel's blatantly racist policies that demonize both Palestinians & Ethiopians.

Our 1st Amd. right to free speech allows boycott of inhumane policies. This bill is unconstitutional. https://twitter.com/theIMEU/status/1148758769914060800 …

In a blatant act of discrimination, Israeli guards refused to allow a Palestinian mother and child to enter a public park in the city of Afula. This explicit separation of public spaces is yet another indication of Israel's deepening apartheid policies. https://www.middleeasteye.net/news/entry-ban-israeli-city-park-provokes-apartheid-warnings …
The congresswoman has come under fire for her support for the Boycott Divestment & Sanctions (BDS) movement. Last week she tweeted about anti-BDS legislation currently being considered by the House, arguing that the bill was unconstitutional because "our First Amendment right to free speech allows [the] boycott of inhumane policies."
Her colleage, Rep. Ilhan Omar (D-Minnesota), caused an uproar in February after suggesting that the anti-BDS movement in Congress was being funded by AIPAC, the powerful pro-Israel lobby. She stated that lawmakers oppose BDS because "it's all about the Benjamins" – a tweet that sparked accusations of anti-Semitism.
ALSO ON RT.COM'All about the Benjamins': Ilhan Omar sparks Twitter backlash over 'anti-Semitic' postLike this story? Share it with a friend!
---
Poll gives Biden, Sanders and Warren lead over Trump
A new opinion survey shows that US President Donald Trump trails the Democratic Party's most-talked-about presidential aspirants, ex-vice president Joe Biden, senators Bernie Sanders and Elizabeth Warren.
The poll was conducted between July 7 and 9 among 800 registered voters. It was undertaken jointly by NBC News and The Wall Street Journal.
Clashing head to head, Biden would beat Trump 51 to 42 percent in the next election, while Sanders would overtake him ​​​​50 to 43, the poll showed.
Warren would also beat Trump outside the poll's 3.5 percent margin of error by 48 percent against the president's 43.
Sen. Kamala Harris will be successful too, but winning over Trump 45 to 44.
The hopefuls attend a heated televised debate on a monthly basis, which bears heavily on their respective popular image.
The competition is gaining momentum amid continued controversy surrounding Trump's 2016 victory.
The furor concerns the country's Electoral College system, and ongoing accusations of foreign meddling in the elections.
The system overrides the popular vote, which gives the victory to the candidate winning the most ballots. It instead makes 538 electors across different states, who are chosen based on each state's representation in Congress, liable for electing the chief executive. Therefore, if a contestant secures at least 270 of the electoral votes, they have won the presidential race.
In 2016, the mechanism handed the presidential election's victory to Trump over Hillary Clinton, although the voters had given the latter three million more votes.
The accusations of foreign intervention relates to claims that Russia conducted a campaign, including through various social media accounts, in order to positively influence the public opinion in Trump's favor. Both Moscow and the president roundly rejects the claims.